Call the Midwife: Season 6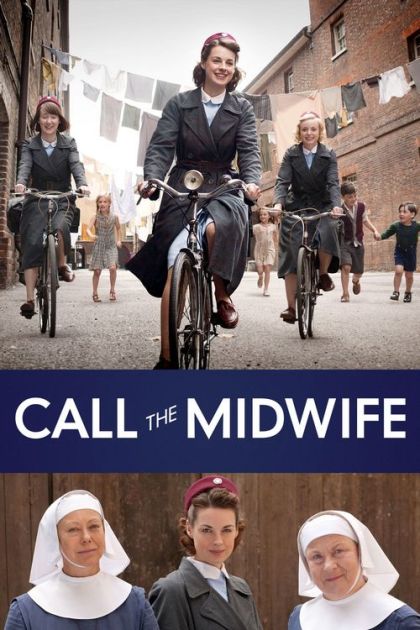 ---
Crew
| | |
| --- | --- |
| Director | |
| Writer | Jennifer Worth |
| Producer | Pippa Harris |
| Photography | Stuart Biddlecombe |
| Musician | Maurizio Malagnini |
---
Plot
Call the Midwife is a drama series adapted for television by Heidi Thomas from Jennifer Worth's best selling memoir of the same name. The series is a colourful look at the world of midwifery and family life in 1950s East End London. Jenny joins an eccentric community of nursing nuns having just qualified.
Episodes
Episode 1: The Casebook
60 min Jan 15, 2017
Documentary in which Stephen McGann, who plays Dr Patrick Turner, explores the social and medical changes that took place in the 1950s and 60s relating to childbirth. Along the way, Stephen meets midwives, nuns and doctors who helped deliver babies during the period. As well as archive footage and expert interviews, the programme features clips from past editions of Call the Midwife, footage of the new sixth series and an interview with creator and writer Heidi Thomas.
Guest starring: Heidi Thomas
Episode 2: Episode 1
60 min Jan 22, 2017

The nuns and midwives return home after their trip to South Africa, to find Nonnatus House has come under new management. The formidable Sister Ursula (Harriet Walter) has taken charge and introduced some drastic changes to the way the clinic is run, which Sister Julienne, bound by her vow of obedience, is powerless to oppose. The midwives come to the aid of a victim of domestic violence whose husband is about to be released from prison, and who risks losing everything if she seeks a divorce. Sister Mary Cynthia suffers further anxiety attacks, and Patsy receives distressing news about her father.
Director: Sheree Folkson
Writer: Heidi Thomas

Episode 3: Episode 2
60 min Jan 29, 2017

An explosion at the docks brings heartache to the people of Poplar, whilst Sister Ursula continues to ruffle feathers with her unpopular decisions.
Episode 4: Episode 3
60 min Feb 05, 2017

The winds of change are blowing through Poplar, as a new government paper calls for the eradication of small hospitals in favour of large general hospitals. Dr Turner and Shelagh are informed that an inspection of the maternity home will decide its fate. Sister Ursula has her own anxieties about the efficiency of Nonnatus House, so she introduces a new 20-minute rule for all antenatal and postnatal house visits. Barbara struggles the most with this, as she is drawn into helping first-time mother from the Chinese Community. It soon becomes apparent that the shortened visit might have allowed a serious oversight. With the future of the maternity home hanging by a thread, serious questions are raised over Sister Ursula's suitability for her role. Meanwhile, Sister Monica Joan is has started disappearing for long periods of time and there are growing concerns for Sister Mary Cynthia's whereabouts.
Director: James Larkin
Writer: Carolyn Bonnyman

Episode 5: Episode 4
60 min Feb 12, 2017

A woman expecting her third child realises she cannot afford to care for her baby, so makes the painful decision to give it away to her wealthy but childless cousin. Shelagh befriends the woman in the next hospital bed and Dr Turner confides in Timothy about his worst fears. Sister Julienne looks for a new recruit to join the midwives, and the community prepares to celebrate the opening of a new park.
Director: James Larkin
Writer: Heidi Thomas

Episode 6: Episode 5
60 min Feb 19, 2017

A distant cousin of Fred's who has Down's Syndrome is taken in by the Buckles following the death of his protective mother, but Violet struggles to cope and Shelagh is forced to make other arrangements for his care. A new recruit prepares for her first day at Nonnatus House, and Trixie comes to the aid of a pregnant woman who is in urgent need of dental treatment to avoid an infection. The nurses discover what has happened to Sister Mary Cynthia, a revelation that has distressing consequences for Sister Monica Joan.
Episode 7: Episode 6
60 min Feb 26, 2017

While the world anxiously awaits the resolution of the Cuban Missile Crisis, Valerie treats a pregnant Somali woman who has undergone female genital circumcision. The Nonnatus Team arrange for her to go into hospital, but she responds by going into hiding, and the situation is complicated further when it emerges that the woman's younger sister will soon go through the same process. Sister Mary Cynthia's depression is treated with electro convulsive therapy for depression, which she hopes will restore her faith.
Episode 8: Episode 7
60 min Mar 05, 2017

Dr Turner is reunited with a couple whose daughter was born without limbs, and takes them to a specialist unit where she can be fitted for prosthetics. However, while the experience helps the girl's mother to realise that she is not alone, it proves traumatic for the father, who blames his wife for his child's condition. Nurse Crane takes charge of Sister Winifred's driving lessons, and Trixie thinks Christopher is hiding something from her.
Episode 9: Episode 8
60 min Mar 12, 2017

Sister Julienne oversees the opening of a family planning clinic at the local community centre, leading mother-of-three Wilma Goddens to start taking the contraceptive pill behind her husband's back. Barbara is distraught when she discovers that her father has accepted a missionary posting in New Guinea for the next three years so will not be able to officiate at her wedding, while Violet suffers terribly with hot flushes, Christopher asks Trixie to meet his daughter, and Delia's heartache may finally be over. Last in the series.
---
Editions
| Barcode | Format | Region | Release | Edition |
| --- | --- | --- | --- | --- |
| 883929583447 | Blu-ray Disc | 1 | 2017-05-23 | |
| 8711983965584 | Blu-ray Disc | | | |
| 883929583430 | DVD | 1 | 2017-05-23 | |
| 5051561041969 | DVD | | | |
| 9398700040190 | DVD | | | |
---