Call the Midwife
Call the Midwife: Season 7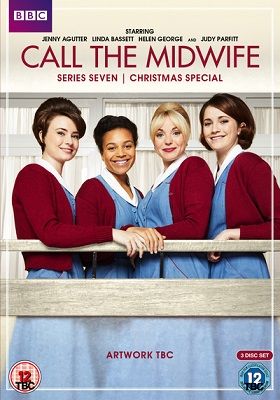 BBC (2018)
Drama, History
UK | English | Color | 9h 12min
Call the Midwife is a drama series adapted for television by Heidi Thomas from Jennifer Worth's best selling memoir of the same name. The series is a colourful look at the world of midwifery and family life in 1950s East End London. Jenny joins an eccentric community of nursing nuns having just qualified.
---
---
Director
Sydney Macartney
Claire Winyard
Rebecca Johnson
Emma Sullivan
Writer
Andrea Gibb, Heidi Thomas, Helen Blakeman, Lauren Klee, Jennifer Worth

,

Louise Ironside, Kelly Jones

Producer
Heidi Thomas, Pippa Harris, Christopher Aird, Ann Tricklebank, Elizabeth Kilgarriff

,

Mona Qureshi

Photography
Gareth Hughes, Toby Moore, Stuart Biddlecombe
Musician
Maurizio Malagnini
---
1
Christmas special 2018
60 min | Dec 25, 2018
2
Episode 1
60 min | Jan 21, 2018

A new midwife joins the team as the area is rocked by power cuts and blizzards. The new arrival is delayed by the weather and falls ill as soon as she arrives. However, she is quickly dragged from her sick bed to assist with a difficult birth. Nurse Crane and Dr Turner treat an elderly cancer patient who faces losing her house due to slum clearances, and try to convince Sergeant Woolf to allow her to die at home.
3
Episode 2
60 min | Jan 28, 2018

Lucille faces racism and prejudice when a new mother falls ill. Sister Winifred is keen to have fathers be more involved in the care of their babies.
4
Episode 3
60 min | Feb 04, 2018

Nurse Crane and Trixie investigate when a mother abandons her children at the clinic, fearing they were being abused or neglected. Her husband admits that she has been behaving strangely lately, and when she is referred to a neurologist by Dr Turner, the truth proves devastating for the whole family. Christopher admits that Alexandra has been unhappy since his divorce, and Violet and Fred organise a beauty contest to raise money for charity. Valerie and Magda both sign up and quickly become close friends - leading to the sharing of a terrible secret.
5
Episode 4
60 min | Feb 11, 2018

Sister Julienne helps a woman from Pakistan who is unable to have children, but who has found to her shock that her husband is bringing a second wife into their home, who is already eight months pregnant. Trixie hits the bottle following her break-up with Christopher, Dr Turner tries to persuade Sister Monica Joan to admit that her eyesight is failing, and Lucille helps a woman with a compulsion to eat coal.
6
Episode 5
60 min | Feb 18, 2018

Rumours spread around Poplar that a sailor with smallpox is hiding somewhere in town. Nurse Crane and Dr Turner try to track him down before he causes an outbreak. Lucille treats an expectant mother on her own, but soon feels out of her depth when she displays signs of a serious medical condition. Trixie goes to stay with her godmother, Violet and Fred organise a picnic for the parish, and Tom and Barbara return home.
7
Episode 6
60 min | Feb 25, 2018

Barbara helps a pregnant mother-of-two whose husband has recently died, and is on hand to give her support when a further tragedy drives her and her children from their home. Lucille teaches a health and relationships class at the youth club, only to encounter a furious mother who objects to her daughter attending. Sister Monica Joan goes into hospital for cataract surgery.
8
Episode 7
60 min | Mar 04, 2018

Barbara's condition is not improving and she is kept in isolation at the hospital, leaving her friends able to do nothing but wait for more news. Dr Turner and Shelagh assist a man being held in a remand home whose wife is pregnant, while Lucille makes some new friends.
Director: Syd Macartney
Writer: Andrea Gibb
9
Episode 8
60 min | Mar 11, 2018

As the nurses and midwives of Nonnatus House prepare to celebrate Sister Monica Joan's birthday, they face an influx of new patients when a nearby maternity home suddenly closes, leaving many expectant mothers in urgent need of support. Lucille treats a woman whose father has a long-hidden secret he feels he cannot hide any longer, while Tom and Nurse Crane struggle to move forward with their lives. Last in the series.
Director: Syd Macartney
Writer: Heidi Thomas
10
Christmas special 2018
60 min | Dec 25, 2018
---
Editions
| Barcode | Format | Region | Released | Edition |
| --- | --- | --- | --- | --- |
| 883929621644 | | 1 | May 22, 2018 | |
| 8711983967823 | | | | |
| 883929621538 | | 1 | May 22, 2018 | |
| 5051561042836 | | 2 | Mar 26, 2018 | |
| 9398700003218 | | | | |
---
---