Chihayafuru
Chihayafuru: Season 2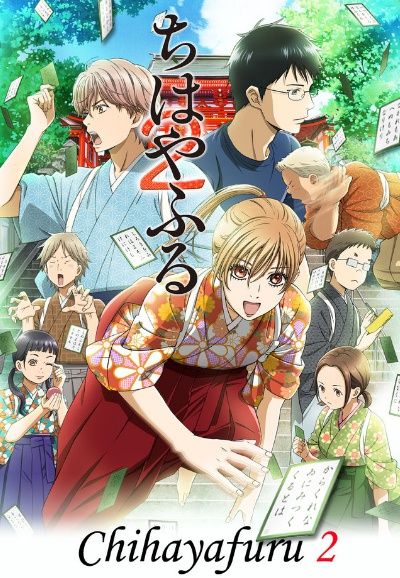 2011
Animation, Drama, Anime, Special Interest
Chihaya Ayase is a frank and ebullient girl who becomes fascinated by the obscure world of competitive karuta, a card game based on Japanese poetry. Introduced to the aggressive style of the game by a quiet and thoughtful elementary school classmate named Arata Wataya, the two quickly become close friends. They start playing as a group with Taichi Mashima, Chihaya's smart and athletic childhood friend, until they have to part ways during their middle school years due to several circumstances. As their high school life begins, they meet once again.
---
---
Director
Morio Asaka
Masahiro Takada
Toshikatsu Tokoro
Eiichi Kuboyama
Masaharu Tomoda
Jun Shishido
Kazuo Nogami
Tatsuma Minamikawa
Hitomi Ezoe
Kotono Watanabe
Takuma Suzuki
Takeyuki Sadohara
Hideki Hosokawa
Tomomi Muraoka
Yukihiko Asaki
Writer
Akemi Moriyama, Yūko Kakihara, Ayako Katoh, Yuki Suetsugu, Atsuo Ishino

,

Sumino Kawashima

Producer
Masao Maruyama, Toshio Nakatani, Seiji Okuda, Satoki Toyoda, Atsushi Kirimoto

,

Yuka Ooshima, Takuya Tsunoki

Photography
Kenji Fujita
Musician
Kôsuke Yamashita
---
1
The Flower's Colors Have Faded
25 min | Jan 12, 2013
As a new school year begins, a freshman named Sumire Hanano, who got dumped by her boyfriend on the first day of school, takes an interest in Taichi as the Karuta Club appeals for new members. To Chihaya's delight, several freshmen, Sumire included, come to join the club, although they are all beginners and are put off a little by the complex nature of the game. Chihaya and the others are soon at odds with each other as they all have different ideas about what priorities the club should focus on, though Chihaya defuses the situation by saying she wants to do as much as possible. As Chihaya starts teaching the freshmen the basics, Taichi goes off to train at the karuta academy so he can reach Class A. Sumire decides to follow him on the train, where he tells her that he wants to choose the girl he dedicates himself to.
Director: Morio Asaka
Writer: Yuuko Kakihara, Ayako Katoh
2
Though, Indeed, I Love
25 min | Jan 19, 2013
Sumire follows Taichi to the karuta society, where she becomes curious as to why he enjoys karuta. Meanwhile, Chihaya is saddened after nearly all of the first year members leave the club, leaving just a boy named Akihiro Tsukuba. When Kana calls Sumire out on her personal prettifying, she reveals that she is only sticking with karuta to pursue Taichi. During practise, Chihaya takes keen interest in Akihiro, who is experienced in Second Verse Karuta, whilst also noting how Sumire felt when obtaining her first card. When Chihaya asks Sumire to trim her nails, she ends up blurting about her crush on Taichi and runs off. When the others question Chihaya on why she is serious about the first years, she reveals that she wanted more members in order to avoid another incident like when they lost the team tournament due to her collapsing. As Yusei starts teaching Akihiro competitive karuta, Kana catches up to Sumire, managing to calm her down and convince her to return to the clubroom. Learning that karuta, much like love, is determined by its rules, Sumire decides to take karuta a bit more seriously.
Director: Morio Asaka
Writer: Yuuko Kakihara, Ayako Katoh
3
From Tsukaba's Peak
25 min | Jan 26, 2013
Arata places second in a tournament, stating that is true goal is to face Chihaya in the high school championship. Meanwhile, Chihaya and the others prepare to participate in the regional team championship. Following an incident where Akihiro attempts to include himself in the team in order to impress his brothers, Tsutomu suggests they switch up the play order to include Sumire and Akihiro, wanting to give them the second chance the others gave him the previous year. After clearing the first round, Akihiro finds himself up against a Class A opponent in the second round. Although nervous to begin with, Akihiro receives some encouragement from Chihaya and uses the tips he learnt from Tsutomu and Yusei to take a few cards from his opponent. Chihaya's team wins the round and, despite losing his own match, Akihiro gains some praise from his brothers. Meanwhile, Shinobu learns that Arata will be participating in the individual tournament.
Director: Morio Asaka
Writer: Yuuko Kakihara, Ayako Katoh
4
I Set Forth to Proclaim My World's Journey
25 min | Feb 02, 2013
Misuzawa find themselves in a pinch when their semi-final match is against Homei, whose advisor was the east representative in last year's Master's match. As Taichi remains concerned, Harada gives him some cryptic advice. Taichi struggles against his opponent, causing him to question his own talent. However, after everyone shows their support in providing him a towel, Taichi manages to make a comeback and win his match, helping Misuzawa reach the finals against Hokuo.
Director: Morio Asaka
Writer: Yuuko Kakihara, Ayako Katoh
5
More Than Even the Clinging Vines Hanging Beneath Ancient Eaves
25 min | Feb 09, 2013
Having scouted Hokuo during the semi-finals, Sumire reports that they plan to target Taichi, Tsutomu and Kana to secure three wins without much effort, which pushes them to become more serious about their match. To everyone's surprise, Hokuo's Hiro Kinashi decides to arrange the order to have a fair match up using their full strength. As Sudo is chosen as the speaker for the final match, motivating Hokuo not to slack off, Taeko brings Misuzawa some tasuki to help them cool down. Whilst Kana manages to perform well against her opponent thanks in part to Sudo's reading rhythm, Chihaya struggles against her opponent as she focuses too much on emulating Shinobu's technique. However, after Yusei ends up losing his match, Chihaya starts to make her comeback.
Director: Morio Asaka
Writer: Yuuko Kakihara, Ayako Katoh
6
Turn Tatsuta River Into a Colorful Brocade
25 min | Feb 16, 2013
Chihaya uses what she learned from watching the Master's match to hear sounds before they are made, putting pressure on Nayuta. The match soon approaches his climax with Chihaya, Taichi, Kana and Tsutomu all down to a luck-of-the-draw scenario, with Hokuo splitting the cards to their advantage, meaning Misuzawa will need to take cards from their opponent's side in order to win. Chihaya manages to encourage Taichi to try to aim for the opponent card, pushing his opponent to make an error and secure a win for Misuzawa and evening the scores. However, Chihaya ends up touching the final card the same time as Nayuta, which results in Hokuo's win, though both teams qualify for the nationals. After the tournament, Sumire, Akihiro and his brothers all decide join the karuta society. Meanwhile, Chihaya receives a text from Arata about what she thought of the finals, her reply being that it was both the most fun match she's had and the most frustrating loss.
Director: Morio Asaka
Writer: Yuuko Kakihara, Ayako Katoh
7
They All Exchange Hellos and Goodbyes at the Famous Gates of Afusaka
25 min | Feb 23, 2013
As Chihaya laments her loss in the regional finals, she allows the concert band to use the room above the karuta clubroom as storage. Noticing Chihaya's depression, her mother takes her to Kana's family shop to buy her her own hakama in order to encourage her to keep playing karuta. As Chihaya gets her motivation back, the concert band plays performs for the karuta club as thanks for letting them use the second floor. Whilst staying at a hotel in preparation for the nationals, Chihaya calls up Arata, promising to meet him in the individual tournament.
Director: Morio Asaka
Writer: Yuuko Kakihara, Ayako Katoh
8
Which Shines Over Mount Mikasa
25 min | Mar 02, 2013
As the day of the national comes, Akihiro is chosen as a starter for the first round against Chiba International High School, whose team supposedly consists entirely of foreigners. Meanwhile, Sumire is tasked by Tsutomu to observe a player named Megumu Osaka, whilst he observes last year's champions. Taichi manages to calm down the pressure on his team by exposing their opponents lack of English skills. As the match goes on, the players start to learn about their opponents' freeform styles and soon Misuzawa manage to show the efforts of their training and win their match. Although lamenting their loss, the Chiba students find they had much enjoyment from the match, vowing to become stronger for next year's tournament. Meanwhile, as Arata arrives in Omi Jingu to give Chihaya his support, he is approached by Shinobu.
Director: Morio Asaka
Writer: Yuuko Kakihara, Ayako Katoh
9
My Only Thought
25 min | Mar 09, 2013
As Arata has a brief run in with Shinobu, who believes team tournaments are for those who don't love karuta, Taichi becomes worried when he learns the team Tsutomu scouted consists of five Class A players. As Arata tries to find the right timing to approach Chihaya, Fukui West, whose three-man team is short a member due to traffic delays, drag Arata in as a stand-in, made more difficult when he is forced to take his glasses off so he won't be found out. Although one of Fukui's team members lose, which automatically results in an overall loss, Arata, remembering his time with Chihaya and Taichi, decides to put on his glasses so he can play seriously til the end, bringing the score to a more modest 3-2 defeat. However, following the match, Arata's old teacher who was supervising the match catches him, saying he may be barred from participating in the individuals for breaking the rules.
Director: Morio Asaka
Writer: Yuuko Kakihara, Ayako Katoh
10
The Drops From a Light Shower
25 min | Mar 16, 2013
Whilst Misuzawa begin their match against Yamaguchi Mioka, a distinguished school, the judging committee discusses what to do concerning Arata's violation, with Arata feeling he should accept what punishment they decide. As Chihaya struggles against Mioka due to their random card placement and knowledge that they gained from doing quiz shows, she spots Shinobu watching from outside and gets her drive back. As Shinobu learns of Arata's situation, she pleads with the judges to let him participate in the individuals. After focusing on their strengths and weaknesses, Misuzawa manage to win their round and advance to the playoffs. Chihaya hears about Arata from Sumire, but Taichi insists she focus on the matches ahead. As the group consider including Tsutomu for the next match, Yusei suggests they use the same playing order.
Director: Morio Asaka
Writer: Yuuko Kakihara, Ayako Katoh
11
The Love I Feel Burns Like Ibuki's Mugwort
25 min | Mar 23, 2013
Yusei becomes upset when Tsutomu settles for his suggestion way too easily, as he only mentioned it because he felt Tsutomu was drifting into a supporting role. After reading up on her opponents, Chihaya agrees to use the same order as the previous match, as she feels Tsutomu needs a rest from his scouting. Mizusawa soon begin their match against Shoyo High School, in which one loss means they lose. Whilst initially overwhelmed by Shoyo's speed, Misuzawa manage to make a comeback and win, thanks to the notes Tsutomu gathered from a team who lost to Shoyo. Meanwhile, Arata is allowed to participate in the individuals on the condition that he write an essay of apology and not be allowed to cheer on Chihaya and Taichi in exchange. As Misuzawa prepare for their semi-final match against Akashi Girls School, which features former Queen representative Megumu Ousaka, Tsutomu manages to deduce information about the other players based on Sumire's seemingly obscure notes. Although Chihaya manages to put aside her pride and not play against one of Akashi's aces, Taichi decides to put her in a different position on the offchance they change their order.
Director: Morio Asaka
Writer: Yuuko Kakihara, Ayako Katoh
12
The Only Sign of Summer
25 min | Mar 30, 2013
The semi-final match soon begins with Misuzawa fighting against Akashi whilst Hokuo go up against Fujisaki High School. Chihaya finds playing against Megumu difficult, as she has improved since her representative match the previous year due to her teammates encouraging her. As Chihaya resolves to be more on the offensive, Kana mentions something to her, reminding her of the feelings behind on the 100 poems and encouraging her to fight back against Megumu.
Director: Morio Asaka
Writer: Yuuko Kakihara, Ayako Katoh
13
In My Dreams, I Creep Closer to You
25 min | Apr 05, 2013
Chihaya's comeback is short lived as she once again loses focus whilst Megumu retains hers. Chihaya soon fights back using the techniques she learnt from her friends, pushing Megumu, who has no interest in becoming the Queen, to want to beat her. Heeding Harada's advice on not focusing on her speed, Chihaya starts to close the gap between her and Megumu. However, Megumu's teammates give her their support, pushing Megumu to become more determined.
Director: Morio Asaka
Writer: Yuuko Kakihara, Ayako Katoh
14
So Much That He Asks If Something Is Bothering Me
25 min | Apr 12, 2013
After Arata hears about Mizusawa's progress from the rest of Fukui's team, Shinobu challenges him to a game, but he declines, stating it is a day for team matches. Meanwhile, everyone is so focused on Misuzawa's match that they hardly notice Hokuo getting defeated by Fujisaki. Yusei ends up losing his match but Kana manages to win hers, easing the pressure. Taichi then wins his match, though Chihaya is put under pressure when Megumu takes her 'Chihayafuru' card. Chihaya narrowly loses her match against Megumu, bringing the game to 2-2, with Tsutomu and his opponent with one card each left. After a rough series of dead cards, Tsutomu manages to take the win with a gamble, taking Misuzawa to the finals against Fujisaki. As Chihaya becomes frustrated as to how she could've done better, Taichi shows her her own nail marks in her hand, showing how much strength she had been using, whilst Kana asks Akihiro to play in her stead due to her accumulated tiredness.
Director: Morio Asaka
Writer: Yuuko Kakihara, Ayako Katoh
15
When I Take the Path
25 min | Apr 19, 2013
Kana reveals her finger had become swollen during the last match, but assures Chihaya that luck is on their side as she concedes her position to Akihiro. Meanwhile, there is a lot of tension on the Fujisaki team as one of their third year players is taken out in favor of a girl named Rion Yamashiro, who had been spectating Misuzawa's match and is paired against Chihaya for the final match. Before the finals and third-play playoffs begin, Hiro visits Arata, informing him of Chihaya reaching the finals, though he remains firm in keeping to his agreed punishment. Irritated by Arata's words, Shinobu goes to spectate the finals as they begin.
Director: Morio Asaka
Writer: Yuuko Kakihara, Ayako Katoh
16
Wait for the Emperor's Return
25 min | Apr 26, 2013
A recap of the events of the second season so far, with a few bonus skits thrown in for good measure!
Director: Morio Asaka
Writer: Yuuko Kakihara, Ayako Katoh
17
It Drives the Grass
25 min | May 03, 2013
As the grand final begins, Fujisaki proves to be tough opponents, partly due to their intense stamina training by their coach, Sakurazawa, whilst Rion has an advantage over Chihaya due to being the granddaughter of the reader. Recalling Kana's advice on listening to the poems, Chihaya starts to understand some of the 'colors' each card possesses. She attempts to gain momentum, but seems to be plagued by an injury on her finger occured when Rion prevented her from taking a card. However, she focuses on her good finger and starts fighting back, intriguing the attention of Shinobu. Noticing Chihaya fight through her pain, Taichi and the others become more determined.
Director: Morio Asaka
Writer: Yuuko Kakihara, Ayako Katoh
18
My Fear is That You Will Forget
25 min | May 10, 2013
With a newfound passion, Misuzawa begin to work on their flaws and fight back against Fujisaki, although Tsutomu loses his match. Meanwhile, as Chihaya tries to endure the pain of her injury, she spots Shinobu in the crowd and gives her teammates some encouragement to focus on winning. With the playoff match also showing intense dedication, Shinobu recalls how she was forced to be alone in order to become a strong individual player. Despite how she had always been focused on individual matches, she finds herself strangely drawn to the passion flowing the from the teams. Back in the match, Misuzawa is under pressure as Taichi falls behind and Akihiro loses his match, but Taichi encourages the others to aim for three wins.
Director: Morio Asaka
Writer: Yuuko Kakihara, Ayako Katoh
19
I Do Not Know Where This Love Will Take Me
25 min | May 17, 2013
Taichi manages to take into account Haruda's advice and cause his opponent to perform a double fault, bringing them level again. Meanwhile, Chihaya wins her match against Rion, encouraging Taichi and Yusei to work harder, pushing both of their games to a luck-of-the-draw scenario. The two synchronize the placement of their remaining card and, defying Taichi's general bad luck, their card is read and they win the tournament for Misuzawa. As Chihaya steps outside the hall, she sees Arata waiting for her and states that she has fulfilled her promise to become one of the best players in Japan.
Director: Morio Asaka
Writer: Yuuko Kakihara, Ayako Katoh
20
The Fall Paddy Shacks
25 min | May 24, 2013
After Misuzawa receive their award for winning the tournament, Taeko takes Chihaya to a clinic to see to the injuries to her hand. Meanwhile, Arata walks Taichi and the others to the station, where he reveals that he plans to go to a college in Tokyo if he wins the individual tournament, much to Taichi's dismay. Chihaya is informed by the doctor that she has a chip fracture and should not do any intense karuta. After receiving from shirts from Yusei's sister though, Chihaya remains determined to play in the individuals, deciding she will play with her left hand instead. As Chihaya is drawn to go against Fukui's Keiko Yuube, she becomes more determined after seeing both Arata and Shinobu are competing. As the Class A tournament begins, Chihaya finds using her left hand is a lot harder than using her normal hand.
Director: Morio Asaka
Writer: Yuuko Kakihara, Ayako Katoh
21
Yet, in Name It Ever Flows, And in Fame May Yet Be Heard
25 min | May 31, 2013
Chihaya tries to grow accustomed to playing with her left hand whilst Arata and Shinobu effortlessly win their first matches. After eventually realising her card placement was designed for right-handed players, Chihaya flips her card positions, helping her to play more naturally and win her match. In the next round, Yusei finds himself up against Arata and, despite showing a strong start, is inevitably overwhelmed by Arata's pure speed, but makes sure to play his hardest til the end. After Chihaya makes it through the second round, she finds her opponent for the third round is none other than Shinobu and decides to put her right hand into play.
Director: Morio Asaka
Writer: Yuuko Kakihara, Ayako Katoh
22
Meeting on the Path
25 min | Jun 07, 2013
Despite her injury, Chihaya requests that Shinobu play with everything she has. As Shinobu takes the lead, Chihaya decides to take the gauze and tape off her finger, as she feels it is slowing her down, managing to win Shinobu's best card. However, Shinobu soon gains a further lead as Chihaya feels more pain from her injury, and the game soon ends with Shinobu's win by 23 cards. After the match, Chihaya thanks Shinobu for not going easy on her and tells her she plans to play against her again in the Queen match. Remembering her childhood friend who she was seperated from due to her karuta training, Shinobu anticipates her next match with Chihaya. Meanwhile, in the Class B tournament, Taichi is in a winning situation against Hiro.
Director: Morio Asaka
Writer: Yuuko Kakihara, Ayako Katoh
23
Cherry Blossoms Bloom on the Slope Below the Peak
25 min | Jun 14, 2013
As both Arata and Shinobu make it to the Class A finals, Chihaya is torn between watching their match or watching Taichi and Tsutomu in their respective finals. Although Yusei suggests that Chihaya should watch Arata's match, she instead goes with Kana to support Taichi as he faces against Rion. Taichi ends up becoming focused on trying to finish his match quickly so Chihaya can see Arata's match, causing his play to become sloppy. However, he manages to get back in the game by focusing on his desire to one day beat Chihaya and wins the Class B tournament. Afterwards, Taichi attempts to bring Chihaya to Arata's match, but she instead cries with delight over Taichi making it to Class A.
Director: Morio Asaka
Writer: Yuuko Kakihara, Ayako Katoh
24
How Can I Tell Her
25 min | Jun 21, 2013
As Chihaya becomes hesitant about going to watch Arata, she and Taichi are snuck in by Fujisaki's coach, Midori Sakurazawa. At this point, Arata is leading against Shinobu, as he somehow managed to gain a momentum over her. Shinobu soon starts fighting back by switching up her usual graceful style for a more aggressive attack, but even her trademark speed is outmatched by Arata. Shinobu soon becomes more focused and makes a valiant attempt to fight back, but in the end, Arata manages to win the tournament.
Director: Morio Asaka
Writer: Yuuko Kakihara, Ayako Katoh
25
I Can Look up and See the Snowy Cap of Mt. Fuji
25 min | Jun 28, 2013
As it is revealed that Tsutomu and Akihiro had managed to win their own tournaments, Chihaya laments how she hasn't managed to live up to her own goals. As they leave, Chihaya exchanges contact details with Midori, who offers to send her a video of the Class A final. Later, a hospital examination of Chihaya's finger reveals she has enchondromatosis in her index finger, so Chihaya decides to undergo an operation. Whilst hospitalized, Chihaya expresses some of her frustrations over the phone to Arata, who tells her that whenever he plays, he thinks back to his old apartment where he used to play with Chihaya. As Chihaya spends the next week recovering from her operation, she comes to realise she is in love with Arata. Taking note of this, Kana prompts Taichi to try harder in expressing his true feelings towards Chihaya. The next day, Chihaya calls Midori, who offers to take her to a Fujisaki training camp, which Chihaya and Taichi go to.
Director: Morio Asaka
Writer: Yuuko Kakihara, Ayako Katoh
---
Editions
| Barcode | Format | Region | Released | Edition |
| --- | --- | --- | --- | --- |
| 816726023519 | | 1 | Mar 20, 2018 | |
| 816726023717 | | 1 | Mar 20, 2018 | |
| 816726023618 | | 1 | Mar 20, 2018 | |
| 9555652700910 | | | | |
---
---