Chillers
Chillers: Season 1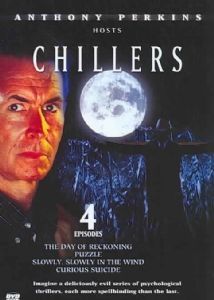 France 3 (1990)
Thriller, Suspense
USA | English | Color | 10h 27min
Based on Patricia Highsmith short stories. The show succeeds in displaying (at least to some extent) Highsmith's sinister atmosphere, delving into the darkest depths of human nature.

Some of the episodes are particularly well-done and creepy; with great musical setting; and perhaps the show's biggest asset is the cast of the best British actors.
---
---
Director
Damian Harris
John Berry
Samuel Fuller
Nessa Hyams
Robert Bierman
Clare Peploe
Peter Kassovitz
Nick Lewin
Mai Zetterling
Roger Andrieux
Maurice Dugowson
Maroun Bagdadi
Writer
John Berry, Samuel Fuller, David Hughes, Gerard Brach, Patricia Highsmith

,

Claude Harz, Evan Jones, Julian Bond, Christa Lang, Mai Zetterling, David Wilks, Pascal Bonitzer, Marc Princi, Nick Villiers, Andrew Hislop

Producer
Steven North, Peter Manley, Jean-Daniel Verhaeghe, Nicole Flipo, Simon Oakes

,

Robert A. Halmi, Mark Grenside

Photography
Bernard Lutic, Peter Thornton, Alain Levent, Ronnie Maasz, Richard Andry

,

Jean-Claude Vicquery, André Neuad

Musician
Laurent Petitgirard, Stanislas Syrewicz, Chaz Jankel, Jason Osborn, Jean-Marie Sénia

,

Jean-Philippe Goude, Milan Svoboda, Stéphane Vilar
---
1
The Cat Brought It In
50 min | Jan 07, 1990

The cat brings in a couple of fingers from an unknown corpse. An investigation starts to find out what happened.
Director: Nessa Hyams
Writer: Douglas Livingstone
Guest stars: Amelia Shankley, Francesca Hall, Richard Goodfield, Concha Hidalgo
2
Sauce for the Goose
50 min | Apr 20, 1990

Lovers plan to murder the woman's husband.
3
Old Folks at Home
50 min | Apr 27, 1990

Journalists befriend an elderly couple who gradually disrupt their lives.
4
The Thrill Seeker
50 min | May 04, 1990

A proofreader makes up tales and steals trinkets from women, with disastrous results.
5
The Day of Reckoning
50 min | May 11, 1990

His wife, nephew and livestock want a greedy chicken farmer dead.
6
Puzzle
50 min | May 18, 1990

A womanising adman cannot decide among three flames.
7
Slowly, Slowly in the Wind
50 min | May 25, 1990

A greedy businessman hides the results of revenge in plain sight.
8
A Curious Suicide
50 min | Jun 01, 1990

A doctor (Nicol Williamson) is obsessed with a woman.
9
A Bird Poised to Fly
50 min | Jun 08, 1990

A young architect's obsession with unrequited love drives him over the edge.
10
The Stuff of Madness
50 min | Jun 15, 1990

A woman has her departed pets stuffed for garden ornaments; then her husband dies.
11
Under a Dark Angel's Eye
50 min | Jun 22, 1990

Finds jolt a man (Ian Richardson) selling his mother's house.
12
Something You Have to Live With
50 min | Jun 29, 1990

Robbers invade a couple's new home.
---
Editions
| Barcode | Format | Region | Released | Edition |
| --- | --- | --- | --- | --- |
| 683904547651 | | 1 | Oct 30, 2018 | TV Series |
| 096009258795 | | | Aug 21, 2007 | |
---
---