Chrisley Knows Best: Season 1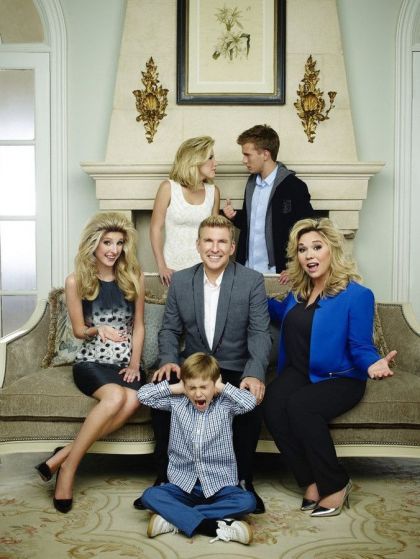 ---
| | | |
| --- | --- | --- |
| | Todd Chrisley | |
| | Julie Chrisley | |
| | Chase Chrisley | |
| | Faye Chrisley | |
| | Grayson Chrisley | |
| | Lindsie Chrisley | |
| | Savannah Chrisley | |
| | Chloe Chrisley | Chloe |
| | Jackson Campbell | Jackson |
| | Kyle Chrisley | Kyle |
---
Plot
"Chrisley Knows Best" is a real-life family comedy which follows Atlanta-based self-made multimillionaire Todd Chrisley, his devoted wife Julie and their five children who live a seemingly picture-perfect Southern life with everything money can buy. A "patriarch of perfection," Todd runs his family just like his business – with an iron fist – and micromanages every move and expenditure made by each member of the Chrisley clan. But behind the façade of the family's fairy-tale like 30,000 square-foot home, real-life issues and lots of laugh-out-loud drama unfolds.
Episodes
Episode 1: Patriarch of Perfection
30 min Mar 11, 2014

Todd Chrisley tries to stay ahead of his five children; Chase sneaks out to a football game, disobeying Todd.
Episode 2: Not So Sweet Sixteen
30 min Mar 11, 2014

A birthday celebration is planned for Savannah's Sweet 16; Todd struggles with losing his little girl to womanhood; Chase flirts with Savannah's friends.
Episode 3: Jugs and Ammo
30 min Mar 18, 2014

Todd struggles to get along with his son-in-law after his daughter's elopement; Todd and Will try to find common ground at the shooting range.
Episode 4: Two Men and a Baby
30 min Mar 25, 2014

The Chrisleys welcome a new addition; Todd and Julie give Kyle a lesson in parenting; Savanna and Chase have an accident.
Episode 5: Todd-tervention
30 min Apr 01, 2014

The Chrisleys travel to the South Carolina lake house to celebrate Todd's mother's birthday; Todd confiscates electronic devices to ensure family bonding; Julie tries to pull off a surprise party.
Episode 6: Big Apple Blowup
30 min Apr 08, 2014

Todd wants to teach Chase and Savannah the fashion business in New York City; Julie vows to live a healthier life.
Episode 7: Date Night
30 min Apr 15, 2014

The children treat their parents to a day of pampering and a romantic dinner.
Episode 8: Hey Chloe, It's Your Birthday!
30 min Apr 22, 2014
Todd bets Julie that he can throw a fabulous party for Chloe's first birthday as well as she could.
---
Editions
| Barcode | Format | Region | Release | Edition |
| --- | --- | --- | --- | --- |
| 191329000939 | DVD | 1 | 2017-04-18 | |
---