Sseokeul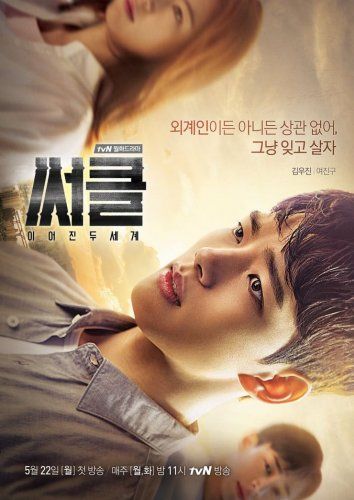 ---
| | | |
| --- | --- | --- |
| | Kim Kang-Woo | Kim Joon-hyuk |
| | Yeo Jin-Goo | Kim Woo-jin |
| | An Woo-Yeon | Kim Beom-Gyoon |
| | Kong Seung-Yeon | Han Jung-Yeon |
| | Lee Gi-Kwang | Ho-soo |
| | Oh Eui-Sik | Lee Dong-Soo |
| | Gong Seung-Yeon | Jung-yeon |
| | Jung In-sun | Park Min-Young |
| | Han Sang-jin | Park Dong-Gun |
| | Min Sung-Wook | Lee Hyun-Seok |
| | Yoo-Young | Secretary Shin |
| | Song Young-Kyu | Han Yong-Woo |
| | Kwon Hyuk-soo | |
| | Kim Joong-Ki | Kim Kyu-Cheol |
| | Nam Myung-Ryul | Yoon Hak-Joo |
| | Seo Hyun-Chul | Hong Jin-Hong |
| | Nam Myung-ryeol | Yoon Hak-Joo |
| | Shin Joo-Hwan | Senior Lee |
| | Yoo Young | Secretary Shin |
---
Plot
After Aliens arrive, the story takes place in two time streams: 2017 and 2037. In twenty years, and by 2037, the world has been divided into a "Smart Earth" where artificial intelligence has created a utopian environment in which no diseases or crimes exist, and an "Ordinary Earth" where people still suffer from rampant plague and lawlessness.
Episodes
Episode 1: Episode 1
70 min May 22, 2017

Twin brothers Woo Jin and Bum Gyun encounter an alien as children, turning Bum Gyun dangerously paranoid as an adult in 2017. In 2037, Detective Kim and Chief Hong look for a way into a "crime-free" Smart Earth.
Episode 2: Episode 2
70 min May 23, 2017

Woo Jin doesn't know what to believe when a disturbingly familiar student joins his class. The trust between Detective Kim and the Smart Earth employees is destroyed from the get-go.
Episode 3: Episode 3
70 min May 29, 2017

With Bum Gyun still missing, Woo Jin teams up with Jung Yeon to look further into the suicides. Joon Hyuk proposes going to Normal Earth to access Park Jin Gyu's memories.
Episode 4: Episode 4
70 min May 30, 2017

Woo Jin and Jung Yeon have a run-in with who they believe to be the culprit. Joon Hyuk and his team make a game-changing discovery about Bluebird.
Episode 5: Episode 5
70 min Jun 05, 2017

Woo Jin becomes convinced of Jung Yeon's otherworldliness, but she's reluctant to believe it. Detective Kim learns the true identity of Bluebird.
Episode 6: Episode 6
70 min Jun 06, 2017

With new clues to investigate, Woo Jin expedites his search for Bum Gyun. In the future, Jung Yeon informs Detective Kim of someone who may know Woo Jin's whereabouts.
Episode 7: Episode 7
60 min Jun 12, 2017

Woo Jin and Jung Yeon are disturbed to find out their fathers are not who they thought they were. Detective Kim must accept that Woo Jin's present may be different than what he'd imagined.
Episode 8: Episode 8
60 min Jun 13, 2017

Woo Jin is cornered into helping Professor Han look for lost research. Detective Kim prepares for a possible meeting with the mysterious chairman of Human B.
Episode 9: Episode 9
60 min Jun 19, 2017
When Woo Jin finds Bum Gyun, Professor Han starts to make his getaway. Detective Kim and Jung Yeon become two of Smart Earth's most wanted.
Episode 10: Episode 10
60 min Jun 20, 2017

Professor Park realizes that the power lies in his hands now. Detective Kim receives new information about Woo Jin, but Human B is hot on his trail.
Episode 11: Episode 11
60 min Jun 26, 2017

Woo Jin learns the truth about his father's research data, and Detective Kim learns the truth about what really happened to Woo Jin.
Episode 12: Episode 12
60 min Jun 27, 2017

In the final episode, Woo Jin, Detective Kim, Jung Yeon, and their crew look for incriminating evidence against Park Dong Geun to take him down once and for all.
---
Report an error for
'Sseokeul'
at Collectorz.com Core