CSI: Miami: Season 3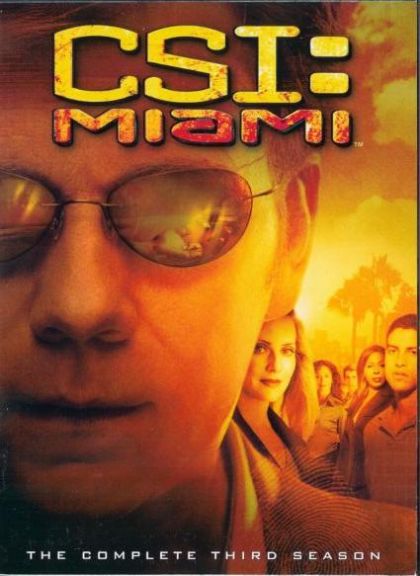 Drama, Thriller, Crime, Mystery, Action
USA
/
English
/
1093 mins
---
Director
Writer
Max Allan Collins, Anthony E. Zuiker

Ann Donahue, Carol Mendelsohn, Marc Dube

Producer
Jerry Bruckheimer, Joe Chappelle

Elizabeth Devine, Doreen Blauschild

Photography
Larry Reibman
Musician
Graeme Revell, Jeff Cardoni

Doug DeAngelis, Sebastian Arocha-Morton, David E. Russo
---
Trailer
Plot
CSI: Crime Scene Investigation took television by storm in 2000 with its innovative and cutting-edge updating of a standard series concept in this case, the cop show. Suddenly, instead of simply whodunit, solving crimes was a matter of howdunit, and with what size shoe, and whether anyone left behind traces of evidence that the blue ALS light could pick up. Now that gritty approach to crime known as forensic science makes its way from Las Vegas to the streets of Florida in CSI: Miami. A whole new team of crime scene investigators is on hand to probe the seamy underside of what some refer to as Cuba North and others call Georgia South. Consider it a tropical blend of people, culture, nightlife and, of course, the occasional killing or two. Just as you do in Vegas, come for the crime, stick around for the clues. And there's always a clue.
Episodes
Episode 1: Lost Son
60 min Sep 20, 2004

After a large yacht slams into a major Miami bridge, the team finds that the man steering the boat was shot and killed before the accident. The victim's wife reveals that their son had been kidnapped and her husband was handing over the ransom – three million dollars worth of jewels. But when the team learns that the jewels were fake, the investigation leads them into a dangerous situation at a jewelry shop that may contain crucial evidence, where Horatio must face the unimaginable when one of the team is killed in the line of duty.
Director: Duane Clark
Writer: Elizabeth Devine, Ann Donahue
Guest starring: Rudolf Martin, Pepper Sweeney, Samuel Ball, Missy Crider, John Sanderford, Sean Cw Johnson, Dexter Fletcher, Lauren Storm, William Mapother, Colton Shires
Episode 2: Pro Per
60 min Sep 27, 2004

A woman is killed during a posh party at an exclusive waterfront estate when a man opens fire on the proceedings from a cigarette boat. When a former con is arrested, he acts as his own lawyer and proves to be smarted than he appears. Complicating matters is the fact that the leading witness in the case is the dead woman's 10-year-old son, whom Horatio wants to protect, refusing to let him testify.
Director: Karen Gaviola
Writer: Steven Maeda, John Haynes
Guest starring: Laz Alonso, Noah Gray-Cabey, Karla Osella, Kevin McCorkle, Channing Tatum, Bokeem Woodbine, Marlene Forte, Andrea Bendewald, Hayden Tank
Episode 3: Under the Influence
60 min Oct 04, 2004

The CSIs must find the killer after a young woman is pushed in front of a moving bus. Alexx finds a bruise shaped like a hand imprint on the victim's back, proving that she was pushed in front of the bus, and her boyfriend, Jay Seaver, is the prime suspect. When one of Jay's office rivals also turns up dead, Jay reveals that he has a psychotic stalker, Claudia, who he thinks might kill to please him. However, when Jay hires a lawyer to protect Claudia, Horatio suspects that Jay may be more involved than they thought. Later, a man's body is discovered down an elevator shaft in a nearby building, and there is evidence to link the victims to a common killer. Meanwhile, Calleigh's father seeks her help when he fears that he may have killed someone after a night of drinking, and Horatio assigns a new CSI, Ryan Wolfe, to the case.
Director: Scott Lautanen
Writer: Marc Dube, Corey Miller
Guest starring: John Heard, Jonathan Togo, Amelia Cooke, Jesse Head, Jonathan Silverman, Daniel Murray, Meredith Monroe, Steven Meek, Jack Kyle, Thom Scott II, Brad Newman
Episode 4: Murder in a Flash
60 min Oct 11, 2004

E-mails and text messages trigger a mass gathering of students to perform a random task on a golf course. However, as the crowd disperses, the body of a high school student is found. The original message triggering the "flash mob" is traced to a high school senior whose father is a high-powered defense attorney. The case changes direction when Horatio and the team learn that the schoolmaster's daughter may have had something to do with the murder and evidence reveals that the victim was having an affair with his chemistry teacher.
Director: Fred Keller
Writer: Sunil Nayar, Anne McGrail
Guest starring: Teal Redmann, Don Fischer, Andrew St.John, Finn Wittrock, David Marshall Grant, Tim Kelleher, Sam Huntington, Kate Mara, Jack Coleman, Lorena York, Amanda Detmer, Douglas Spain, Francesco Quinn, Tim Abell, Jonathan Togo, Orlando Ortega
Episode 5: Legal
60 min Oct 18, 2004

An 18-year-old girl is stabbed to death in a bathroom of a popular Miami nightclub. Horatio learns that the victim was an investigative aide working for Alcohol Beverage Control and was monitoring underage drinking. As Horatio interviews the club's owner, an unknown man drives by the club, sees that the police are there, and crashes his car while fleeing the scene. However, the case gets more complicated when they discover another murdered victim inside the car. DNA from the second victim's watch ultimately leads them to a day spa where the services may not be entirely legal. Meanwhile, Calleigh and Ryan work together to determine whether an insecure and underage teenager at the club that night had anything to do with the murder.
Director: Duane Clark
Writer: Michael Ostrowski, Ildy Modrovich
Guest starring: Jonathan Togo, Paul Wasilewski, Jay Bontatibus, Janelle Inez, Briana Nicole Deutsch, Jonathan Scarfe, Emilie de Ravin, Jayne Brook, Oksana Babiy, Lawrence Monoson, Peter Franzen, Joe Maruzzo, Chris Olivero, Irene A. Hoffman
Episode 6: Hell Night
60 min Oct 25, 2004

The wife of a famous baseball player is brutally killed in her home and her philandering husband is charged with the crime. The jury on the case, as well as the accused and his defense, visits the house to examine the crime scene, but when the lights are dimmed, as they were when the victim was killed, and then turned back on, the ball player is found dead with a meat clever in his back and a note that reads "guilty." Now, as Horatio and the team find that the husband's defense team tampered with the crime scene, they must examine the evidence to find the couple's killers. Meanwhile, Horatio gets a call from Yelina, who tells him that her son, Ray, Jr., is missing.
Director: Scott Lautanen
Writer: Steven Maeda, Corey Miller
Guest starring: Julie Skon, J. August Richards, Sterling Macer Jr., Martin Grey, Kendall Schmidt, Vincent Angell, Lester James Brandt, Alex Buck, Elisa Leonetti, Alyssa Diaz, Daniel Smith, Alex Black, Caitlin Mowrey, Christina Chang, Susan Ward, Vince Deadrick Sr., Edward Conna, Buddy D
Episode 7: Crime Wave
60 min Nov 08, 2004

As a huge tsunami heads directly towards Miami, a ten-hour warning gives citizens just enough time to evacuate the city. In the chaos, two people are killed in a parking lot and the evidence leads Horatio to discover a plot to rob a bank timed to take advantage of the evacuation. However, as the CSIs close in on the robbery already in progress, they find that it's a more elaborate crime than they previously thought. In the wake of the storm, Ryan and Alexx discover a body washed up from a local cemetery that may have a different cause of death than originally recorded. Meanwhile, Horatio suspects that Yelina is being physically abused by her boyfriend, IAB's Rick Stetler.
Director: Karen Gaviola
Writer: Elizabeth Devine
Guest starring: Amanda Randall, Pedro Miguel Arce, Louis Mandylor, Manny Suarez, Christina Chang, Beth Broderick, Manny Perez, David Allen Brooks, Brian Bloom, Laura Regan, Kaiyana Rain, Corbin Allred, John Kassir, Armando Valdes-Kennedy, Tamara Taylor, Matt Champagne, Nicole Rawlins, J
Episode 8: Speed Kills
60 min Nov 15, 2004

A murder investigation takes Horatio and the team into the world of speed dating. Richard Laken is found killed by a tire iron outside a lounge following an evening of speed-dating. The team discovers his car is covered with acetone, which traces back to one of the female guests. She reveals that she dated Laken and he dumped her, so she doused his car with nail polish remover for revenge, but she didn't kill him. Now, when Horatio and the team learn that Laken recently witnessed a serious assault at a Miami Heat basketball game, they are on the hunt for two perps instead of one.
Director: Fred Keller
Writer: Sunil Nayar, Marc Dube
Guest starring: Mark Devine, Deborah Zoe, Marcus Chait, Susan Walters, Debi Mazar, John Ales, Scott William Winters, Vanessa Bell Calloway, Bradley White, Steve Cell
Episode 9: Pirated
60 min Nov 22, 2004

The team investigates a modern-day piracy off the coast of Miami after six bodies are discovered floating in the ocean tied together by rope. Horatio suspects that a ship was hijacked with some of the crew killed and then dumped overboard. Evidence suggests that other crew members might have escaped on a life raft. Using radar and GPS technology, the CSIs find survivors but their stories don't match. Now, Horatio and the team must learn what really happened out in the ocean as they find themselves investigating the seamy underbelly of Miami's militias and arms dealers.
Director: Duane Clark
Writer: Steven Maeda, Michael Ostrowski
Guest starring: Malaya Riviera Drew, Paul Dillon, Philipp Karner, Josh Braaten, Tony Genaro, Will Collyer, Teddy Lane Jr., Dave Power, Roy Werner, Mark Derwin, Phillip Rapagna, Diana R. Lupo
Episode 10: After the Fall
60 min Nov 29, 2004

The CSIs must investigate when a pedestrian is killed after a man falls from a building and lands on him. Horatio and the team find that the victim found on the sidewalk is not the same man who fell from the building, but the unfortunate person he landed on. The CSIs discover that the fallen victim is in possession of a sex DVD involving a top Miami criminal judge and a woman with a sordid sex life. When the woman is found dead, the team must delve into the complicated personal lives of those in Miami's judicial system in order to find the killer.
Director: Scott Lautanen, John Haynes
Writer: Marc Dube, Ildy Modrovich
Guest starring: Gary J. Wayton, Holly Lynch, Richard Miro, Daniel Betances, Megan Boye, Josh Randall, Ivan Allen, Dax Griffin, Galyn Gorg, Christina Chang, Cameron Daddo, Holmes Osborne, William Allen Young
Episode 11: Addiction
60 min Dec 13, 2004

When a woman is killed in what looks like a carjacking, the CSIs talk to her husband, the oldest of the three brothers who run their lucrative family business. However, when it is revealed that the victim had a gambling addiction that could have bankrupted the company, the team must follow the evidence to find the killer. Meanwhile, Alexx hires a recovering alcoholic as a body hauler and must investigate when he is accused of stealing from the dead.
Director: Steven DePaul
Writer: Charles Holland
Guest starring: Matthew Marsden, Dan Cortese, Holly Valance, José Solano, Avery Kidd Waddell, Grace Renn, Erinn Bartlett, Joseph Kell, Greg Dohanic, Onaje Gittens, Robert Knepper
Episode 12: Shootout
60 min Jan 03, 2005

When gang-related gunplay goes down in an emergency room, Horatio and the team must find the gang members responsible. The evidence suggests that an orderly in the hospital recognized the wounded gang member, who possibly killed one of the orderly's friends and alerted gang members to his location. However, the evidence doesn't match up and the CSIs discover that a cheating girlfriend, not gang retaliation, may be behind the shooting. Meanwhile, Ryan questions a mother in the emergency room after her story regarding her child doesn't add up.
Director: Norberto Barba
Writer: Sunil Nayar, Corey Miller
Guest starring: Rob Moran, Chris Gehrt, Demetrius Navarro, Shelley Robertson, Judy Greer, Julian, Matt Schulze, Rey Gallegos, Noel Guglielmi, Luis Garcia, Rosa Blasi, Jackie Pereida, Kathryn Meisle, Jason Quinn
Episode 13: Cop Killer
60 min Jan 17, 2005

During a routine traffic stop, a police officer is murdered and now Horatio and the team must track down the killer. The only witness to the murder is a civilian who was doing a ride-along with the officer, but who is now missing. Roadside evidence leads the CSIs to Missy Marshall, a teenage girl who was with the killer at the time of the murder. However, as the team searches for the civilian and the killer, they find that Missy may have been more involved with killer and the shooting than she is admitting. Meanwhile, Horatio and Rebecca's relationship is in jeopardy when they don't see eye to eye on a case.
Director: Jonathan Glassner
Writer: Steven Maeda, Krystal Houghton
Guest starring: Hiro Koda, Brady Smith, Trevor Morgan, Kirsten Storms, Christina Chang, Christopher Michael Jones, John Doe, Alex Nesic, Katherine La Nasa
Episode 14: One Night Stand
60 min Feb 07, 2005

The CSIs uncover a complex counterfeiting operation after a bellboy is found murdered at one of Miami's hottest hotels. The luggage that the deceased bellboy had been loading, as well as a heist of a special paper that money is printed on, leads the CSIs to uncover a complex counterfeiting operation. It's cruise season in Miami, which means that the population of Miami swells, giving the team even more suspects to the murder. Meanwhile, Calleigh must investigate when a woman goes missing, and is later found dead, after she and her husband attend a hot and flirty "friction" party.
Director: Greg Yaitanes
Writer: Michael Ostrowski, John Haynes
Guest starring: Joshua Dov, Michael B. Silver, Edward Kerr, Jennifer Massey, Jose Pablo Cantillo, Laura McLauchlin, Bru Muller, Taso Papadakis, Douglas Bennett, Don Franklin, Kimberly Kevon Williams, Wiley Pickett, Michael Trucco, Laurie Fortier, John Pyper-Ferguson, Adam Grimes, Tony
Episode 15: Identity
60 min Feb 14, 2005

When the CSIs find a woman swallowed whole and killed by a gigantic snake, they uncover a covert drug smuggling operation. Evidence leads Horatio and the team to a drug smuggling operation where large snakes are suspected of be being used to bring illegal drugs into the country to avoid detection by customs. However, when Horatio finds that Clavo Cruz, a nemesis of Horatio's who hides behind his diplomatic immunity, may be behind the operation, the team must find a legal way to put the criminal behind bars. Meanwhile, Wolfe must find the truth when two women each claim that they are the real victim of identity theft and the other is the culprit.
Director: Gloria Muzio
Writer: Ann Donahue, Ildy Modrovich
Guest starring: Ashleigh Ann Wood, Gonzalo Menendez, Mary Castro, Gino Anthony Pesi, Judy Tylor, Brendan Miller, Myndy Crist, Jim Davidson, Marsh Mokhtari, Armando Valdes-Kennedy, Andrew Davoli, Alisia Geanopulos, Sonia Braga, Castulo Guerra, Joe Michael Burke, Kristen Demergian, Lee W
Episode 16: Nothing to Lose
60 min Feb 21, 2005

Evidence leads the CSIs to believe that someone started a massive fire in the Everglades in order to cover up a murder. Local prisoners are brought in as free manpower to help fight the wild fire in the Everglades. However, when a serial killer escapes the scene, Horatio must track him down before he strikes again. Meanwhile, the body of a local college student is found shot to death and the fire has destroyed the crime scene and the evidence. However, when the team uncovers an illegal moonshine operation and homemade ammunitions in the vicinity, the CSIs uncover the real reason why the boy was out there.
Director: Karen Gaviola
Writer: Elizabeth Devine, Marc Dube
Guest starring: Michael Cudlitz, Eric Pierpoint, Lochlyn Munro, Hector Atreyu Ruiz, Jennifer Gatti, Christopher Cousins, Judson Mills, Jesse Burch, Azura Skye, Logan Bartholomew, Arielle Kebbel, Armando Valdes-Kennedy, Brian Howe, Sarah Trigger, John Terlesky, David Paetkau, Don Swayze
Episode 17: Money Plane
60 min Mar 07, 2005

Someone uses a laser light to blind a pilot and bring down a jet, which carries $1.2 billion in checks to be delivered to banks on the eastern seaboard. The crime scene evidence reveals a victim, a young fundraising socialite, who was inside the plane but killed prior to the crash. Now, although the team has little to work with since the victim's wealthy family is opposing an autopsy, Horatio must follow the money trail. Meanwhile, Calleigh works on the case with her ex-boyfriend, Detective Hagen, and their romantic history could cause problems for both of them.
Director: Scott Lautanen
Writer: Steven Maeda, Sunil Nayar
Guest starring: John Allen Nelson, Matthew Butcher, Kenneth Colom, Greg Evigan, Brian Stepanek, Andrea Silvers, Taryn Manning, Michael B. Silver, Joan Severance, Corey Brill, Michael Landes
Episode 18: Game Over
60 min Mar 21, 2005

An extreme skateboarder and videogame tester is found dead on a half-pipe platform used to program extreme skateboarding video games. The CSIs discover that he was wearing reflective sensors when he was killed, so the motion-capture device used to produce these videogames recorded the murder as it happened, but not the murderer. Now the team delves into the highly competitive world of videogame programmers and testers to find the killer.
Director: Jonathan Glassner
Writer: Michael Ostrowski, Corey Miller
Guest starring: Tony Hawk, Jennifer Sky, Robert Mailhouse, Ethan Cohn, Kerr Smith, Michael Wiseman, Kate Norby, Boti Ann Bliss, Hal Ozsan, Lisa Rotondi, Kyle J. Downes, James Grimaldi, Paul Hipp, Scott McIntosh, Andy MacDonald
Episode 19: Sex & Taxes
60 min Apr 11, 2005

An IRS agent is killed while trying to repossess a delinquent taxpayer's yacht soon after the CSIs discover a second IRS agent shot to death. Now, just when everyone has a reason to detest the IRS, Horatio must find who is behind what could possibly be a series of murders right before tax day.
Director: Scott Shiffman
Writer: Brian Davidson, Ildy Modrovich
Guest starring: Mark Deklin, Randy J. Goodwin, Chad Williams, Sandrine Holt, David May, Andrea Roth, Tim Guinee, Hunter Allen, Willie Garson, Zac Efron
Episode 20: Killer Date
60 min Apr 18, 2005

Horatio's life is changed forever when he learns important information about his deceased brother. Horatio must now figure out what to do with this information about his brother, Raymond, and whether or not to tell Yelina. Meanwhile, the team investigates when a woman is murdered at a crowded bar after she's approached by a female employee of a service that helps men pick-up women. Also, when Delko loses his badge after some reckless behavior and it's used in a crime, he must locate the badge before it's used again.
Director: Karen Gaviola
Writer: Elizabeth Devine, John Haynes
Guest starring: Natashia Williams, Rick Peters, Lisa Brenner, Sandra Prosper, Jason Hall, Rob Swanson, Lindsey McKeon, Jon Bernthal, Boti Ann Bliss, Yvette Nipar, Max Martini, Al Vicente, Andrea DeOliveira, Frank Alvarez
Episode 21: Recoil
60 min May 02, 2005

After a bitter custody battle, shots are fired outside the courthouse. Bullets fly and the target is the little girl's mother. Horatio goes after the father, who he suspects may not be the girl's biological father after all. However, when the mother's shady past is uncovered, the team finds that she has a lot of enemies who would like to take a shot at her. Meanwhile, Calleigh's father returns to the crime lab for her guidance but for an unexpected reason.
Director: Joe Chappelle
Writer: Steven Maeda, Marc Dube
Guest starring: Brian Tahash, John Heard, Natalia Baldwin Leon, McKinley Freeman, Michelle Ann Johnson, David Gianopoulos, Liana Liberato, Paul Green, Kimiko Gelman, Tracey Needham, Bill Sage
Episode 22: Vengeance
60 min May 09, 2005

A former high school football star is murdered at a reunion, the CSIs must find the killer. The victim was the big man on campus in high school and there are a lot of guests at the reunion with reasons to resent him all these years. Now, the team must investigate everyone, from the head cheerleader to the school misfit, to see who held a decade-old grudge big enough to kill. Meanwhile, Horatio and Delko arrive at a crime scene and discover that it's already been processed, leading Horatio to uncover further information about his brother possibly being alive.
Director: Norberto Barba
Writer: Sunil Nayar, Corey Miller
Guest starring: Lance Reddick, Gregory Mikurak, Tyler Goucher, Nick Jaine, Marcus Patrick, Andre Royo, Paul Fitzgerald, Kimiko Gelman, Armando Valdes-Kennedy, Richard Speight, Jr., Max Martini, Jessica D. Stone, Christian Monzon, Eli Danker, Katy Selverstone, Megan Ward, Dylan Neal
Episode 23: Whacked
60 min May 16, 2005

An axe murderer on death row is given a stay of execution just moments before it was to take place, on the grounds that there may have been tainted DNA analysis used at his trial. Now, without using any DNA evidence, the team must race against time and reexamine all of the physical evidence in the case, just as they get a call on a new double murder that looks suspiciously like the case they're working on.
Director: Scott Lautanen, Ildy Modrovich
Writer: Elizabeth Devine, Ann Donahue
Guest starring: Eric Roberts, Cindy Pickett, Megan Follows, David Noroña, Kent Faulcon, Alex Buck, Kimiko Gelman, Sam Vance, Earl Brown, Christopher Shyer, Javier Grajeda, Lawrence LeJohn, Jerry Giles
Episode 24: 10-7
60 min May 23, 2005

While investigating the murder of man hired to make dirty bombs that terrorists intend to set off in Miami, Horatio finds the bloody fingerprint of his brother, Raymond, who he believed to be dead. However, when Raymond's son is kidnapped, he emerges from deep undercover and the estranged brothers must work together to save the boy. Meanwhile, while processing a crime scene, an unknown assailant holds a gun to Calleigh's head and, after a deadly confrontation in her gun lab, she is left doubting that she can continue as a CSI.
Director: Joe Chappelle
Writer: Elizabeth Devine, Ann Donahue
Guest starring: Charity Shea, Lance Reddick, Stephen Ramsey, Wayne, Susan Pari, Deep Katdare, Maliabeth Johnson, Alex Feldman, Adam Chambers, Michael Cedeno, Bill Bolender, Dean Winters, Alex Buck
---
Editions
| Barcode | Format | Region | Release | Edition |
| --- | --- | --- | --- | --- |
| 097368772748 | DVD | 1 | 2005-11-22 | |
| 065935220046 | DVD | 1 | 2007-08-14 | |
| 097368772724 | DVD | 1 | 2005-11-22 | |
| 065935806868 | DVD | 1 | 2005-11-22 | |
| 5060116720433 | DVD | 2 | 2006-06-05 | |
| 5060116720440 | DVD | 2 | 2006-10-23 | |
| 8714025508718 | DVD | 2 | 2006-08-22 | |
| 8714025509258 | DVD | 2 | | |
| 828767646794 | DVD | 2 | 2006-03-27 | 3 DVDs |
| 828767929293 | DVD | 2 | 2006-06-19 | 3 DVDs |
| 7391970028389 | DVD | 2 | 2006-08-22 | Season 3 |
| 7391970012234 | DVD | 2 | | |
| 8714025513125 | DVD | 2 | 2006-10-17 | |
| 8714025513118 | DVD | 2 | 2006-04-20 | |
| 7391970007452 | DVD | 2 | | |
| 8715664099117 | DVD | 2 | 2012-11-13 | |
| 5060116720662 | DVD | 2 | 2009-09-01 | |
| 0886976186098 | DVD | 2 | 2010-03-05 | 6 Discs |
| 9336178010499 | DVD | 4 | 2007-10-10 | |
| 3384442068703 | DVD | | | |
| 3384442084574 | DVD | | | |
| 7391970012227 | DVD | | | |
| 886976186098 | DVD | | | |
| 5060116725407 | DVD | | | |
| 7391970012241 | DVD | | | |
| 515935806868 | DVD | | | |
| 3384442081986 | DVD | | 2006-09-21 | |
| 6003805091598 | | | | |
---