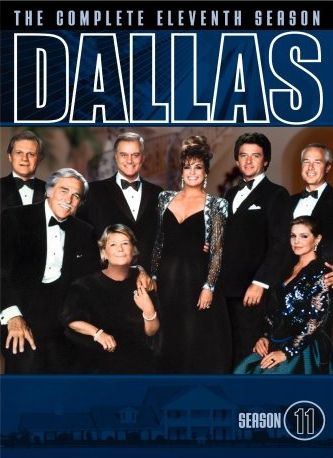 Warner Home Video (1987)
Drama, Action, Soap
USA | English | Color | 23h 37min
Arguably the best television series ever produced, and certainly the best soap opera ever produced, Dallas had it all. Beautiful women, expensive cars, and men playing Monopoly with real buildings. It had the best trans-season cliffhanger in history that had the whole world asking "Who shot J.R.?" Dallas is an important part of American History, if not world history.
---
---
Director
Jerry Jameson
Larry Hagman
Michael Preece
Leonard Katzman
David Paulsen
Dwight Adair
Patrick Duffy
Linda Gray
Cliff Fenneman
Steve Kanaly
Writer
Leonard Katzman, David Paulsen, David Jacobs, Mitchell Wayne Katzman, Leah Markus

,

Arthur Bernard Lewis, Louella Lee Caraway

Producer
Leonard Katzman, David Paulsen, Cliff Fenneman, Arthur Bernard Lewis
Photography
Robert Caramico
Musician
Lance Rubin, Jerrold Immel, Richard Lewis Warren, Angela Morley, John Carl Parker
---
1
After the Fall: Ewing Rise
60 min | Sep 24, 1987

Pam is taken to the hospital with third-degree burns and serious injuries from the car crash. J.R. embarks on building a new company-- J.R.E. Industies. Doctors tell Bobby that Pam will most propably live. Cliff feels guilty about letting Digger down regarding J.R. and Ewing Oil. Jenna nutures her new babay boy. J.R. and Sue Ellen get close. April offers Cliff her help in coping after the loss of Ewing Oil. April meets Wilson Cryer,Jeremy Wendell's executive assistant. Bobby must face Christpher and explain about Pam. J.R. consoles Bobby.
Director: Leonard Katzman
Writer: Arthur Bernard Lewis
Guest stars: Alyson Croft, Shannon Farnon, Elaine Hobson, Cynthia Dorn, Bob Looper, Kirk Sisco, Kenneth W. Page, John S. Davies, Susan Fossen, Richard Dillard, Bo Myers, Karen Radcliffe, Harlan Jordan, Desmond Dhooge, Ed Geldhart, Lee Gideon, Jay Dowd, Connie Dorfman, Dixie Taylor, Rob
2
After the Fall: Digger Redux
60 min | Sep 24, 1987

The (tragically brief) return of the fantastic Morgan Brittany as the psychotically evil Katherine Wentworth. ""Sleep on, little sister, sleep on...""
Director: Michael Preece
Writer: David Paulsen
Guest stars: Bert Remsen
3
The Son Also Rises
60 min | Oct 01, 1987

Christopher runs away from Southfork to Dallas Memorial Hospital. Pam makes very slow progress in her medical condition. Charlie has problems with kids at school because of Jenna living with Ray. Clayton is fed up with Ellie telling him to rest and relax. He doesn't want to be treated like an innvalid. J.R. meets Wilson Cryder. Charlie pressures Ray to marry Jenna. Bobby confronts Katherine Wentworth at the hospital. Christopher feels left out because he's adopted. J.R. meets Casey Denault[Andrew Stevens]. Dandy shows up at Cliff''s office.
Director: Leonard Katzman
Writer: Leah Markus
Guest stars: Andrew Stevens, Karen Radcliffe, Gil Glasgow, Cynthia Dorn, Bill Heneveld, Dee Dee Norton, Lee Ritchey, Frank Stewart, Alyson Croft
4
Gone with the Wind
60 min | Oct 08, 1987

Bobby has a doctor fly in from L.A. to help Pam. Ray asks Jenna to let Bobby sue Lucas. Sue Ellen is surprise by Nicholas Pearce's no- nonsense approach. Cliff throws Dandy out of his offices. J.R. and Casey Denualt put on an act in front of Marilee Stone and Jordan Lee. Nicholas Pearce urges Sue Ellen to expand Valentine's Lingerie. April meets Nicholas Pearce. J. R uses Casey to reclaim his business power. Miss Ellie and Clayton keep arging over his health. Doctoes warn Cliff and Bobby before taking bandages off Pam's face. Jenna and Ray wonder how to handle the new sitation of Bobby coming to see Lucas. Pam disappears from the hospital.
Director: Michael Preece
Writer: Mitchell Wayne Katzman
Guest stars: Kenneth Tigar, Tricia McFarlin, Joyce Wilson Sherrod, Vernon Grote, Alan Ackles, Dixie Taylor, Carolyn Greenwood, Pattie Loftin, Karen Radcliffe, Paul Menzel, Marianne Green
5
The Lady Vanishes
60 min | Oct 15, 1987

Bobby tries to determie why and how Pam disappeared from the hospital. Cliff is upset with Bobby for noot having turned Katherine to the police. Nicholas Pearce has big planr for Valentine's Lingerie. J.R. is happy with Casey's Denault's services. Bobby and Cliff suspect Katherine in Pam's disappearing and they hired a detective. Serna Ward reappears in Dallas and asks J.R. to hire her friend. Pam leaves a farwell letter for Bobby and Christopher.
Director: Leonard Katzman
Writer: Leonard Katzman
Guest stars: Thomas Ryan, Vernon Crote, Alan Ackles, Tyrees Allen, John C. Robinson, Robert Ahola, Carole Kurban, John Hussey, Tom Maher, Sherril Lynn Rettino, Karen Radcliffe, Robert Colbert
6
Tough Love
60 min | Oct 22, 1987

Bobby gets despressed over Pam's disappearance's. J.R. and Rayunite to help Bobby. Wilson Cryder tries to intimate J.R. April consoles Cliff. Bobby explains to Chistopher about Pam's leaving. Jenna offers Bobby her friendship. J.R. uses Serena to find out information on Wilson Cryder. The Ewings learn to live with what Pam asked for in her last letter. Dandy tells Cliff he found oil. Nicholas Pearce tries to get Sue Ellen and April to work together.
Director: Michael Preece
Writer: Arthur Bernard Lewis
Guest stars: Angie Bolling, Bob Lily, Cecilia Flores, Cody Beard, Scott Galaise, Patti Wynne, Dennis Letts, Kimberly Foster, Tisa Weiss Hibbs, Bob Cawley
7
Last Tango in Dallas
60 min | Oct 30, 1987

Bobby meets Lisa Alden[Amy Stock]. Jenna and Ray get romantically involved. Nicholas Pearce wants April's business. Dandy takes Cliff into looking for oil. Pam leaves Bobby her power of attroney for her Wentworth Industries stock. Bobby goes on a date with Lisa. Ray comes to the Oil Barons Ball with Jenna. J.R. meets Nicholas Pearce. Ray proposes to Jenna. Clayton's heart condition causes more problems.
Director: Jerry Jameson
Writer: David Paulsen
Guest stars: Roger Boyce, Joe Berryman, James Cole, Cyndi Cox, Barbara Skipper, MaCaulay Bruton, Tricia McFarlin, Michael Griswold, Robert Colbert
8
Mummy's Revenge
60 min | Nov 06, 1987

Clayton's heart problem leads to an operation. J.R. seeks information on Kimberly Cryder. Charlie is upset that her mother is not ready to marry Ray. Clayton'''s operation is a complete success. Sue Ellen wonders what Nicholas Pearce is up to. Casey ir tired with providing ""services""to Marilee Stone. April seeks Bobby's advice on how to spend her money. Sue Ellen is worried over Nicholas Pearce's strange behavior. Ray aske Jenna to be honest about the real reason behind dragging her feet about marriage. Jenna consults Miss Ellie about Ray's proposal. Bobby and Christopher spend time with Lisa. Pam files fro divorce from Bobby.
Director: Michael Preece
Writer: Mitchell Wayne Katzman
Guest stars: Sharon Wyatt, Kenneth Tigar, Lee Gideon, Randy Moore, Billie Carroll, Yalanda Lara, Linda Kao, Pam Skaggs
9
Hustling
60 min | Nov 13, 1987

Bobby explains divorce to Christopher and gets a surprise reaction from him. J.R. meets Kimberly Cryder[Leeigh Taylor-Young]. Sue Ellen has her first fight with Nicholas Pearce. Miss Ellie comes to Visit Lucas. Jenna is worried that Ray will get back with Donna. Bobby decides not to fight the divorce and asks the family to regard Pam ""a closed subject""Marilee Stone tries to hit on Bobby. Ray appears to be free after Donna announces her marriage to Senator Dowling. Christopher grows fond of Lisa. Cliff feels he should listen to Dandy out of loyalty to Digger. Jenna accepts Ray's proposal. April investigates Nicholas Pearce's past. J.R. plays games with Wilson Cryder and becomes interested in his wife.
Director: Jerry Jameson
Writer: Leah Markus
Guest stars: Paul Tompkins, Kelly Yaegermann, Daniel Bardol, Mary Kay Mars, Vince Davis, Cheryl King, Daniel Escabar, Martin Rayner, Suzanne Burkhead, Barbara Logan, Dennis Bailey
10
Bedtime Stories
60 min | Nov 20, 1987

Ray and Jenna announce thrie marriage to the Ewings. April asks Nicholas Pearce about his past. J.R. has a confrontation with Pearce about Sue Ellen . Bobby tells Lisa to stop seening him and Christopher. Bobby has an unexpected encounter with an old friend Tammy[Irena Ferris]. Things get back to normal between Sue Ellen and Pearce. Lisa follows Bobby and Christopher. Bobby is not interested in joining forces with J.R. to fight Weststar. Lisa turns out to be Jeff Faraday's sister. Cliff learns that Dandy is in jail. J.R. gets a tempting ofdfer from Kimberly Cryder.
Director: Michael Preece
Writer: Leonard Katzman
Guest stars: Irena Ferris, Richard Beymer, Paul Lieber, Sage Parker, Jack Portman
11
Lovers and Other Liars
60 min | Nov 27, 1987

J.R. wants April to buy Weststar Stock. Phyllis opens Bobby's eyes on his new, non-functioning business. Dandy makes the oil workers go back to wprk at gunpoint. Bobby spends time with April. Lisa brings Christopher to Southfork where Bobby angrily confronts her. Sue Ellen sees J.R. and Kimberly kissing. Ray wants to make sure he's got Bobby's blessing for his marriage with Jenna. Dandy dtrikes a little oil. Sue Ellen uses Pearce to get back at J.R. J.R. learns that Weststar's biggest shareholder is Kimberly's father.
Director: Jerry Jameson
Writer: Arthur Bernard Lewis
Guest stars: Gary Moody, Ted Hayden, Jeffrey Weissman, Aaron Chadwick, Michael Costello, Bob Downs, Pat Minter, Sherril Lynn Rettino, John Hostetter, Richard Reicheg, Jeff Abbott, Will Kennemer, Kenneth Barry, Cindy Bass, Rudy Young
12
Brothers and Sons
60 min | Dec 04, 1987

Cliff strikes natural gas. Sue Ellen explains to Nicholas Pearce that J.R. betrayed her. J.R tests Casey's ""business aggressiveness."" Ray wants Bobby to be his best man at the wedding. April comes across an obstacle in her investigations of Pearce. Ray and Jenna get married. Pearce angrily confronts April. Kimberly Cryder meets Sue Ellen. Dandy pulls a gun on Cliff at the Ewing barbecue. Kimberly and J.R. put on an act in front of Sue Ellen. Lisa Alden sues Bobby for custody of Christopher.
Director: Michael Preece
Writer: David Paulsen
Guest stars: Pail Lieber, D. David Morin, Lee Gideon, Connie Coit, Norma Moore, Jeanne Evans, Kael Ternoir, Tamara Hext, Bob Holton, Gloria Hocking, Jerry Cotton, Claudia Church, Tana Bishop, Jeff Thrasher, Lewis Arquette
13
Brother, Can You Spare a Child?
60 min | Dec 11, 1987

Bobby tries to explain to Christopher about legal custody as Lisa purses her lawsuit. Nicholas Pearce apologizes to April. Christopher gets rebeillious with Bobby over Lucas. April is upset upset over not being at the barbecue. Sue Ellen vows revenge on J.R. Cliff tells Miss Ellie about Dandy and wants to make peace. Bobby wants to pay Lisa off. Ray and Jenna find Charlie home with her boyfriend Randy[Brad Pitt]. J.R. wants to meet Dr.Styles. Clayton feels bored. Lisa threatens Bobby with releasing damaging information in court. Lisa works with J.R. against Bobby.
Director: Patrick Duffy
Writer: Leah Markus
Guest stars: Suzanne Marshall, Brad Pitt
14
Daddy's Little Darlin'
60 min | Dec 18, 1987

Bobby warns Sue Ellen before the trail on Christopher's custodyBobby meets Nicholas Pearce. Cliff encounters problems in his natural gas venture. Bobby fears that the truth about how he got Christopher may come out at the trial. Bobby relives the deal with Jeff Farraday. April tells Bobby he's not over Pam yet. Sue Ellen tells J.R. she finds Pearce attractive. Clayton is interested in a painting at a gallery. Cliff tries to buy Lisa off. Christopher gets obsessed about being adopted and about Lucas. Pearce gets nervous when Sue Ellen asks him about huis family. April and Bobby make up and she kisses him. J.R. meets Dr.Styles[John Anderson] and is surprised by his plan.
Director: Larry Hagman
Writer: Mitchell Wayne Katzman
Guest stars: Sue Casey, Grace Simmons, Judy Jean Berns, Lee Rhodes, B.L. Collins, Albert Lord, John Howard Swain, B.J. Ward, Garrett Smith, Brad Pitt, Alyson Croft
15
It's Me Again
60 min | Jan 08, 1988

Lisa apologizes to Cliff. J.R. demanda an ""act of faith"" from Kimberly before he leaves Sue Ellen. Lisa socializes with Cliff, asks him information about business,and relays it on to J.R. Bobby decides to stop visiting Lucas for Christopher's sake. Pearce withdraws fron Sue Ellen's account. J.R. makes a promise to John Ross to get Ewing Oil back. April learns that Pearce may be connected to the mob. J.R. uses the information from Lisa against Cliff. Ray throws Randy out and aliemates Charlie. Clayton meets Ellis[Annabile Schofield], the girl form the painting. Wilson Cryder wants to buy Barnes/Wentworth out.
Director: Leonard Katzman
Writer: Leonard Katzman
Guest stars: John Howard Swain, B.J. Ward, Charles Tyner, James Hornbeck, Dennis Bailey, Brad Pitt
16
Marriage on the Rocks
60 min | Jan 15, 1988

Kimberly gets servious about divorcing Wilson and she puts pressure on J.R. to live up to his part of the deal. Ray wants to be a good father to Charlie. Sue Ellen tells Pearce that she needs him as a friend. Bobby confronts Lisa again . J.R. wants to join forces with Cliff to fight Weststar. Ray discusses Randy,sex,and AIDS with Charlie. Clayton continues to meet with Laurel Ellis. J.R. and Sue Ellen discuss divorce. April tells Sue Ellen that she's been dating Bobby. Cliff refuse to support Lisa in her fight for Christopher. Miss Ellie meets Kimberly Cryder. J.R. succeeds in maneuvering Pearce into Sue Ellen's arms.
Director: Larry Hagman
Writer: Arthur Bernard Lewis
Guest stars: Don Hood, Caryn Richmond, Marya Morgan, David Donovan
17
Anniversary Waltz
60 min | Jan 22, 1988

Nicholas Pearce demands honesty from Sue Ellen. Miss Ellie doesn't suspect that Clayton has been meeting with another woman. Dave Culver tells Bobby that bringing back the Ewing name doesn't have to be a dead tissue. Oswald Valentine reappears in Sue Ellen's office and is rebuffed by her. J.R. overhears a conversation between Cliff and Lisa. Laurel Ellis asks Clayton about him and Ellie. Bobby and Christopher reconile. Laurel admits that Clayton may be in love with her. Cliff tells Bobby that he likes Lisa. Charlie has a very serious fight with Jenna. Kimberly pressures J.R. to keep hie promise. Clayton forgets about the third anniversy of his marriage to Ellie. April's detective gets scared of the Pearce/Lombardi mob connection. Bobby suspect Lisa works with J.R. which leads to another violent confrontation between the two brothers.
Director: David Paulsen
Writer: David Paulsen
Guest stars: Alice Hirson, Paul Lieber, Alyson Croft
18
Brotherly Love
60 min | Feb 05, 1988

The Ewings get scared of Bobby's temper as he violently deals with J.R. in the pool. Sue Ellen suspects that J.R. may want to get rid of her to win control of Weststar. Casey gets interested in Sly Lovergren. Bobby vows to get Ewing Oil back. J.R. wants to get rid of Lisa Alden. Cliff gets hooked up to the gas pipeline. Sue Ellen gets more involved with Nicholas Pearce. Laurel's friend David Shulton[Charles Grant] asks Clayton about his intentions toward Laurel. Bobby is happy because he thinks Lisa is gone. April is further troubled by the revelation about Pearce. Kimberly giver J.R. an ultimatum. Clayton feels guilty and gets Ellie a gift. Charlie begins to dislike Ray. Cliff is down because people don't show up for his celebration party. J.R. blackmails April to make her buy more Weststar stock.
Director: Linda Gray
Writer: Leah Markus
Guest stars: Paul Lieber, Alyson Croft
19
The Best Laid Plans
60 min | Feb 12, 1988

Laurel Ellis urges Clyton to do something more with his life. Pearce explains hie vision of the Weststar takeover to Sue Ellen. Sue Ellen wants to team up with Bobby to work against J.R. April feels uncomfortable working with J.R. J.R. plots to have Sue Ellen see him in bed with Kimberly. Sue Ellen explains to Pearce her strategy about divorce. Laurel's old boyfriend comes from England Charlie complains to Bobby about Ray. April wants to cut her ties to J.R. Miss Ellei sees Laurel kissing Clayton. Ray throws Bobby out of his house. Jenna's problems with Charlie contine.Lisa Alden continues to follow Bobby and Christopher. Sue Ellen moves back to her room at Southfrork and leaves J.R. disappointed that she doesn't want divorce.
Director: Patrick Duffy
Writer: Mitchell Wayne Katzman
Guest stars: Annabel Schoefield, Tracy Fraim, Sue-Ann Leeds
20
Farlow's Follies
60 min | Feb 19, 1988

Charlie apologizes to Ray. Cliff meets Nicholas Pearce Ellen and Pearce question Cliff about whether he works with J.R. Bobby goes to Washington to try get the Ewing Oil name back. Miss Ellie gets drunk after seeing Clayton with Lauer Ellis again. David Shulton borrows money from Clayton. Ray and Jenna give Charlie and Randy another chance. April tells Bobby that she slept with J.R. and that he's blackmailing her over it. Ray apologizes to Bobby fro throwing him out of the house. April's apartment gets broken into. Sly dates Casey Denault. Lisa Alden pursues her lawsuit. J.R. tells Dr.Styles that Sue Ellen won't give him the divorce.
Director: Steve Kanaly
Writer: Louella Lee Caraway
Guest stars: Charles Bateman, Robert Phalen, Sheldon Feldner, Mark Carlton, Brad Pitt
21
Malice in Dallas
60 min | Feb 26, 1988

Bobby confronts J.R. again about Lisa Alden. April learns that her detective got murdered. Miss Ellie confides in Marvis Anderson about Clayton's affair with Laurel. J.R. makes a promise to Kimberly to be with her regardless of the outcome of the fight for Weststar.David Shulon encourges Laurel to use Clayton and his money. Ray and Jenna get worried over Charlie's poor grades in school. April tells Pearce that she's been investigating him. Miss Ellie goes away to St.Croix. Shulton borrows more money from Clayton. Pearce visit his parents in Indiana. Kimberly talks to Casey behind J.R.'s back. Bobby and Sue Ellen testify at the custody trial but Lisa decides to drop the case.
Director: Larry Hagman
Writer: Arthur Bernard Lewis
Guest stars: Joseph Campanella, Donna Mitchell, Laurane Sheehan, Marlena Giova, James Avery
22
Crime Story
60 min | Mar 04, 1988

Lisa comes to Southfork to say goodbye to Christopher. J.R. wants Casey to keep meeting with Kimberly. Miss Ellie goes to Atlanta to visit Lucy. Jenna firbids Charlie to go out with Randy. Bobby's new friend in Washington Kay LlOYD[Karen Kopins] is impressed with his PR skills. Laurel's old boyfriend Brett Lomax[Mark Lindsay Champman] wants her to go back to England with him. Nicholas Pearce gets April scared with his mob connections. David Shulton tries to blackmail Clayton. Kimberly asks Sue Ellen when she will divorce J.R. Bobby tells April that they're not right for each other. Pearce tells Sue Ellen he will have to dissappear . Ray and Jenna catch Charlie trying to sneak out of the house at night.
Director: Patrick Duffy
Writer: David Paulsen
Guest stars: Annabel Scofield, Dean Cohen, Bee-Be Smithi, Mark Costello, Sage Parker, Frank Swan, Terri Oxford, Joseph Campanella, Marlena Giovi, Felice Orlandi, Cliff Corder
23
To Have and to Hold
60 min | Mar 11, 1988

April gets visitors in her apartment and she is forced to reveal Pearce's real identify to them. Sue Ellen doesn't understand why Pearce won't meet with her. J.R. is rebuffed by Ray when he approaches him about buying Weststar STOCK. Pearce is intergated and beaten up. Jenna and Ray decide to send Charlie to a school in Switzerland and Jenna goes with her to see her settle down. Miss Ellie returns from her vacation. Sly tells Casey Denault that she belives in him. Pearce is told that his parents are dead but his ""companions"" remain skeptical. Kay Lloyd comes to Dallas an d spends time with Bobby. Ellie confronts Clayton about Laurel and tells him to leave Southfork.
Director: Larry Hagman
Writer: Leah Markus
Guest stars: Erich Anderson, Deck McKenzie, Jeff Motherhead, Deborah Marie Taylor, Felice Orlandi, Bruno Marcotulli, Tim Rossovich, Judy Dewey, Laurel Lockhart
24
Dead Reckoning
60 min | Mar 18, 1988

April is released Miss Ellie tells the family that Cayton will not be living at Southfork. Charlie resents being forced to leave,and Jenna has her doubts about it as well. Clayton tries to explain to Ellie about his""innocent friendship"" with Laurel. Shulton tells Miss Ellie that Cayton has slept with Laurel. Ray meets a woman named Connie Hall[Michelle Scarabelle] and makes her in distress. Pearce tells April to stay out of his life. Bobby asks Clayton about why he had to leave Southfork. Pearce is happy that he managed to make it look like his parents are dead. Cliff meets Casey Denault. An angry Clayton beats Shulton up. Cliff becomes addicted to tranquilizers. Clayton is arrested for the murder of Sulton.
Director: David Paulsen
Writer: Mitchell Wayne Katzman
Guest stars: Deborah Marie Taylor, Marjorie Harris, Erich Anderson, Earl Boen, Tim Rossovich, Jon Greene, Paris Robinson
25
Never Say Never
60 min | Mar 31, 1988

Bobby,Miss Ellie and Harv Smithfield unite to help Clayton out of hid trouble. Casey wants to do business with Cliff. Connie gets turned down by Ray. Sue Ellie tells April that she and Pearce has been close. J.R. lashes out at Miss Ellie for letting Clayton back into the house. Clayton apaologizes to the Ewing for his arrest and the embrassment. Laurel tries to explain to Ellie her ""friendship"" with Clayton. J.R. uses Harry McSween to pick Laurel up to talk to her. Sue Ellen tires to find out from Nicholas about his ""family mystery."" Kimberly introduces Cliff to her father. J.R. rebuffs Kimberly's offer and vows to take Weststar away from her father.
Director: Cliff Fenneman
Writer: Leonard Katzman
Guest stars: Howard Duff, Francee Greer, J.T. O'Connor, Fritz Sperberg, Gayle Woods, Jay Arlen Jones
26
Last of the Good Guys
60 min | Apr 07, 1988

Connie Hall tries to tell Ray that his marriage is over. J.R. continues to tease Clayton about Laurel and tha homicle charge. Bobby spends more time with Kay in Washington. Casey tries to convince Cliff that they have a lot in common business-wise. j.r. offers Laurel a hideaway from media attention. Bobby strikes a deal with a Washington senator to get the Ewing Oil name back. Sue Ellen teams up with Kimberly to prevent J.R. from taking over Weststar. J.R. and Laurel declare a truce. J.R. wanto to work side by side with Bobby. J.R. uncovers the evidence to Clear Clayton's name in the homicide case, and he blackmails Laurel. The Ewings and Clayton are very grateful to J.R.
Director: Michael Preece
Writer: Arthur Bernard Lewis
Guest stars: Howard Duff, Kathryn O'Reilly, Jeff Motherhead, Lynn O'Brien, Tony Aver
27
Top Gun
60 min | Apr 14, 1988

kimberly lashes out at J.R. for her father's death. Cliff gets more addicated to pills. The Justice Department tells Bobby he will never get Ewing Oil name back. Sue Ellen tells Kimberly that it was J.R.'s drive to get Weststar which killed Dr.Styes. Casey Denault meets April Stevens. J.R. gets ready to take over Weststar. Bobby gets frustrated in Washington over the problems in getting the Ewing Oil name back. Nicholas tells his ""family secret"" to Sue Ellen. Laurel tells Clayton about J.R.'S blackmail.Connie refuses to be dumped by Ray. Clayton tells Ellie about some new rules he sets for lifde at Southfork. April tells Casey she doesn't want Cliff to get hurt.Sue Ellen and Jernmy Wedell offer a few surpries for J.R. at the meeting of Weststar shareholders.
Director: Michael Preece
Writer: David Paulsen
Guest stars: Dan Gilvezan, Roberta Stuart, Andi Matheny, Dave Fuccello, Rick Deats, Joe Faust, Walt Beaver
28
Pillow Talk
60 min | Apr 28, 1988

Ray gets wounded by a psychotic Connie. Sly is upset by the way J.R. fired Casey. Cliff vows revenge on J.R. using Jeremy Wendell. Jenna returns from Paris. Nicjolas Pearce supports Sue Ellen in her fight for John Ross. J.R. wins a temporary advantage over Sue Ellen and her court order to get John Ross. April throws a surprise party for Cliff. Bobby gets a conditional right to use the Ewing Oil ame again. Kay doesn't want to leave Washington to come to Dallas. J.R. moves out of Southfork after finding out about Clayton's co-ownership of the ranch. Ray tells Jenna about his affair with Connie. ;ucy returns to Southfrok from Atlanta. April and Cliff sign a partnership with Casey. Lucy complains to Miss Ellie about her marriages to Mitch. J.R. tells John Ross he wants to but another ranch. J.R. has a surprise for Jeremy Wendell concerning his recently acquired gas field.
Director: Dwight Adair
Writer: Leah Markus
Guest stars: David Haskell, Anthony Johnson, Deborah Marie Taylor, Tom McGreevey, Margarita Cordova
29
Things Ain't Goin' So Good at Southfork, Again
60 min | May 05, 1988

J.R. lashes out at Sue Ellen for defeating him along with Kimberly. Jeanna calls Ray from Paris. Sue Ellen leaves Sothfork. Ellie wants Clayton to co-own Soutfork. Connie Hall makes herself look like Jenna and imposes herself on Ray. J.R. tells Casey his service is no longer needed. J.R. places John Ross in a hideaway school to protect him against ""kidnappers."" Sue Ellen tries to find a legal way to find a legal way to get John Ross. Bobby and Kay wonder how to keep their long-distance romance going. April refuses to become Casey's business partner. CLIFF wants to sell his gas field to Jernmy Wendell. Connie takes revenge on Ray.
Director: Linda Gray
Writer: Mitchell Wayne Katzman
Guest stars: Charlene Tilton, Deborah Marie Taylor, Terri Mann, Marie Berry, Jerri Parros, Ken Smolka, Fredric Cook, Bill Schick, Tyde Kierney
30
The Fat Lady Singeth
60 min | May 12, 1988

Clayton asks J.R. to turn John Ross over to Sue Ellen. Sue Ellen and Pearce search for John Ross. After Ray's affair with Connie, he and Jenna wonder how it will affect their marriage. Casey meets Lucy and they date. Jenna confides in Miss Ellie about her marital problem. J.R. gets the Ewing Oil property back from Jeremy Wendell but Bobby rebuffs his offer to work together again. Jenna decides to give Ray another chance. Jordan Lee telle Cliff that he saw Pam. Ray and Jenna leave Dallas. Pearce gets killed in a confrontation with J.R. Sue Ellen fires three shots at J.R.
Director: Leonard Katzman
Writer: Leonard Katzman
Guest stars: Charlene Tilton, David Sage, Deborah Marie Taylor, John Posey, Tom McGreevey
---
Editions
| Barcode | Format | Region | Released | Edition |
| --- | --- | --- | --- | --- |
| 883929057719 | | 1 | Apr 21, 2009 | |
| 883929633395 | | 1 | Mar 06, 2018 | |
| 5051892006262 | | 2 | Jul 20, 2009 | TV Serie |
| 5051890158314 | | 2 | | |
| 5051890006097 | | | | |
| 5051895021958 | | | | |
---
---