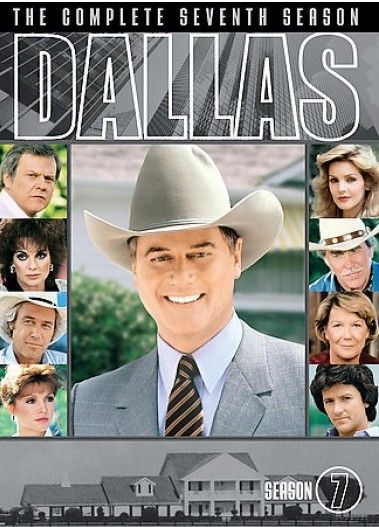 Warner Home Video (1983)
Drama, Soap
USA | English | Color | 24h 40min
Arguably the best television series ever produced, and certainly the best soap opera ever produced, Dallas had it all. Beautiful women, expensive cars, and men playing Monopoly with real buildings. It had the best trans-season cliffhanger in history that had the whole world asking "Who shot J.R.?" Dallas is an important part of American History, if not world history.
---
---
1
The Road Back
60 min | Sep 29, 1983

Bobby comes to the rescue of Ray,J.R.,Sue Ellen, and JOHN Ross during the Southfork fire. Ray continues to blame J.R. for the car crash. Sue Ellen,JOHN Ross,and J.R. move into a hotel. Clayton wants to keep the news of the fire from Miss Ellie. At the hotel, Sue Ellen learns that J.R. gave orders to room service not to give her any liquor. Pam tries to console Sue Ellen after the fire. Katherine tells J.R. that Pam filed for divorce. J.R. tells Katherine he'd like to have her as a sister-in-law. Bobby tries to have J.R. and Ray reconciled but J.R. cleverly reminds Ray and Bobby of the sting they puller on Driscoll and how he went to jail because of it. Sue Ellen overheards J.R. telling Pam that it was Driscoll who caused the car crash and she accuses J.R. of letting her think it was her. Mark is worried that the fire may bring Pam and Bob together. Sue Ellen questions Clayton whether he'll be joining the family. Mickey wakes up from his coma. Clayton acts as a go- between for Ellie and
Director: Nick Havinga
Writer: Arthur Bernard Lewis
Guest stars: Kay E. Kruter, John Devlin, Stephen Nichols, Susan Watson, Ernest Emiling, Ian Rosenberg, Michael Krueger, Dan Ammerman, Gloria Hocking, Arthel Neville, Betty King, Dana Gibson, David Sanderson, Anna Kathryn Holbrook, Terri Eoff
2
The Long Goodbye
60 min | Oct 06, 1983

Sue Ellen tells J.R. she wants separate bedrooms and separart lives. Bobby tells that Pam the battle for Ewing Oil is over and he wants her back at the ranch. Mickey tells Lucy at the hospital that when he gets out, he wants to marry her. Katherine is very upset to learn that Pam is seeing Bobby again. Clayton tells Bobby that Miss Ellie wants him to guard Southfork till she gets back. Bobby fears this might complicate things if he has to leave Southfork to save his marriage. Cliff has plans to form a consortium with Pam and Mark, so he gets very upset when he learn's of Pam's reconciliation with Bobby. J.R. and Catherine plot to prevent Bob and Pam from getting back together. Mark tells Pam that he will not wait much longer for her to decide about marriage. J.R. threatens Pam to prevent the reconilitaion with Bobby.
Director: Leonard Katzman
Writer: Leonard Katzman
Guest stars: Joe Moross, George D. Wallace, John Devlin, Teresa Bowman, Richard Garrison, Gabriel Folse, Karen Pirkle
3
The Letter
60 min | Oct 13, 1983

Katherine pressures Pam to leave Bobby for good. Sue Ellen thinks little John Ross needs psychological counseling. J.R. and Katherine plan to separate Bobby and Pam. In a conversation with Katherine, J.R. makes it sound like he's not sincere about having ended the fight with Bobby for control of Ewing Oil. The child psychologist tells Sue Ellen she should resolve her problems with J.R. Ray feels like everything bad that happened to Mickey is his fault. J.E. seeks consolation with Serena . Katherine tricks Pam into signing a letter. She then reads the letter to Bobby. making it look like Pam wrote it. The letter makes it sound like Pam told her laywer that she things that both she and Bobby would be better off if he would just let her go. The child psychologist recommends a day camp for John Ross. At the camp, Sue Ellen and J.R. meet Peter Richards[Christopher Atkins] who will be taking care of little John Ross. Pam tells Katherine that she wants to go back to Bobby and not ler J.R. int
Director: Nick Havinga
Writer: David Paulsen
Guest stars: Diana Douglas, Nina Andro, Kenneth Pressley, Renee Landers, Vincent Santoscoy, Steve Wise
4
My Brother's Keeper
60 min | Oct 20, 1983

J.R. encourages Bobby to take a break from Ewing business, considering the divorce he's going through. Sue Ellen is happy to see John Ross having fun at the camp. Aunt Lil and Ray wonder how to keep Mickey from getting depressed. Sue Ellen gets her first real chance to talk to Peter Richards. Afton,Cliff, and Mark take Pamela for a night out but when she sees Bobby with Serena's friend Donna [guest star Tracey Scoggins], she leaves the restaurant immediately. Mickey tells Lucy she shouldn't come to the hosiptal so often. Ray continues to feel guilty over what happened to Mickey. Afton is still very suspicious of Katherine's intention. She thinks Katherine is after Bobby. Mickey tells Ray that he's rather die than live on a life-support system. Katherine is afraid that if Bobby shows up in court for the divorce hearings,he might change his mind. So she discourages him from going to the court hearings. Pamela and Bobby officially get divorce[and Katherine is not the only one who is happy
Director: Leonard Katzman
Writer: Arthur Bernard Lewis
Guest stars: Lew Brown, Walker Edmiston, Cynthia Leake, Tracy Scoggins, Hugh Lampman, Harold Suggs, Sean McGraw, Milt Jamin, Jack Axelrod, Chana Vowell
5
The Quality of Mercy
60 min | Oct 28, 1983

Bobby confides in Phyllis[Deborah Tranelli] about his divorce and Lucy confides in Sue Ellen about the situation with Mickey. Punk Anderson tells Bobby and J.R. to get ready for the final audit. Mickey tells Aunt Lil to leave him alone. J.R. tells John Ross that hge will get Ewing Oil back for him. Pamela moves back into Rebecca's house. Cliff offers Pam a job at Barnes/ Wentworth. Cliff recruits Sly Lovegren[Debbie Rennard] as a spy in J.R. 's office. Mickey slips into a coma and is put on a life-support system. Mark proposes to Pamela. Bobby dates Katherine Wentworth. J.R. tells a stunned Sue Ellen that Peter Richards has a crush on her. Aunt Lil says she will not be coming to the hospital to see Mickey anymore and watch ""that machine breath for him.""Katherine meets Holly Harwood. Ray and Aunt Lil are found in Mickey's room. with the respirator unplugged.
Director: Nick Havinga
Writer: Leonard Katzman
Guest stars: John Furlong, Robert Gribbin, Sherry Landrum, Joe Maross, Rosemary Lovell, Kimberly Ross, Suzanne Burkhead, Pamela Putnam, Ursula Averett, Joseph Miller
6
Check and Mate
60 min | Nov 04, 1983

Ray is arrested for unplugging Mickey's life support. Aunt Lil falls into apathy. Cliff tries to pay Skl for inside information on J.R.'s deals. Katherine tells J.R. she'S only interested in Bobby. Barnes/Wentworth/Graisco is offically launched into business but Pam is mad at Cliff when she learns that he stole a deal from J.R. Ray is released on bail and is very reluctant to accept a lawyer. Lucy goes into a rage upon seeing Ray after the tragedy in the hosiptal, and accuses him of having murdered Mickey.Mark Grasico fears that Ray's tragedy will pull Pam back to the Ewings. Bobby rebuffs Holly Harwood's romantic advanges. Holly says good-bye to Bobby. Donna tells Ray to pull his together after Mickey's death. Sue Ellen invites Peter Richards to a party at Southfork. Punk Anderson reads Jock's letter which says that the contest was just designed to make Bobby and J.R. respect one another as businessmen. Bobby's share of the profit on the Canadian fields comes in at the last minute and
Director: Leonard Katzman
Writer: David Paulsen
Guest stars: John Hostetter, Dan Ammerman, Bill Thurman, Beth Larson, Eric Farlow, Michael McHugh, Tony Garrett, Tyrees Allen, John Walker, Chana Vowell, Lyn Crow, Glenn Davis
7
Ray's Trial
60 min | Nov 11, 1983

Ray is uncooperative before the trail and Paul Morgan complains to Donna that he's not getting any information from him. Mark Grisco is an excellent Polo player and Cliffc is clearly impressed with his lifestyle. At the party at Southfork, Sue Ellen is clearly impressed with Peter Richards. Bobby runs into Jenna Wade[Priscilla Presley] who works as a waitress. Bobby stands Katherine up. Paul Morgan warns Ray that his recent attempt to kill J.R. will hurt him in court if it gets out in the open. Ray is charged with felony murder and the prosecutor demands the death penalty. Despite the recent divorce from Bobby, Pam is clearly upset to learn that Bobby is seeing Jenna again. J.R. walks out of Ray's trail, Bobby testifies that Ray was a father figure to Mickey and that he loved him. Lucy Ewing testifes against Ray by saying that Mickey wanted to live. Ray is shocked to find out that Paul Morgan decides to ask Aunt Lil to testify, and he strongly objects.
Director: Michael Preece
Writer: Arthur Bernard Lewis
Guest stars: Christpher Atkins, Michael Cornelison, Steven Williams, Andrea McCall, Tye Bell, Pel Norris, Buzz Welker, Richard Jaeckel, Charles Aidman, Joe Maross, Will Hare, Ed Scanlon, Vincent Santoscoy, Bonnie Rawn, Lili DeLeon, Chana Vowell, Carolyn Greenwood, Sheree Reeves, Donna
8
The Oil Baron's Ball
60 min | Nov 18, 1983

Aunt Lil testifies at Ray's trial and tries to take all the responsibility for Mickey's death. Pam convinces Katherine to go to the Oil Baron's Ball. Ray is found guilty of killing Mickey Trotter and is sentenced to 5 years imprisonment, suspended for 18 months. Sue Ellen comes to J.R.'s bed but then humiliates him by saying that she just used him sexually and that's as far as their marriage will go. Sue Ellen talks Peter Richards into going to the ball with Lucy and Bobby talks Jenna into going with him. At the ball,J.R. is very happy to see Bobby with Jenna. Cliff tells Katherine that Jenna's daughter Charlie could be Bobby's child. Pam and Jenna have an unpleasant exchange about Bobby. Cliff is honored as Oil Baron of the year and he warns J.R. that he will tell everybody ""the truth"" about Jock and Digge
Director: Leonard Katzman
Writer: Leonard Katzman
Guest stars: Steven Williams, Delores Cantu, Richard Jaeckel, Charles Aidman
9
Morning After
60 min | Nov 25, 1983

At the Oil Baron' Ball,Cliff publicly announces that Jock stole from Digger. A terrible fist fight erupts, involving J.R., Cliff, Bobby,Ray,Mark Grasion,Peter Richards, and many other guests. Bobby and Jenna are in love again. Peter overheards J.R. telling Sue Ellen that Peter has a crush on her. Jenna tells her daughter Charlie [Shalane McCall] that they will be seeing a lot of Bobby. Pam start at Barnes/Wentworth. Mark Grasion continues to see Pam and wants to talk about marriage but Pam doesn't. Sly continues to spy on J.R. for Cliff Barnes. Paul Morgan tells Donna Krebbs that Ray is nopt a good match for her. Cliff uses Pam's attractiveness to conclude a business deal. Peter Richards tells Sue Ellen that he doesn't want anything to happened between him and Sue Ellen. Katherine tells a stunned Bobby that she's been in love with him ever since she saw him. She also questions Bobby aboit why Jenna Wade came back into his life. Donna talks Ray into going for their second honeymoon to N
Director: Michael Preece
Writer: David Paulsen
Guest stars: Shalane McCall, Vince Paterson, Beth Larson, Joe Dorsey, Tom Williams
10
The Buck Stops Here
60 min | Dec 02, 1983

J.R. accuses Sue Ellen of having a relationship with peter Richards. Bobby questions Jenna about who Charlie's father is. Mark Grasion gets impatient with Pamela. He thinks she is still emotionally tied to Bobby and she doesn't want to commit herself to Mark. Pam tells Katherine she's made a mess of her life she thinks she lost Mark by not willing to commit herself to him. Pam tells Bobby that Jenna is not good for him. J.R. loses another deal to Cliff Barnes and assuses Bobby of helping his ex-wife Pamela. J.R. doesn't realize he's got a spy in his office. Katherine confronts Jenna Wadw that she stands in the way of a reconciliation between Pam and Bobby. Mark buys Pam a mechanical bull so she can practive before the rodeo. Sue Ellen tells Peter that what she feels for him is just infatuation, not real love. Jenna tells Bobby that Kartherine has a crush on him. J.R. tells detective Harry McSween[James L. Brown] to find the spy. At the charity rodeo,Jenna loses to Pam in the medhanical
Director: Leonard Katzman
Writer: Arthur Bernard Lewis
Guest stars: Joe Dorsey, Andrea McCall, Don Wood, Roy McAdams, Tye Bell
11
To Catch a Sly
60 min | Dec 09, 1983

Pamela tells Christopher that she wishes she and Bobby were together,but in reality she seems to be getting closer to Mark Grasion. Cliff Barnes keeps pressuring Sly Lovegren for more information on J.R.'s deals. J.R. hires a wiretab expert to check for bugs at Ewing Oil offices. Jenna cautiously visits Sothfork at Bobby's invitation. Ray and Donna wonders whether Jenna acts to spite Pam. Pam tells Katherine she's not over Bobby yet. Sly gets nervous when Detective McSween comes to see J.R.Bobby gets depressed after learning Pam and Mark are lovers. J.R. tricks Cliff and installs a bug in his office telephone. Sue Ellen tells Peter Richards she's got to break off the relationship. When J.R. learns that Cliff's been using Sly as a spy against him, he-what else?-decides to use her to transmit false information back to Cliff. Ray and Donna observe Bobby and Jenna growing closer.
Director: Michael Preece
Writer: David Paulsen
Guest stars: Edward Mallory, Francesca P. Roberts, Lisa LeMole
12
Barbecue Four
60 min | Dec 16, 1983

J.R. use his secretary Sly Lovegren to hurt completely unsuspecting Cliff. Bobby wants Jenna Wade[Priscilla Beaulieu] to quit her job as a waitress. Peter Richards goes out with Lucy Ewing. Kathernie investigate Jenna Wade's Euopean past and who Charlie's father is. Sly learns that Cliff has been bluffing about helping her imprisoned brother Steve because the parole board cannot be brought. Karthernie tells Pam she needs to go to Rome,Italy to look for romance. Bobby brings Jenna to dinner at Southfork where Miss Ellie and Clayton surprise everybody with their unexpected arrival. J.R. and Bobby meet employee from Washington,D.C. The family is stunned to see Miss Ellie seat Clayton in Jock's old place at the dinner table. J.R. invites Pam,Mark,Afton,and Cliff to the annual Ewing barbecue. J.R. wants Cliff to think that he's sincere about ending the Barnes/Wentworth feud. Sue Ellen is upset to see Peter at the barbecue but then they kiss. In Rome, Katherine reads Charlie's birth certifi
Director: Leonard Katzman
Writer: Arthur Bernard Lewis
Guest stars: Alberto Morin, Peter Renaday, Christopher Albee, Lily DeLeon, James W. Mitchell, Mitch Pileggi, Gil Glascow
13
Past Imperfect
60 min | Dec 23, 1983

J.R. is furious about Clayton's engagament to Sue Ellie. He tells Detective MsSween[James L. Brown] to investigate Clayton's background. Ellie wants Clayton to move into Southfork. Little John Ross misses Peter Richards and wants him to come to the ranch. Sue Ellen doesn't want to be seen with Peter. John Ross starts school. Cliff Barnes doe s everything in his power to find out who Edgar Randolph is and what dealingsd he has with J.R. Mark Greasion teaches Pamela the rules of business. Bobby wants to buy Jenna Wade a boutique but she refuses and they have an argument about it. Clayton tries to give Ellie an engagement ring. In Rome, Katherine Wentworth keeps digging into Renaldo Marchetta and Jenna Wade's past. Peter tells Sue Ellen that he ""took care of everything""by finding an apartment for them. But Sue Ellen tells him she wants him out of her life. Clayton asks Bobby,J.R., and Ray how they feel about his marriage TO Ellie. Jenna and Bobby cool off after the arugement over the bou
Director: Larry Hagman
Writer: David Paulsen
Guest stars: Michael Griswold, Alberto Morin, Cathy Worthington, Kimberly Cameron, Marina Ferrier
14
Peter's Principles
60 min | Jan 06, 1984

Sue Ellen learns from Peter's roommate that he left the dorm. Cliff wants the cartel to go in a deal with him on offshore tracks. It's Dusty birthday's birthday and Clayton feels down because he's can't reach him. Little John Ross keeps asking Sue Ellen about Peter. J.R. reveals to his familt that Clayton has a sister, Jesdsica. Afton feels neglected by Cliff. Miss Ellie fears that to take on the whole Ewing family[especially J.R.] may be too much to handle for Clayton. Afton walks in on Cliff having ""business meeting"" with Marilee Stone. Sue Ellen tracks Peter down but he refuses to talk to her. Afton goes to Pam's place after she discovers Cliff with Marilee. Pam questions Cliff about his faithfulness to Afton. Ray tries to put Clayton's fear's to rest about movint into Southfork ranch. Jenna is excited about a good start for her boutique. Pamela tells Bobby she's afraid that Cliff wants the Ewing-Barnes to start all over again. Cliff thinks Grasion tends to be too conservative and
Director: Patrick Duffy
Writer: Arthur Bernard Lewis
Guest stars: Lee Montgomery, Al Dunlap, Louis R. Plante, David Gale, Julie Rownie
15
Offshore Crude
60 min | Jan 13, 1984

J.R. is upset to learn that Bobby met with Pamela. John Ross wants to see Peter and keeps bugging his mother about it. Sue Ellen reminds J.R. of their ""open marriage."" Cliff Barnes buys Afton flowers and tries to make up after the incident with Marilee Stone. In Rome, Katherine Wentworth keeps investigating Renaldo Marchetta. Lucy invites Peter Richards to Southfork. Sue Ellen tries to avoid meeting with Peter. Ellie questions Clayton abouit his sister Jessicaand his other family but he's not very willing to talk. J.R. takes his first shoot at trying to infleunce Edgar Randolph. Bobby,Ray Krebbs,and Peter Richards have a little ""swimmimng contest"" in the Southfork pool. Sue Ellen throws J.R. out of her bedroom yet another time. Cliff gets excited about topping J.R.'S bid on the offshorer tracks. Katherine return from Rome but Pam refuses to discuss with her who Charlie's father might be. Cliff encourges Marliee to invest with him. Sue Ellen tries unsuccessfully to break off with Peter.
Director: Ray Danton
Writer: David Paulsen
Guest stars: Jacqui Evans, Allan Byrnes, Alberto Morin
16
Some Do… Some Don't
60 min | Jan 20, 1984

J.R. tries to set Bobby upby letting Cliff Barnes buy Travis Boyd's company. Donna Krebbs tells Miss Ellie that she's lucky to be marring Clayton Farlow. Ray and Clayton go to a cattle auction. Clayton gets rid of his doubts about moving into Southfork. Donna Krebbs warns Edgar Randolph against J.R.'s manipulations and blackmail.Bobby and Jenna get much closer. J.R. asks Sue Ellen about having another child but she says it will never happen. Donna and Ray push Ellie and Clayton to set a wedding date. Pam tells Marilee Stone[Fern Fitzgerald]to stay out Cliff's life, particulary his love life. J.R. keeps on blackmailing Randolph. Sue Ellen is embarrassed when Peter's friends [Kate Veron,Claudia Christian]take her for his mother. Cliff tells Pam that he doesn't want to make and business deal withiout her because ""blood is thicker that oil."" Bobby assures Katherine that they will allways be friends. Cliff is disappointed that Sly has no information on Randolph. Peter Richards tries to conv
Director: Larry Hagman
Writer: Leonard Katzman
Guest stars: Claudia Christian, Kate Vernon, Phil Brock, Lee Montgomery, Christopher Albee, John Trujillo, Leslie Jacob
17
Eye of the Beholder
60 min | Jan 27, 1984

Mark Graison hide his hospital stay from Pamela. Katherine hires a private investigator to find Renaldo Marchetta. Miss Ellie persists in her decision not to marry Clayton. Bobby makes J.R. co-sign the Travis Boyd deal. Lucy invites Peter to a party at Muriel's. Marilee Stone tells cliff that his sister Pamela is a problem in their relationship. Sue Ellen tells Clayton that he should not give up on Ellie, Donna finds out that Ellie's past with Jock Ewing haunts her and prevents her from making a commitment to Clayton. Pam and Bobby reminisce about their wedding. In Atlanta, Mitch gets a promotion. An intoxicated Clayton bursts into the Ewing residence where J.R. pulls a gun on him.
Director: Leonard Katzman
Writer: Leonard Katzman
Guest stars: Kevin McBride, Donegan Smith, Christopher Albee
18
Twelve Mile Limit
60 min | Feb 03, 1984

J.R. uses Sly Lovegren to sell geogical reports to Cliff Barnes. J.R. can'e get over Miss Ellie and Clayton's marriage. Afton goes to visit Mitch in Atlanta. Jenna tells Bobby that Charlie has fantasies about their marriages. Clayton Farlow talks with Ray Krebbs about Ellie's medical problem which has recently begun to haunt her again. Edgar Randolph cracks under J.R's pressure. Mark Grasion proposes to Pamela. Detective Harry McSween digs up some ""dirt"" on Clayton from the time when his first wife died. Marilee Stone pressures Cliff to give her the geologicals before she invest with him. Katherine pressures Pam to marry Mark. Edgar Randolph's wife calls Donna from Washington, concerned about her husband. J.R. questions Sue Ellen about Clayton's past. Donna and Ray find Edgar unconscious in his hotel bathroom. Edgar tries to make it look like what happened to him was an accident. Donna and Ray accuse J.R. of leading to Edgar's sucide attempt. Katherine determines that Renaldo Marchetta
Director: Patrick Duffy
Writer: David Paulsen
Guest stars: Joanna Miles, Aurelia Sweeney, Sena Ayn Black, Naomi Sertoff, Ray Giradin, Donegan Smith, Troy Melton
19
Where is Poppa?
60 min | Feb 10, 1984

Edgar Randolph's wife Martha tries to discover what really happened to her husband, while Edgar is released from the hospital. Peter Richards pressures Sue Ellen to makes a commitment to him. Sue Ellen ttells Peter that she and J.R. haver separate bedrooms. Marilee Stone agrees to be Cliff's ""silent partner."" Bobby buys Charlie a horse. Mark Grasion pressures Pam for an ansewer to his marriage proposal. Afton suspects Cliff carries on his affair with Marilee. Bobby confronts J.R. about offshore drilling and Edgar Randolph. Miss Ellie terlls J.R. he should start getting along with Clayton. Katherine locates Marchetta. Donna questions Paul Morgan about Edgar's past and reputation. Sue Ellen is hospitalized after an accident and Jenna Wade accompanies her to the hospital. bOBBY tries to talk Clayton into becoming a partner in Ewing Oil. J.R. and Peter Richards both learn that Sue Ellen miscarried as a result of the accident.
Director: William F. Claxton
Writer: Arthur Bernard Lewis
Guest stars: Fran Bennett, Vince McKewin, Joanna Miles, Anne Gee Byrd, Donegan Smith, Thomas Murphy, Teresa V. Hoyos, Cindy Riegel, Randy Harrington, Robert Herron
20
When the Bough Breaks
60 min | Feb 17, 1984

After Sue Ellen's accident, the family is concerned about her healthy and the misscarriage. Donna Krebbs investigates Edgar Randolph's past with the help of lawyer Paul Morgan. Bobby questions Jenna Wade about who Charlie's father is. Katherine Wentworth takwes a trip to California in search of Renaldo Marchetta. Peter Richards paye Sue Ellen a visit at the hospital. Cliff Barnes asks his sister Pamela to join him in the offshore drilling venture. J.R. suspects Marilee Stone is Cliff's partner and wonders what the reasons could be. Clayton Farlow decides against investing with Ewing Oil. Sue Ellen wonders who she got pregnant with--J.R. or Peter. Pam talks to Sue Ellen about her pregnancy and miscarriage. Katherine finally finds Marchetta and has a conversation with him. Mark goes overseas on business. Ray and Donna learn that Edgar Randolph was institutionalized once. Bobby tells Jenna that he, she, and Charlie have ""something very special"" going. Peter wants to think he would been t
Director: Nick Havinga
Writer: Leonard Katzman
Guest stars: Daniel Pilon, Anne Gee Byrd, Donegan Smith
21
True Confessions
60 min | Feb 24, 1984

J.R. tries to talk Marilee Stone out of doing business with Cliff. Ray and Donna take a trip to Maryland. Cliff tries to convince Pam to join him in the offshore venture. Lucy asks Peter Richards to pose as a model with her at Southfork. Jenna Wade tells Bobby that Charlie loves him. Marchetta shows upwhile Bobby and Jenna have lunch. Edgar Randolph gives J.R. secret information on the bids for the upcoming lease auction. Marchetta confronts Jenna and Bobby. He announces he's Charlie's father and shows them her birth certificate with Bobby's name. Ray and Donna uncover Randolph's secret from the past which J.R. has been blackmailing him. Katherine pays Marchetta for the meeting he had with Jenna and Bobby. Marilee Stone takes J.R.'s advice and pulls out of the offshore deal with Cliff. Katherine tries to help Pam from talking to Bobby. Jenna explains to Bobby her reasons for having listed him as the father of record on Charli's birth certificate.
Director: Paul Krasny
Writer: David Paulsen
Guest stars: Daniel Pilon, Tricia O'Neil, Jennifer Barlow, Lani Golay, Bill Quinn, Erica Yohn
22
And the Winner Is…
60 min | Mar 02, 1984

J.R. is upset to learn that Bobby and Jenna are having problems, AND TRIES TO ""FIX""THINGS. J.R. gets suspicious that someone is behind Marchetta showing up at this time. Bobby spends time with Pam and Christopher. J.R. uses Edgar Randolph to get what he wants at the auction. Ellie wants a small wedding and insists on inviting Clayton's sister Jessica but Clayton is not too happy about it. Katherine is up set to learn that Pam is been seeing Bobby. Ray and Donna discuss the Randolph issue and what to do next. Cliff Barnes is high bidder on Gold Canyon 340. Donna and Ray confronts Randolph about his past. Randolph plans to quit the government office. Bobby accuses J.R. of lying and going back to he's old waysof running the company. J.R. uses Marilee Stone to set Cliff up on the offshore venture. Randolph and his wife Martha violently confronts J.R. Cliff is not happy with Sly's service. J.R. overhears Sue Ellen and Peter talking about her past.
Director: Nick Havinga
Writer: Arthur Bernard Lewis
Guest stars: Debi Sue Voorhees, Joanna Miles, Wendy Fulton, Rosanne Katon
23
Fools Rush In
60 min | Mar 09, 1984

J.R. pretends he wants Peter Richards around at Southfork for little John Ross' sake. Cliff has to come up with the balance money date on the offshore track within 12 days. Miss Ellie set a wedding date and Clayton is delighted. Charlie Wade[Shalane McCall] questions Bobby about why he's not seeing her mother anymore. Cliff tries to talk Pamela into a partnership with him. J.R. blackmails Katherine Wentworth to make sure that Pam marries Mark Grasion. Pam goes to Houston fro a Wentworth meeting. Ellie asks Jessia over the phone to stay at Southfork for the wedding. Pam tells Sue Ellen and Katherine that she decide to turn Mark down. Bobby tries reconciliation with Jenna but they break up again. Sue Ellen tells Bobby that because of Pam's feelings for him, Shs decide not to marry Mark. Cliff gets a phone call from Mark who is in the Middle East. J.R. schemes to set Cliff up using banker Vaughn LeLAND[Dennis Patrick]. Pamela meets Mark's friend Jerry Kenderson[Barry Jenner] and learns ab
Director: Michael Preece
Writer: David Paulsen
Guest stars: Gerald Berns, Paul Lambert, Robert Donovan, Michael Fox, Peter White, Barbara Cason
24
The Unexpected
60 min | Mar 16, 1984

J.R. plots to frame Peter and teach Sue Ellen a lesson. Afton hates Vaughn Leland. J.R. wants a ""double wedding ceremony""--Clayton marring Ellie, and Bobby marring Jenna. Katherine learns of Mark's medical problem. Peter turns Lucy down on a modeling assignment in the caribbeans. J.R. is nice to Peter to make him feel welcome. Peter teaches astronomy to little John Ross. Cliff borrows $227 million despite his comptroller's doubts about the loan contract. Bobby admits to Jenna Wade that he can be inflexible anmd self-centered. Bobby tells Jenna Pam's got a hold on him. Pam decides to marry Mark. J.R. and Vaughn Leland put on a act in front of a completely unsuspecting Cliff to make him sign the loan papaers. J.R. promises Katherine Wentworth to give her the ""blackmail tape"" as soon as Pam and Mark get married. Bobby is absolutely stunned and devastated to learn of Pam's decision to marry Mark. Jessica Montford[Alexis Smith] arrives from London and surprise J.R. with a special gift. Cli
Director: Nick Havinga
Writer: Arthur Bernard Lewis
Guest stars: Morgan Brittany, Wendy Fulton, Robert Donovan
25
Strange Alliance
60 min | Mar 23, 1984

Katherine wants to make sure Pam doesn't change her mind about marrying Mark Grasion. Sly Lovergren continues to work for Cliff Barnes. Lucy is determined to find out what is ""wrong""with Peter Richards because he refuses to date her. Jessica Montford makes her brother Clayton uncomfortable by bringingup stories from his past in Ellie's presence. Pam tries to protect Mark from learning about his health problem. J.R. prepares Detective McSween to do some ""work"" on Peter. Bobby and Mark vow to be ememies. Despites Sue Ellen's concern for Lucy"",J.R. insists that Peter continues to come to Southfork. Jessica reminisces about her early years with Clayton. Charlie gets along with Christopher very well. Jenna Wade tells Bobby that she won't wait for ever. Sly tells Cliff that J.R. fears Barnes/Wentworth will become bigger than Ewing Oil. Cliff is mad to learn that Westar hit oil and he still hasn't. Jessica and J.R. find out they have a lot in common.
Director: Larry Hagman
Writer: Leonard Katzman
Guest stars: Denny Miller, Annie Gagen
26
Blow Up
60 min | Apr 05, 1984

Pressured by Jerry Kenderson[Barry Jenners], Pam tries to rush the wedding but Mark doesn't understand why. Vaughn Leland manipulates Cliff on J.R.'s instructions. Jessica feels she doesn't fit in with the Ewings. J.R. asks Katherine for help in buying some Wentworth land. J.R. invites Peter to a party for Jessica. Clayton picks Ray Krebbs to be his best man at the wedding. Punk Anderson questions Jenna Wade and Bobby about whether they will get married. Through another of J.R.'S schemes, a drunk Lucy angrily confronts Sue Ellen and Peter about their ""affair""[and J.R. is a witness]. J.R. tries to use the ""scandal""with Lucy to make Sue Ellen move back to his bedroom. Kathernie wants Bobby to teach her about the oil business. Donna gets suspicious of Jessica's intentions. J.R. and Jessica start discussing stopping the wedding.
Director: Patrick Duffy
Writer: David Paulsen
Guest stars: Walker Edmiston, Danone Simpson, Jack Axelrod, Denny Miller, Nanci Hammond
27
Turning Point
60 min | Apr 12, 1984

J.R. tries to question Jessica about Clayton's past. Vaughn LeLAND threatens to pull the plug on money for Cliff. Clayton warns Jessica that J.R. can be dangerous. Katherine and Bobby celebrates the successful purchase of Wentworth land by Ewing Oil. J.R. overhears Clayton and Jessica talk about ""Clayton secret."" Pam is a little disappointed that Mark wants such a big wedding. Sue Ellen questions Pam about why she changed her mind and decided to marry Mark after all. Jenna tells Pam that Bobby still hasn't asked her to marry him. J.R. learn that Clayton has something to hide from his past. Cliff frantically tries to raise money, and even goes through Afton's bank books and questions the way she's been spending money. Lucy apologizes to Peter for the scene she made, and they vow to be friends again. J.R. has a showdown with Katherine and she vows to kill him. Clayton tells Donna and Ray that he thinks Jessica is just too direct and unpredictable. J.R. pays oil crewman to slow down Cliff
Director: Gwen Arner
Writer: Arthur Bernard Lewis
Guest stars: Donald May, Mark Harrison, John Wyler, Denny Miller, Dana Halsted, Ava Cadell
28
Love Stories
60 min | May 03, 1984

Mark insists on a big wedding. Katherine tells an unaware Bobby of J.R's ""blackmail tape""and Bobby has a showdown with her. J.R. keeps digging into Clayton's past and his wife Amy's death in San Angelo years ago. Bobby confronts J.R. about Katherine and the tape. J.R. pressures Bobby to marry Jenna Wade. Peter is in jail and he asks Sue Ellen for help in posting bail. Mark learns the truth about his health. Jenna accepts Bobby's marriage proposal. J.R. puts on an act in front of Peter and Sue Ellen. Cliff admits to Pam that he's financially runied. Pam is devastated to learn of tragedy strking Mark.
Director: Michael Preece
Writer: Leonard Katzman
Guest stars: Denny Miller, Debi Sue Voorhees, Brad Harris, Bert Kramer
29
Hush, Hush, Sweet Jessie
60 min | May 10, 1984

The Ewing family learns of Mark Grasion's death. Bobby and Jenna holds off their announcement. Jenna fears that Mark's death may bring Bobby and Pam together. Cliff is forced arson in the San Angelo fire. Pam gets a letter from Mark which reveals the real cause of the ""plane crush."" A phone call from Dusty raises the tensions between Clayton and Jessica. Clayton tells Ray and Donna the truth about Dusty and Jessica's diary. Pam and Bobby talk about their years together and the divorce. Pam learns about the letter which Katherine wrote and which led to Pam and Bobby's divorce. Pam has a showdown with Katherine.Miss Ellie and Jessica disappears and the Ewings feaR Ellie is in serious trouble.
Director: Gwen Arner
Writer: David Paulsen
Guest stars: Charles Parks, Edmund Penney, D. J. Zacker
30
End Game
60 min | May 17, 1984

Tension rises at the Ewing residence as the search for Miss Ellie and Jessica continues. Clayton and J.R. have a fight over Clayton's mentally unstable sister. Bobby confronts J.R. over his plotting with Jessica to stop the wedding. Cliff seeks Jordan Lee's help in getting another crew for his offshore drilling. Ellie is resuced from Jessica's clutches. Sue Ellen feels sorry for Pamela after Mark's death. Clayton and Ellie decide not to postpone the wedding,despite the recent events. Clayton tries to figure out Jessica's mental state and her motive for kidnapping Ellie. Pam learns that Jenna Wade and Bobby will be getting married. Clayton and Miss Ellie get married. Cliff is mad to learn that Pam left Dallas without saying where she's going. Ellie and Clayton go on a cruise to the Mediterranean. Katherine makes a scene during an angry exchange with Bobby. J.R. reveals the setup on offshore drilling to a completely stunned Cliff. Edgar Randolph reappears in Dallas vowing revenge on J.R
Director: Leonard Katzman
Writer: Arthur Bernard Lewis
Guest stars: Gene Ross, Frank Moon, Gene Tyburn, Billy Green Bush, Ted Grossman, Vince Deadrick Jr.
---
Editions
| Barcode | Format | Region | Released | Edition |
| --- | --- | --- | --- | --- |
| 085391145806 | | 1 | Jul 31, 2007 | |
| 085391146001 | | 1 | Jul 31, 2007 | |
| 883929633449 | | 1 | Mar 06, 2018 | |
| 7321902123196 | | 2 | Sep 17, 2007 | |
| 5051890158376 | | 2 | Nov 25, 2016 | |
| 7321925003796 | | | | |
| 7321948123198 | | | | |
---
---