Dark Angel
Dark Angel: Season 2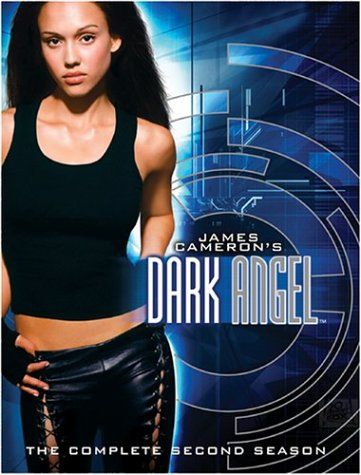 ---
20th Century Fox (2001)
Drama, Science Fiction, Crime, Action
USA | English | Color | 15h 43min
Max is a genetically-enhanced human prototype hunted by her former military handlers through the edgy, underground street life of 21st Century America. Max is aided in her quest - both to avoid capture and reunite with her "siblings" scattered in the aftermath of their escape - by Logan Cale, an idealistic cyber-journalist battling repression and corruption in post-apocalypse.
---
---
1
Designate This
60 min | Sep 27, 2001

After months of being imprisoned at Manticore, Max has resisted powerful attempts at re-programming and breeding and plans her escape from the genetics lab. She is aided in her breakout by the gentle but beast-like Joshua, an early Manticore creation, and together they release all the other Manticore creatures. Max attempts to reunite with Logan, only to discover that he is now number one on Manticore's most wanted list.
Director: Jeff Woolnough
Writer: Moira Kirland, Moira Kirkland Dekker, Moira Kirland Dekker
Guest stars: John Savage, Robert Gossett, Nana Visitor, Yee Jee Tso, Ian Marsh, Daniel Bacon, Norman Armour, Paul J. Anderson, Sean Bockhold, Kevin Conway, David Coles, Adam Henderson, Brian Drummond, Grace Park, Ashley Scott, Antonio Cupo
2
Bag 'Em
60 min | Oct 04, 2001

Manticore sends out a signal ordering all the escapees to return to a site where unbeknownst to them, awaits their death. While harboring a group of muddle Manticore escapees, Max is captured by a man who job it is to exterminate the remaining fugitives, leaving only Alec and the X6's to rescue her. Meanwhile, Lydecker contacts Logan when he gains information about Max that could be dangerous if it falls into the wrong hands.
Director: Vern Gillum
Writer: Marjorie David
Guest stars: Jamie Bell, Jesse Moss, Sarah Morris, Nana Visitor, John Savage, Nicki Clyne, Kyle Alisharan, Sean Bockhold, Chris Kramer, Colin Cunningham, Alana Husband, Andrew Francis, Catherine Lough Haggquist, Steve Archer, Lisa Calder, Claude Duhamel, Cameron McDonald, Mark Lukyn
3
Proof of Purchase
60 min | Oct 11, 2001

Max and Logan look for Joshua, who is wandering Seattle looking for ""Father"", the man who created him. Meanwhile, Alec fights ordinary people in an underground club but when later caught by White, he must strike a bargain to kill three transgenics to save his life.
Director: Thomas J. Wright
Writer: Tommy Thompson
Guest stars: Brendan Beiser, Jane Sowerby, Rob LaBelle, Janet Wright, John Hainsworth, John Savage, Kyle Alisharan, Kimani Ray Smith, Deb Macatumpag, Vince Walker, Nick Harrison, Angela Uyeda, Ryan de Boer, Stephen Aberle, Brittany Cuevas, Norman Armour, Shaker Paleja, Ken Kirzinger
4
Radar Love
60 min | Oct 25, 2001

Max and Logan must set aside their complicated and lethal feelings for one another, when they investigate a series of unusual deaths and uncover a genocidal agenda linked to transgenic escapees.
Director: Jeff Woolnough, Michael Angeli
Writer: Jeff Woolnough, Michael Angeli
Guest stars: Tyler Labine, Kris Pope, Byron Mann, Paul Jamieson, Rekha Sharma, Rick Tae, Jonross Fong, Michael David Simms, David L. Yee, Greg Chan, Zen Shane Lim, Raugi Yu, Donald Fong, Laara Cing, Ben Wilde, Winston Brown, Paul Becker
5
Boo
60 min | Nov 02, 2001

On Halloween night, Max finds her ""normal"" world turned upside down when the creatures she let out of Manticore are able to walk the streets freely without fear of exposure. As she and Joshua, with a crazy band of characters, race against time to find a headless body before it carries out its intended lethal mission, Max is faced with the reality that Asha and Logan are getting closer than ever.
Director: Les Landau
Writer: Charles H. Eglee, Moira Kirland, Moira Kirkland Dekker, Moira Kirland Dekker
Guest stars: Todd Stashwick, Kris Pope, Sarah Carter, G. Michael Gray, Deanne Henry, Travis MacDonald, Jillian Marie Hubert, Leslie Jones, Rob DeLeeuw, Jona Ritter, Jason Albertini, Angelika Baran, French Tickner, Brian Jensen, Jillian Marie
6
Two
60 min | Nov 09, 2001

Disturbed by Joshua's unusual behavior, as well as Alec's new job working at Jam Pony, Max's concern for Joshua is heightened when sector police killings are attributed to a ""beast-like"" creature. As Max races to try to figure out the mystery of the killings before more are committed, she makes a surprising discovery about who the culprit actually is.
Director: Allan Kroeker
Writer: Jose Molina
Guest stars: Kevin Durand, Sonya Salomaa, John Mann, Michasha Armstrong, Fred Ewanuick, David Parker, John Cassini, Stephanie Ciccone, Ryan Nelson, Mike Dopud, Garfield Wilson, Patrick Gallagher, John Callander
7
Some Assembly Required
60 min | Nov 16, 2001

Max discovers that Zack is not only alive but apparently benefiting from some cybernetic enhancements to his genetic engineering, however he does have memory problems. Knowing that Zack sacrificed his life for hers, Max puts herself at great risk, attempting to rescue him from his new ""owners,"" a vicious Seattle gang but when an attempt is made on Logan's life, Max is faced with a very painful decision.
Director: Nick Marck
Writer: Robert Doherty
Guest stars: Michasha Armstrong, Fred Ewanuick, John Mann, Seth Ranaweera, Sonya Salomaa, Todd Fenwick, Winston Brown, Fred Keating
8
Gill Girl
60 min | Dec 07, 2001

Alec and Max set out to rescue an aquatic transgenic caught at sea from White, but the creature's mate throws a wrench into Max's plans. Meanwhile, Logan has a brush with death after he and Max get a little too close while babysitting his niece.
Director: Bryan Spicer
Writer: Marjorie David
Guest stars: Kendall Cross, Gus Lynch, Scott Heindl, Darcy Laurie, Jessica Amlee, Jesse Hutch, Anita Brown, Angela Moore, Amanda Hardy, Daryl Quon, Mark Lukyn
9
Medium is the Message
60 min | Dec 14, 2001

Max and Logan find themselves caught up in a spellbinding kidnapping case, that takes surprising turns when they learn the boy is the son of the infamous Mr. White. White, upon learning of Max's quest to find his son, decides to turn the tables and capture her instead and Max must race against time to save the boy, herself and discover the truth behind White's identity.
Director: Jeff Woolnough
Writer: Michael Angeli
Guest stars: Emily Holmes, Claudette Roche, Brayden Bullen, Simon Burnett, Christopher Gordon, Robert Carter, Robert Carter
10
Brainiac
60 min | Jan 11, 2002

When Asha's militant group comes under fire, Max figures that it's all because of a Manticore-engineered military strategist, another transgenic called Brain. Brain sets out to protect Max as best he can, after he's called upon to discover who really betrayed the group.
Director: Stephen Williams
Writer: Chip Johannessen
Guest stars: Michael Bower, Cary Shields, Noel Callaghan, Dagmar Midcap, Sarah La Greca, Thomas Milburn Jr., Simonee Chichester, Kuba, Dean Redmond, Simon Longmore, Tiffany Knight, Darren Choo, Terry Chen
11
The Berrisford Agenda
60 min | Jan 18, 2002

While being haunted by music from the past, Alec must revisit one of his Manticore missions that went bad and resulted in the loss of his one true love. Max attempts to put the pieces of Alec's past together and upon discovery of the truth sets out to help him as best she can.
Director: Thomas J. Wright
Writer: Moira Kirland, Moira Kirkland Dekker, Moira Kirland Dekker
Guest stars: Meghan Ory, Michael Kopsa, Fulvio Cecere, Micah Gardener, Ty Olsson, Jacob Chaos, Eric Breker, Susanne Ristic
12
Borrowed Time
60 min | Feb 01, 2002

When Max and Logan finally find a cure for their genetically engineered virus, it turns out to be only temporary. Their time together is limited and to make matters worse they have to stop a strange Manticore creation that is on the loose in Seattle and preying on people.
Director: David Straiton
Writer: Jose Molina
Guest stars: Dee Jay Jackson, Scott Bellis, Tony Alcantar, Fiona Hogan, Sarah Cole-Burnett, Ryan Drescher, Peter Williams
13
Harbor Lights
60 min | Feb 08, 2002

After Max is shot and hospitalized, Logan must intercept White and a very curious CDC doctor in order to keep Max's transgenic identity undercover.
Director: Kenneth Biller
Writer: Robert Doherty
Guest stars: Robert Smith, Donavon Stinson, Oscar Goncalves, Mark Lukyn, Dagmar Midcap, Kaare Anderson, Ari Soloman, Laara Sadiq, Kwesi Ameyaw, Todd Talbot, Bobby Stewart, Alanis Peart, Sharon Heath, Ben Cotton, Alexander Farquharson, Tara Fynn, Jerry Wasserman, Sarah Strange, Enuka O
14
Love in Vein
60 min | Mar 08, 2002

Max must take on a cult of superhuman-blood addicts when she learns they're being led by a Manticore mutant intent on rebuilding an X-5 army. Meanwhile, Joshua falls in with the wrong crowd after Alec tricks him into delivering his packages for Jam Pony.
Director: David Grossman
Writer: Michael Angeli
Guest stars: Keegan Connor Tracy, Kett Turton, Camille Sullivan, Matthew Currie Holmes, Sam Witwer, Rehka Sharma, Adria McMorran, Ian Marsh, Juliet Dunn, Sky Miles, Carolyn Tweedle, Sean Amsing, Miles Meadows, Zak Santiago Alam, Eliza Murbach, Missy Peregrym, Vishanti Moosai, Adrian
15
Fuhgeddaboudit
60 min | Mar 15, 2002

A genetically enhanced hypnotist targets Logan and Max, who reveals her true identity and Logan's secret activities before realizing that she is being manipulated as part of a deadly plan - but luckily she doesn't remember doing it. Meanwhile, the transgenic, Mia, also sets her sights on Alec, raising the stakes, leading him back into the boxing ring to make some money for some not-so-good fellas.
Director: Morgan Beggs
Writer: Julie Hess
Guest stars: Frankie Jay Allison, David Gianopoulos, Byron Mann, Tracy Leah Ryan, Laurie Brunetti, John Juliani, Louis Chirillo, Lee Jay Bamberry, Peter Benson
16
Exposure
60 min | Mar 22, 2002

Max and Logan track Ames' kidnapped son, Ray, to a small town where the breeding cult known as the Familiars, are readying their youngest creation for a mysterious ceremony.
Director: Stephen Williams
Writer: Moira Kirland, Moira Kirkland Dekker, Moira Kirland Dekker
Guest stars: Callum Keith Rennie, Gabrielle Rose, Garwin Sanford, Malcolm Stewart, Devin Douglas Drewitz, Emily Holmes, Aaron Douglas, Jase-Anthony Griffith, Mike Mitchell, Alex Rae, Stephen Spender, Dominika Wolski, Brayden Bullen
17
Hello, Goodbye
60 min | Apr 04, 2002

After a near-fatal incident with Logan, Max decides to end their relationship for good. A murder committed by Alec's Manticore twin, Ben, puts him under suspicion and places all of the transgenics in jeopardy...thanks to White and his leakage to the media. Meanwhile, Joshua finds the perfect woman, but can't find the courage to confess his secret.
Director: Jeff Woolnough, Jose Molina, Cindi Grossenbacher
Writer: Jose Molina
Guest stars: Rehka Sharma, Noah Beggs, Jase-Anthony Griffith, Gabrielle Rose, Gerry Durand, Mike Michell, Sadie Lawrence, Paul Moniz de Sa, Evan Stewart, Kandyse McClure
18
Dawg Day Afternoon
60 min | Apr 11, 2002

Max must break her vow to avoid Logan after Joshua's friendship with the blind woman makes him a target of a transgenic manhunt in the sewers. Meanwhile, White leaks news of the human-looking X-5s to the media, leading to a wide-scale attack against the so-called ""monsters"" running amok and to the death of a someone dear to one of the transgenics.
Director: Kenneth Biller
Writer: Robert Doherty
Guest stars: Gabrielle Rose, Malcolm Stewart, Josh Byer, David Coles, Jorgito Vargas, Bobby Stewart, Evan Stewart, L. Harvey Gold, Mark Burgess, David Berner, J.J. Johnson, Brad Loree, Darryl Scheelar, Dion Luthor, Mike LePage, Mitchell Kosterman, Dagmar Midcap, Kandyse McClure
19
She Ain't Heavy
60 min | Apr 18, 2002

Max's life is placed in more danger than ever before when she is hunted by the one person who knows her better than anyone -- her clone. Though even the existence of this exact replica is news to Max, she quickly realizes the imminent danger from an individual who can get inside her head and infiltrate her life like no one else. Dealing not only with this new threat but also the disintegration of her relationship with Logan and Joshua's disillusionment over not being able to go out in public, Max must race against time to figure out how to stop this deadly enemy before it's too late.
Director: Allan Kroeker
Writer: Michael Angeli, Robert Doherty
Guest stars: Paul Perri, Sky Miles, Jim Thorburn, Darcy Laurie, Brian Jensen, Fred Ewanuick, Malcolm Stewart, Jessica Alba, Jase-Anthony Griffith, Evan Stewart, Cameron Bright
20
Love Among the Runes
60 min | Apr 25, 2002

Max begins to develop strange markings on her body while leading a transgenic resistance against White, when he attempts to capture one of her ""brothers"". However, the transgenics are stunned by revealed secrets about their ""father"" that threaten all that they believe and stir up many more questions. Meanwhile, the Terminal City dwellers mount a campaign to battle the humans hunting them down, and Alec learns why Logan has been keeping his distance from his former friends.
Director: James Whitmore Jr.
Writer: Jose Molina, Moira Kirland, Moira Kirkland Dekker, Moira Kirland Dekker
Guest stars: Darcy Laurie, Brian Jensen, Fred Ewanuick, Paul Perri, Michael Sbrizzi, Dominka Wolski, Peter Shinkoda, Ronald Selmour, Darren Moore, David Haysom, Craig Lapthorne, Jase-Anthony Griffith, Henri Lubatti, Rey-Phillip Santos, Gabrielle Rose
21
Freak Nation
60 min | May 02, 2002

Max is forced to expose her true identity to the world, when she must defend her own kind during a potentially deadly hostage situation at Jam Pony, involving Joshua and Alec.
Director: James Cameron, James Cameron, Charles H. Eglee
Writer: René Echevarria, Ira Steven Behr
Guest stars: Lita, Darcy Laurie, Brian Jensen, Fred Ewanuick, Gabrielle Rose, Erin Karpluk, Jeffrey Ballard, Rick Worthy, David Purvis, Christine Willes, Tahmoh Penikett
---
Editions
| Barcode | Format | Region | Released | Edition |
| --- | --- | --- | --- | --- |
| 9321337032801 | | | | |
| 024543079491 | | 1 | Oct 21, 2003 | Special Edition |
| 024543377580 | | 1 | Jun 05, 2007 | |
| 024543593881 | | 1 | Oct 21, 2003 | |
| 4010232021090 | | 1 | | |
| 024543081890 | | 1 | Oct 21, 2003 | Special Edition/ Version Francaise |
| 5039036012263 | | 2, 3 | Jun 02, 2002 | |
| 3344428021429 | | 2 | Feb 17, 2006 | |
| 6420614659359 | | 2, 4 | Jul 25, 2003 | |
| 6420614659250 | | 2 | | |
| 7391772371683 | | 2, 4 | | |
| 9321337061900 | | 4 | 2006 | Complete Season Collection |
| 9321337046082 | | 4 | | |
| 4010232031532 | | | | |
| 024543377603 | | | Feb 03, 2009 | |
| 9321337061887 | | | | |
| 4010232049988 | | | | |
| 9321337046099 | | | | |
| 9321337032795 | | | | |
| 9321337137391 | | | | |
| 7340112708870 | | | | |
| 9321337045627 | | | | |
| 024543245698 | | | | |
| 3344428009014 | | | | |
| 6438044242553 | | | | |
| 3344428012106 | | | | |
| 7391772371690 | | | | |
| 3344428012120 | | | | |
| 02454307949120 | | | | |
| 8803252305365 | | | | |
| 9321337036939 | | | | |
---
---