Der Bestatter: Season 3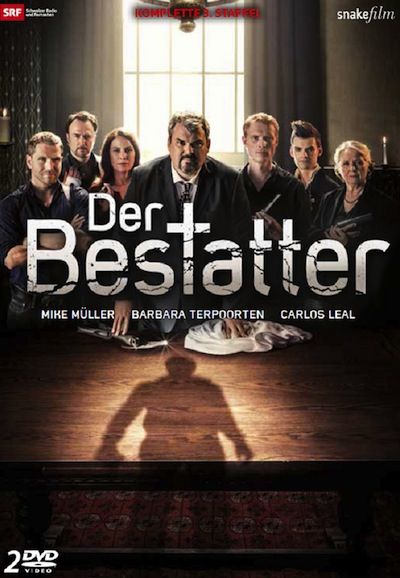 ---
Snake Films (2015)
Comedy, Crime, Foreign
Color | 5h 49min
Luc Conrad used to be a police detective. Now he's an undertaker, whose job is usually to comfort and console the next of kin – but sometimes the cop comes out in him, as well. Being closer to the corpse, so to speak, he's often a step ahead of the regular investigators, and finds a skeleton or two hidden in the closet of the grieving bereaved, as well. With his calm, attentive, sensitive manner, he often gets relatives to open up in a way they never would to the police. As soon as Luc starts to doubt a death was of natural causes, his inner sleuth takes over – and so do the headaches for Inspector Anna-Maria Giovanoli.
---
| | | |
| --- | --- | --- |
| | Mike Müller | Luc Conrad |
| | Carlos Leal | Pedro Lambert |
| | Mathias Gnädinger | Louis Lauener |
| | Suly Röthlisberger | Erika Bürgisser |
| | Barbara Terpoorten | Anna-Maria Cavegn |
| | Reto Stalder | Fabio Testi |
| | Martin Ostermeier | Dr. Alois Semmelweis |
| | Samuel Streiff | Reto Dörig |
---
Director
Markus Fischer
Markus Welter
Writer
Dave Tucker
Producer
Franziska Arnold, Simone Schmassmann
Photography
Brian D. Goff
Musician
Raphael B. Meyer
---
1
Offene Wunden
60 min | Jan 06, 2015
Semmelweis is having nightmares and flashbacks about the shooting. A woman is found dead on a gold course and the police and Luc need to keep on step ahead of the grieving husbands search for the murderer.
4
Der erste Stein
60 min | Jan 27, 2015
Four people are killed in a car accident outside a monastery who help disabled teens. The son of the driver can't let her go and Luc and staff help him let go. There is another attempt on Semmelweis's life.
5
Der Fremde im Sarg
60 min | Feb 03, 2015
A second body is found in a coffin Luc is suspected of disposing of the corpse. Pedro is convinced Luc is connected to the organ trade. Semmelweis is acting more erratically.
6
Asche zu Asche
60 min | Feb 10, 2015
Luc is on the run from police desperate to clear his name and find the real murderer. Semmelweis is deranged. Pedro is searching for the connection to Luc on his own.
---
Editions
| Barcode | Format | Region | Released | Edition |
| --- | --- | --- | --- | --- |
| 815047019324 | | 1 | Mar 28, 2017 | |
| 7611719403155 | | 2 | Feb 10, 2015 | Die Komplette Staffel 3 |
---
---