Dinner: Season 1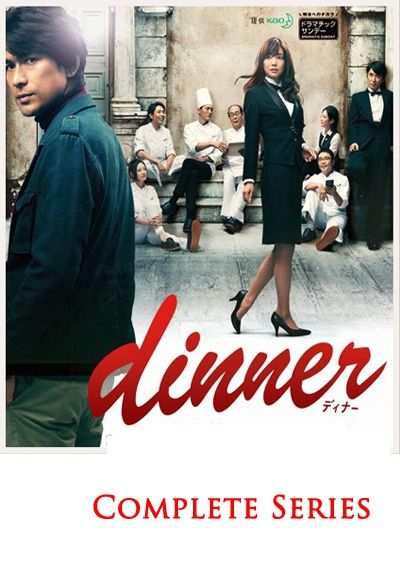 ---
Cast
| | | |
| --- | --- | --- |
| | Eguchi Yosuke | Ezaki Motomu |
| | Kurashina Kana | Tatsumi Saori |
| | Matsushige Yutaka | Imai Kosuke |
---
Plot
Everyone has secrets or dreams they can't tell anyone else. Nevertheless, we work and live everyday like any other day. Ezaki Motomu is no exception, a chef whose skills prove as top class, but whose personality is sometimes problematic to those around him. As the culinary master the most important equation to him is "Ingredient x Cooking method = Taste". No less, no more. He believes that things like relationship, love, and tradition are without substance and therefore completely unnecessary. However, it was not long before Ezaki was one day appointed to be a chief chef at a famous Italian restaurant.
Episodes
Episode 1: The worst chef comes to the best restaurant
1 min Jan 13, 2013
Episode 2: The chef that has lost his place
1 min Jan 20, 2013
Episode 3: The gourmet queen pays a visit! The unpleasant order
1 min Jan 27, 2013
Episode 4: Please let it reach you! The feelings that went into the making of the pasta
1 min Feb 03, 2013
Episode 5: The flying octopus and the small miracle
1 min Feb 10, 2013
Episode 6: First, the appetizer
1 min Feb 17, 2013
Episode 7: The "Last Supper" for the dishwasher
1 min Feb 24, 2013
Episode 8: The worst nemesis who called it disgusting!
1 min Mar 03, 2013
Episode 9: Oh, God! The head chef isn't here
1 min Mar 10, 2013
Episode 10: We're losing the restaurant!? The decision
1 min Mar 17, 2013
Episode 11: The final flavor
1 min Mar 24, 2013
---
Editions
| Barcode | Format | Region | Release | Edition |
| --- | --- | --- | --- | --- |
| 031398268208 | Blu-ray Disc | 1 | 2017-08-08 | |
---