Dirk Gently's Holistic Detective Agency: Season 2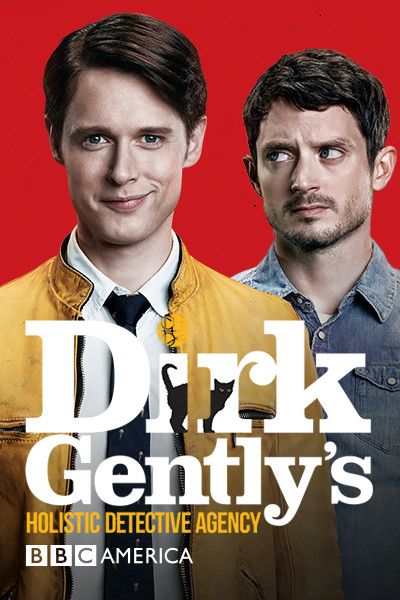 BBC Home Video (2016)
Comedy, Thriller, Crime
The bizarre adventures of eccentric "holistic" detective, Dirk Gently and his reluctant assistant, Todd.
---
---
1
Space Rabbit
45 min | Oct 13, 2017

Todd and Farah are on the run, and in search of Dirk; Bart's search for Ken takes her to Montana, where unexplainable events are taking place.
2
Fans of Wet Circles
45 min | Oct 20, 2017
Dirk, Todd and Farah reunite and investigate the case, following the clues to discover that a body connects to a cold case.
3
Two Broken Fingers
45 min | Oct 27, 2017

While investigating the 40-year-old case of the two dead bodies, Dirk and the gang are surprisingly joined by Bart who relays that she was assaulted and spins the case in a new direction, an investigation into Suzie Boreton.
Director: Douglas Mackinnon
4
The House Within the House
45 min | Nov 04, 2017

As the team's investigation leads to a startling discovery in the long-abandoned Cardenas homestead, Bart and Panto forge an unlikely and unusual relationship. In Wendimoor, Amanda takes steps towards understanding the powers that are hidden within her.
5
Shapes and Colors
45 min | Nov 11, 2017

The case seems to take a major turn when Arnold, the son of the dead Cardenas couple, shows up. Meanwhile, Amanda is led to a mystical coven in the woods of Wendimoor led by the forest witch Wakti Wapnasi, where she begins to master her unique powers…
6
Girl Power
45 min | Nov 18, 2017
As we grow closer to an answer about the case and the identity of "The Boy," our villains converge to stop our heroes with a shocking outcome.
7
That Is Not Miami
45 min | Nov 25, 2017

Lost in Wendimoor, Dirk has a crisis of confidence as he and Todd struggle with hostile natives, deadly misunderstandings and evil knights.
8
Little Guy, Black Hair
45 min | Dec 02, 2017

Dirk must take charge to rescue the feuding Brotzman siblings; Panto offers Bart a better life; Farah and the police must contend with the disappearance of Dirk and Todd.
9
Trouble Is Bad
45 min | Dec 09, 2017

Wendimoor falls into chaos; the Mage enacts his final solution, putting both worlds in jeopardy; Amanda and Todd must overcome their differences.
10
Nice Jacket
45 min | Dec 16, 2017

Dirk fulfills the prophecy and restores order after returning to Blackwing; Todd and Amanda face off against Suzie Boreton.
---
Editions
| Barcode | Format | Region | Released | Edition |
| --- | --- | --- | --- | --- |
| 883929598229 | | | | |
| 883929598212 | | 1 | Jan 23, 2018 | |
---
---