Doctor Doctor (2016): Season 2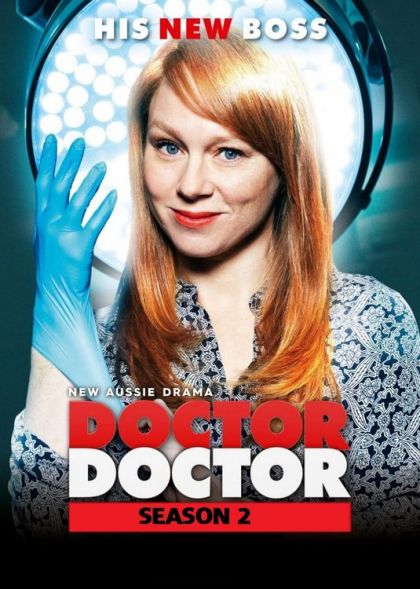 Acorn Media (2016)
Comedy, Drama, Romance
The story of Hugh Knight, a rising heart surgeon who is gifted, charming and infallible. He is a hedonist who, due to his sheer talent, believes he can live outside the rules. His "work hard, play harder" philosophy is about to come back and bite him.
---
---
1
What Difference the Day Makes
60 min | Aug 15, 2017
Disgraced surgeon Hugh Knight faces his biggest crisis yet when his love life, career and family are all in desperate need of a miracle cure. Charlie plays dirty to win back her husband, while Meryl's election as town Mayor is overshadowed by fraud.
Director: Ian Watson
Writer: Tony McNamara
2
Your Game
60 min | Aug 22, 2017
Hugh and the hospital staff use blackmail to get rid of their incompetent boss Norah. Meanwhile, Penny faces family and romantic dilemmas that will change her future. Hayley struggles with a guilty conscience over her relationship with Ajax.
Director: Ian Watson
Writer: Tony McNamara
3
Talent Showdown
60 min | Aug 29, 2017
Hugh creates havoc for Charlie when he reveals her secret talent. Penny's first day back in Whyhope is headed for disaster until she joins forces with Hugh. Hayley makes a fateful decision to fix Meryl's election fraud problem.
Director: Tori Garrett
Writer: Angela McDonald
4
The Great Campaign
60 min | Sep 05, 2017
Hugh comes to blows with Penny's new boyfriend, while Meryl plays dirty to win the re-count of the Mayoral election. Ajax gets a new perspective on life and death when he does work experience in the hospital.
Director: Tori Garrett
Writer: Liz Doran
5
Both Sides Now
60 min | Sep 12, 2017
Penny's sister causes havoc for Hugh and Ken when she visits Whyhope to defend Meryl against corruption charges. Betty uses her hidden talents to solve a medical mystery involving backpackers, sardines and farm machinery.
Director: Kriv Stenders
Writer: Tamara Asmar
6
Penny for Your Thoughts
60 min | Sep 19, 2017
Penny makes an unexpected choice when Hugh and Toke turn up the romantic pressure. When Charlie is unfairly sacked by the Headmaster, Meryl resorts to blackmail to get her reinstated.
Director: Kriv Stenders
Writer: Tony McNamara
7
Picture of Innocence
60 min | Sep 26, 2017
Hugh struggles to prove his innocence and win back Penny after failing a drug test. Meryl and Charlie lock horns over Hayley's entry in the Miss Whyhope competition. Ajax makes the worst decision of his life.
Director: Lucy Gaffy
Writer: Tony McNamara
8
Step in Time
60 min | Oct 03, 2017
Hugh and Penny race to find a kidney donor to save Jim's life. Charlie is stalked by an obsessive fan, while Matt and Ajax hunt down a thief targeting their farm.
Director: Ian Watson
Writer: Tamara Asmar
9
Forgive and Forget
60 min | Oct 10, 2017
Hugh's estranged wife arrives from Las Vegas and creates chaos for Penny and Hugh's family. Charlie and Matt teach Hayley a lesson about love, lust and the need to forgive.
Director: Ben Chessell
Writer: Tony McNamara
10
A Little Piece of Heaven
60 min | Oct 17, 2017
Penny is heartbroken when Hugh makes a series of disastrous choices about his marriage and career. Love is in the air on Hayley and Ajax's wedding day.
Director: Ben Chessell
Writer: Tony McNamara
---
Editions
| Barcode | Format | Region | Released | Edition |
| --- | --- | --- | --- | --- |
| 9398700031037 | | | | |
| 054961264391 | | 1 | Jun 26, 2018 | |
---
---