Duckman: Private Dick/Family Man
Duckman: Private Dick/Family Man: Season 1-4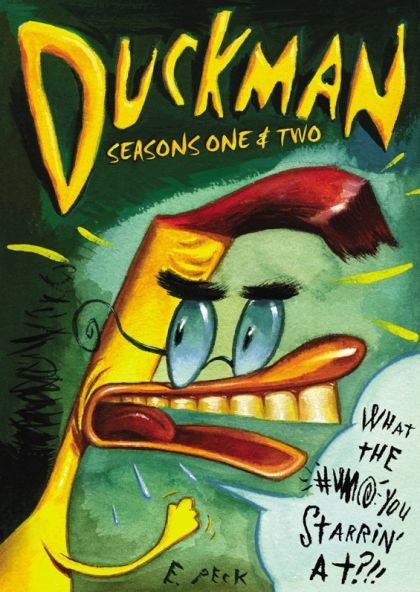 Paramount
Animation, Animation, Comedy
This collection contains:
- Duckman: Private Dick/Family Man: Season 1 (1994)
- Duckman: Private Dick/Family Man: Season 2 (1995)
- Duckman: Private Dick/Family Man: Season 3 (1996)
- Duckman: Private Dick/Family Man: Season 4 (1997)
---
---
1
S1E1: I, Duckman
30 min | Mar 05, 1994

We are introduced to Duckman, who's ignored by his family and feels under appreciated, he is searching for something to be remembered by. The agency receives a package that contains a bomb that goes of in the office. Duckman is happy someone cared enough to try and kill him so he visits the sender in prison. Only that suspect also receives a package.
Guest stars: Joe Alaskey, Sheryl Bernstein, Linda Gary, Andy Houts, Jefferey Jones, Walt Reno, Charlie Shaughnessy, Bruce Weitz
2
S1E2: T.V. or Not to Be
30 min | Mar 12, 1994

Duckman is watching a TV program, but the family takes over the set when Mother Mirabelle's Home Miracle Network program starts airing. The family demands that Duckman help find Mother Mirabelle's stolen painting that helps create miracles. Duckman reluctantly agrees, but he is skeptical until he experiences his own miracle.
Guest stars: Judith Ivey, Don Stark, Beau Weaver, Michael Bell, John Kassir, Tress MacNeille, Mari Weiss, Frank Renzulli, Charlie Shaughnessy, Crispin Glover, Danny Mann, Charles Shaughnessy
3
S1E3: Gripes of Wrath
30 min | Mar 19, 1994

A comment Duckman makes at the unveiling of a new supercomputer, named Loretta, makes the world a better place to live in, for a while anyway.
Guest stars: Kevin Carr, Debi Derryberry, Ron Fassler, Andy Houts, Dan O'Day, Charlie Shaughnessy, Keith Szarabajka, Charles Shaughnessy
4
S1E4: Psyche
30 min | Mar 26, 1994

Feeling inadequate and hard up, Duckman gets a bill job. The detectives then get a job researching the lives of two large breasted women, but Duckman runs away from it. Seeking further help, takes him into his psyche where he confronts what has really been troubling him.
Guest stars: Jim Cummings, Nick Jameson, Patricia K. Lentz, Mitzi McCall, Dede Rescher, Philece Sampler, Rodney Saulsberry
5
S1E5: Gland of Opportunity
30 min | Apr 08, 1994

Duckman receives the adrenal gland of a daredevil via a transplant at an amusement park clinic. The new gland gives him loads of confidence.
Guest stars: Charlie Adler, Robert Cait, Hamilton Camp, Jodi Carlisle, John Eng, Jess Harnell, Bobby Slaton
6
S1E6: Ride the High School
30 min | Apr 15, 1994

Duckman receives a letter offering Ajax a chance to go to a boarding school for gifted children. After visiting Ajax's current school, Duckman decides that Ajax must go to the boarding school. The family begins to miss Ajax's presence. Cornfed decodes one of Ajax's letter's and they go to the school to bring Ajax back, but it turns out the school is a front for Duckman's arch-nemesis, ""King"" Chicken.
Guest stars: Angela Watson, Ed Gilbert, Tony Jay, Jason Marsden, Aaron Michael Metchik, Sam Phillips, Pamela Segall, Pat Harrington Jr.
7
S1E7: A Civil War
30 min | Apr 22, 1994

Duckman is jealous when everyone showers Cornfed with their attention, so he fires him while working their next case, which involves the ""murder"" of the owner of a Steak and Waffle on a Stick factory.
Guest stars: Andrea Martin, Michael McKean, Terri Apple, Kenneth Mars, Kevin McBride
8
S1E8: Not So Easy Riders
30 min | Apr 29, 1994

Duckman receives a letter from the IRS. The IRS agent is tough and Duckman is given 24 hours to pay $29,587.42 in back taxes. After asking his family for help and being rejected and lectured, Duckman tries anything. When he can't raise the funds, he and Cornfed go on the run and then on the road. Bernice falls for the IRS agent who's staying at the house waiting for Duckman to call.
Guest stars: John Byner, Robert Cait, Bobcat Goldthwait, Art Kimbro, Neal McDonough, Shirley Pierce, John Spencer, Don Stark, Mari Weiss
9
S1E9: It's the Thing of the Principal
30 min | May 06, 1994

Bernice is worried about Ajax, who's not been eating and has been sent to the principal every day this week. Duckman and Cornfed go undercover in the school to find out what's up with Ajax. It turns out that Ajax is in love with the vice principal and she's in love with him. They take off together with plans to get married, south of the border. Duckman and Bernice pose as a couple and go after them.
Guest stars: Teri Garr, James Avery, Allyce Beasley, Mary Ellen Dunbar, Miriam Flynn, Molly Hagan, Cynthia Mann, Gustavo Rex, Wayne Tippet, Scott Weil
10
S1E10: Cellar Beware
30 min | May 20, 1994

Bernice decides they're going to act together as a family. For their first activity together, she invites the neighbors over for the monthly meeting of the block association. When a home security expert shows up, his pitch gets Duckman to buy the most elaborate security system, the ""Interlopen Fuhrer 2000,"" which of course doesn't do the job and then Duckman fixes it...
Guest stars: Kathy Najimy, Judy Tenuta, Sally Struthers, Blair Bess, JM J. Bullock, Roger Kabler, Susan Krebs, Nancy Linari, Randy Rudy, Kevin Schon, Dina Sherman, Todd Susman
11
S1E11: American Dicks
30 min | May 27, 1994
The Duckman detective agency, the only agency not affected by the nationwide detective strike, becomes the focus of TV show American Dicks who are looking to solve their 100th case. Eventually, Duckman gets a case; the mission is to find the mayor.
Guest stars: Joe Alaskey, Cynthia Davis, Dave Gilbert, Aaron Lustig, Steve Mackall, Ken Page, Rodney Saulsberry, Olivia White
12
S1E12: About Face
30 min | Jun 03, 1994

Duckman calls 911 in an emergency and falls in love with the voice on the other end of the line. When they meet, her looks leave a whole lot to be desired. Then she gets a complete makeover that changes her life.
Guest stars: Denise Miller, Lolita Davidovich, Teresa Ganzel, Andy Houts, Art Kimbro, Nancy Linari, Walt Reno, Scott Mosenson, Frank Renzulli, Sal Viscuso, Mitchell Whitfield, Carl Yokoi
13
S1E13: Joking the Chicken
30 min | Jun 10, 1994

A group of comedians hire Duckman to stop a pathetic mild mannered politically correct chicken whose ""clean"" stand up routine becomes a comedy sensation. The chicken's routines are funny to everyone except Duckman, who soon discovers the source of his popularity.
Guest stars: Tommy Davidson, Eddie Deezen, Conchata Ferrell, Kevin Meaney, Corey Parker, David Paymer, Walt Reno, Frank Renzulli
14
S2E1: Papa Oom M.O.W. M.O.W.
30 min | Mar 11, 1995

While trying to grab a couple of women in the ass, Duckman saves the president's life. When this fact is later revealed, Duckman tries to capitalize on his sleazy image.
Guest stars: Gilbert Gottfried, Ron Leibman, Rick Overton, Sheryl Bernstein, Mark DeCarlo, Denny Bishop, Jim Cummings, Charles Shaughnessy, Tasia Valenza, Gregg Berger, Neriah Davis, Karen Roe, Robert Lennon, J.J. Perry, Keythe Farley, Mitch Watson, Peter Savage, Erle McCan, Josef Spa
15
S2E2: Married Alive
30 min | Mar 18, 1995

Bernice returns home with news that she is getting married to a self-made billionaire who plans to take her and the kids away with him to Europe, leaving Duckman alone.
Guest stars: David Rasche, William Woodson
16
S2E3: Days of Whining and Neurosis
30 min | Mar 25, 1995

Duckman & Cornfed go undercover into an exclusive celebrity-filled health spa to investigate one of the support groups.
Guest stars: Conchata Ferrell, Frank Renzulli, Jim Cummings, Charlie Adler, Kevin Meaney
17
S2E4: Inherit the Judgment: The Dope's Trial
30 min | Apr 02, 1995

Duckman, in search of his free clock radio, takes the family out to the desert. They wind up in a small town where ""King"" Chicken is the sheriff and Duckman is put on trial for being a heretic.
Guest stars: Robert Curtis Brown
18
S2E5: America the Beautiful
30 min | Apr 09, 1995

As the disclaimer says at the beginning this episode is full ""of heavy handed and over-obvious allegory,"" when for some children, Duckman and Cornfed search for what has become of a beautiful model named America.
Guest stars: Jim Belushi, Bobcat Goldthwait, June Lockhart, Heather Locklear, Dustin Saiki, Steven Weber, Sabrina Wiener, Alan Young
19
S2E6: The Germ Turns
30 min | Apr 16, 1995

The family goes to a new age fair and at one of the booths, Duckman meets his mother who's been reincarnated as a ""highly infectious germ"". He learns that if he parents his children correctly he won't come back as germ, so he showers his kids with too much affection.
Guest stars: Katey Sagal, Janeane Garofalo, Mary Gallagher, Edward Asner
20
S2E7: In the Nam of the Father
30 min | Apr 23, 1995

The son Cornfed never knew he had arrives at the office and Cornfed travels back to Vietnam to find the mother and the truth. Duckman takes his family along on the trip for a much needed vacation and must also deal with the flashbacks he is experiencing.
Guest stars: Margaret Cho, George Kennedy, Maurice LaMarche, Danny Mann
21
S2E8: Research and Destroy
30 min | Apr 30, 1995

Ajax's natural talent for poetry makes him popular. Duckman gets him signed to a contract for a job creating greeting cards, but Ajax isn't happy with his new occupation.
Guest stars: John Pankow, Ed Begley Jr., Jack Carter, Andy Houts, Laurie Metcalf
22
S2E9: Clip Job
30 min | May 07, 1995

Duckman is kidnapped by an irate viewer who doesn't like the lack of morals portrayed on his television show.
Guest stars: Ben Stiller, Jim Cummings
23
S3E1: Noir Gang
30 min | Jan 06, 1996

Feeling ""creatively obligated by a film-noir parody,"" Cornfed calls their new client ""a dame,"" whose name is Tamara La Boinque. Later he confesses to a priest about betraying his partner, when they both fall in love with their client.
Guest stars: Bebe Neuwirth, Carl Reiner, Maurice LaMarche
24
S3E2: Forbidden Fruit
30 min | Jan 13, 1996

Duckman is slapped with a sexual harassment charge by the French nanny that Bernice has hired to tutor the boys. It seems the nanny isn't who she appears to be. In search of solitude Duckman moves in with Fluffy and Uranus; even they reach their breaking point with him.
Guest stars: Laurie Metcalf, Walt Reno
25
S3E3: Grandma-ma's Flatulent Adventure
30 min | Jan 20, 1996

The family makes plans to put Grandma-ma in a rest home. While taking her there, Duckman gets distracted and loses track of her. Grandma-ma embarks on a flatulent adventure and later when Cornfed and Duckman find her, she appears to be dead. Duckman makes the funeral arrangements.
Guest stars: Dennis Haysbert
26
S3E4: Color of Naught
30 min | Jan 27, 1996

Duckman again foils King Chicken's plot for revenge. This time King Chicken has produced a product that makes everything beautiful, everything except Duckman. The only problem being is that this product is actually a virus that de-evolves everything. Duckman must again battle King Chicken and save the world.
Guest stars: Michael Manasseri, John Mallory Asher, Lolita Davidovich, Eddie Deezen, Kathy Najimy, Judy Tenuta, Lee Tergesen, Walt Reno
27
S3E5: Sperms of Endearment
30 min | Feb 10, 1996

Bernice, Duckmans sister-in-law, decides she wants to have a child of her own. After trying the dating scene she decides to give artificial insemination a go. Due to a mis-communication and over abundance of, er, 'product', the service gives her Duckmans 'donation'. Hilarity ensues as Duckman and Bernice are incompatible in every [in] conceivable way.
Guest stars: Joe Alaskey, Anne Bloom, Nanci Linari, Kath Soucie, Suzanne Stone, Nicholas Walker, Mae Whitman
28
S3E6: A Room With a Bellevue
30 min | Feb 17, 1996

Duckman gets placed in a mental institution after pleading temporary insanity to a charge of public ranting. He likes the strict regimentation of the institution (compared to the anarchy and choas of outside the institution) so much that he decides to have himself permanently commited. Cornfed comes to rescue Duckman from the institution, but is to late as he has already been given shock treatment. Luckily Cornfed has a book on brain surgery and gets Duckman back to 'normal'. [note: the original version of this episode has a small section where Duckman is being dragged through a room where some residents are being given a test, and Dr. Stein asks them about seeing Duckman and a question of time. For some strange reason this scene is usually cut.]
Guest stars: Joel Brooks, John Byner, John Corbett, Robert Costanzo, Henry Gibson, Billie Hayes, Victoria Jackson, Bronson Pinchot, Randy Rudy, Olivia White
29
S3E7: Apocalypse Not
30 min | Feb 24, 1996

After the city gets attacked by one of Duckmans over-inflated dolls, the city decides to have an emergency drill where all the residents go underground till the drill passes. Duckman fails to know about the drill and has a city-wide 'party' (involving mass destrution) while all the residents are gone. Eventually the residents return to chase Duckman out of town.
Guest stars: Jeff Bennett, Elayne Boosler, Mary Pat Gleason, Scott LaRose, Jennifer Lien, Roddy McDowall, Stuart Pankin
30
S3E8: Clear and Presidente Danger
30 min | Mar 02, 1996

Duckman and group win a trip to a third-world country. Duckman starts a revolution with his ranting and gets placed into power where he becomes as corrupt as the last rulling paty. This requires Cornfed to form a revolution and rescue Duckman and group.
Guest stars: Robert Cait, Carlos Ferro, Hector Elias, Jess Harnell, Marabina Jaimes
31
S3E9: The Girls of Route Canal
30 min | Mar 09, 1996

Charles and Mambo are in love and look to Duckman for advice. He tells them a Bridges of Madison County-esque story of how he and their mother met and fell in love.
Guest stars: Aeryk Egan, David Duchovny, Mary Ellen Dunbar, Ed Gilbert, Julie Maddalena, Marty York
32
S3E10: The Mallardian Candidate
30 min | Mar 16, 1996

Former comedian Iggy Catalpa hires Duckman to investigate a conspiracy where the only evidence is a sock missing from his laundry. The conspirators capture Duckman and brainwash him into killing the only one who can stop them, Cornfed.
Guest stars: Eddie Deezen, John Kassir, Susan Krebs, Gedde Watanabe
33
S3E11: Pig Amok
30 min | Apr 05, 1996

(Willabald Feivel) Cornfed finds out from his father via a documentary co-written with Ken Burns, that he has a genetic disease that gives him a choice, either lose his virginity, or die in 24 hours. Duckman tries to help him out, but Bernice saves the day and Cornfed pledges his undying love. He becomes dejected when she rejects him and tries to commit suicide.
Guest stars: Thomas Gibson, Bob Guccione, Danny Mann, Chuck McCann, Lee Meriwether, Peter Strauss, Blair Underwood, Edward Winter
34
S3E12: The Once and Future Duck
30 min | Apr 12, 1996

Ajax opens a rift in the time/space continuum with his clock radio. Duckman discovers from a future version of himself that his future hinges on Charles and Mambo's tuba recital. Unfortunately Duckman tries to use these visits from his future selves to make a his decisions and suddenly discover every little decision he makes has a big impact on his future.
Guest stars: Charlie Adler, Brian Cummings, Rhonda Shear, James Sikking
35
S3E13: The One With Lisa Kudrow in a Small Role (a.k.a. Planet of the Dopes)
30 min | Apr 19, 1996

Ajax is abducted by redneck aliens and taken to a planet where Duckman is praised as a deity and Ajax revered as ""The son of Dod.""
Guest stars: Lisa Kudrow, David Lodge, Melissa Manchester, Howard Morris, Walt Reno, Roger Rose, Jerry Sroka, Mari Weiss
36
S3E14: Aged Heat
30 min | Apr 26, 1996

A Grandma-ma look-a-like robber switches places with the her to make an escape. Duckman suspects that Grandma-ma isn't quite herself, of course no one believes him. The Agnes reveals herself and holds the family hostage.
Guest stars: Brian Doyle-Murray, Lynette Mettey, Wayne Tippet
37
S3E15: They Craved Duckman's Brain!
30 min | May 03, 1996

Duckman is cast in a hospital educational film with Joe Walsh; for his part he is put into a MRI chamber. The film crew is thrown out of the lab and Duckman forgotten. Left too long in the chamber, a mutation occurs which a doctor identifies as a cure for cancer. Now everyone wants Duckman's brain for their own purposes. Meanwhile, Agnes is still impersonating Grandma-ma.
Guest stars: Judith Light, Al Albert, Bart Flynn, Kathleen Freeman, Mary Gallagher, Lauren Lane, Eugene Levy, Maureen McGovern, Ron Perlman, Howard Storm, Joe Walsh
38
S3E16: The Road to Dendron
30 min | May 10, 1996

A parody of the Hope/Crosby Road pictures is done in this episode as Duckman and Cornfed act as chaperones for Ajax's class trip to the Sudan. Ajax is kidnapped. Duckman and Cornfed must rescue Ajax from a Sultan, his Fakir and a beautiful princess.
Guest stars: James Avery, Ismael Kanater, Maurice LaMarche, Amanda Plummer, John Rhys-Davies, Jay Thomas
39
S3E17: Exile in Guyville
30 min | May 24, 1996

A young child is related the tale of how Duckman and Bernice led a nationwide division of sexes, all this because of his ad for lingerie. Duckman and the men move to the west coast. Bernice and the woman move to the east coast. The children have a different idea.
Guest stars: Justin Berfield, Maryedith Burrell, Ken Campbell, Mark DeCarlo, Debrah Farentino, Michelle Thomas
40
S3E18: The Longest Weekend
30 min | Jun 21, 1996

Duckman and the neighbors get together to form an association after another neighborhood association appears to be getting preferential treatment from the city. Duckman is elected head of the association and he becomes Patton-like as the two neighborhood associations go to war. The civil war breaks out within their neighborhood association.
Guest stars: Gilbert Gottfried, Andrea Martin, Judy Tenuta, Dave Thomas
41
S3E19: The Amazing Colossal Duckman
30 min | Jun 28, 1996

Through a unique combination of chemicals, Duckman gets a rare blood disease that causes him to grow several inches each time he gets angry and rants & raves. Realizing that he can't control himself after growing several feet, Duckman exiles himself to a desert island.
Guest stars: Ralph Grairl, Katie Leigh, Randy Rody
42
S3E20: Cock Tales for Four
30 min | Jul 05, 1996

Duckman and Bernice go to meet the parent's of Ajax's girlfriend. The parents turn out to be ""King"" Chicken and his wife; surprisingly for the moment he and Duckman make up. Bernice and the ""King"" also mend their fence; however, Honey makes a play for Duckman to put things back to normal.
Guest stars: Judith Light, Tim Curry
43
S4E1: Dammit, Hollywood
30 min | Jan 04, 1997

Annoyed with the current state of the film industry, Duckman goes to Hollywood to demand his $7 back. Instead, he falls into the plot of a soon-to-be deposed studio executive, a man who's looking for a patsy to run the studio into the ground in hopes of saving his own job. Duckman becomes head of Paradox Pictures, where ""if it's a good movie its a Paradox"". He quickly begins running through the studio's money, signs a secretary to a 340 million dollar deal to star in a movie in her underpants. The deposed executive also arranges it so that Duckman manages to alienate the studio's three biggest action stars.
Guest stars: Paul Dooley, Brendan Fraser, Maurice LaMarche, Julie Moran, Roger Rose, Rodney Saulsberry
44
S4E2: Coolio Runnings
30 min | Jan 11, 1997

With the Father & Son Games coming up, Duckman looks for an alternative to competing with Ajax. He spots a more than adequate replacement in recording artist Coolio, who's returned to school to replace his high school diploma. Coolio does not compete with Duckman. Ajax competes with Duckman and even tho they don't win, it has made Duckman and Ajax's bond stronger.
Guest stars: Hattie Winston, Coolio, Walt Reno, Ben Stein
45
S4E3: Aged Heat 2: Women in Heat
30 min | Jan 18, 1997

Duckman is imprisoned for killing Fluffy and Uranus, again. However, he is accidentally sent to a women's prison. A dream of his comes true! In fact Duckman fits in quite well and becomes the star attraction in the warden's side business, a dance ring. Everything's going great until Suzy comes along.
Guest stars: Kathy Ireland, Gina Belafonte, Sandra Bernhard, Farrah Forke, Sheena Easton, Cathy Moriarty
46
S4E4: All About Elliott
30 min | Jan 25, 1997

Duckman and Cornfed hire a college intern for the agency. The intern undermines Cornfed's reputation and indulges Duckman's self-destructive behavior. Duckman must choose between his flashy new assistant (who may be trying to kill him) and his old partner.
Guest stars: Chris Elliott, Catherine Cavadini
47
S4E5: From Brad to Worse
30 min | Feb 01, 1997

Duckman finds an old high school classmate who's been homeless due to something Duckman did to him 20 years ago. Duckman's attempts to help only make things worse.
Guest stars: Peter Scolari, John de Lancie, John Vernon
48
S4E6: Bonfire of the Panties
30 min | Feb 08, 1997

Cornfed along with Charles and Mambo prepare the ultimate aphrodisiac for Duckman to turn his love life around. They give him a limited amount of the potion, but he quickly replicates it in huge batches. Now he has more woman than he can deal with. Bernice discovers what is going on and demands that he stop. When the real thing occurs between Duckman and actress Courtney Thorne-Smith, no one believes him.
Guest stars: Jason Alexander, Jamie Hanes, Tom Kane, Courtney Thorne-Smith
49
S4E7: Role With It
30 min | Feb 15, 1997

Duckman takes the family and the staff on a holiday to a real Indian reservation, with a casino. While there, a psychiatrist notices Duckman and the rest of the family's overall self-destructive behavior. She offers them treatment that involves a role-playing session that uncovers some of their real issues.
Guest stars: Dana Delany, Michael Horse, Russell Means
50
S4E8: Ajax and Ajaxer
30 min | Feb 22, 1997

Duckman and Cornfed are hired to perform surveillance on a laboratory that is performing experiments on intelligence formulas. Cornfed accidentally swallows a ""Get Dumb"" formula, that falls in with the plans of the scientist who created it. If Cornfed gets cured, will Ajax lose his first true friend?
Guest stars: Michael Jeter, Maurice LaMarche, Nancy Linari
51
S4E9: With Friends Like These
30 min | Mar 01, 1997

Duckman quests for friendship when Cornfed is the only guest at his surprise party. He begins hanging out at a coffee shop that is filled with a group of twenty-somethings named Ditzi, Bobby, Sassy, Pete and Marion. Together they discuss their ""problems"" a la Friends with a side of Ellen.
Guest stars: Jeremy Sisto, Alison La Placa, Arye Gross, Theresa Randel, Laura Leighton, Merrill Markoe, Scott Wilk, Theresa Randle
52
S4E10: A Trophied Duck
30 min | Mar 08, 1997

Duckman and the gang travel to San Francisco to attend Dickcon 97. He thinks he is being honored with an ""achievement"" award. When he gets there, he encounters an old rival from detective school. The rival is running the event and takes every opportunity to humiliate him. One of these methods involves an attempt to find a kidnapped Cornfed.
Guest stars: Amy Brenneman, Jeff Bennett, Jerry Houser, Walt Reno
53
S4E11: A Star is Abhorred
30 min | Mar 15, 1997

Duckman takes the family and Cornfed out for dinner. The karaoke machine comes out and Bernice's rantings against Duckman are heard by a record company big-wig. He markets her as an Alanis Morrisette type of singing sensation; however, the tour takes a toll on her and the family.
Guest stars: Ice-T, Dom DeLuise, Flea, Art Kimbro, Kurt Loder, Joe Mantegna, Kevin Schon, Mari Weiss
54
S4E12: Bev Takes a Holiday
30 min | Mar 22, 1997

Bernice travels to Washington to assume her new role as Congresswoman. Duckman spots a woman who happens to look like Beatrice, but gets hit by a bus. It turns out that she is Beatrice and Bernice's long lost triplet. Bev realizes the only way to keep Duckman alive is to pretend to be Beatrice.
Guest stars: Vicki Lawrence, Kathleen Freeman, Eugene Levy, John Rubano
55
S4E13: Love! Anger! Kvetching! (a.k.a. Ain't Gonna Be No Mo No Mo')
30 min | Apr 11, 1997

Duckman plans a big poker for the evening. Unfortunately before the game his obnoxious Uncle Mo arrives and claims he is dying. To avoid the curse that befell his cousin, Duckman tries to wait on him hand and foot. Just how much of his Uncle can he take?
Guest stars: Bob Guiccione, Robert Klein, Joe Mantegna, Joe Walsh
56
S4E14: Duckman and Cornfed in 'Haunted Society Plumbers'
30 min | Apr 18, 1997

Duckman and Cornfed become plumbers and their first job takes them to a society gathering in a mansion. While not doing his job, Duckman discovers that the cursed ""Sharon Stone"" is missing; he and Cornfed try to recover the diamond before the hostess discovers the theft. After the diamond is revealed to be missing, its curse comes into play and traps them in the mansion.
Guest stars: Beverly Archer, Xander Berkeley, Dan Castellaneta, Daniel Davis, Glenn Shadix, Nicholas Walker
57
S4E15: Ebony, Baby
30 min | Apr 25, 1997

Cornfed leaves for a much-needed vacation. While he is away, Duckman becomes mesmerized by a black model/private eye who quickly gets him involved in a world of murder, power, lust and every black exploitation cliché that exists with a side of a Spelling/Goldberg production.
Guest stars: Ice-T, Tisha Campbell, Montell Jordan, Leila Kenzle, Taj Mahal, Taylor Negron, Jeremy Piven, Shabaka, Michael Stanton
58
S4E16: Vuuck, as in Duck
30 min | May 02, 1997

Duckman inherits a minor league baseball team as the dying wish of the owner who is trying to keep the team from hands of a banker. To boost attendance he stages a series of stunts, that humiliate and scare the players into quitting. He ""hires"" nine super-models to take their place and they are an instant success. Cornfed teaches them the fundamentals of baseball and they become a great team. The banker institutes a scheme to prevent the supermodels from winning the big game and Cornfed discovers his other scheme on the Internet in the newsgroup alt.villians.greedy-schemes.
Guest stars: Jill Goodacre, Tim Curry, Nicole Eggert, Chick Hearn, Kathy Ireland, Tom Kane, Maureen McGovern, Alison Moir
59
S4E17: Crime, Punishment, War, Peace, and the Idiot
30 min | May 09, 1997

Beverly asks Bernice if she knows anything about Grandma-ma's past. The coma-bound Grandma-ma recalls her past in a series of flashbacks that involves a tortured romance with two characters who look and sound a lot like Cornfed (Petrov) and Duckman (Trigorin) with Russian accents.
60
S4E18: Kidney, Popsicle, and Nuts
30 min | May 23, 1997

Duckman needs a new kidney. To get one requires a donation from a blood relative. He searches for his father, who he thought was cryogenically frozen. Instead he discovers that the man he thought was his father, wasn't. Using the power of the Microsoft Network (Blatant Plug!), the twins and Cornfed find where dad is currently living. Duckman and Cornfed travel there, only to find that his is a paranoid schizophrenic who's formed his own country.
Guest stars: James Brown, Brian Keith
61
S4E19: The Tami Show
30 min | Jun 13, 1997

Duckman backs his car into a cute girl in front the house. Finding out that she is on her own, Beverly and the family invite her to stay; however, Beverly becomes the victim when Tami tries to takeover a have a ""perfect family.""
Guest stars: Kim Cattrall, Greg Cupoli, Danny Mann
62
S4E20: My Feral Lady
30 min | Jun 20, 1997

Duckman purchases a mail-order bride, from Tetzloff; however, she's really a jungle savage. With Cornfed's help, they attempt to civilize her a'la My Fair Lady. He asks for her hand in marriage on a ""Surprise Proposals"" episode of Leeza and things go awry when the flashbulbs go off.
Guest stars: Kristen Johnston, Mary Gallagher, Leeza Gibbons, Vic Polizis, Harve Presnell
63
S4E21: Westward, No!
30 min | Jun 27, 1997

Cornfed invites Beverly to join him on a trip to his Aunt's catfish ranch. Duckman, jealous of Cornfed's interest in Bev, tags along for the ride. After getting the ranch hands fired, Duckman and the gang must help the foreman, Big Jack McBastard, on the big catfish drive to Texas. On part of their drive involves crossing ""Hell's Toilet,"" where ""the days are so hot they can boil your brain and the nights are colder than David Caruso's film career."" After Duckman accidentally kills Big Jack, they are on their own.
Guest stars: Estelle Getty, Jim Cummings, Nick Jameson, Ron Palillo
64
S4E22: Short, Plush and Deadly
30 min | Jul 11, 1997

The family goes on a dream holiday camping trip. At the park, they run into Fluffy and Uranus who are also on holiday. However, Duckman quickly puts them to work and gets himself banished from the campground. He takes Fluffy, Uranus and Cornfed with him off into the woods, but bees sting the accompanying trio. Cornfed's head swells and an allergic reaction causes Fluffy and Uranus to grow to gigantic proportions and become homicidal. Hearing Duckman's screams, Beverly and a reluctant Bernice go to the rescue leaving entertainer Jim Bailey keeps the boys and Grandma-ma entertained.
Guest stars: Jim Bailey, Maureen McGovern, Tom Wilson
65
S4E23: How to Suck in Business Without Really Trying
30 min | Jul 18, 1997

Duckman sells his identity to the Variecom corporation for $1000, which he immediately spends. Unable to use his own name or image, he is left penniless. He even tries to become a Duckman impersonator, until he is ""downsized."" Then he conceives a plan to get his self-respect and identity back. Meanwhile, Cornfed leaves to rejoin the 80's band A Flock of Seagulls.
Guest stars: Robert Cait, Gilbert Gottfried, Dorian Harewood, Mike Madeoy, Walt Reno, Alan Rosenberg, Paul Sorvino
66
S4E24: You've Come a Wrong Way, Baby
30 min | Jul 25, 1997

Mambo is caught with a cigarette in his mouth; Bernice takes action in Congress. A tobacco company CEO invites her and the family to enjoy the hospitality of the tobacco industry. When Bernice won't change her position, they are put to work picking tobacco. Rescue seems hopeless, until Agnes Delrooney, reveals that she has been hiding out as Grandma-ma all this time. She makes an escape, with Duckman handcuffed to her.
Guest stars: Brian Doyle-Murray, Ed Gilbert, Erv Immerman, Maurice LaMarche, Jim Varney
67
S4E25: Hamlet 2: This Time It's Personal
30 min | Aug 01, 1997

Cornfed undergoes analysis and relates this tale about Duckman seeing the ghost of his uncle who says that Duckman's father was murdered by King Chicken. Duckman hangs with Bernice and King Chicken while pretending to be crazy. Cornfed realizes that Duckman is living out the plot of ""Hamlet,"" that will eventually lead to Duckman's death.
Guest stars: Robert Klein, Tim Curry, Jeffrey Tambor
68
S4E26: Das Sub (a.k.a. Class Warfare)
30 min | Aug 15, 1997

Convicted of fraud, Duckman is sentenced to 5,000 hours of community service. He is sent to a dangerous inner-city high school, located a half a block from his house, where he becomes a substitute teacher and it turns out that his is the most ""Dangerous Mind.""
Guest stars: Burt Reynolds, Richard Libertini, Jason Marsden, Tamala Jones, Mayte Vilan, Maurico Mendoza, Steve Zirnkilton, Steven Zirnkilton
69
S4E27: Where No Duckman Has Gone Before
30 min | Aug 22, 1997

In a send-up of the Paramount franchise, Eric Tiberius Duckman, captain of the starship Enterprise matches wits against the evil Khan Chicken.
Guest stars: Tim Curry, Marina Sirtis, James Doohan, Gilbert Gottfried, Leonard Nimoy
70
S4E28: Four Weddings Inconceivable
30 min | Sep 05, 1997

At the wedding of Dr. Ben Stein, a series of emotional epiphanies lead to an amazing set of marriage proposals. King Chicken proposes to Bernice. Cornfed proposes to Beverly. Duckman proposes to his new love, King Chicken's ex Honey. After many arguments between the principles, Duckman says he will make all the arrangements, thereby letting everyone blame him. Despite his arrangements, the ceremony goes off with the appropriate hitches, except that Duckman finds out something that Cornfed forgot to tell him.
Guest stars: Tim Curry, Judith Light, Michelle Nicastro
---
Editions
| Barcode | Format | Region | Released | Edition |
| --- | --- | --- | --- | --- |
| 032429297327 | | 1 | Feb 06, 2018 | |
| 097361400945 | | 1 | Jan 06, 2009 | |
| 097361400921 | | 1 | Jan 06, 2009 | |
| 9337369013084 | | | | |
---
---