East West 101
East West 101: Season 1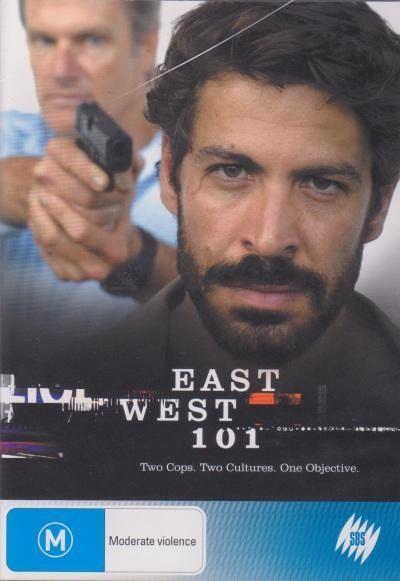 MHz Networks (2007)
Crime, Action
Australia | English | Color | 5h 22min
Zane Malik is a young detective at the Major Crime Squad. He is also a Muslim. And as a Muslim detective in a post 9/11 world where just to be an Arab, is to arouse suspicion and fear, Malik feels under pressure to prove himself, over and over.

Snr Detective Crowley was a detective of the old school, where rules and regulations played a poor second to getting a result. Crowley is a man at odds with the times. Not just the times, Crowley's at odds with everything and everyone, even himself. If he's at war with anyone, it's Zane Malik.

Malik battles with Crowley across six hours as, from Lakemba to Chinatown, they investigate the murders and crimes of a big city.

EAST WEST 101 is the story of two men whose destiny is irrevocably intertwined.

Malik is driven by a hunger for justice. He was twelve and at the till, when a masked gunman held up the family shop. Malik refused to hand over the money. His father was shot and brain injured. Since he joined the Force, Malik has been looking for the shadowy figure who pulled the trigger.

When he finally finds him, Malik's belief in the justice system is challenged by a powerful desire for revenge. As he hunts down the truth it is revealed that Crowley had a part to play in the original investigation. But will Crowley help or hinder Malik in his quest? He is a man whose vision has been blighted by pain and prejudice.

Crowley's son, Paul, was found dead of a drug overdose sold to him by a Lebanese dealer. When the drug dealer, who sold Paul the heroin, is found murdered, Internal Affairs come asking questions. Looking for answers. Not just from Crowley. Malik also. He was involved in the case.

Crowley is at the mercy of Malik. Will Malik end his career? What will Crowley do to stop him? There's an edge of danger as these two men circle one another.

This might look like the battle between two strong men for dominance - but it is also a metaphor for the fear that exists between East and West - as two men search for love, approval and forgiveness.
---
---
| | |
| --- | --- |
| Writer | Kristen Dunphy |
| Producer | Steve Knapman |
---
1
The Enemy Within
60 min | Dec 06, 2007
Muslim detective, Zane Malik, is fighting crime in a post 9/11 world. A police officer s killed, apparently by two armed robbers 'of middle Eastern appearance.' Zane Malik uses his connections in the Arab community to track down the two youths involved. Malik's search for the truth brings him into a head on clash with Senior Detective, Ray Crowley. Rowley accuses him of putting his community before his job. Malik is angry. He wants justice for the police officer too, but he knows what it is to be an Australian Arab, and feel unsupported by the law. When he was a boy his father was shot by an armed robber; the shooter was never brought to justice. But will Malik be able to find out the truth behind the officer's death before war erupts on the streets of Lakemba?
2
Death at the Station
60 min | Dec 13, 2007
Bad drugs are being sold on the streets of Redfern. Addicts are dying. Local Aboriginal leader and anti drug crusader, Adam King, is trying to get the drugs off the street when he is shot. Some say he has been assassinated. Malik and his partner, Pacific Islander, Detective Sonny Koa, try and get to the truth. Why are King's colleagues so unhelpful? And his family downright hostile? Is it just a distrust of police… or is it something more sinister? The conflict worsens between Malik and Crowley as Malik asks for his help with sources and informers and is rejected. Crowley's rage is more personal. Although the rest of the Squad are not aware of it, Crowley's son was one of the drug statistics.
3
Islander Sacrifice
60 min | Dec 20, 2007
Two Lebanese youths and a schoolgirl are killed in a drive by shooting. Inspector Wright, appoints Malik to run the investigation. Crowley doesn't like his junior colleague supervising the case but he has bigger problems. Internal Affairs are investigating Crowley's actions in relation to the death of the drug dealer, Basha. Who called I.A. in? Crowley wonders if it is Malik's doing. Is his enemy seizing the opportunity to destroy him? But Malik is facing his own professional challenges. The triple murder case is complex. His partner, Detective Koa, helps break the case by his knowledge of the Pacific Island Community.
4
Hunt for the Killer
60 min | Dec 27, 2007
The brutal slaying of a respectable middle aged Vietnamese couple in Cabramatta is carried out amidst the stress of the Internal Affairs investigation. This time it's Malik in the hot seat. Whatever he says to I.A. will affect Crowley's future. Meantime, Malik and Koa try to work out who killed Mr and Mrs Ngo. Mrs Ngo was a difficult wilful woman who liked everything her way. Mr Ngo was a community minded man. Was the killer their own son? He stands to inherit the family wealth. The press reveal that several years back Mr Ngo was a witness of a gangland murder by the notorious Black Dragon street gang. Is this connected?
5
Haunted by the Past
60 min | Jan 03, 2008
In the midst of investigating the murder of a Serbian car salesman, Malik's obsession with the past deepens. Malik seeks to prove that John Hunt was once an armed robber, and the man who shot his father. But this is contrary to the evidence. Is Malik going mad? Can he find the evidence that will prove Hunt's guilt? And why is Crowley obstructing him? Is it sheer bloody mindedness or is there a reason? Malik, Koa and all at Major Crime, work to solve the mystery behind the Serbian killing. The detectives discover that the car salesman is not as respectable as he appeared. Has his dark past something to do with this death?
6
The Hand of Friendship
60 min | Jan 10, 2008
Hunt is missing. HQ received a panicked call from a woman accusing Malik of killing him. Is he dead? And is Malik reponsible? When Hunt's body is found in Chinatown Crowley is dismissive - Malik's quest is over. Malik disagrees, Hunt may be dead but his quest for justice remains. Whoever killed Hunt took away the satisfaction Malik might've found in a lawful outcome. But Malik's determined to track down Hunt's killer. He finds the woman who called HQ. Celia Cho, is the daughter of Bruce Cho, a leader of the SW Crime Syndicate and the mother of Hunt's son. Bruce Cho hated Hunt. If he is the killer, proving it, in a world where everyone is afraid to talk, will not be easy. The closer Malik gets to the truth, the more dangerous he becomes.
Writer: Kristen Dunphy
---
Editions
| Barcode | Format | Region | Released | Edition |
| --- | --- | --- | --- | --- |
| 054961261994 | | 1 | Jan 30, 2018 | |
| 9322225063556 | | 4 | | |
| 815047015500 | | | Mar 27, 2012 | |
| 9322225093201 | | | | |
---
---