Emergency!
Emergency!: Season 5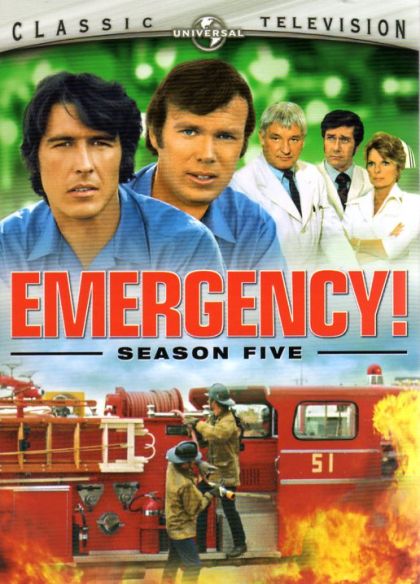 Universal (1975)
Drama, Adventure, Action
USA | English | Color | 17h 13min
Emergency!is a reality-based show that takes a good look at what goes on in the daily lives of the fire department and hospital work, and everyday life-and-happenings. The show was based on the paramedic program that started in Los Angeles, California in 1969. Senator Alan Cranston actually praised the show for informing the public about the value of funding such programs!
---
---
Director
Joseph Pevney
Bruce Bilson
Dennis Donnelly
Joel Oliansky
Christian I. Nyby II
Georg Fenady
Randolph Mantooth
Kevin Tighe
Wesley J. McAfee
Writer
Michael Norell, Rod Peterson, Bruce Johnson, John Groves, Edwin Self

,

Keith Walker, Robert Hamilton, Preston Wood, Hannah Louise Shearer, Claire Whitaker, Harold Jack Bloom, Timothy Burns, Mark Saha, Mark Massari, Robert A. Cinader

Producer
Gino Grimaldi, Edwin Self, Robert A. Cinader
Photography
Bud Thackery
Musician
Billy May
---
1
The Stewardess
60 min | Sep 12, 1975

Gage, flying back to Los Angeles, tries to chat up a stewardess. That's actually good news for another passenger who has a heart attack; she knows right where to find him help. Back at the station, the firefighters respond to a motorcycle accident and a chemical fire.
Director: Christian I. Nyby II
Writer: Preston Wood
Guest stars: Gretchen Corbett, William Wintersole, James Ingersoll, Joe La Due, Brian Cutler
2
The Old Engine Cram
60 min | Sep 19, 1975

John and Roy may finally have found someone to buy their antique fire engine. The squad helps a man who injures his back riding his motorcycle, a man who walks into the station and collapses, and a man who has fallen off a cliff. They also have to help one of their own when a firefighting practice session goes badly and volatile chemicals splash a trainee.
Director: Dennis Donnelly
Writer: Preston Wood
Guest stars: Bernard Fox, Christopher S. Nelson, Smith Wordes, Kim Hamilton, Dick Yarmy, Art Balinger, Barry Cahill, Craig Chudy, Danny Michael Mann, T. Miratti, Sam Lanier
3
Election
60 min | Sep 26, 1975

A construction worker trapped on a crane forces a perilous high rescue. A man finds himself trapped in an appliance drain, and his brother has an entirely different emergency. A sculptor cannot free her model from a full-body plaster mold. And Roy and Johnny stand for an election.
Director: Bruce Bilson
Writer: John Groves
Guest stars: Sharon Gless, Cliff Osmond, Maggie Malooly, Hank Brandt, Jack Kutcher, Dave Morick, Anne Whitfield
4
Equipment
60 min | Oct 03, 1975

It's bad news for the station as both Roy and Chet are injured - Chet by an explosion and Roy in a warehouse fire. The paramedics treat a boy who fell out of a tree, and Rampart General treats a tree surgeon. Johnny catches some overtime with Squad 8, where the lack of equipment proves fatal to a heart attack victim.
Director: Kevin Tighe
Writer: Robert Hamilton
Guest stars: Lloyd Haynes, Jessica Rains, John Lawrence, Hal Bokar, Kristine Greco, Vernon Weddle, Angelo De Meo
5
The Inspection
60 min | Oct 10, 1975

Station 51 learns that a battalion chief plans an inspection visit, and strives to makes sure he'll find nothing wrong. A parachutist manages to snare himself in power lines, and a wife fears her husband's love fled with the diseased heart surgeons replaced and must be reassured. A driver overturns his car in a water sluice.
Director: Georg Fenady
Writer: Bruce Johnson
Guest stars: Wolfman Jack, Jeanne Cooper, Warren Berlinger
6
The Indirect Method
60 min | Oct 17, 1975

Station 51 receives a new trainee: Karen Overstreet, who is determined to prove a woman can do the paramedic's job. A man tries to gas himself, and then changes his mind. During a house fire, Roy tries to save an invalid, and nearly dies when broken wires send electricity through his body. Fortunately for him, trainee Overstreet knows how to use a defibrillator!
Director: Joel Oliansky
Writer: Michael Norell
Guest stars: Richard Bakalyan, Ann Loos, Bill Conklin, Joan Crosby, Elayne Heilveil, Macon McCalman, Stephen Parr, Robert Patten, Jim B. Smith
7
Pressure 165
60 min | Oct 24, 1975

Once again, the others rib Johnny about his cooking, so he sets out to prove he can make a fine meal - and of course gets interrupted and the meal ruined. But he and a doctor treat a diver suffering pressure injuries using a decompression chamber. He and Roy also deal with a famous chef who refuses to admit he accidentally set his own kitchen on fire. A dust explosion and a gunshot wound finish out the story.
Director: Georg Fenady
Writer: Edwin Self
Guest stars: Michael Roud, Michael Roy, Bing Russell, Del Monroe, Art Balinger, William Harlow, Steven Marlo, Derrel Maury
8
One of Those Days
60 min | Nov 01, 1975

Paramedics respond to a two car accident, treat a man who fell while bathing, rescue a child trapped in a burning structure and help a drunk in a hotel without a working elevator. The doctors deal with a child who has meningitis. A woman's stomach problems nearly lead to mayhem in her family.
Director: Joseph Pevney
Writer: Preston Wood
Guest stars: Lara Parker, Marla Adams, Penelope Windust, Shirley Mitchell, Ross Elliott, Carol McEvoy, Bill McLean, Jack Perkins, Charles Robinson, Shannon Terhune, Kyle Anderson, Michele Noval
9
The Lighter-Than-Air Man
60 min | Nov 15, 1975

The paramedics help a couple on their way to a wedding who meet a fire hydrant first, and rescue a child from the back of a burning camper whose driver brings it to them! A truck full of a dangerous insecticide overturns, and there's trouble for Roy, who may have struck a pedestrian en route to a rescue.
Director: Wesley J. McAfee
Writer: Claire Whitaker
Guest stars: Arthur O'Connell, Randall Carver, Sue Casey, Barbara Mallory, Charles Winters
10
Simple Adjustment
60 min | Nov 22, 1975

Johnny's got another of his "brilliant" ideas: this time he's sure he knows a better way to log the squad's calls than the mountains of paperwork presently required. A diet pill overdose causes a personality change, and the daughter of a man who has suffered a stroke demands a specific hospital - one farther away than Rampart. Firefighters battle an oil fire on a cargo ship.
Director: Dennis Donnelly
Writer: Robert Hamilton
Guest stars: Elisabeth Brooks, Jane Dulo, Robin Clarke, Aneta Corsaut, William Bryant, Gary Crosby, Joan Crosby, Elizabeth Rose
11
Tee Vee
60 min | Nov 29, 1975

Johnny and Chet manage to destroy the station's television, irking the other firefighters. Paramedics rescue a man from a manhole fire. At Rampart, Dr. Morton helps a man with a bleeding ulcer, while Dr. Brackett goes from physician to patient when he has a bad reaction to a catfish bite. A man carelessly glues his own eyes shut, and a mudslide traps Johnny and Roy with the man they came to rescue.
Director: Christian I. Nyby II
Writer: John Groves
Guest stars: Lin McCarthy, Laurie Burton, W.T. Zacha, Heath Jobes, William Bryant, Moosie Drier, Gil Serna
12
On Camera
60 min | Dec 06, 1975

A documentary crew follows the paramedics as they rescue a teen-aged snakebite victim, help a dangling stuntman, retrieve a boy who fell off a cliff and rescue a driver from a truck fire.
Director: Christian I. Nyby II
Writer: Rod Peterson, Claire Whitaker
Guest stars: Peter Palmer, Leigh Christian, Helen Page Camp, Paul Micale, Will Walker, Scott Wells, Johnny Miller, Bobby Porter
13
Communications
60 min | Dec 13, 1975

Cross-talk between squad 51, another squad and Rampart makes it hard for anyone to understand what's going on, creating a hazard. An airline stewardess wishes to end her life; she won't allow the paramedics to treat her, forcing them to wait until she passes out. A boy gets his arm caught in a press and may lose it. Two joyriding kids manage to get their car on top of a house! Chet purchases a pair of skis and while trying to wax them, accidentally sets them on fire. Roy and Johnny must cope with an explosion while rescuing someone pinned under a car.
Director: Dennis Donnelly
Writer: Mark Saha
Guest stars: Cynthia Sikes, Craig Hundley, Ted Gehring, Barbara George, Dolores Mann, Moosie Drier, Don Diamond
14
To Buy or Not To Buy
60 min | Dec 20, 1975

Roy ponders whether to buy a house. The paramedics help a pair of kids trapped in a burning home, a pair of driving students involved in an accident and an epileptic boy trapped on a bridge. They also stay behind to look for a dog who belongs to a boy injuring in a car accident.
Director: Georg Fenady
Writer: Keith Walker
Guest stars: Robert Pratt, Alan Vint, Susan Powell, Fay DeWitt, Nicholas Worth, Patch Mackenzie, Marc McClure, Bobby Porter
15
Right at Home
60 min | Jan 10, 1976

Johnny and Roy rescue a father and son from their overturned camper. The father's injuries will confine him to the hospital for longer than the boy's, so Roy takes the lad in. That's a mistake'; the child's a monster who tears up Roy's home and harms his neighborhood reputation. Brackett rides along in an air ambulance, and Early treats a boy with spinal meningitis.
Director: Georg Fenady
Writer: Preston Wood
Guest stars: Poindexter Yothers, Sandy Balson, Peggy Stewart, Steven Marlo, Larry Younkers, Allan MacLeod
16
The Girl on the Balance Beam
60 min | Jan 17, 1976

Fourteen year old Nancy Benedict's father pushes her hard, wanting her to achieve Olympic fame - but a bad fall from the balance beam might crush those hopes. Paramedics rescue a girl suspended by wires and free a drunk driver trapped in a car. A train fire involving explosive ammonium nitrate endangers the firefighters.
Director: Christian I. Nyby II
Writer: Robert Hamilton
Guest stars: Charles Robinson, Patricia Morrow, Ronnie Schell, Patti Cohoon, Brian Baker, Dorothy Scott, Andrea Bell, William Bryant, Robert Hackman
17
Involvement
60 min | Jan 24, 1976

Millie Eastman, once head nurse at Rampart but not retired, attempts suicide and finds herself at the hospital she once served. A paraplegic child nearly drowns in a swimming pool. At the hospital, she and Millie form a bond. The paramedics also help a family poisoned by carbon monoxide, a woman wrapped in plastic and a man pinned under a fuel tanker.
Director: Dennis Donnelly
Writer: John Groves
Guest stars: Anne Seymour, Dawn Lyn, Jean Allison, Milton Frome, Del Monroe, Claude Johnson
18
Above and Beyond ... Nearly
60 min | Jan 31, 1976

Johnny and Roy receive an award, but they cannot remember which specific incident earned it. A ninety-four year old man breaks his ankle dancing. A man passes out in the dentist's chair - is it his heart, or something else? Paramedics rescue a stranded mountaineer.
Director: Christian I. Nyby II
Writer: Preston Wood
Guest stars: Lucille Benson, Liam Dunn, Florence Lake, Linda Dano, Kristin Larkin, Grant Goodeve, Hal Baylor, Dave Bowers, Joe Kelly, David Mooney, Johnny Miller
19
Grateful
60 min | Feb 07, 1976

After paramedics rescue Grant and Robin Elder, they attach themselves to the station to help out, but soon wear out their welcome. A car goes right through a restaurant window, and in a scene straight out of A Christmas Story a BB injures a child's eye. While returning from a false alarm, Johnny and Roy rescue people endangered by a boat fire.
Director: Georg Fenady
Writer: Michael Norell
Guest stars: Dick Van Patten, Ruth Buzzi, Zina Bethune, Royal Dano, Paul Brinegar, Thomas Bellin, Jan Arvan, Ted Hellmers, Linda Stuart, Sparky Marcus
20
The Great Crash Diet
60 min | Feb 21, 1976

Roy and Johnny rescue a diver. Rampart treats a boy who got a severe stomach ache from eating raw dough, while the paramedics rescue a diver from a tank, and treat a mother/daughter pair: the mother has a heart attack and the stress causes her daughter to go into labor. A fallen electrical wire nearly ends Captain Stanley's career.
Director: Joseph Pevney
Writer: Timothy Burns
Guest stars: Michael Mullins, Hollis Irving, Rick Podell, Ginger Mason, Bill Quinn
21
The Tycoons
60 min | Feb 28, 1976

Johnny's got another of his brilliant ideas - he wants Station 51 to buy a nearby hot dog stand. Roy, as usual, is the wet blanket - but this time his caution pays off. The paramedics help a man injured while mowing his lawn and rescue the victims of a fire at a chemical factory.
Director: Georg Fenady
Writer: John Groves, Robert Hamilton, Mark Massari
Guest stars: Robin Clark, Sheila James Kuehl, Ted Gehring, Mary Moon, John Wyler, Yale Summers
22
The Nuisance
60 min | Mar 06, 1976

A woman passed out in a bar is suffering from more than drunkenness. Johnny becomes the victim of a hit and run accident and is a terrible patient. Worse, his replacement Brice annoys everyone at the station. The paramedics help a heart patient and fight a fire in an abandoned building where Roy, Brice, and Marko are trapped.
Director: Randolph Mantooth
Writer: Robert Hamilton, Hannah Louise Shearer
Guest stars: Gretchen Corbett, Carole Cook, James G. Richardson, Joan Shawlee, Coleen Gray, Joseph V. Perry, Matthew 'Stymie' Beard, Ruth Gordon, Byron Morrow, Marla Adams, Larry Carroll, J.B. Friend, Morgan Jones, Howard McGillin
---
Editions
| Barcode | Format | Region | Released | Edition |
| --- | --- | --- | --- | --- |
| 025195050098 | | 1 | Jan 20, 2009 | Collector's Edition |
| 025192351495 | | 1 | Mar 27, 2018 | |
---
---