Emergency!
Emergency!: Season 6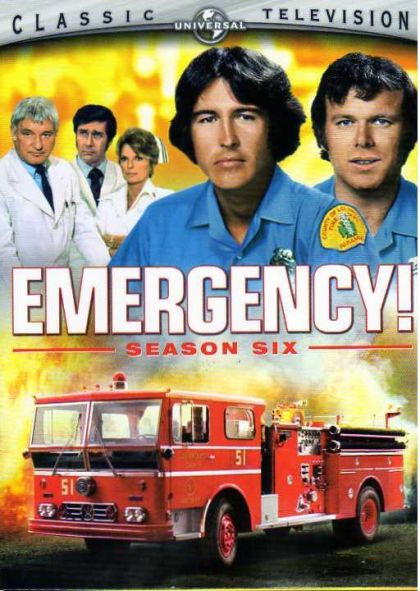 Universal (1976)
Drama, Action
USA | English | Color | 18h 57min
Emergency!is a reality-based show that takes a good look at what goes on in the daily lives of the fire department and hospital work, and everyday life-and-happenings. The show was based on the paramedic program that started in Los Angeles, California in 1969. Senator Alan Cranston actually praised the show for informing the public about the value of funding such programs!
---
---
1
The Game
60 min | Sep 24, 1976

Roy and John are assigned to work the big football game at the Coliseum. A woman accidentally pulls her husband off the roof into a tree. At the game, the paramedics treat a choking victim, a man with breathing difficulties, an injured photographer, and a TV announcer with heart trouble.
Director: Christian Nyby
Writer: Christian Nyby
2
Not Available
60 min | Oct 01, 1976

The paramedics complain when a rule forbidding squads to cross each other's territories causes them to come late to an accident scene. An elderly woman is treated at the hospital. While transporting a non-vital patient, the paramedics respond to an auto accident. A prisoner breaks out of jail and gets trapped on a ledge
Director: Cliff Bole
Writer: Preston Wood
3
The Unlikely Heirs
60 min | Oct 08, 1976

After John and Roy rescue an elderly transient from a structure fire, Chet and Marco discover $80,000 in the man's mattress. A bride faints while walking down the aisle. Dixie administers a tetanus shot to a young boy. The transient tries to give the firemen a reward. An elderly woman loses her cat. A plane crashes into a warehouse.T
Director: Georg Fenady
Writer: Timothy Burns
4
That Time of Year
60 min | Oct 22, 1976

Everyone gives Roy advice on where to go on vacation. Roy gets dizzy during a fire at a singles club. An instructor is injured during a self-defense class. A man with stomach pains is brought into Rampart. The firemen rescue two hang glider pilots from the face of a cliff.
Director: Dennis Donnelly
Writer: Mort Thaw, Edward Robak
5
Fair Fight
60 min | Oct 30, 1976

The crew finds a droopy-eyed hound dog in the station; at an industrial fire, Gage and DeSoto check a secret room for victims; a "therapeutic" argument between a husband and wife keeps getting out of hand; while attempting to rescue two injured workers, Johnny is trapped in a tunnel cave-in.
Director: Kevin Tighe
Writer: Preston Wood
6
Rules of Order
60 min | Nov 06, 1976

A driver crashes into a pole, injuring two workers. John and Roy are asked to be on a paramedic advisory committee, but they have to put up with everyone's favorite paramedic - Brice. The firemen rescue a stunt climber from the side of a building.
Director: Georg Fenady
Writer: James G Richardson
7
The Exam
60 min | Nov 13, 1976

John and Roy worry about their recertification exams. A fireman's widow keeps calling the station for assistance in minor matters. A TV sports fan experiences shortness of breath. The daughter of the fireman's widow suffers a serious fall. An accident on a movie set turns deadly.
Director: Richard C. Bennett
Writer: Tom Egan
8
Captain Hook
60 min | Nov 20, 1976

The firemen plan to celebrate the imminent retirement of a martinet captain with a party, under the guise of throwing a farewell dinner. A model in a bear suit suffers from heat stroke during a promotion stunt. A bizarre family believes their sleeping mother is dead. The firemen rescue CHP officers from a helicopter.
Director: Christian Nyby
Writer: Susan J. Alenick
9
Computer Terror
60 min | Dec 04, 1976
The computer fouls up and Gage gets a check for thousands instead of for hundreds. A transient is injured in a car at a junkyard. A victim's dog causes problems. Two workers are trapped on a scaffold.
Director: Georg Fenady
Writer: Bruce Shelly
10
Welcome to Santa Rosa County
60 min | Dec 25, 1976

Roy and John try to go fishing in Santa Rosa County, but are delayed when they rescue climbers from a cliff face and a fishing boat blows up. They help the sheriff come up with ideas for implementing emergency medical services in his county
Director: Christian Nyby
Writer: Preston Wood
11
Paperwork
60 min | Jan 08, 1977

Chet and Marco are drafted to sort out a filing dilemma caused by computer error. A kid falls in a storm drain and nearly drowns. The paramedics experience problems with a new supply nurse. A janitor drinks samples of an archeologists' Mesopotamian wine. The firemen respond to a warehouse fire.
Director: Georg Fenady
Writer: John Groves
12
Loose Ends
60 min | Jan 15, 1977

Johnny tries to win a ticket-selling contest. Dr. Backett blames himself when he is involved in a car accident that leaves the other driver dead and The driver's daughter refuses to speak. While repairing the squad, the paramedics find themselves in the middle of a shootout and treat a policeman with heart trouble. A boxcar full of ammonia complicates a fire on a pier.
Director: Dennis Donnelly
Writer: Dee Murphey
13
An Ounce of Prevention
60 min | Jan 22, 1977

A man with chest pains is trapped on a ferris wheel. A child ingests an illegal pesticide. While making a TV appearance to discuss fire prevention, Gage and DeSoto become stars of a real-life emergency.
Director: Christian Nyby
Writer: Mort Thaw, Edward Robak
14
Insanity Epidemic
60 min | Feb 05, 1977

Captain Stanley is dismayed when he learns one of his former commanding captains is now his Battalion Chief, causing the others to worry about his increased paranoia. Two men's carelessness starts a fire at a gas station. A new hospital administrator causes problems. A woman accidentally shoots her husband with a nail gun. Two clowns start a fight at an ice rink. A car leaves an overpass and crashes into a transfer truck filled with pesticides.
Director: Randolph Mantooth
Writer: Robert Hamilton
15
Breakdown
60 min | Feb 12, 1977

A sporadic electrical short plagues the squad but Roy and John are convinced they can fix it. A back-to-nature couple is ordered to cut back on their shrubbery; the wife is discovered to have a variant of anthrax. The paramedics rescue a man trapped at the top of a tower.
Director: Georg Fenady
Writer: John Groves
16
Family Ties
60 min | Feb 19, 1977

Roy's mother-in-law is scheduled for her annual visit. A car runs into the back of a truck. Drs. Brackett and Early argue over attending a convention in Acapulco. An elderly man becomes ill from drinking a quack's remedy. When a fire breaks out in a hospital room, the occupant goes into cardiac arrest. A boy's model rocket sparks a house fire.
Director: Cliff Bole
Writer: Carole Raschella, Michael Raschella
17
Bottom Line
60 min | Feb 26, 1977

Paramedics out in the field begin to question the judgment of overcautious Dr. Morton who believes in acting strictly by the book. The firemen respond to a complaint of severe back pain. A man with phosphorous burns on his arm and a boy hit in the head with a baseball are treated at the hospital. While the firemen respond to a case of difficult breathing, the victim's neighbor drowns in a hot tub. Officer Vince is injured in a traffic incident and begins to act irrationally.
Director: Dennis Donnelly
Writer: Bob Bralver, Charlene Bralver
18
Firehouse Quintet
60 min | Mar 05, 1977

The Station 51 basketball team qualifies for the semi-finals. The paramedics rescue victims at a gas explosion. While at basketball practice, the firemen treat an injured gymnast. The night before the big game the firemen get very little sleep: they respond to a number of emergencies, including a workman trapped at a studio.
Director: Georg Fenady
Writer: Christian Nyby
19
The Boat
60 min | Mar 12, 1977

Richard Bakalyan returns as Charlie, Squad 51's trouble-prone mechanic. The paramedics decide to purchase a boat from Charlie, intendig to sail it on their days off and rent it to others when they're on duty. Of course, things don't quite go as planned, thanks to a wide variety of emergency calls, including the rescue of two boaters from a particularly treacherous stretch of water off Catalina Island, a bookie suffering from a coronary in a locked office, and an explosion in the hospital lab.
Director: Georg Fenady
Writer: Hannah Louise Shearer
20
Isolation
60 min | Mar 19, 1977

Roy and John are trapped at Station 86 when a rain storm washes out the bridge, and they become the only medical treatment in the area. They assist two victims of an auto accident and a child with bronchitis. Doctors at the hospital treat a policeman hit by lightning. With the aid of a female psychiatrist, the paramedics treat an elderly woman with a hip injury and a man with heart trouble. Copter 15 transports the victims to the hospital, where a power failure complicates matters. Dr. Morton accompanies the paramedics back to Station 86, where they respond to an auto accident with multiple injuries.
Director: Georg Fenady
Writer: John Groves
21
Limelight
60 min | Mar 25, 1977

A man with a history of heart trouble becomes agitated when his daughter is trapped under a backhoe. A boy shoots himself with a pellet gun. Another paramedic appears on the news and in the paper, making John jealous. A babysitter has an anxiety attack. Gage and DeSoto rescue Brice from a structure fire.
Director: Christian Nyby
Writer: James G Richardson
22
Upward and Onward
60 min | Apr 01, 1977

Captain Stanley worries that the Chief will sabotage his attempt to pass the Chief's exam because of an incident in their past; a soap opera doctor with mono causes havoc on the set and in the hospital; John, Roy, and a retired doctor with a self-diagnosed heart aneurysm get stuck in an elevator.
Director: Dennis Donnelly
Writer: Michael Norell
23
Hypochondri-Cap
60 min | Apr 15, 1977

Captain Stanley convinces himself he has arthritis. A man gets his hand caught in his garage door opener; a woman passes out and has an auto accident; the doctors treat a woman infected from plastic surgery gone awry; Johnny tests a new type of rope; the station responds to a two-alarm fire at an oil refinery.
Director: Dennis Donnelly
Writer: Bruce Shelly
24
All Night Long
60 min | May 27, 1977

Gage tries to create his own television game show. An elderly musician experiences heart trouble. When a car runs a stop sign, three injuries result. A tightrope walker gets stuck between two buildings.
Director: Georg Fenady
Writer: Kevin Tighe
---
Editions
| Barcode | Format | Region | Released | Edition |
| --- | --- | --- | --- | --- |
| 025192048746 | | 1 | Apr 13, 2010 | |
| 025192351518 | | 1 | Mar 27, 2018 | |
---
---