Emergency!
Emergency!: Season 4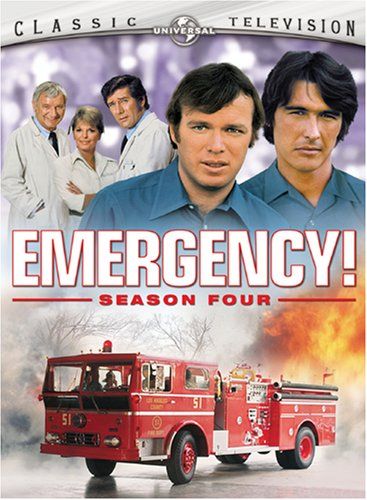 Universal Studios (1974)
Drama, Adventure, Action
USA | English | Color | 18h 5min
Emergency!is a reality-based show that takes a good look at what goes on in the daily lives of the fire department and hospital work, and everyday life-and-happenings. The show was based on the paramedic program that started in Los Angeles, California in 1969. Senator Alan Cranston actually praised the show for informing the public about the value of funding such programs!
---
---
Director
Georg Fenady
Writer
Harold Jack Bloom, Eric Brown
Producer
Edwin Self
---
1
The Screenwriter
60 min | Sep 13, 1974

A screenwriter spends a day taping Roy and Johnny's work which includes a motorcycle accident, a chemical worker suffering from exposure to gasses, and an explosion and fire at a toy factory. Roy and Johnny also assist in the delivery of a deaf couple's baby.
Director: Georg Fenady
Writer: Eric Brown
Guest stars: Kyle Anderson, Shelley Berman, Brendon Boone, Larry Csonka, Angelo De Meo, J.B. Friend, Bennye Gatteys, Scott Gourlay, Del Monroe, Terrence O'Connor, Roger Perry, Carol Wayne
2
I'll Fix It
60 min | Sep 20, 1974

Johnny and Chet try to fix a boy's motorbike. A woman's husband is trapped under their house where an inactive oil well has erupted. Johnny and Roy must remove a ring from a man's finger before the wife's jealous husband returns. A child is trapped in a pipe.
Director: Georg Fenady
Writer: John Groves
Guest stars: Randall Carver, Bing Russell, Peggy Stewart, Savannah Bentley, Bob Bralver, Richard Kiel, Toni Lawrence, Byron Nickleberry, Bing Russell, Eric Shea, Louie Elias
3
Gossip
60 min | Sep 27, 1974

A nurse spreads the rumor that Dr. Morton is having financial problems. Roy encourages Johnny to represent the station in the Fireman's Olympics. An armored car sideswipes a motorist and Station 51 must break into the van. A man is electrocuted. The station responds to a chemical plant fire. A boy develops cyanide poisoning from eating peach seeds.
Director: Kevin Tighe
Writer: Preston Wood
Guest stars: Annette Charles, Lorraine Baptist, Reb Brown, Catherine Burns, Yvonne Craig, Ross Elliott, Frank Farmer, Judd Laurance, Ruth McDevitt, George Orrison, Mark Russell, Anne Schedeen, Vernon Weddle
4
Nagging Suspicion
60 min | Oct 04, 1974

The men at the station find out that Roy picks winning racehorses and pester him to choose one for them to bet on. A lion bites a woman at the zoo, a go-go dancer collapses, a man's ego punctured by cactus, and the squad rescues a policeman shot during an exchange of gunfire with a sniper.
Director: Christian I. Nyby II
Writer: Joseph Polizzi
Guest stars: Robert Q. Lewis, Milton Frome, Pamela Morris, Pamela Morris, W.T. Zacha, John Wheeler, Jim B. Smith, Cheryl Dunn
5
Communication Gaffe
60 min | Oct 11, 1974

Roy and Johnny respond to a call where both a policeman and a suspect have been shot. Roy and Joanne go on a TV quiz show. A woman brings in her abused son for treatment. A pickup carrying kerosene collides with a station wagon and starts a brushfire. A boy suffers an allergic reaction to a bee sting.
Director: Georg Fenady
Writer: Bob Bralver, Charlene Bralver
Guest stars: James McEachin, Denny Miller, Brooke Bundy, Michael Norell, John Elerick, Paul Bryar, Jennifer King, William Bryant, Brian Cutler, Cliff Coleman
6
Surprise
60 min | Oct 18, 1974

A surprise birthday party is planned for Dixie. A woman is thrown from a motorcycle into a cactus patch. A man is trapped in his new sauna. Dixie breaks hear ankle and suffers a concussion from kicking a shopping cart. Two men are injured attempting to mount a sign on a building. An old woman refuses to leave her apartment during a gas leak and the building explodes with Johnny inside.
Director: Joseph Pevney
Writer: Preston Wood
Guest stars: Dena Dietrich, Herb Voland, Joe Kapp, Kenneth Tobey, Ann Morgan Guilbert, Celia Lovsky, Dub Taylor, Aneta Corsaut, Anne Schedeen, Bill Quinn, William Bryant, Christopher Mears, Christopher Mears, Holly Irving
7
Daisy's Pick
60 min | Nov 02, 1974

The bachelor members of Station 51 are in competition for first date with the beautiful new nurse at Rampart. The station rescues a man frozen to the floor of an ice house and a man from a theatre fire. Roy and Johnny help a man whose hands are glued to a model boat.
Director: Don Richardson
Writer: John Groves
Guest stars: Dolores Mann, Stack Pierce, Tim O'Denning, Bill Couch, Francisco Ortega, Brit Lind, John Carradine, John Carter, Brian Cutler, Steve Franken, Ann Morgan Guilbert
8
Quicker Than the Eye
60 min | Nov 09, 1974

Tired of Chet's antics, the guys at the station get their revenge by playing practical jokes of their own. A gun discharges by accident and injures a pregnant woman, a construction worker caught under a boat refuses an IV, and a man in a motorcycle accident communicates through his thumb.
Director: Don Richardson
Writer: Arthur Weiss
Guest stars: Paul Brinegar, Michael Conrad, Bill Sorrells, Mark Spitz, Suzy Spitz, Renee Tetro
9
Foreign Trade
60 min | Nov 16, 1974

Johnny and Roy consider trading cars. Dixie takes on hospital management after budget cuts affect her nursing staff. A frat pledge chokes during initiation. The station rescues a woman trapped in her car on the edge of an open drawbridge, and a famous basketball player is involved in a fender bender. Dr. Early has the hiccups.
Director: James W. Gavin
Writer: Rick Mittleman
Guest stars: Kareem Abdul-Jabbar, Reb Brown, William Bryant, Peter Halton, Don Mantooth, Christopher S. Nelson, Joseph V. Perry, Anne Schedeen, Anne Seymour, James Shigeta, Than Wyenn
10
Camera Bug
60 min | Nov 23, 1974

John thinks he can be a photographer and pesters Roy for candid shots. A teenager suffers smoke inhalation at an elementary school structure fire. A fireman thinks he's having a heart attack, but it's really just his chili. A woman is bitten by a scorpion. Dixie has 'one of those days' as she and Dr. Brackett deliver a baby in a restaurant on their lunch hour. The driver of a truck full of dynamite is pinned behind the wheel of his vehicle as it catches fire.
Director: Richard C. Bennett
Writer: Rick Mittleman
Guest stars: Dianne Harper, Ty Henderson, Peter Leeds, Ron Masak, Adrian Ricard, Mary Rings, Anne Schedeen, Olan Soule
11
The Firehouse Four
60 min | Nov 30, 1974

The station (sans Roy) enters the fireman's barber shop quartet contest. A man keeps having to be rescued while trying various ways to exercise. A woman overdoses on sleeping pills.
Director: Joseph Pevney
Writer: John Groves
Guest stars: Peter Colt, Linda Dano, James Kline, Jo Anne Meredith, Charles Robinson, Lennie Weinrib
12
Details
60 min | Dec 07, 1974

While responding to a call, Roy and John witness a pedestrian being struck by a car. A woman is badly burnt in a fire. John thinks about settling down. A belly dancer overdoses on diet pills. A child bites a dog and the dog bites back. At a structure fire, Roy and John must jump to safety.
Director: Georg Fenady
Writer: Michael Norell
Guest stars: Walter Brooke, Erik Estrada, Sean Frye, Stephen Manley, Barbara Nichols, Michele Noval, Charles Quinlivan, Tom Reese
13
Parade
60 min | Dec 21, 1974

Roy and John finally restore their old fire engine to ride in the California Fire Fighters Parade. A man with heart problems insists on driving, and causes an accident for which the other driver blames herself. Dr. Early treats a patient who has a seizure in the waiting room. A man on a date passes out and has difficulty breathing; the doctors search for the cause. A child's medical condition causes an argument between his divorced parents. Driving to the parade in the old engine, the paramedics respond to an actual emergency.
Director: Georg Fenady
Writer: Preston Wood
Guest stars: Stanley Adams, Kyle Anderson, Jan Arvan, Timothy Blake, Laurie Burton, Peggy Mondo, Stuart Nisbet, Phillip Pine, Yvette Vickers
14
The Bash
60 min | Dec 28, 1974

A man is trapped on a film set with a bear. When Roy and John rescue him, they are invited to a 'thing' that the man is giving later that week. John talks Roy into getting overdressed for the event. Dr. Brackett treats a man suffering from trichinosis. A bomb blast injures two men. The paramedics resuscitate a musician at the party.
Director: Christian I. Nyby II
Writer: Preston Wood
Guest stars: Kyle Anderson, Larry Delaney, Karen Jensen, Heath Jobes, Morgan Jones, Albert Reed, Jim B. Smith, Marcus Smith, Paul L. Smith, Laird Stuart, Adam West, Thomas Rosales Jr., Steve Stafford
15
Transition
60 min | Jan 04, 1975

A high school classmate of John's is assigned as Squad 51's new paramedic trainee. The firemen rescue a man trapped in his kitchen after a hydrogen sulfide explosion. The paramedics help treat accident victims at the hospital and tend to child at an amusement park. When an intoxicated man turns out to be a snakebite victim, Roy is hit in the eyes with cobra venom. Back at the amusement park, a heart attack victim is trapped high in the air.
Director: Georg Fenady
Writer: John Groves
Guest stars: Phil Altman, Jan Arvan, Timothy Blake, Elisabeth Brooks, Laurie Burton, James Chandler, Colby Chester, Joyce Davis, Reed Diamond, Kirby Furlong, Lora Kaye, Peggy Mondo
16
Smoke Eater
60 min | Jan 11, 1975

A temporary captain from 'the old school' doesn't feel Gage and DeSoto should be practicing 'medicine', and has no problem in expressing his opinion. An elderly man sets his chair on fire. Dr. Early keeps coming up with oranges when all he wants is an apple. The paramedics struggle to save a heart attack victim. A boy with asthma gets trapped in a storm drain. Dr. Brackett uses an old-fashioned sedative on a biker. Chemicals complicate a structure fire.
Director: Joseph Pevney
Writer: Edwin Self
Guest stars: John Anderson, Kyle Anderson, William Bryant, Sharon Farrell, Sid Haig, Lin McCarthy, Lee Montgomery, Burt Mustin, Anne Whitfield, Thomas Rosales Jr.
17
Kidding
60 min | Jan 18, 1975

Johnny is assigned to conduct a school tour of Rampart hospital; the youngsters are highly inquisitive. A veteran mentally reliving a battle is subdued by the paramedics; he turns out to have a brain tumor. A woman gets stuck in a dog door. A famous novelist attempts suicide. A cargo plane crashes in a residential area, hitting a school bus.
Director: Wesley J. McAfee
Writer: Roland Wolpert
Guest stars: Paul Fix, Laurette Spang, James Ingersoll, Joyce Jameson, Norman Bartold, Adrian Ricard, Rachel Howard
18
Prestidigitation
60 min | Jan 25, 1975

The paramedics rescue a magician trapped in his trunk. Dr. Brackett's father is treated at the hospital for phlebitis. A fireplace explodes and falls on top of the homeowner. An auto accident sends a power transformer flying into a man's bedroom. Roy and John are puzzled by a gift from the magician. A fuel truck collides with a car and a gas main, trapping a woman and starting a fire.
Director: Christian I. Nyby II
Writer: Robert Hamner
Guest stars: James Gregory, Bernard Fox, Dick Yarmy, Tony Giorgio, Arthur Space, Madelyn Cain, Stack Pierce, Gil Serna
19
It's How You Play the Game
60 min | Feb 01, 1975

John agrees that the losing baseball team at the fireman's picnic will pay for the picnic. Chet becomes Station 51's only hope when their pitcher breaks his arm. A drunk driver becomes violent after crashing his car; another man is trapped in a car with a tiger. A man with a back problem must be extricated from his water bed. A structure fire is complicated by moonshine.
Director: Joseph Pevney
Writer: Jim Carlson
Guest stars: Cliff Osmond, Dennis Patrick, Ryan MacDonald, Maggie Sullivan, Hal Baylor
20
The Mouse
60 min | Feb 08, 1975

An elderly man is trapped in his burning house. Chet becomes obsessed with ridding the station of an uninvited guest. Paramedics and doctors treat a man who suffers repeated cardiac arrests. Dixie comforts the husband of an elderly patient. Roy and John help break up a fight. Several crises occur at an apartment house hit by a jet fighter.
Director: Christian I. Nyby II
Writer: Edwin Self
Guest stars: J. Pat O'Malley, Ronnie Schell, Barry Cahill, Tracy D. Huard, Florence Lake, Peter Palmer, Lee Paul, W.T. Zacha, Bill Zuckert, Howard Curtis
21
Back-Up
60 min | Feb 15, 1975

A young OD victim is brought into the ER. A man fakes back pain to get a free ride to the hospital. John gets peeved at all the frivolous calls the squad goes on while real emergency victims need help. A man is shocked after kicking in his TV screen. The ambulance carrying the paramedics and a heart attack victim is involved in a traffic accident.
Director: Georg Fenady
Writer: John Groves
Guest stars: Keenan Wynn, Michael Conrad, Scott Arthur Allen, Kyle Anderson, William Bryant, Bill Conklin, Patch Mackenzie, Kendall March, Steven Marlo, Anne Schedeen, Jack Spinner, Paula Victor, Bobby Porter
22
905-Wild
60 min | Mar 01, 1975

The title refers to the code word for "wild animal loose, threatening". The show opens with Johnny and Roy on a pre-dawn call to a small grocery store for a man down, bleeding. Searching the back of the store, Johnny is confronted with a Bengal tiger! A big brush fire threatens a suburban canyon area with lots of domesticated animals and things get dicey all around for the fire department and the Animal Control guys. Rampart becomes a veterinary surgical center for a while.
Director: Jack Webb
Writer: Dick Conway
Guest stars: David Huddleston, Albert Popwell, Mark Harmon, Gary Crosby, Rose Ann Deel, Ruth McDevitt, Virginia Gregg, Stephanie Steele, Ned Romero, Burt Mustin, Lew Brown, Lindy Huddleson, John Nolan
---
Editions
| Barcode | Format | Region | Released | Edition |
| --- | --- | --- | --- | --- |
| 025195017244 | | 1 | Jan 29, 2008 | Collector's Edition |
| 025192351457 | | 1 | Mar 27, 2018 | |
| 9785557528078 | | | | |
---
---