Endeavour
Endeavour: Season 5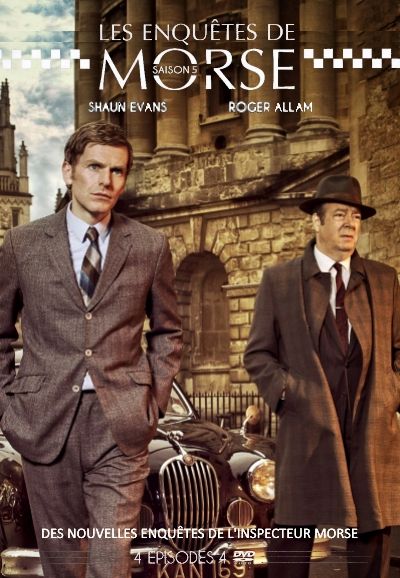 ITV Studios (2012)
Drama, Crime, Mystery
UK | English | Color | 8h 53min
Set in the mid-sixties, this prequel centres around the early career of Endeavour Morse (Shaun Evans). After leaving his Oxford college without a degree, and spending a short time as a cipher clerk, Morse joins the police working under veteran DI Fred Thursday (Roger Allam). This show was preceded by "Inspector Morse" (1987-2000) starring John Thaw and Kevin Whately.
---
---
Director
Geoffrey Sax
Writer
Colin Dexter
Producer
Neil Duncan
Photography
Simon Archer
Musician
Matthew Slater
---
1
Muse
90 min | Feb 04, 2018

New series. The newly promoted Detective Sergeant Morse investigates when a famous international thief tries to steal a Faberge egg from an auction. The case leads to the gruesome murders of an academic and a gangster, and Morse is convinced the deaths are the work of the same man. As he struggles with his new responsibilities, he finds himself forced to mentor a younger partner (played by Poldark's Lewis Peek).
Director: Brady Hood
Writer: Russell Lewis
2
Cartouche
120 min | Feb 11, 2018

Hollywood glamour comes to Oxford as the stars of a new horror movie sequel begin filming in the city. Meanwhile, the unexplained poisoning of a former detective sergeant leads Endeavour and Thursday to a local cinema, which is playing host the film's stars in a special event.
Director: Andy Wilson
Writer: Russell Lewis
3
Passenger
120 min | Feb 18, 2018

The railway takes center stage as Endeavour investigates the disappearance of a local woman - with initial fears linking it to the unsolved murder of a teenager, killed several years earlier.
Director: Jim Field Smith
Writer: Russell Lewis
4
Colours
120 min | Feb 25, 2018

A photo-shoot on an army base turns sinister when one of the models is found dead. But the investigation is complicated when Sam Thursday is revealed to be involved.
Director: Robert Quinn
Writer: Russell Lewis
5
Quartet
120 min | Mar 04, 2018

An assassination attempt at an international sporting event opens a new case for Endeavour and Thursday, but their investigation is quickly brought to an unexpected end.
Director: Geoffrey Sax
Writer: Russell Lewis
6
Icarus
120 min | Mar 11, 2018

After the mysterious disappearance of a teacher, Endeavour finds himself investigating the dark and secret world of a public school.
Director: Gordon Anderson
Writer: Russell Lewis
---
Editions
| Barcode | Format | Region | Released | Edition |
| --- | --- | --- | --- | --- |
| 841887036672 | | 1 | Jul 10, 2018 | |
| 50371153776237 | | | | |
| 841887036665 | | 1 | Jul 10, 2018 | |
| 5037115376237 | | 2 | Mar 12, 2018 | |
| 9398700045911 | | 4 | Aug 29, 2018 | Complete Season |
| 8711983968066 | | | | |
---
---