Everwood
Everwood: Season 1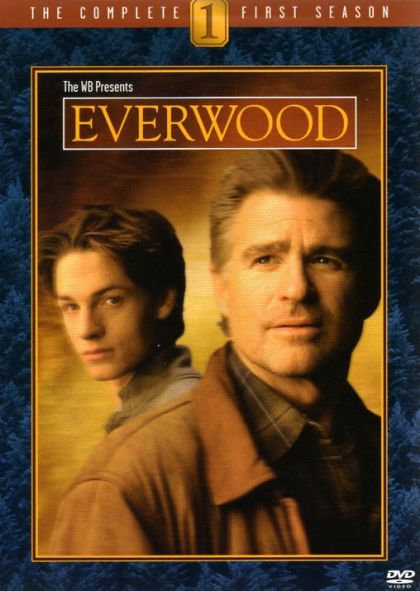 ---
Warner Bros. (2002)
Drama, Family
USA | English | Color | 16h 16min
When Manhattan surgeon Andrew 'Andy' Brown is widowed, he decides to start a whole new life in the idyllic Colorado town Everwood, but gets more than he bargained for - it takes an eternity for a city-boy to fit in the small community, which already had a popular physician, and it's even worse for his unearthed kids, whom he must now parent alone: Ephram, a sensitive kid and gifted pianist, and his little sister Delia. As they all get to know Everwood people and each other better, relationships develop and change.
---
---
Director
Arvin Brown
Michael Schultz
Lev L. Spiro
Kathy Bates
Perry Lang
Marita Grabiak
Michael Pavone
Martha Mitchell
David Petrarca
Peter Lauer
Sandy Smolan
Jason Moore
David Paymer
Matt Shakman
Writer
Greg Berlanti, Michael Green, Sherri Cooper, David Hudgins, Vanessa Taylor

,

Rina Mimoun, Wendy Mericle, John E. Pogue, Patrick Sean Smith, Joan Binder Weiss

Producer
Tom Luse, David Petrarca
---
1
Pilot
60 min | Sep 15, 2002
After his wife is killed in a car accident, Dr. Andrew Brown (Treat Williams) moves his 15-year-old son, Ephram (Gregory Smith), and 9-year-old daughter, Delia (Vivien Cardone), to the idyllic environs of Everwood to make a new start. In the opener, the relocation sparks harsh words and hurt feelings between the emotionally distant father and his neglected son, despite Andrew's attempts to reconnect with the teen. The good doctor also runs afoul of the town's only other physician when he decides to open his own practice---right across the street from his rival's office.
Director: Mark Piznarski
Writer: Greg Berlanti
Guest stars: Brenda Strong, Kevin Thompson, Stephen Warner, Shawn Anderson, Edna Pozer, Hilda Doherty, Gail Hanrahan, Roberta Maura Phillips, Al Holt, Staffort Lawrence, Mushure Rayner, Merrilyn Gann
2
The Great Doctor Brown
60 min | Sep 22, 2002
Andy and Ephram's fragile relationship is further strained when it appears that Andy is once again putting work before family. Meanwhile, as the town of Everwood celebrates its annual Fall Thaw Festival, Ephram's interest in Amy continues to blossom. Although Bright tells Ephram that Amy is using him just go get his father to get Colin out of coma. Delia gets into trouble at school for questioning her teacher's antiquated rules.
Director: Kathy Bates
Writer: Greg Berlanti
Guest stars: Brenda Strong, Victoria Mallory, Beth Grant, Keone Young
3
Friendly Fire
60 min | Sep 29, 2002
Andy's neighbor and friend Nina (Stephanie Niznik) is ostracized by the townspeople when they discover she is a surrogate mother for a woman in her mid-50s. Andy's clumsy attempt to come to Nina's defense backfires, but she turns to him and Ephram for help when the baby makes an unexpectedly early arrival. Meanwhile, Ephram is dealt an emotional blow when Amy disinvites him to a party in order to gain the approval of her friends; and Delia attempts to befriend the school bully, Magilla (guest star Bret Loehr).
Director: Danny Leiner
Writer: Oliver Goldstick
Guest stars: Cody McMains, John Aylward, Greg Ilk, Eric Joseph, Patrick Donahue, Brooks Bedore, Bret Loehr
4
The Kissing Bridge
60 min | Oct 06, 2002
Dr. Brown and Dr. Abbott must put their striking differences aside to educate the town of Everwood after several of their teenaged patients are diagnosed with a sexually transmitted disease. To make sensitive matters worse, Dr. Abbott has reason to suspect that his son, Bright, may have been intimate with one of the patients. Meanwhile, Ephram pushes his romantic feelings aside to comfort Amy who is distraught over not being able to go to the Fall Dance with her boyfriend who remains in a coma.
Director: Michael Schultz
Writer: Rina Mimoun
Guest stars: Levi Larson, Trevor Wright, Austin Leveton, Bruce Newbold, Melinda Haynes, Anita Booher, Chris White, Haley McCormick, Bret Loehr, Cody McMains
5
Deer God
60 min | Oct 13, 2002
After a lost deer makes the Brown's backyard its new home, Andy insists on accompanying Ephram who decides to help the animal find its way home to the wilderness, where the journey includes a long hike through the mountains. Meanwhile, Ephram finally admits to Amy that he never asked his father to consider operating on her boyfriend, Colin, who is in a coma. Lastly, Delia questions the existence of God after a classmate tells hear that he doesn't believe in higher beings.
Director: Arlene Sanford
Writer: Michael Green
Guest stars: Jeremy Elliot, Beth Grant, Jeff Olson, J.R. Moore, Bob Conder, Bret Loehr, Jeremy Elliott
6
The Doctor Is In
60 min | Oct 20, 2002
Andy meets with Colin's parents to discuss a potential course of treatment for the comatose teen. Amy is heartbroken and Ephram is furious when Andy decides against performing a risky operation on Amy's comatose boyfriend. Meanwhile, Delia is forbidden from playing with her only friend, Magilla (guest star Bret Loehr), after his parents discover them playing dress up. Dr. Trott, a traveling psychologist (guest star Jane Krakowski) sets up shop and stirs up the emotions of several townspeople who seek her guidance, much to the chagrin of a distrustful Dr. Abbott.
Director: Stephen Gyllenhaal
Writer: Vanessa Taylor
Guest stars: Adam Clinton, Helen White, Austin Leveton, Christy Summerhays, Jane Krakowski, Bret Loehr
7
We Hold These Truths
60 min | Oct 28, 2002
The former Big Apple neurosurgeon, Dr.Andrew Brown, puts on his scrubs for the first time since he relocated his family to Colorado to operate on Amy's comatose boyfriend, Colin (Mike Erwin), with the help of his friend and surgery partner from New York, Dr. Brian Holderman (guest star Lamont Thompson). Adding to his performance anxiety is the identity of the patient---Colin Hart, the boy who was dating Amy before she stole Ephram's heart. It also doesn't help that the tricky procedure he plans to perform has never been attempted before. Amy leans on Ephram for support as she awaits the outcome. Meanwhile, an emotional Bright breaks down and admits what actually happened the day of the car accident as Colin's former life in Everwood is also revisited as flashbacks reveal some startling secrets about the teen's last days before the accident that put him in the hospital.
Director: Jason Moore
Writer: Joan Binder Weiss
Guest stars: Michelle Peterson, Wendy Watabe Peterson, Sam Bowley, Lamont Thompson, Tim Whitiker, Paul J. Kiernan
8
Till Death Do Us Part
60 min | Nov 04, 2002
As his wedding anniversary draws near, Andy loses all hope and questions whether he will ever feel his life is worth living again. Meanwhile, Ephram and Amy share their first kiss while on a field trip; and Dr. Abbott has a panic attack when his wife Rose(Merrilyn Gann) proposes they take salsa dancing lessons. Andy also helps a couple whose marragle problems are caused by hives.
Director: Michael Schultz
Writer: Oliver Goldstick
Guest stars: Anne Sward, Phyllis R. Cummings, Derek Boone, JJ Neward, Melinda Clarke, Tim DeKay, Robert Peters, Cody McMains, Jeff Olson
9
Turf Wars
60 min | Nov 11, 2002
The unannounced arrival of Jacob and Nonny Hoffman (Mark Rydell, Doris Belack) from New York is greeted with glee by Delia and Ephram. But Andy feels pressed to his limits as he tries to placate his overbearing guests, particularly his pushy father-in-law, who openly criticizes the physician's parenting skills. On top of that, Jacob obviously enjoys a special bond with Ephram that Andy can't duplicate. Meanwhile, Nonny makes her own impression in Everwood when she butts heads with Edna over Delia's affections. Lastly, Ephram sneaks out of the house to see Amy who is still emotionally recovering from the aftermath of Colin's (Mike Erwin) surgery.
Director: Steve Gomer
Writer: Rina Mimoun
Guest stars: Mark Rydell, Doris Belack, Curt Odussett, Walter Olkewicz, Eric Ian Goldberg, Cody Stan
10
Is There a Doctor in the House?
60 min | Nov 18, 2002
Delia and her grandmother (guest star Doris Belack) throw a festive birthday party for a grumpy Edna who hates this particular day of the year, but everyone winds up snowed in for the night when a big storm hits town. In the midst of it all, Bright collapses from a burst appendix and Drs. Brown and Abbott have to improvise an operating room before the infection spreads; while Andy and Ephram let months of tension and hurt feelings explode in front of everyone with a threat of Ephram moving back to New York with his grandparents.
Director: Robert Duncan McNeill
Writer: Michael Green
Guest stars: Mark Rydell, Doris Belack, Adam Clinton
11
A Thanksgiving Tale
60 min | Nov 25, 2002
In hopes of raising his little sister Delia's spirits, Ephram does his best to recreate his mother's Thanksgiving traditions as the Brown family spends their first holiday without her. Meanwhile, in order to save a patient's life, Dr. Brown must find the man's missing brother, who is believed to live in the woods; and curmudgeonly Dr. Abbott attempts to befriend the entire town when he has a health scare and questions whether anyone would attend his funeral.
Director: David Petrarca
Writer: Vanessa Taylor
Guest stars: John Savage, Robert Peters, Jensen Buchanan, Paul Kiernan, Gordon Johnson, Scott Christopher, Tim Threlfall
12
Vegetative State
60 min | Jan 06, 2003
A heartbroken Ephram finds himself the odd man out as Amy prepares for Colin's homecoming. Meanwhile, Andy and Dr. Abbott join the town in a debate over the use of medicinal marijuana after a large quantity is discovered in a deceased woman's greenhouse; and Andy provides medical guidance to Nina after her son's teacher suggests she put him on Ritalin.
Director: Lev L. Spiro
Writer: John E. Pogue
Guest stars: Bruce Newbold, Steve O'Neill, Elizabeth Hansen, J. Scott Bronson, Joey Miyashima, George Sullivan, Nate Bynum, Jenette Puhich, Ilyse Mimoun, Michael Coe, Chris Clark
13
The Price of Fame
60 min | Jan 20, 2003
Much to resident thespian Dr. Abbot's chagrin, Andy begrudgingly auditions and is offered the lead in Everwood's production of ""The King and I."" As Dr. Brown struggles with his lines, Ephram struggles with his emotions when his intense feelings for Amy are complicated by Colin's (Mike Erwin) desire to be his friend.
Director: Sandy Smolan
Writer: Rina Mimoun
Guest stars: Joanna Cassidy, Cody McMains, Scott Christopher, Charlie Paddock, Nick Praggastis, Kate Pappas, Margarin Hobson, Maria Carr, Kristen Bramble
14
Colin the Second
60 min | Jan 27, 2003
Although conflicted by his feelings for Amy, Ephram finds himself serving as confidante and friend to Amy's boyfriend, Colin, who continues to feel like a fish-out-of-water as he attempts to reclaim his life before the accident. Meanwhile, Andy hopes to convince Ephram to resume the piano lessons he abandoned after his mother's death; Nina's absentee husband (guest star Dylan Walsh) comes home for a visit, which proves to be far from happily ever after; and in a bittersweet turn of events, Amy and Colin are nominated for Homecoming King and Queen.
Director: Mel Damski
Writer: Joan Binder Weiss
Guest stars: Josh Twelves, Dylan Walsh, Christopher Neiman, Jeff Olson, David Downs, Ian Vogt, Katarine Clark Reilly, Liz Edmiston, Marissa Porritt, Amy Beaudine, Dan Merket
15
Snow Job
60 min | Feb 03, 2003
On a church ski trip chaperoned by perpetual party pooper Dr. Abbott, Amy and Colin share their first kiss since the surgery. Ephram finds himself intrigued by Colin's younger sister, Laynie (guest star Nora Zehetner), who has recently returned home from boarding school. Also, Bright attempts to get to the next base with his girlfriend (guest star Devon Reilly). Meanwhile, Andy hesitantly agrees to attend a singles mixer with the recently divorced Reverend Keyes (guest star Tim Dekay).
Director: David Petrarca
Writer: Michael Green
Guest stars: Tim DeKay, Devon Reilly, Nora Zehetner, Chris Owen, Melinda Renee, Sam Littlefield, Robin Ballard
16
My Funny Valentine
60 min | Feb 10, 2003
When traveling psychologist Dr. Gretchen Trott (guest star Jane Krakowski) comes back into town, Andy is forced to confront his potentially romantic feelings for her. In other romantic entanglements, Edna and Irv have difficulty adjusting to life after his heart attack scare; Harold and his wife Rose (guest star Merrilyn Gann) have it out after they attend couples therapy and she suggests that he's lost that lovin' feeling; and Ephram asks Laynie (guest star Nora Zehetner) out on their first date, in part to show Amy that he's moving on with his life.
Director: Michael Schultz
Writer: Vanessa Taylor
Guest stars: Jane Krakowski, Nora Zehetner, Oscar Rowland, Andree O'Shea, Anette Wright, Adam Hust
17
Everwood, Confidential
60 min | Feb 17, 2003
When Dr. Abbott's dementia-plagued, elderly godfather (guest star Luke Askew) confesses to a murder that took place 30 years ago and reveals that Abbott's father was his accomplice, Abbott and Dr. Brown join the investigation in an attempt to find out what really happened and clear the men's names. Meanwhile, Ephram can't seem to keep Amy (Emily VanCamp) far from his thoughts, causing major problems in his burgeoning relationship with Laynie (Nora Zehetner). Dr. Brown butts heads with Ephram's new piano teacher (guest star Ian Vogt) over what is best for Ephram.
Director: Arlene Sanford
Writer: David Schulner
Guest stars: Ian Vogt, Luke Askew, Nora Zehetner, Tod Huntington, Bernie Diamond, Steve O'Neill, Jeff Olson, Aaron Brown
18
The Unveiling
60 min | Feb 24, 2003
Approaching the anniversary of his mother's death, Ephram confronts a repressed memory of his father cheating on his mother, causing an even bigger rift between father and son that eventually leads to a firestorm of emotions. Meanwhile, Amy grows concerned that Colin might not be recovering as well as everyone thinks when he gets violently ill on one of their dates. Amy tells her father who later tells Doctor Brown which causes the Harts to dismiss Andy from being their family doctor and causes a feud between Amy and her father.
Director: Michael Schultz
Writer: Greg Berlanti, Rina Mimoun
Guest stars: Nora Zehetner, Ian Vogt, Brenda Strong, Tom Marcus, Ron Sparks
19
The Miracle of Everwood
60 min | Apr 20, 2003
Although Amy and Bright are still living in denial regarding the state of Colin's (Mike Erwin) recovery, Ephram can't ignore the bad signs any longer after he witnesses Colin freaking out and vandalizing the gym teacher's office. Meanwhile, a New York Magazine reporter pays a visit to Dr. Brown in hopes of uncovering the truth behind why the famed surgeon is still living in Everwood. And Delia decides to secretly spend the night in the Museum of History while on a school field trip.
Director: Arlene Sanford
Writer: Michael Green
Guest stars: Scott Christopher, Beth Grant, Rob Nagle, David Downs, Wayne Dalglish, Rachel Thorp, Kierste Pyke, John Woodhouse, Jennifer Erekson, Annette Wright, Adam Clinton, Ryne Sanborn, Dan Merket
20
Moonlight Sonata
60 min | Apr 27, 2003
A nervous Ephram feels the pressure of performing his first piano recital in Everwood; Dr. Brown and Dr. Abbott attempt to diagnose a man (guest star Dan Merket) with a mysterious sleeping disorder that leaves welts on his body; and Amy pretends to want to spend time with her grandmother, Edna, in order to secretly see Colin while she's grounded. Meanwhile, the town is buzzing with rumors of UFOs and aliens after locals observe something strange in the sky.
Director: Michael Schultz
Writer: Wendy Mericle, Patrick Sean Smith
Guest stars: Ian Vogt, Kate Mara, Dan Merket, Adam Clinton, Kim Landry, Reb Fleming, Greg Ilk, Shawn Zumbrunnen, Alex Gerrish
21
Episode 20
60 min | May 04, 2003
Dr. Brown faces one of the toughest moral decisions of his career when a distraught pregnant teenager (guest star Kate Mara) and her father (guest star Kevin Tighe) come to him for guidance about terminating her pregnancy. Meanwhile, Ephram is humiliated in front of the entire school when his date for the Spring Formal ditches him at the dance to make-out with her boyfriend. Lastly, Amy and Colin (Mike Erwin) have a huge fight when she chooses to console Ephram against Colin's wishes.
Director: David Petrarca
Writer: Greg Berlanti, Vanessa Taylor
Guest stars: Kevin Tighe, Kate Mara, Nancy Everhard, Devon Reilly, Jennifer Erekson, Taylor Kellam
22
Fear Itself
60 min | May 11, 2003
Resentful at being forced to accompany Andy and Irv to a remote lake cabin, Ephram takes a small boat out alone and his inexperience leads to a serious accident and a night of terror for Andy. Meanwhile, Colin and his parents must decide whether to allow Dr. Brown to perform a second dangerous surgery; and Nina confronts her husband Carl after she accidentally discovers he is having an affair.
Director: Michael Katleman
Writer: John E. Pogue
Guest stars: Dylan Walsh, Jamie Strohfelot
23
Home
60 min | May 18, 2003
As the day of Colin's (guest star Mike Erwin) surgery approaches and emotions run high, Andy takes Ephram and Delia on a road trip to his old medical school to consult with his mentor, Dr. Donald Douglas (guest star Philip Baker Hall). Back in Everwood, Colin kidnaps Amy and Bright in the middle of the night to surprise them with a special day of memories and hopes for the future.
Director: Greg Berlanti, Vanessa Taylor, Sandy Smolan
Writer: Michael Green, Rina Mimoun
Guest stars: Philip Baker Hall, Wendy Watabe Peterson, Michelle Peterson
---
Editions
| Barcode | Format | Region | Released | Edition |
| --- | --- | --- | --- | --- |
| 085393343828 | | 1 | Sep 07, 2004 | The Complete First Season |
| 883929161232 | | 1 | Jan 25, 2011 | |
| 5051890005106 | | 2 | Jun 26, 2009 | |
| 5051888030103 | | 2 | | |
| 9325336046937 | | 4 | | |
| 5051890216762 | | | | |
| 6003805103062 | | | | |
| 012569595323 | | | | |
---
---