Food Wars!: Shokugeki no Soma: Season 2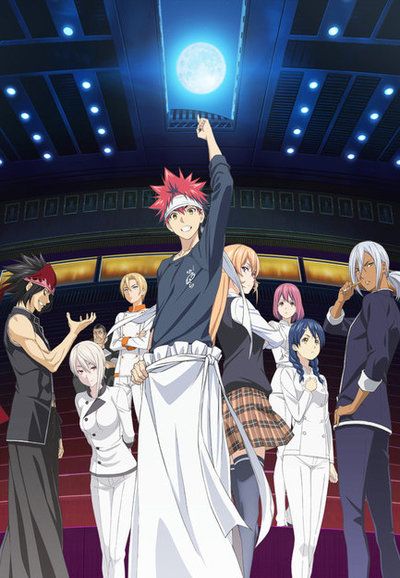 Sentai FilmWorks (2015)
Animation, Comedy, Anime
Yukihira Souma's dream is to become a full-time chef in his father's restaurant and surpass his father's culinary skill. But just as Yukihira graduates from middle schools his father, Yukihira Jouichirou, closes down the restaurant to cook in Europe. Although downtrodden, Souma's fighting spirit is rekindled by a challenge from Jouichirou which is to survive in an elite culinary school where only 10% of the students graduate. Can Souma survive?
---
---
1
What Fills the Box
25 min | Jun 30, 2016

second season of fodd wars http://myanimelist.net/anime/32282/Shokugeki_no_Souma_2nd_Season?q=shokugeki%20
Director: Yoshitomo Yonetani
Writer: Shogo Yasukawa
2
The Interplay of Light and Shadow
25 min | Jul 08, 2016

Soma's bento defeats Alice's. The second match of the tournament: Megumi vs. Ryo! The theme is ramen. What will these complete opposites in personalities and cooking styles choose for their ramen broth?
3
The Generation of Prodigies
25 min | Jul 15, 2016

Megumi and Ryo both present their dishes. Round 2 has finally concluded. Round 3 brings Hayama Akira, against Nakiri Erina's aide, Arato Hisako!
4
The Pursuer
25 min | Jul 22, 2016

Takumi and Mimasaka begin their match, with the addition of it being a Shokugeki! Mimasaka surprises everyone when he reveals he'll be cooking the same dish: semifreddo. Can his version beat Takumi's?
5
The Secret in the First Bite
25 min | Jul 29, 2016

Soma is approached by journalist Mitsuru Sotsuda, who asks to cover him as he works on a beef stew recipe for his Shokugeki against Subaru. Agreeing to taste test after letting her borrow some manga, Erina berates Soma's dish, stating that it isn't suited for the match's main topic. Thinking Erina's criticism over, Soma gets a burst of inspiration after receiving some meat from Ikumi. The day of the Shokugeki soon arrives, with Soma realising the importance of making his dish stand out on the first bite and deciding to make his stew using oxtail. However, as a result of his profiling, Subaru predicts Soma's actions and also uses oxtail, bringing out his own twist on top of it.
6
Dawn Will Come Again
25 min | Aug 05, 2016

Subaru uses smoked bacon as a garniture for his stew, revealing that he got his information from hacking into Mitsuru's notes. Even when Soma reveals his intent to use various cuts of beef to improvise his dish on the fly, Subaru still appears to have predicted Soma's move, remaining confident in his bacon addition. Although the judges are impressed by Subaru's bacon garniture, Soma astounds them with his dish by using various meats for his garniture, revealing he had created the dish from everything he had learned so far, unanimously winning the match. As a result, Soma manages to return all the tools Subaru had taken back to their original owners, with Takumi deciding to leave his mezzaluna with Soma until he can win it back himself.
7
Beasts Devouring Each Other
25 min | Aug 12, 2016

Ryo and Akira face off against each other in the second semi-final match, in which they must make Western-style dishes. Akira presents his dish, Canard Apicius, using his combination of spices with duck to wow the judges. Meanwhile, Ryo serves up Eel Matelote, adding plums to provide an electrifying taste. With the judges evenly split on which dish to vote for, they declare that the final round will now be a three-way match between Soma, Akira, and Ryo, with the theme revealed to be pacific saury.
8
Battle of Seasonality
25 min | Aug 19, 2016

In preparation for the final, Soma goes with Megumi to the fish market, where they come across Ryo and Alice. There, they learn about the varying factors about picking the best pacific saury, which Ryo appears to be an expert on. Hearing that Akira also has a talent for picking out the best fish, Soma is left concerned about how to compete with both him and Ryo. After thinking over the time aspect of the fish, Soma ultimately decides on ageing his saury, asking for help from Ryoko, Ibusaki, and Ikumi due to their experience with ageing methods. Trying out each of the three methods; using malt rice, smoking, and high humidity, Soma manages to think of a way to surpass the others after a run-in with Fumio. The day of the final arrives, with Soma bringing out what appears to be a completely unrecognizable piece of saury.
9
A Sword that Signals Autumn
25 min | Aug 26, 2016

Under a moonlit sky, the finals get underway, with Alice recalling the many cooking battles she's had with Ryo. With only half the cooking time passed, Ryo presents his dish; a cartoccio cooked in herb butter inside film bags. Next, Akira presents a seared carpaccio, which uses fire to unleash its powerful aroma which, contrary to everyone's expectations, only uses a single spice. Finally, Soma presents his dish; Salted Rice Bran Pacific Saury Rice, which he learned from seeing Fumio's pickles. Just as it seems his dish has failed to impress the judges, Soma brings out his dish's true edge.
10
A New Genius
25 min | Sep 02, 2016

Soma presents his dish's missing element, a white soup made from soy milk that turns the rice dish into a creamy porridge, enhancing the already existing flavors. Meanwhile, Satoshi, who deduces that Eizan was the one who drove Subaru to provoke Soma, tells him that it was Soma's drive to never give up that got him so far. As the judges make their decision, Akira recalls how Jun brought him out of the slums and helped him become the chef he is today. With originality being the deciding factor between the three dishes, Akira is declared the winner of the Autumn Elections for his specialty dish. Afterwards, Soma speaks with Joichiro, stating his determination to continue finding his own way of cooking. A few days later, as Soma spends more time with Akira and Ryo to improve himself, Jun informs them about the Stagiaire training program for first year students.
11
The Stagiaire
25 min | Sep 09, 2016

With the Stagiaire program requiring students to take up residence at various restaurants outside of the school while also leaving their own impression, Soma ends up getting paired with Hisako, who has been feeling inferior since losing the Autumn Elections, as they are sent to the Mitamura Western restaurant. Right away, they discover that the restaurant is struggling to keep up with the barrages of orders from commuting customers, but Soma manages to use his experience to take control and keep everyone organised. Meanwhile, Erina and Megumi are sent to a French restaurant, where Erina instantly takes command of the kitchen, while Megumi finds her own way to make improvements. As Hisako gets used to the job, Soma notices that the restaurant needs to change, so that they don't struggle again once the Stagiaire is over. With the staff unwilling to cut down their large menu, Soma suggests that they try switching to a reservations-only basis, allowing them to better cater to their customers. After passing the first stage of the Stagiare, Soma encourages Hisako to stop feeling ashamed of her defeat and return to Erina's side, aiming to stand alongside her rather than only follow behind.
12
The Magician Once More
25 min | Sep 16, 2016

The next step of the Stagiaire reunites Soma with Shinomiya, who is opening a Tokyo branch of his French restaurant, Shino's. At the restaurant begins its first pre-open day, Soma witnesses firsthand the intensity of working in Shinomiya's kitchen and struggles to keep up with the rest of the staff. Thinking over his failures, Soma spends the rest of the week getting prep done early so he can ask the other staff members for advice on how to become more efficient in the kitchen and learn new techniques. On the final day, Soma decides to enter a competition to create a dish for Shino's menu that he can call his specialty.
13
Pomp and Circumstance
25 min | Sep 23, 2016

At the end of the pre-open's final day, Shinomiya calls in his fellow alumni, along with his mother, for one final service, recalling what inspired him to pursue French cuisine. As the competition finally arrives, Soma uses about everything he's learned to put together a French take on a chicken and egg rice bowl using a quail stuffed with risotto. Despite ultimately deciding that dish isn't good enough as it is, Shinomiya helps Soma refine his recipé so that it can be become a item on his menu, leading Soma to pass the Stagiaire. With the Stagiaire over, Soma returns to Totsuki, ready to take on anyone who challenges him to a Shokugeki.
---
Editions
| Barcode | Format | Region | Released | Edition |
| --- | --- | --- | --- | --- |
| 816726023212 | | 1 | Feb 13, 2018 | |
| 816726023410 | | 1 | Feb 13, 2018 | |
| 816726023311 | | 1 | Feb 13, 2018 | |
---
---