Gintama
Gintama: Season 3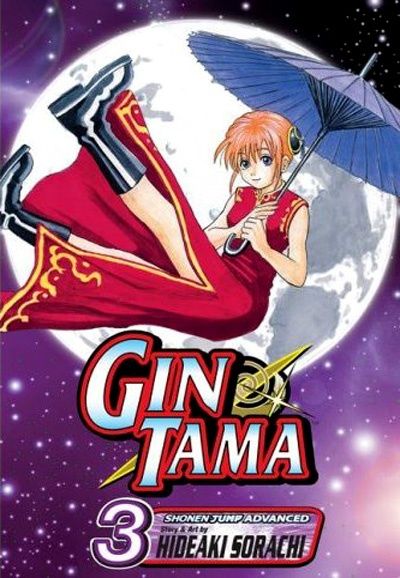 FUNimation (2007)
Animation, Comedy, Adventure, Anime, Science Fiction, Fantasy, Action
English | Color
Life isn't easy in feudal Japan… especially since the aliens landed and conquered everything! Oh sure, the new health care is great, but the public ban on the use of swords has left a lot of defeated samurai with a difficult decision to make concerning their future career paths! This is especially true if, as in the case of Gintoki Sakata, they're not particularly inclined towards holding a day job, which is why Gintoki's opted for the freelance route, taking any job that's offered to him as long as the financial remuneration sounds right. Unfortunately, in a brave new world filled with stray bug-eyed montsters, upwardly mobile Yakuza and overly ambitious E.T. entrepreneurs, those jobs usually don't pay as well as they should for the pain, suffering and indignities endured!

(Source: Sentai Filmworks)


---
---
1
The More Something Is Disliked, the More Lovely It Is
25 min | Apr 04, 2007

The cast goes over their ideas for the series' new direction.
2
Rules Are Made to be Broken
25 min | Apr 11, 2007

A baby's dropped off in front of the Yorozuya; claming it's Gintoki's son.
3
Otaku Are Talkative
25 min | Apr 18, 2007

It is revealed that the baby isn't Gintoki's; instead the baby was left at Yorozuya by the mother to keep her child safe from her father-in-law. Meanwhile Kagura and Shinpachi try to save the mother; Gintoki is on his way to return the baby.
4
There's a Thin Line Between Strengths and Weaknesses
25 min | Apr 25, 2007

While trying to burn old JUMP issues, Gintoki is captured by a female fire fighter in search of a local arsonist.
5
Important Things Are Hard To See
25 min | May 02, 2007

A mother looking for her son in Edo enlists the help of Yorozuya.
6
It's All About the Beat and Timing
25 min | May 09, 2007

Continuing from the last episode, it is discovered that the son turned out to be the No.1 "Pimp" in Kabuki District.
7
Love Is Often Played Out In Sudden Death
25 min | May 16, 2007

Terakado Tsu (Otsu) goes to be one day chief of the Shinsengumi to improve its image.
Guest stars: Takumi Yamazaki, Nami Okamoto, Sayuri Kubo, Takashi Mito, Yoshimitsu Shimoyama, Chikara Oosaka, Riichi Nishimoto, Yukari Tamura, Keikou Sakai
8
Kids Don't Understand How Their Parents Feel
25 min | May 23, 2007

Mutsu requests the Yorozuya recover some stolen cargo.
Director: Shinji Takamatsu
Writer: Akatsuki Yamatoya
9
Some Things Are Better Left Unsaid
25 min | May 30, 2007

A serial killer has been going around town-- and one of the crew meets him head on! In the meantime, Gintoki is requested to locate "Benizakura", an unlucky sword stolen from its owner.
Director: Shinji Takamatsu
Writer: Akatsuki Yamatoya
Guest stars: Yutaka Aoyama, Takumi Yamazaki, Risa Hayamizu, Ayumi Tsunematsu, Takeharu Onishi, Chafurin
10
Life is a Test
25 min | Jun 06, 2007

Kagura gets captured. Tetsuko goes to visit the injured Gintoki and tells him the truth about the benisakura sword.
Director: Shinji Takamatsu
Writer: Akatsuki Yamatoya
Guest stars: Chafurin, Tsutomu Densaka, Risa Hayamizu, Yutaka Aoyama, Takeharu Onishi, Kazuya Kobayashi
11
People Are All Escapees of Their Own Inner Prisons
25 min | Jun 13, 2007

Shinpachi and Elizabeth go on the ship to attack Okada. A battle rages on the ship, at which Kagura manages to escape from captivity. On the other hand, Gintoki and Tetsuko (benisakura forger Tetsuya's sister) head towards Takasugi.
Director: Shinji Takamatsu
Writer: Akatsuki Yamatoya
Guest stars: Takeharu Onishi, Yutaka Aoyama, Risa Hayamizu, Tsutomu Densaka, Kazuya Kobayashi, Chafurin
12
Definitely Do Not Let Your Girlfriend See the Things You Use for Cross-Dressing / There's Almost a 100% Chance You'll Forget Your Umbrella and Hate Yourself For It
25 min | Jun 20, 2007

The battle comes to a conclusion, with benisakura finally taken over Okada's body, and Gintoki will have to use the sword Tetsuko gave him to stop this.
Director: Shinji Takamatsu
Writer: Akatsuki Yamatoya
Guest stars: Takeharu Onishi, Kiyonobu Suzuki, Yutaka Aoyama, Risa Hayamizu, Takumi Yamazaki, Tsutomu Densaka, Kazuya Kobayashi, Chafurin
13
A Birthday in Your Twenties Has No Deep Meaning / Lucky Is a Man Who Gets Up and Goes to Work
25 min | Jun 27, 2007

Yamasaki is sent by Hijikata to investigate what has happened with that fight between Katsura and Takasugi groups. He goes around asking different people, though fails to get any real answers.
Director: Shinji Takamatsu
Writer: Michiko Yokote, Akatsuki Yamatoya
Guest stars: Yuu Sugimoto, Tetsuharu Ohta, Yu Kobayashi, Mikako Takahashi, Fumihiko Tachiki
14
Cleaning the Toilet Cleanses the Soul
25 min | Jul 04, 2007
Hattori Zenzo has been hired to kidnap a girl who is able to foresee the future. Meanwhile, the Yorozuya has been hired to protect the very same girl.
Director: Shinji Takamatsu
Writer: Michiko Yokote, Akatsuki Yamatoya
Guest stars: Akio Ohtsuka, Toshiko Sawada - DUPLICATE, Seiko Tomoe, Ai Shimizu-Duplicate, Keikou Sakai, Chikara Oosaka
15
They Say Soy Sauce On Pudding Tastes Like Sea Urchin, But Soy Sauce On Pudding Only Tastes Like Pudding and Soy Sauce
25 min | Jul 11, 2007
A set of TV crews follow Katsura around for a day to do a television program special interview.
Director: Shinji Takamatsu
Writer: Michiko Yokote, Akatsuki Yamatoya
Guest stars: Takafumi Kawakami, Youhei Nishina, Tamotsu Nishiwaki, Mayumi Asano, Yukari Tamura
16
Summer Vacation is the Most Fun Right Before It Begins
25 min | Jul 18, 2007
Kagura's beetle was killed during a beetle fighting match. She tries to drag Gintoki and Shinpachi to go beetle hunting with her. That only succeeds when they know there is a high demand for the beetles - meaning they can make money of it. The trio encounters the Shinsengumi who also happens to be capturing beetles for reason unknown.
Director: Shinji Takamatsu
Writer: Michiko Yokote, Akatsuki Yamatoya
Guest stars: Tetsu Gotou, Sayaka Narita, Satsuki Yukino, Keikou Sakai
17
The Older, The Wiser
25 min | Jul 25, 2007
An old dango shop owner accepts a challenge from the owner of a popular new dessert shop.
Director: Shinji Takamatsu
Writer: Michiko Yokote, Akatsuki Yamatoya
18
Beauty is Like a Summer Fruit
25 min | Aug 01, 2007
Gintoki gets into an accident with a delivery girl who has the "Need for Speed". / As Gintoki recovers from the delivery incident, Sa-chan is forced to weigh both her feminine needs and her assassin duties when working a mission at the same hospital.
Director: Shinji Takamatsu
Writer: Michiko Yokote, Akatsuki Yamatoya
19
Even if Your Back is Bent, Go Straight Forward
25 min | Aug 08, 2007
Every year during the Matsuri festival, a "Courage Test" event is held. This year Gintoki, Shinpachi and Kagura helps out in the event.
Director: Shinji Takamatsu
Writer: Michiko Yokote, Akatsuki Yamatoya
20
Within Each Box of Cigarettes, Are One or Two Cigarettes That Smell Like Horse Dung
25 min | Aug 15, 2007
Gintoki found a female android head in the trash.
Director: Shinji Takamatsu
Writer: Michiko Yokote, Akatsuki Yamatoya
21
Japanese Restaurants Abroad Taste Pretty Much Like School Cafeteria Lunches / Once You've Chosen a Dish, You Can't Give it Back
25 min | Aug 22, 2007
It's revealed that the android head belonged to a murder suspect. Two other androids were sent to retrieve the andriod head; along with a horde of maid androids.
Director: Shinji Takamatsu
Writer: Michiko Yokote, Akatsuki Yamatoya
22
Novices Only Need a Flathead and a Phillips
25 min | Aug 29, 2007
Gintoki, Shinpachi, Kagura, and the robot tinkerer head towards the main facility of the inventor and attempts to shutdown the rampaging maid android mob.
Director: Shinji Takamatsu
Writer: Michiko Yokote, Akatsuki Yamatoya
23
Imagination Is Nurtured In the 8th Grade
25 min | Sep 05, 2007
Sadaharu is in "heat" and Yorozuya tries to find him a mate. / Katsura attempts to take a driving lesson-- a "Might Happen" driving lesson, that is.
Director: Shinji Takamatsu
Writer: Michiko Yokote, Akatsuki Yamatoya
24
Always Keep a Screwdriver In Your Heart
25 min | Sep 12, 2007
While hunting mushrooms in the woods, Gintoki, Shinpachi and Kagura become infected with mentality-changing mushrooms while getting get involved in a tragic war between a bear and a hunter.
Director: Shinji Takamatsu
Writer: Michiko Yokote, Akatsuki Yamatoya
25
When Nagging Goes Too Far It Becomes Intimidating
25 min | Sep 19, 2007
Edo's under attack by M-unibrow zombies!
Director: Shinji Takamatsu
Writer: Michiko Yokote, Akatsuki Yamatoya
26
Entering the Final Chapter!
25 min | Sep 26, 2007
Gintoki, Shinpachi and Kagura recaps what has happened to date on their 2nd Year Anniversary special.
Director: Shinji Takamatsu
Writer: Michiko Yokote, Akatsuki Yamatoya
27
Some Things Can Only Be Conveyed Through the Written Word
25 min | Oct 01, 2008
The fan club members for Edo's top idol, Tsu Terakado, are at the beach practicing their choreography for an upcoming concert. But Takachin notices his fellow members' enthusiasm getting sloppy. One of the fan club officers has started exchanging e-mails with a girl he met through a blog. Shinpachi is furious the officer has broken their club rule of "Secret communication with women is forbidden." As their captain, he puts some spirit into them, but…
28
Sometimes You Must Meet to Understand
25 min | Oct 08, 2008
Even though it's believed the letters are coming from Okita, Shinpachi's response letter turn out to be a big hit. Urara is happy her older sister has received a response to her letters. But her older sister confesses that she sent Urara's picture with the letter. And it looks like both Shinpachi and Urara sent someone else's pictures with their letters!
29
Sometimes You Can't Tell Just By Meeting Someone
25 min | Oct 15, 2008
Urara's older sister learns that Shinpachi sent Okita's picture with his letters. Shinpachi desperately tries to apologize, but Urara's older sister tells him that she wants to help him get Urara to like him. Afterwards, Gintoki and the others meet up with Urara and Okita. They try to get Urara's attention, but she is only interested in Okita. Urara's older sister can't do anything about it and runs away in regret. Shinpachi is worried and goes after her, but…
30
Beware of Food You Pick Up Off the Ground
25 min | Oct 22, 2008
Worried about her pet's sudden drop in appetite, Kagura takes Sadaharu to the veterinary hospital. Katsura happens to be there as well, explaining how Elizabeth is in bad health and has been hospitalized to undergo surgery. Fortunately Sadaharu's condition is nothing serious, but he's kept overnight just to be safe. Around the same time, an old dog that has also been hospitalized is about to take its last breath. It seems the owner is in critical condition as well, and with only death awaiting them both, Kagura decides to take the old dog to its owner.
31
Cat Lovers and Dog Lovers Are Mutually Exclusive
25 min | Oct 30, 2008
To let the dying dog Kintaro see its owner for one last time, Kagura and Katsura sneak it out of the hospital…only to find themselves caught in the war between the "Planet Eaters" (dogs) and "Planet Pukers" (cats), while Earth's fate hangs in the balance. Escaping from the Planet Pukers, who are after Kintaro, the two head to the hospital where the old man is hospitalized. Meanwhile, the old man, who is supposedly in critical condition, goes missing. The old man's children request Gintoki's services, but when he arrives at the hospital…
32
Fights Often Ensue During Trips
25 min | Nov 06, 2008
Otose arranges for Gintoki and the gang to spend their winter break at a hot spring inn located deep in the mountains. Anticipating a secluded hot spring bath, the group hikes their way up the mountain trail, only to arrive at a completely deserted and run-down inn. With no available bus to return to Edo, the gang has no choice but to stay at the inn. The inn's Okami Oiwa welcomes the group, but Gintoki and Shinpachi notice a transparent being standing behind her back!
33
Briefs Will Unavoidably Get Skidmarks
25 min | Nov 13, 2008
The inn Gintoki and the gang are staying at turns out to be a ghost inn where all the stands (ghosts) gather, unable to enter heaven due to their attachment to the living world! Gintoki finds himself left all alone after Shinpachi, Kagura, and Otae are all possessed by stands. The Okami Oiwa explains she was looking for someone tough enough to help run the inn. Forced into working as an employee trainee, Gintoki must now join his co-worker Rei to greet the visiting stand customers…
34
Gin and His Excellency's Good For Nothing
25 min | Nov 20, 2008
Sick and tired of Oiwa's tyranny, Gintoki decides to shut down the inn by teaming up with Rei. He plans to use Nobunaga, Hideyoshi, and Mitsuhide (their stands, that is) to bring down the inn's reputation but is stopped by Okami Otose. Though overwhelmed at first by Okami's most powerful stand Tagosaku, Gintoki nonetheless manages to exorcize the inn's customers with the help of Shinpachi and the gang, who are now themselves living stands. With the fate of the inn and himself at stake, Gintoki finally enters a one-on-one battle with Oiwa.
35
Be Very Careful When Using Ghost Stories
25 min | Nov 27, 2008
Oiwa lets Tagosaku possess her own body to become "His Excellency." Fueled by anger and sadness, her surge of attacks gradually corner Gintoki. But just in the nick of time, Gintoki also lets himself be possessed by Stands to become "His Excellency." To bring down the wasted ghost inn, Gintoki risks everything he has to go up against Oiwa!
36
Before Thinking About the Earth, Think About the More Endangered Gintaman's Future!
25 min | Dec 04, 2008
Once, the manga Gintaman gained immense popularity in Jump magazine, and was even made into an animated series thanks to Gintoki's random advice. Ofuji has since taken over from Konishi as editor of Gintaman… But now the manga's popularity is on a steady decline! Under these desperate circumstances, Gintoki is once again called forth to help fix the problem! Strong criticism and heated debate ensue between Ofuji, Konishi, and Amachi Sensei, along with their special guest. In the end, what sort of breakthrough solution have they come up with?!
37
It's Your House, You Build It
25 min | Dec 11, 2008
As always, Hasegawa, aka MADAO idles away his life. While talking on the phone with his estranged wife Hatsu, Hasegawa ends up inviting her over to his house. But thanks to a string of misfortunes, his home is now a cardboard box in the park! Having told Hatsu that he lives in a pretty nice place, Hasegawa asks Gintoki to help him look for a descent housing…
38
99% of Men Are Not Confident in Confessing Their Love
25 min | Dec 18, 2008
Having been neglected for so long despite her strong love for Gintoki, Sachan finally goes on the offensive. She tries to win the heart of the sugar-loving Gintoki with a cake. Naturally, her plan fails. That's when Kondo happens to pass by. Like Sachan, Kondo's feelings for Otae have continued unrequited and are casually brushed aside (or rather, exploited for running her errands). They argue over who is loved more than the other. After their heated debate, they somehow end up playing cupid for each other…
39
Why Not Talk About the Old Days for a Change?
25 min | Dec 25, 2008
It's the usual scene at Odd Jobs Gin. Shinpachi and Kagura are cleaning up the place when they see a picture fall out of the back of a wall frame. To their surprise, the picture is a shot of Gintoki and a mystery beauty! Could she be a woman from his past? While the two argue over the woman's identity, Gintoki returns with the groceries and reveals a surprising truth. The woman in the picture was the semi-regular character in the "previous" Odd Jobs Gin. For the first time ever, before even Shinpachi or Kagura joined, the story of when Gintoki just started running the Odd Jobs business is revealed…
40
Don't Put Your Wallet In Your Back Pocket
25 min | Jan 08, 2009
Seita is a kid who makes his living through pickpocketing. One day Seita picks Gintoki's wallet only to find it pretty much empty, and discovers that his own wallet was picked back in return. In the end Seita treats Gintoki to some parfait after getting caught red-handed. Brought into Snack Otose for questioning, Seita shocks everyone by revealing he needed the money to see a certain "遊女/Yujo (courtesans/ prostitute)."
41
Beware of Those Who Use an Umbrella on a Sunny Day!
25 min | Jan 15, 2009
Seita was picking pockets to see Hinowa, the highest-ranked 遊女/Yujo (courtesans/ prostitute) in the underground 遊郭/Yukaku (Licensed Quarters) Yoshiwara Tougenkyo, where law has no meaning. But his picking act was all for the sake of seeing the mother he was separated from at a young age. To let Seita see Hinowa, Gintoki and the gang march into Yoshiwara Tougenkyo, where they receive a rough welcome by Tsukuyo – the head of Yoshiwara's paramilitary force, "Hyakka."
42
Butting Into a Fight Is Dangerous
25 min | Jan 22, 2009
Kagura's older brother Kamui arrives in Yoshiwara. As the Seventh Division Captain of the Space Pirate Harusame, Kamui is here to talk with the division's former captain, The Night King, Hosen. At first everything seems to go well, but tensions gradually start to build up… Meanwhile, escaping from Kamui and his men's attack, Gintoki and the gang take refuge at Tsukuyo's hideout.
43
Life Is About Making Consecutive Decisions
25 min | Jan 29, 2008
As Gintoki and the gang head toward Hosen's lair, they encounter Abuki, one of Kamui's subordinates, and are overwhelmed by the incredible fighting power of the Yato Clan. On Shinpachi and Kagura's urging, Gintoki heads out to face Hosen alone. The remaining two fight desperately against Abuki, only to be cornered by the overwhelming difference in power. In the midst of the fierce battle Kagura renews her feelings toward her older brother Kamui and her reason for fighting. But with Shinpachi's life in danger, Kagura goes through a dramatic transformation…
44
Those Who Stand On Four Legs Are Beasts. Those Who Stand on Two Legs, Guts, and Glory, Are Men
25 min | Feb 05, 2009
Amidst the fierce battle, Kagura awakens to her Yato instincts and defeats Abuto. Thanks to Shinpachi's desperate plea, Kagura is able to return to her senses and together they head after Hosen. Meanwhile Kamui has brought Seita before Hinowa, who is confined to her quarters. "Mom, let's go home together!" Seita shouts out to his beloved mother. However, unexpected words leave Hinowa's mouth…
45
Don't Trust Bedtime Stories
25 min | Feb 12, 2009
Gintoki arrives before Hosen, just in the nick of time. To restore the bond between mother and son that has been torn by the city of eternal light, Gintoki engages Hosen with fierce determination. But against the King of the Night's awesome powers, Gintoki is beaten helplessly to the ground. "Go home to the world above with your mom…" Taking to heart the words left by Gintoki, Seita tries to escape from Yoshiwara with Hinowa, but…
46
The Color for Each Person's Bond Comes in Various Colors
25 min | Feb 19, 2009
The only way to defeat Hosen is to bring back the Sun to the Yoshiwara Shangri-La, the city trapped within eternal night. Seita runs for the control room to break open the iron-plated seal covering the city. Meanwhile, Gintoki and the Hyakka led by Tsukuyo are desperately holding off Hosen's attack. But despite their best efforts, they cannot stop the King of The Night's onslaught…King
47
The Taste of Drinking Under Broad Daylight Is Something Special
25 min | Feb 26, 2009
At last the sun rises above Yoshiwara Shangri-La, the city of eternal light. At the end of a fierce battle, Hosen finally reveals his true feelings for Hinowa and passes away. Observing the entire battle from afar, Kamui is greeted by Kagura and Shinpachi. Kagura is enraged with her reunited brother, but Kamui leaves after "declaring war" with Gintoki.
48
All Adults are Instructors for All Children
25 min | Mar 05, 2009
It is shortly after the fierce battle at Yoshiwara Shngri-la. Shinpachi and Kagura, having faced powerful foes in Hosen and Kamui unlike any they have encountered, are training hard after realizing their lack of strength. Both announce to Gintoki their determination to become stronger. But Gintoki declines to become involved, saying it's a pain. Learning of the situation, Otae and Hasegawa share their training secrets, but…
49
Zip Up Your Fly Nice and Slowly
25 min | Mar 12, 2009
During their routine night patrol Hijikata and Okita are attacked and kidnapped by an unknown assailant. When they wake up, the two find themselves chained together and imprisoned inside an abandoned room. As the two come to realize how bad the situation is, a creepy man speaks to them over the monitor. The man, who calls himself Jigzaw, reveals that he has placed a bomb at the Shinsengumi headquarters, and that the only way Hijikata and Okita can escape is for one to kill the other!
50
When Breaking a Chuubert in Half, the End with the Knob Should Be Better. It's Also Tasty to Drink from There
25 min | Mar 19, 2009
As the bombing of the Shinsengumi headquarters nears, Hijikata and Okita are still unable to find any means for escape. Only one key exists to unlock the shackles chaining each other. But if the key is used, it will set off a bomb to kill the other. The rule of the devil begins to stir distrust between the two. Though he commends them for not betraying one another, Jigzaw pressures them to make the final decision by displaying a certain item.
51
If You Can't Beat Them, Join Them
25 min | Mar 26, 2009
The Odd Jobs trio is going about their usual meaningless chatter when a man with an eye-patch suddenly shows up and begins "ordering" them around. The man's "power" is so strong, the Odd Jobs find themselves unable to defy his orders…
---
Editions
| Barcode | Format | Region | Released | Edition |
| --- | --- | --- | --- | --- |
| 704400015441 | | 1 | Mar 27, 2018 | |
| 704400015458 | | 1 | Sep 25, 2018 | |
---
---