Girlfriends
Girlfriends: Season 6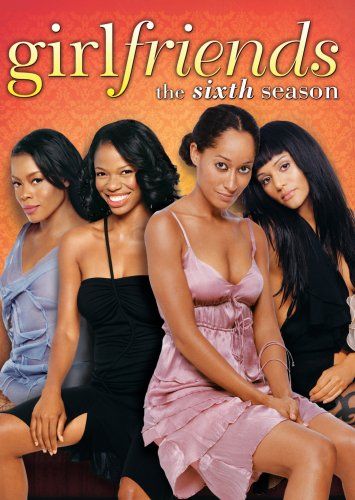 Paramount (2000)
Comedy
USA | English | Color
GIRLFRIENDS is a comedy which provides an open, honest exploration of the hot button issues about family, friends, relationships and life facing women today. With fearlessness and sincerity, the show takes on universal issues that appeal to all women. Whether it's learning to date after divorce or balancing friendships and a new marriage, GIRLFRIENDS treats them all with tenderness, care and respect. At the end of the show's fourth season, Joan (Tracee Ellis Ross) quit her career as a successful lawyer and struggled to fight her romantic feelings for William (Reggie Hayes). In spite of numerous trips to therapy, Toni (Jill Marie Jones) still found herself fighting to save her failing marriage to Todd. Maya (Golden Brooks) grew into an independent student, career woman and successful author after her divorce, and Lynn (Persia White) settled down to find a steady job, tracked down her biological dad and finally secured her own place to live. Last season, GIRLFRIENDS received it
---
---
Director
Eric Laneuville
Linda Mendoza
Keith Truesdell
Debbie Allen
Gina Prince-Bythewood
Arlene Sanford
Salim Akil
Roger Christiansen
Mary Lou Belli
Vito J. Giambalvo
Writer
Kenya Barris, Karin Gist, Vincent Brown, Mark Alton Brown, Dee LaDuke

,

Prentice Penny, Mara Brock Akil, Michael B. Kaplan, Regina Y. Hicks, Tim Edwards, Michele Marburger, Kevin Marburger

Producer
Dan Dugan, Karin Gist, Kelsey Grammer, Mary Fukuto, Mara Brock Akil

,

Regina Y. Hicks

Photography
Donald A. Morgan
Musician
Kurt Farquhar
---
1
Fits & Starts
30 min | Sep 18, 2005
''FITS & STARTS" Maya remarries, Toni demands a divorce, Lynn gets engaged and Joan freaks out. After a passionate reunion, Maya asks Darnell, "Now what?" The pillow talk is even more delicate at Joan's place. Having wound up in bed with William, Joan is unable to relax and consummate their On-again, off-again romance. William fears her reticence is "physical proof we don't belong together."
2
Odds & Ends
30 min | Sep 25, 2005
"ODDS & ENDS" Maya learns love isn't easier the second time around, Their Vegas honeymoon is supposed to be romantic, yet Maya and Darnell gɛt into an argument that causes Maya to leave in a huff. Back in L.A., Lynn Vows to call off her engagement to Jennifer.
3
And Nanny Makes Three
30 min | Oct 02, 2005
"ODDS & ENDS" Maya learns love isn't easier the second time around, Their Vegas honeymoon is supposed to be romantic, yet Maya and Darnell gɛt into an argument that causes Maya to leave in a huff. Back in L.A., Lynn Vows to call off her engagement to Jennifer.
4
Latching On And Lashing Out
30 min | Oct 09, 2005
"LATCHING ON AND LASHING OUT" Maya dates Darnell, and Toni finally bonds with her baby, To give their second marriage a chance, Maya and Darnell decide to live in adjacent apartments and furgo sex for three months. Darnell accompanies Maya to Joan's "remarriage party" in their honor.
5
Judging Edward
30 min | Oct 16, 2005
''JUDGING EDWARD" Routine surgery sends William's mother into the hospital, and her devoted son returns home to Kansas City for the weekend. William dreads spending time with his cold, critical father – accomplished Judge Edward Dent – who immediately says into William for his perceived personal and professional shortcomings.
6
Everything Old Is New Again
30 min | Oct 23, 2005
"EVERYTHING OLD IS NEW AGAIN" With her restaurant on the verge of closing, Joan reluctantly decides to interview for a job at a law firm. While riding up in the elevator with a distinguished older man, Juan confides in him that f00d is her passion, and she secretly hopes she doesn't land the position.
7
Trial And Errors
30 min | Nov 07, 2005
"TRIAL AND ERRORS" While Toni fights for custody of her baby, Joan and William Cope with red-hot lowers. Joan's boyfriend Kenneth may be pushing 80, but between the sheets, he's a real tiger, William's latest girlfriend Jasmine is at the other end of the age spectrum: she's just 20, which leads to lots of Cradle-robbing jokes from his friends
8
Hot Girl On Girl Action
30 min | Nov 14, 2005
"HOT GIRL 0N GIRL ACTION" Lynn and William's romances reach the breaking point, It's been several weeks since Jennifer moved in, and Lynn's running out of excuses to avoid intimacy, Meanwhile, William thinks it's time for his 20-year-old lower Jasmine lo get serious about a career, so he sets up a lunch with one of his biggest clients, a board member at a local fashion design institute.
9
Sleeping Dogs
30 min | Nov 21, 2005
#SLEEPING DOGS" Darnell reluctantly agrees to attend "game night" at Joan's h0use with Maya, After a few rounds of boring Yahtzee, the group launches into a lively discussion about men, women and relationships.
10
My Business, Not Your Business
30 min | Nov 28, 2005
"MY BUSINESS, NOT YOUR BUSINESS" How far will Joan go to save the J. Spot? As much as Joan hates to admit, her dream of running a sophisticated tapas cantina has become a financial nightmare, Rather than Concede defeat, Joan decides to sell her house to keep the restaurant afloat.
11
The Music In Me
30 min | Dec 12, 2005
*THE MUSIC IN WE?" The girlfriends help Lynn adjust to life after Jennifer. Joan advises Lynn to put some distance between herself and Jennifer, Toni tells Lynn to dump her "Crazy" friend-yet Lynn claims she can't just "cut her off."
12
All God's Children
30 min | Jan 16, 2006
"ALL GOD'S CHILDREN'' Todd offers Toni full Custody – but the "catch" could be a deal-breaker. For the sake of their daughter Morgan, Toni and Todd Call a truce in their custody battle to attend a joint Chanukkah/Christmas party at Joan's house..
13
The It Girl
30 min | Feb 06, 2006
**THE IT GIRL}' Did Joan use sex to help publicize her restaurant? The J-Spot is in the running to be named "L.A.'s Best New Hot Spot," according to L.A. Living magazine, Joan couldn't be happier.
14
Work In Progress
30 min | Feb 13, 2006
*WORK IN PROGRESS" Maya blames her friends for Darnell's sudden Career change. Before Maya leaves on her latest book tour, Darnell takes her out for a $300 dinner. When Maya pays, Darnell is embarrassed she earns more money than he does.
15
Oh Hell Yes: The Seminar
30 min | Feb 20, 2006
*OH HELL YES: THE SEMINAR'? Maya hosts a workshop for successful black women. Conspicuously absent from the list of invited speakers is Lynn, whose auditions have yet to result in a paid singing gig.
16
Game Over
30 min | Feb 27, 2006
*GAME OVER'' Joan's friendship with Toni goes On the rocks. Maya's husband Darnell takes it upon himself to teach William how to play Video games, William catches on quickly.
17
I'll Be There For You…But Not Right Now
30 min | Mar 26, 2006
"I'LL BE THERE FOR YOU... BUT NOT RIGHT N0W" Toni struggles to juggle motherhood, love and her real estate business, Riding the wave of restaurant success, Joan becomes too busy attending Celebrity parties to hang with her friends.
18
The Game
30 min | Apr 16, 2006
"THE GAME" Joan's Cousin tackles life with a pro football player, Melanie Barrett seems to have it all; she's young, beautiful, attending medical school and living life in the fast lane as the girlfriend of an up-and-CD ming NFL star.
19
It's Raining Men
30 min | Apr 23, 2006
"IT'S RAINING MEN'' While Joan juggles multiple dates, her friendship with Toni deteriorates. William hires matchmaker Gina Richards to find the woman of his dreams, Joan goes out with the man of hers.
20
I Don't Want To Be A Player No More
30 min | Apr 30, 2006
"I DON'T WANT TO BE A PLAYER N0 M0RE" When it comes to love, Joan's the dumper and the dumpee. After spending the night with Jevon, Juan is convinced he's "The One." She feigns illness to keep her other two guys at bay.
21
Party Over Here (1)
30 min | May 07, 2006
*PARTY OVER HERE... AIN'T NOTHING OVER THERE" "It Girl" Joan's party life goes bust, While Maya, Darnell and Jabari Celebrate the move into their new house, Tomi and Todd prepare to face off in court over custody of Morgan, Joan jeopardizes Toni's child Custody case.
---
Editions
| Barcode | Format | Region | Released | Edition |
| --- | --- | --- | --- | --- |
| 097361393643 | | 1 | Feb 24, 2009 | |
---
---