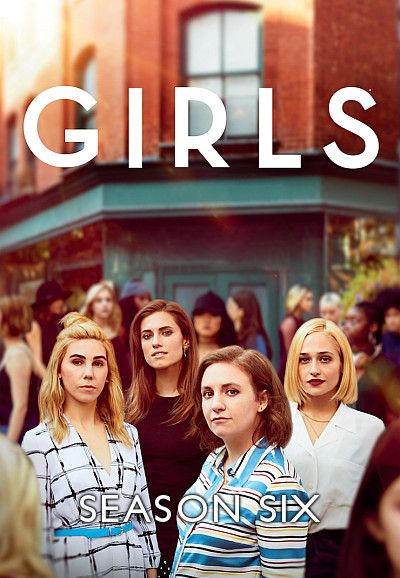 ---
HBO (2012)
Comedy, Drama
The assorted humiliations, disasters and rare triumphs of four very different twenty-something girls: Hannah, an aspiring writer; Marnie, an art gallery assistant and cousins Jessa and Shoshanna.
---
---
1
All I Ever Wanted
30 min | Feb 12, 2017

Riding a wave of newfound career success, Hannah gets an assignment to write a story about a female surf camp in the Hamptons, where she meets Paul-Louis, an uncomplicated waterski instructor. Hoping to break her old patterns post-divorce, Marnie tells Ray he needs to spend more time at his own place, but Adam and Jessa's intensity drives him out of the apartment.
Director: Lena Dunham
Writer: Lena Dunham, Jenni Konner
Guest stars: Riz Ahmed
2
Hostage Situation
30 min | Feb 19, 2017

Hannah provides cover for Marnie's secret weekender to Poughkeepsie, which she hopes will help clarify an old chapter in her life. Shoshanna enlists Elijah to be her plus-one at a networking event for young professional women, where Jessa's antics lead Shosh to reevaluate her post-college friendships.
Director: Lena Dunham
Writer: Lena Dunham
3
American Bitch
30 min | Feb 26, 2017

Hannah has a tense tête-à-tête with Chuck Palmer – an acclaimed author she once greatly admired – about the disturbing allegations swirling around him.
Director: Richard Shepherd
Writer: Lena Dunham
Guest stars: Matthew Rhys
4
Painful Evacuation
30 min | Mar 05, 2017

Hannah interviews influential writer Ode Montgomery, who offers eye-opening advice on being a woman and a writer. When Adam storms off the set of his latest acting job, Jessa suggests they embark on a creative endeavor of their own. Ray considers the course of his life after a regular at the coffee shop dies suddenly. Marnie is confronted with her narcissism.
Director: Jesse Peretz
Writer: Lena Dunham, Jenni Konner
Guest stars: Patrick Wilson
5
Gummies
30 min | Mar 12, 2017

Adam and Jessa begin shooting scenes for their film, but she questions his creative direction. In town to visit Hannah, her mother, Loreen, has a hard time accepting the next phase of her life. Marnie does a less-than-stellar job of being there for a grieving Ray.
Director: Jesse Peretz
Writer: Sarah Heyward
6
Full Disclosure
30 min | Mar 19, 2017

Marnie tries to convince a resistant Desi to follow through with their planned gig at her mom's birthday party in New Jersey. After rebuffing Adam's request to watch his film, Hannah gets advice on an important decision from her dad and his new partner, Keith. Elijah's thespian talents are rekindled when he helps a coworker run lines for an audition.
Director: Jamie Babbit
Writer: Murray Miller
7
The Bounce
30 min | Mar 26, 2017

Elijah prepares for an open-call audition for a new Broadway musical, but is thrown off his game by an unexpected visitor. In need of cash, Marnie tries to pawn a family heirloom and gets a wakeup call from an unlikely source. Hannah reconnects with Paul-Louis.
Director: Richard Shepard
Writer: Murray Miller, Tami Sagher
8
What Will We Do This Time About Adam?
30 min | Apr 01, 2017

Adam comes to Hannah with surprising news. Jessa spends a day off on her own. Shoshanna slogs through helping Ray with his oral-history project, until a fortuitous run-in with Abigail, her old boss, infuses the venture with new energy.
Director: Jesse Peretz
Writer: Judd Apatow, Lena Dunham
9
Goodbye Tour
30 min | Apr 08, 2017

After an important meeting, Hannah reaches out to friends for advice, but has trouble reaching Marnie.
Director: Nisha Ganatra
Writer: Lena Dunham, Jenni Konner
10
Latching
30 min | Apr 15, 2017

Hannah embarks on a new chapter.
Director: Jenni Konner
Writer: Judd Apatow, Lena Dunham, Jenni Konner
11
A Goodbye To Girls
30 min
---
Editions
| Barcode | Format | Region | Released | Edition |
| --- | --- | --- | --- | --- |
| 883929594818 | | 1 | Jul 25, 2017 | |
| 5051892205917 | | | | |
| 5051889597469 | | | | |
| 7340112736552 | | | | |
| 9398700020178 | | | | |
| 883929594825 | | 1 | Jul 25, 2017 | |
| 5051892205962 | | | | |
---
---