Humans: Season 3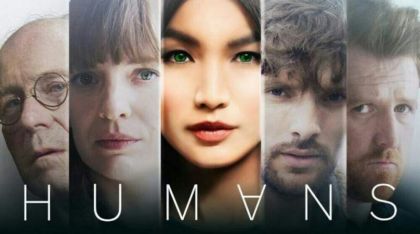 Dazzler Media (2015)
Drama, Science Fiction, Thriller
UK | English | Color | 6h 15min
In a parallel present day, where the latest must-have gadget for any busy family is a 'Synth' (a highly realistic humanoid servant that's transforming the way we live). In hopes of reducing their workload, a suburban family purchases a new Synth only to discover that sharing life with a Synth has quite far-reaching consequences.
---
---
Director
Jill Robertson
Richard Senior
Al Mackay
Ben A. Williams
Writers
Lars Lundström, Debbie O'Malley, Jonathan Brackley, Sam Vincent, Daisy Coulam

,

Namsi Khan, Melissa Iqbal, Jonathan Harbottle
Producers
Lorraine Goodman, Emma Kingsman-Lloyd, Derek Wax, Jonathan Brackley, Sam Vincent

,

Namsi Khan, Melissa Iqbal, Jonathan Harbottle, Vicki Delow
Photographers
Kieran McGuigan
---
1
Episode 1
45 min | Nov 01, 2017

One year after the dawn of consciousness, Max, Mia and Flash are living in a designated area known as the Railyard as they try to broker peace with the human world, while Laura fights for basic rights for Synths - but a job offer from an unexpected source could give her a platform to bring her message to a larger audience. Meanwhile, Niska is living with Astrid and passing herself off as a human and Mattie is reeling from the guilt of releasing the consciousness code upon the world.
Director: Jill Robertson
Writer: Jonathan Brackley, Sam Vincent
2
Episode 2
45 min | Nov 08, 2017

Continuing the sci-fi drama set in a parallel world where synthetic humanoids try to live side by side with real people. Following a police raid at the Railyard, a grieving Max must deal with the fallout of his life-or-death decision - and things only get more difficult for the leader when rebel Synth Agnes begins an anti-human campaign. Laura discovers a secret operation that could threaten Synth survival, Leo's recovery takes a surprising turn and Joe discovers Karen and Sam's secret - has their cover been blown?
Director: Jill Robertson
Writer: Jonathan Brackley, Sam Vincent
3
Episode 3
45 min | Nov 15, 2017

As Leo struggles to come to terms with being human, Mattie takes him back to the Hawkins' home, where a surprise night out allows them to confront their feelings for each other. Laura is determined to uncover the truth about the too-secret Operation Basswood and tries to enlist Dr Neil Sommer's help, only for things to take an unexpected turn. Joe reluctantly decides to help Karen with Sam, and Niska receives a mysterious message.
Director: Al Mackay
Writer: Debbie O'Malley
4
Episode 4
45 min | Nov 22, 2017

Laura leads a tense Dryden Commission on a visit to the Railyard, but will Agnes' anger threaten its success? Mia comes face to face with Ed forcing her to confront her past, while an evening out for Karen, Sam and Joe turns to tragedy.
Director: Al Mackay
Writer: Namsi Khan
5
Episode 5
45 min | Nov 29, 2017

While Sam reels from the events of Waltringham and Joe struggles to help him through it, truths are revealed and dangerous plans put into action at the Railyard.
Director: Ben A. Williams
Writer: Jonathan Harbottle
6
Episode 6
45 min | Dec 05, 2017

Stanley and Anatole's true colours put Laura and her family directly in harm's way. With Mia speaking at the commission, Laura must do everything in her power to stop an awful attack. Leo and Mattie return to the Elster house where Leo comes to understand a painful truth, but Mattie has a secret that could knock their fledging relationship off course. Niska continues her mysterious journey that takes her to Wales, where she must defy all her instincts to survive.
Director: Ben A. Williams
Writer: Daisy Coulam
7
Episode 7
45 min | Dec 12, 2017

Max must confront a friend turned foe. Laura reels from her heartbreaking decision, but when Mattie reveals her secret, she is spurred back into action. Niska's journey takes an unexpected turn, while Leo races to be by Max's side, but walks into danger.
Director: Richard Senior
Writer: Melissa Iqbal
8
Episode 8
45 min | Dec 19, 2017

In a dramatic showdown, Mia, Max and the synths go into battle with humans; Laura, Niska and Mattie face monumental and life-changing decisions.
Director: Richard Senior
Writer: Daisy Coulam
---
Editions
| Barcode | Format | Region | Released | Edition |
| --- | --- | --- | --- | --- |
| 054961267798 | | | | |
| 054961267699 | | 1 | Jan 29, 2019 | Uncut UK |
| 5060352305807 | | 2 | Sep 17, 2018 | |
---
---