Ice: Season 1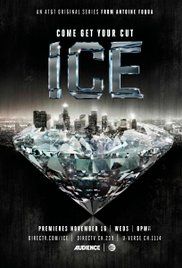 ---
AT&T (2016)
Crime
USA | English | Color | 1h
Each diamond has lived a life. Persevered. Suffered…Each one tells us a story, and that story, no matter how many times it's told, can outlive us all.
---
---
1
Hyenas
45 min | Nov 16, 2016
After a terrible accident, two brothers from a prestigious Los Angeles diamond family find themselves forced to work for a dangerous blood-diamond dealing crime boss.
Director: Antoine Fuqua
Writer: Robert Munic
2
Run You Bastards Run
45 min | Nov 23, 2016
In an attempt to get out from under Lady Rah, Jake plots a heist at the San Pedro docks with disastrous consequences.
Director: Ashley Way
Writer: Robert Munic
3
The Line
45 min | Nov 30, 2016
Lady Rah sends Jake and Freddy to get illegal diamonds certified and ready for sale, but things get complicated when Isaac gets involved.
Director: Norberto Barba
Writer: Holly Harold
4
Two Handkerchiefs
45 min | Dec 07, 2016
Jake and Freddy smuggle Lady Rah's diamonds into Vancouver, but things don't go as planned. Cam and Isaac butt heads over the direction Green & Green is taking. New evidence comes to light in the Avi Kreshman case.
Director: Ashley Way
Writer: Benjamin Daniel Lobato
5
Tears of the Gods
45 min | Dec 14, 2016
The Green family comes together for a funeral, which brings long simmering tensions to the surface. A mysterious diamond dealer with ties to Cam's past arrives in LA.
6
Facet
45 min | Dec 21, 2016
While Cam and Pieter scheme to gain control of Green & Green, Ava takes a bigger role in the family business against Jake's wishes. In the wake of his father's death Freddy takes steps to get clean. Carlos hits a dead end in his investigation.
7
Clarity
45 min | Dec 28, 2016
Freddy and Jake attend an underground diamond auction. Pieter and Cam meet with a Venezuelan diplomat about re-opening an abandoned mine. The U.S. Attorney's investigation into Pieter Van de Bruin causes problems in Ava's new relationship.
8
Side Trip
45 min | Jan 04, 2017
Jake and Lady Rah form an uneasy alliance against Pieter. Freddy and Ava work together to gain access to a Russian diamond syndicate. Cam's relationship with Sarah takes a turn for the worst.
9
The Cut
45 min | Feb 01, 2017
Jake and Cam are on opposite sides after Vincent's murder brings the conflict between Lady Rah and Pieter to head; and Freddy and Ava try to turn their fortunes around in Russia.
10
Stand Off
45 min | Feb 09, 2017
With Pieter holding Ava hostage, Jake and Freddy must come together to save her; the investigation into Pieter begins to close in on Green & Green; Cam strikes out on his own, making a deal with the cartel.
---
Editions
| Barcode | Format | Region | Released | Edition |
| --- | --- | --- | --- | --- |
| 741952837299 | | 1 | May 16, 2017 | |
---
---