Into the Badlands: Season 2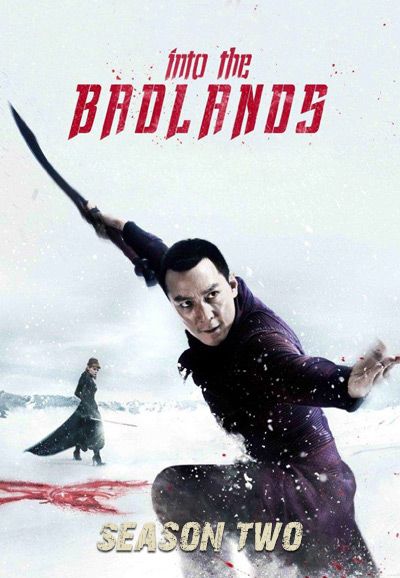 AMC Studios (2015)
Drama, Action
USA | English | Color | 7h 28min
A mighty warrior and a young boy search for enlightenment in a ruthless territory controlled by feudal barons.
---
---
Director
Stephen Fung
Toa Fraser
Nick Copus
Paco Cabezas
Writer
Alfred Gough, Miles Millar, Michael Taylor, LaToya Morgan, Daniel C. Connolly

,

Justin Britt-Gibson, Matt Lambert

Producer
Michael Shamberg, David Dobkin, Stephen Fung, Alfred Gough, Michael Taylor

,

Stacey Sher, James Flynn, Nick Copus, Daniel C. Connolly, Daniel Wu, Matt Lambert, Kari Hobson, Kimberly Boyd, Huen Chiu Ku, Mikey Eberle

Photography
Nigel Willoughby, Owen McPolin
Musician
Trevor Yuile
---
1
Tiger Pushes Mountain
45 min | Mar 19, 2017

Six months after the Season 1 finale, Sunny finds a new foe, as well as a new, unexpected ally, while MK learns about his gift in a mysterious place.
Director: Nick Copus
Writer: Alfred Gough, Miles Millar
2
Force of Eagle's Claw
45 min | Mar 26, 2017

Sunny and Bajie struggle to stay alive; the Widow consolidates her power in the face of challenges.
3
Red Sun, Silver Moon
45 min | Apr 01, 2017
Sunny and Bajie meet a dangerous foe who knows Sunny; the Widow prepares for a showdown; MK learns a secret.
4
Palm of the Iron Fox
45 min | Apr 08, 2017

The Widow's fight for power lands her in a showdown with her enemies, who have joined forces against her; an old threat resurfaces.
5
Monkey Leaps Through Mist
45 min | Apr 15, 2017

Sunny and Bajie get help from an unlikely source, for a price; the Widow considers a risk; MK enacts a dangerous plan.
6
Leopard Stalks in Snow
45 min | Apr 22, 2017

Sunny and Bajie meet a friend, but must also confront an enemy from their past; the Widow makes an unholy alliance.
7
Black Heart, White Mountain
45 min | Apr 29, 2017

Sunny confronts his inner demons, and his friends try to help; the Widow exacts revenge on her enemies.
8
Sting of the Scorpion's Tail
45 min | May 06, 2017

Sunny plays a game which causes his friends to question his loyalty; the Widow discovers the existence of a new weapon.
9
Nightingale Sings No More
45 min | May 13, 2017

Sunny relies on an unlikely person for help in defeating a foe; Bajie learns a shocking secret from his past.
10
Wolf's Breath, Dragon Fire
45 min | May 20, 2017

Sunny faces the toughest showdown of his life; Bajie's loyalties are tested to their limits.
---
Editions
| Barcode | Format | Region | Released | Edition |
| --- | --- | --- | --- | --- |
| 031398279815 | | A | Mar 13, 2018 | Blu-ray + Digital |
| 889854587994 | | | | |
| 889854587895 | | | | |
| 031398279808 | | 1 | Mar 13, 2018 | |
---
---