Keeping Faith
Keeping Faith: Season 1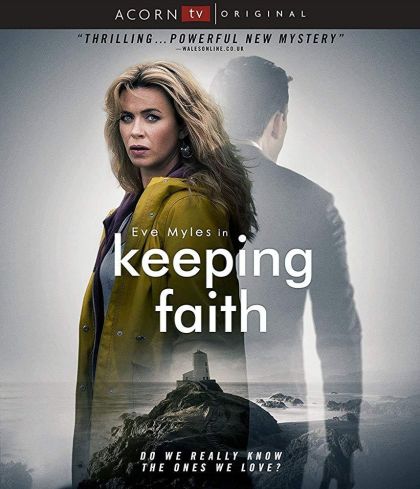 Acorn Media (2017)
Drama, Mystery
English | Color
Faith, a small-town Welsh lawyer, is forced to cut short her extended maternity leave when her husband and business partner, Evan, goes missing. As the truth of his actions surface, Faith must fight to protect her family and her sanity.
---
---
Director
Pip Broughton
Andy Newbery
Writer
Matthew Hall, Sian Naiomi, Anwen Huws
Producer
Adrian Bate, Pip Broughton, Maggie Russell, Gwawr Martha Lloyd, James Cabourne

,

Nora Ostler, Shane Murphy, Alec Spiteri

Photography
Rory Taylor, Steve Lawes, Bjørn Ståle Bratberg
Musician
Laurence Love Greed
---
1
Episode 1
50 min | Nov 05, 2017
Lawyer, wife and mother, Faith, is drawn into a mystery when her husband disappears.
Writer: Matthew Hall
2
Episode 2
50 min | Nov 12, 2017
Faith represents reformed criminal Steve Baldini. What does he know?
Director: Pip Broughton
Writer: Matthew Hall & Sian Naiomi
3
Episode 3
50 min | Nov 19, 2017
Faith finds a DNA test kit in Evan's office and uncovers a family secret.
Director: Pip Broughton
Writer: Matthew Hall
4
Episode 4
50 min | Nov 26, 2017
Fearing for her family's safety, Faith takes shelter in a hotel and meets with Steve, who tells her that Evan might have had links with a notorious family of drug dealers. As Faith looks into the lead, she is drawn deeper into Abercorran's sinister underbelly. Meanwhile, Bethan begins to feel the aftershocks of Marion's revelation. Dr Alpay proposes a deal to Cerys, and a disturbing discovery in the woods by Terry results in Williams building a case against Faith.
Director: Pip Broughton
Writer: Matthew Hall
5
Episode 5
50 min | Dec 03, 2017
Shaken by the break-in at her home, Faith buries herself in work and takes on the case of an elderly farmer who is caught in a dispute with a ruthless landowner. Meanwhile, Steve's growing closeness to Faith begins to attract suspicions from Terry. Arthur receives a mysterious package, Dr Alpay names a price for information about Evan, and Faith receives a disturbing visit from Gael Reardon.
Director: Andy Newberry
Writer: Matthew Hall
6
Episode 6
50 min | Dec 10, 2017
When Evan's car is found abandoned at the docks, Faith is dragged to the police station for an interrogation. When Steve attempts to help, he too finds himself caught in the firing line of the law. Meanwhile, an increasingly conflicted Tom uncovers terrible secrets about his son, Bethan's erratic behaviour puts a strain on her marriage to Terry, Faith prepares to do a secret deal with Dr Alpay, and DI Williams resorts to desperate tactics to break Faith.
Director: Andy Newberry
Writer: Matthew Hall
7
Episode 7
50 min | Dec 17, 2017
Following the crash, Williams resorts to dirty tricks to shift the blame onto Faith. Meanwhile, Terry looks into Dr Alpay's background and finds an ally in DCI Parry, Steve risks returning to his criminal past to help Faith, and Delyth makes a shocking discovery in Evan's will. Faith and Cerys push for a court hearing to get the children back, but Faith finds herself lost and alone within her community.
Writer: Matthew Hall
8
Episode 8
50 min | Dec 24, 2017
With Williams now out of the way, Faith fights for her children in a heated court battle that risks tearing the Howells family apart. As the clock ticks on Faith's debt, Steve makes a desperate and deadly pact with his former employers to secure her freedom. Tom and Marion must face tough truths, and Faith finally learns the truth behind Evan's disappearance.
Writer: Matthew Hall
---
Editions
| Barcode | Format | Region | Released | Edition |
| --- | --- | --- | --- | --- |
| 054961266999 | | 1 | Jul 10, 2018 | |
| 054961266890 | | 1 | Jul 10, 2018 | |
| 5036193034206 | | 2 | | |
---
---