Keeping Up Appearances
Keeping Up Appearances: The Full Bouquet Series 1-5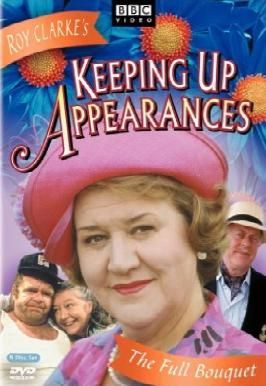 ---
BBC (1990)
Comedy
USA | English | Color | 22h 8min
Product Description
Own every episode of every series in this complete collection of Keeping Up Appearances.

The lady of the house, Hyacinth Buckett has turned being a snob into an art form. Unfortunately her surname – it's pronounced Bouquet, don't you know - and her family, don't help. Her long - suffering husband, Richard, keeps his head down and does his best to live with her domineering ways. But Hyacinth's a termined lady, with one mission in life - to impress.

So, come in and join them in the drawing room for a nice cup of Darjeeling - the bone china's ready and waiting. But whatever you do, don't brush up against the walls; she hates people brushing up against her walls...

From the Back Cover
This collection includes all episodes and all Christmas specials.

Subtitles for hearing impaired.
---
---
Director
Harold Snoad
Writer
Roy Clarke, Roy Clark
Producer
Harold Snoad
---
Editions
| Barcode | Format | Region | Released | Edition |
| --- | --- | --- | --- | --- |
| 794051202529 | | 1 | Sep 07, 2004 | Vols. 1-8 |
| 883929025411 | | 1 | Sep 09, 2008 | |
| 736899139421 | | 1 | Jun 30, 2015 | |
| 7321932008098 | | 2 | Nov 08, 2006 | |
| 5050582965513 | | 2 | Sep 23, 1990 | |
| 5050582517132 | | 2 | Oct 08, 2007 | |
| 7391970038647 | | 2 | 2011 | |
| 9397810104792 | | | 1990 | |
| 5412012164499 | | | 1990 | |
| 6430029464059 | | | | |
| 9397810223097 | | | | |
---
---