Knightfall: Season 1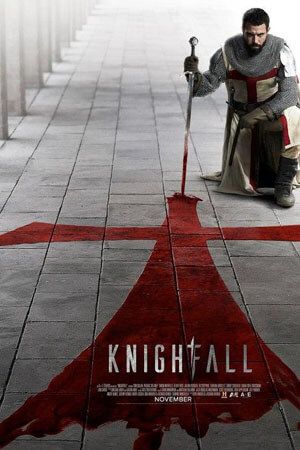 A+E Studios (2017)
Drama, Adventure, Action
USA | English | Color | 1h
The Knights Templar were the most powerful, wealthy and mysterious military order of the Middle Ages, entrusted with protecting Christianity's most prized relic—the Holy Grail—and harboring secrets capable of great destruction.

KNIGHTFALL goes deep into the clandestine world of this legendary brotherhood of warrior monks. From their battles in the Holy Land, to their complex relationship with the King of France, to the betrayal that would ultimately lead to their tragic dissolution, the story of the Knights Templar has never been fully told until now.
---
---
Director
Metin Hüseyin
David Petrarca
Douglas Mackinnon
Writer
David Elliot, Richard Rayner, Dominic Minghella, Vincent Angell, Sonny Postiglione

,

Don Handfield, Jason Grote, Sharon Hoffman, Vivian Tse

Producer
Gideon Amir, Scott Rosenberg, Jeff Pinkner, Richard Rayner, Josh Appelbaum

,

David Minkowski, Douglas Mackinnon, Matthew Stillman, André Nemec, Dominic Minghella, Alex Shevchenko, Don Handfield, Michael Wray, Philip G. Flores, Marketa Duchkova

Photography
Chris Manley
Musician
Andy Price
---
1
You'd Know What to Do
45 min | Dec 06, 2017
Kortes finds out about his wife murder
2
Find Us The Grail
45 min | Dec 13, 2017
3
The Black Wolf and The White Wolf
45 min | Dec 20, 2017
4
He Who Discovers His Own Self, Discovers God
45 min | Dec 27, 2017
5
Hard Blows Will Banish The Sin
45 min | Jan 03, 2018
6
The Pilgrimage of Chains
45 min | Jan 10, 2018
7
And Certainly Not The Cripple
45 min | Jan 17, 2018
8
IV
45 min | Jan 24, 2018
9
Fiat!
45 min | Jan 31, 2018
10
Do You See The Blue?
45 min | Feb 07, 2018
---
Editions
| Barcode | Format | Region | Released | Edition |
| --- | --- | --- | --- | --- |
| 031398283638 | | 1 | Mar 13, 2018 | |
| 9318500078575 | | | | |
| 9318500078728 | | | | |
| 031398283621 | | 1 | Mar 13, 2018 | |
| 5055761912753 | | | | |
| 031398311270 | | | | |
---
---