LEGO Nexo Knights: Season 3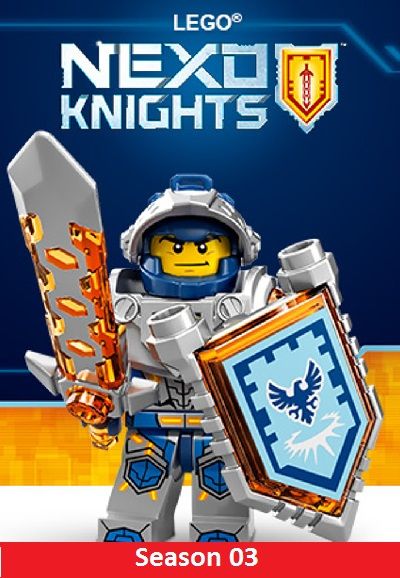 ---
---
Plot
The adventure takes place in the futuristic Kingdom of Knighton. It focuses on the Nexo Knights as they journey to defeat Jestro the evil jester, the Book of Monsters, and their lava monster army. Clay leads the Nexo Knights, which include Macy, Lance, Aaron, and Axl. Together, under their mentor Merlok 2.0, they band together to defeat Jestro.
Episodes
Episode 1: The Cloud
30 min Dec 20, 2016

The kingdom is threatened by an army of Lava Monsters, and the inexperienced NEXO Knights must come to the rescue.
Episode 2: A Little Rusty
30 min Dec 30, 2016

The Cloud of Monstrox and Jestro unlock a mysterious forbidden power; Merlok 2.0 and the Nexo Knights try to make the new Combo Nexo Powers work.
Episode 3: Mount Thunderstrox
30 min Jan 01, 2017

Jestro and the Cloud of Monstrox encounter the sculptor who helps unleash a horde of fierce garden gnomes on Knighton.
Episode 4: Rotten Luck
30 min Jan 01, 2017

Jestro and the Cloud of Monstrox unleashes the Forbidden Power Ravaging Rot on Knighton, turning everything into green gooey rot, but Robin has an awesome new invention that could help the Nexo Knights.
Episode 5: Storm Over Rock Wood
30 min Mar 04, 2017

The Nexo Knights have their powerful shields stolen by Robot Hoodlum and his Merry Mechs; something is coming to life in the petrified forest and it doesn't like knights.
Episode 6: Miner Setback
30 min Mar 11, 2017

Villagers are being enslaved to dig out three ancient warriors whom the Cloud of Monstrox wants to bring back to life.
Episode 7: Knight at the Museum
30 min Mar 18, 2017

At K.O.M.A. (Knightonia Official Museum of Art) Monstrox learns that a Forbidden Power tablet is hidden and he will do anything to get it, especially if King Halbert happens to visit at the same time.
Episode 8: Hot Rock Massage
30 min Mar 25, 2017

The old Lava Monsters are back and a Forbidden Power is in the middle of their new village.
Episode 9: Rock Bottom
30 min Apr 01, 2017

The three Harpies have kidnapped Macy's mother Queen Halbert, and the Nexo Knights use everything in their power to rescue her.
Episode 10: In Charge
30 min Apr 08, 2017

The Cloud of Monstrox grows more powerful with every Forbidden Power Jestro inserts; the capitol of Knighton is under attack; the Fortrex is damaged and Clay is turned to stone.
---
Editions
| Barcode | Format | Region | Release | Edition |
| --- | --- | --- | --- | --- |
| 883929597437 | DVD | 1 | 2017-07-18 | |
---