LEGO NinjaGo: Masters Of Spinjitzu: Season 6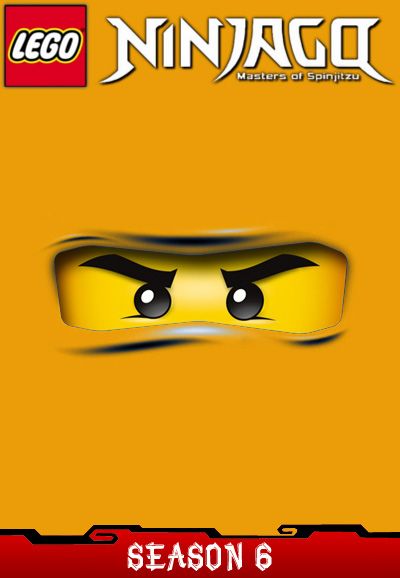 ---
---
Plot
Long before time had a name, Ninjago was created by the First Spinjitzu Master by using the Four Elemental Weapons of Spinjitzu; weapons so powerful, no one can handle all of their power at once. When he passed away, his two sons swore to protect them, but the oldest, Lord Garmadon, was consumed by darkness and wanted to possess them all. A battle between brothers broke out and Lord Garmadon was struck down and banished to the Underworld. Peace returned to Ninjago as the younger brother, Sensei Wu, hid the elemental weapons in the far corners of Ninjago.
Episodes
Episode 1: Infamous
30 min Jan 02, 2016

With Morro and the Preeminent defeated, the ninja become the front page of every magazine in Ninjago City. Nya tries to prove she's just as good as the boys, but when an evil spirit is released from a mystic teapot, the ninja must turn away from their life of fame to face their new enemy.
Episode 2: Public Enemy Number One
30 min Jan 03, 2016

On the run from the police, the ninja are pursued by their former ally, Ronin. Nadakhan seeks the realm crystal to traverse the realms and retrieve his crew.
Episode 3: Enkrypted
30 min Jan 10, 2016

Locked in Kryptarium Prison for crimes they didn't commit, the ninja are helped by their old enemy, Captain Soto. Nadakhan and his crew of Sky Pirates begin to repair their ship, Misfortune's Keep.
Episode 4: Misfortune Rising
30 min Jan 16, 2016

The Ninja are on a collision course; to find the map to stop Nadakhan, they first must find him. Meanwhile, Jay makes a wish to change his future, but it could alter his past indefinitely.
Episode 5: On a Wish and a Prayer
30 min Jan 17, 2016

The Ninja set course to a dangerous island to find the only thing that can stop Nadakhan. Meanwhile, the Sky Pirates learn about the master plan, and a deep secret of the Ninja is exposed.
Episode 6: My Dinner with Nadakhan
30 min Jan 17, 2016

Held captive on Misfortune's Keep, Jay is tested as Azad does everything in his power to break his will to say his final wish. Meanwhile, the marooned Ninja attempt to escape the island.
Episode 7: Wishmasters
30 min Jan 17, 2016

The last remaining Ninja dare to infiltrate the Sky Pirates in an attempt to save Jay and defeat Nadakhan once and for all.
Episode 8: The Last Resort
30 min Jul 14, 2016

When the last two remaining Ninja are safe-guarded in a place no one would dare to look, the Sky Pirates discover their whereabouts and attack in search of the one who holds the power to unlock Azad's full potential.
Episode 9: Operation Land Ho!
30 min Jul 15, 2016

The last remaining ninja gets help from old allies to help him stop Nadakhan's ceremonial wedding from taking place.
Episode 10: The Way Back
30 min Jul 15, 2016

When Nadakhan acquires infinite wishes, Jay only has one.
---
Editions
| Barcode | Format | Region | Release | Edition |
| --- | --- | --- | --- | --- |
| 883929567256 | DVD | 1 | 2017-03-14 | |
| 888751757295 | DVD | 2 | | |
| 888751757394 | DVD | 2 | | |
---