Long Riders!
Long Riders!: Season 1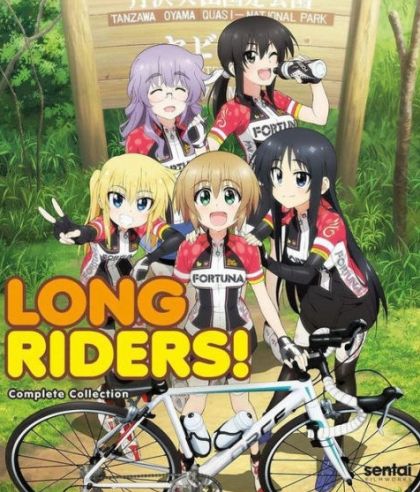 2016
Animation, Comedy, Anime, Sports
English | Color
Ami Kurata, a first-year university student who has no athletic ability, suddenly falls in love with a folding bicycle after seeing it in front of a train station. Inspired by her newfound love, she starts saving up to buy a bicycle and to learn cycling.

---
---
1
A Small Miracle
25 min | Oct 07, 2016
Upon entering college with her friend Aoi Niigaki, Ami Kurata takes an interest in cycling after seeing someone ride a folding bicycle. After visiting a few cycle shops and spotting several expensive bicycles, Ami eventually manages to find one within her price range, buying it straight away.
Director: Tatsuya Yoshihara
Writer: Natsuko Takahashi
2
Cycling on the Beach
25 min | Oct 14, 2016

Over the weekend, Hinako and Yayoi invite Ami and Aoi to Miura for a ride along the coastline.
3
A New World
25 min | Oct 28, 2016

The girls set off for Yabitsu Pass, which is more challenging than the hills Ami has previously faced.
4
A Secret Part-time Job
25 min | Nov 05, 2016

Taking an interest in owning a road bike, Ami spots one on sale and puts down a deposit for it, only to discover that the pedals and other accessories are sold separately.
5
A Changing World
25 min | Nov 19, 2016

Ami finally picks up her road bike, instantly coming to enjoy the feel of riding it.
6
Fortuna
25 min | Nov 26, 2016
Wanting to prove that she has gotten better at cycling, Ami requests to once again try riding Yabitsu Pass with the others.
7
The Team Bond
25 min | Dec 03, 2016

As Ami gives her bikes a wash, Aoi suggests that she get her road bike checked in for maintenance.
8
An Expanding World
25 min | Dec 10, 2016

To prepare Ami for the Azumi Autumn Ride, the girls take her on a 100km course to gain experience.
9
The Azumi Autumn Ride! Part 1
25 min | Dec 17, 2016

The moment the event begins, Ami ends up seperated from the rest of her team after the staff enforces a gap between them.
10
The Azumi Autumn Ride! Part 2
25 min | Dec 24, 2016

The girls begin their rush back down the course, using a slipstream technique to allow everyone to move at higher speeds.
11
The Moment the City Starts to Move
25 min | Feb 04, 2017
Yayoi proposes that everyone go on a stargazing night ride to help Ami prepare for taking on a fléche, hiding the fact that she'd be riding all night for 100km.
12
Long Riders!
25 min | Feb 04, 2017

Ami and the other girls go on a two-day cycling trip to Shimamami Kaidō.
---
Editions
| Barcode | Format | Region | Released | Edition |
| --- | --- | --- | --- | --- |
| 816726029610 | | 1 | Jul 17, 2018 | |
---
---