Lou Grant
Lou Grant: Season 5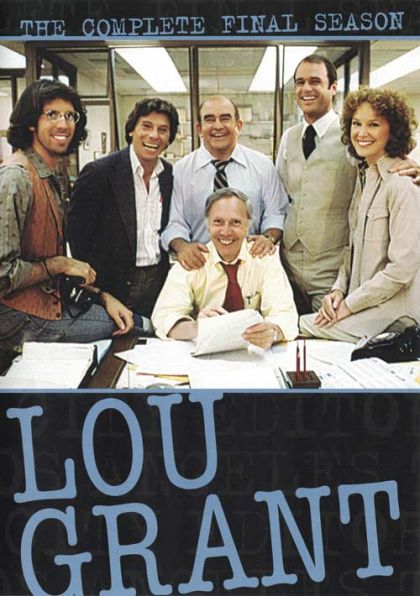 Shout! Factory (1981)
Drama
USA | English | Color | 19h 15min
Lou Grant was a spinoff from "The Mary Tyler Moore Show" and premiered on CBS in September 1977. The series was a radical departure from its predecessor as it was a drama. It was the first successful one-hour show from MTM Enterprises. As the series began, Lou Grant had just been fired from his job at WJM-TV, and had moved to Los Angeles to work for a newspaper.
---
---
1
Wedding
60 min | Nov 02, 1981
Billie gets a marriage proposal from Baseball scout Ted McCovney. Lou meets up with his youngest daughter Janie, who feels he's always neglected her for work.
Director: Alexander Singer
Writer: Seth Freeman
Guest stars: Cliff Potts, Parley Baer, Barbara Dirickson, Arthur Rosenberg, Michael Griswold
2
Execution
60 min | Nov 09, 1981
Kitty Larsen, a young woman on death row picks Rossi to tell her story. Although hesitant at first, he soon begins to like her. But Lou has personal feelings against her because she killed a reporter from the Trib'.
Director: Burt Brinkerhoff
Writer: April Smith
Guest stars: Terri Nunn, Christopher Cazenove, George Wyner, Mariclare Costello, Sharon Spelman
3
Reckless
60 min | Nov 16, 1981
Lou is arrested for driving under the influence. His sentence includes attending a group meeting which culminates in a drunk driving test. Charlie sets up a 'Private Eye' hot-line at the Tribune for people to phone in crimes. Rossi is asked to write a success story about the initiative even though he is very skeptical about it's accuracy.
Director: Alexander Singer
Writer: Steve Kline
Guest stars: Michael McGuire, William Schilling, Michael Tucci, Chip Lucia, Milt Kogan
4
Hometown
60 min | Nov 23, 1981
When Lou goes back to his elderly home to settle his aunt's estate, he meets an old flame and gets his first story assignment in years from Charlie.
Director: Gene Reynolds
Writer: Michele Gallery
Guest stars: Robert Prosky, Georgann Johnson, Kenneth Kimmins, Anthony Costello, Sandy Ward, Thom Bray, Thom Bray
5
Risk
60 min | Nov 30, 1981
Sharon McNeil gets a story about child pornography by promising not to reveal the names of her source. A promise her superiors at the Trib' and the L.A. police department soon want her to break. Art goes out on a helicopter jump with some volunteer rescuers and young reporter Lance has big dreams involving dating Billie and becoming the first newsman in space.
Director: Allen Williams
Writer: Seth Freeman
Guest stars: Lynne Moody, J. Jay Saunders, Michael Alldredge, Kario Salem, Sandy Martin
6
Doublecross
60 min | Dec 07, 1981
Billie suspects the gold cross found in a time capsule has been switched for a fake. Her investigations unearth the reasons behind an old family feud between the extremely rich side and the less rich side of the Matheson family.
Director: Roger Young
Writer: Michele Gallery
Guest stars: Lin McCarthy, Nigel Bullard, Barbara Cason, Peter Fox, Roger Kern
7
Drifters
60 min | Dec 14, 1981
Charlie's nephew Scott comes to stay with him, and turns out to have a mental condition. But the young man refuses to take his medication. The staff is busy tracking an escaped zoo bear called Ziggy.
Director: Peter Levin
Writer: Bud Freeman
Guest stars: W.K. Stratton, Tom Atkins, Conchata Ferrell, James Callahan
8
Friends
60 min | Dec 28, 1981
When his lawyer friend Burton Cary becomes a political candidate, Rossi finds learns he's not as clean-cut as he thought. Meanwhile the entire staff becomes a bit suspicious of Art after an argument with Jerry Hollister leads to the latter suing Art as well as the Tribune.
Director: Seth Freeman
Writer: Seth Freeman
Guest stars: Larry Breeding, Dick Anthony Williams, Logan Ramsey, Paul Kent, Murphy Dunne, Jill Jaress
9
Jazz
60 min | Jan 04, 1982
Rossi runs into a bass player that used to be in the famous Sonny Goodwin Quartet and sets about reuniting the four of them. Tribute reporters Crosley and Banks split up when Banks retires and Crosley soon falls behind on his assignment. This leads Lou to team him up with Billie.
Director: Burt Brinkerhoff
Writer: Rogers Turrentine
Guest stars: Todd Susman, Richard Erdman, Joe Williams, Med Flory, Louis Bellson
10
Ghosts
60 min | Jan 11, 1982
Billie investigates the death of a woman in a house that is said to be haunted. This leads her to attend a séance and search out the owners of a Ouija board.
Director: Roger Young
Writer: April Smith
Guest stars: Jacqueline Brooks, Milton Selzer, Penelope Windust, Lionel Smith, Peter Maloney
11
Cameras
60 min | Jan 25, 1982
A stick-up at a Mr. Ginty's fast-food restaurant turns into a hostage situation with a group of birthday party kids. The possible trauma caused by this becomes a big part of the subsequent trial. Billie thinks one mother in particular is telling her son how to react and feel, but when she writes it down Lou finds her story too soft and rewrites it.
Director: Peter Levin
Writer: David Lloyd
Guest stars: Marcia Rodd, Jack Collins, Robin Rose, Kenneth Tigar, Corinne Camacho
12
Review
60 min | Feb 08, 1982
Charlie becomes a member of a news council and finds one member who seems to have a grudge against him and the Tribune. Mrs. Pynchon asks Billie to help her write an autobiographical piece but refuses to talk about one important subject: her taking over from her late husbands at the newspaper.
Director: Nell Cox
Writer: Jeffrey Lane
Guest stars: Margaret Hamilton, Karen Carlson, Diana Douglas, Don Plumley, Yolanda Marquez
13
Immigrants
60 min | Feb 15, 1982
The Tribune hires an old acquaintance of Animal's from 'Nam: photographer Lee Van Tam. But Tam's domestic troubles interfere with his work. Lou tries to get out of meeting visiting relatives.
Director: Alexander Singer
Writer: Steve Kline
Guest stars: Raleigh Bond, John Carter, Kieu-Chinh, Doan Chau Mau, J.D. Hall
14
Hunger
60 min | Mar 01, 1982
Rossi makes a bet with that he can get a story from anyone on the street. And the person he chooses is a woman who goes through the garbage who gets used by still viable food. He learns that she's a nun who runs a soup kitchen and feeds indigents. But he shifts the focus of the story to how people in a Third World country are starving which doesn't make the editors happy. And Mrs. Pynchon is instructing the staff to be less wasteful which makes them crazy.
Director: Peter Levin
Writer: Gene Reynolds
Guest stars: Uta Hagen, Tonyo Melendez, Ivan Bonar, Alan Haufrect, Stanley Grover
15
Recovery
60 min | Mar 08, 1982
Rossi pursues a story about land claims by Japanese-Americans who sold cheaply prior to their forced internment during World War II, but Lou and Charlie try to stop him from following through with a key source. Billie traces a scam to a politician.
Director: Roger Young
Writer: Michele Gallery
Guest stars: Clint Howard, Pat Morita, Lee McDonald, Arthur Taxier, Clyde Kusatsu
16
Obituary
60 min | Mar 22, 1982
At the last minute, Billie is pulled from a plane that crashes. She writes the obituaries of four Tribune staffers killed. Animal has to face the dilemma of reporting the impending extinction of a moth without tipping bug collectors to its location.
Director: Paul Stanley
Writer: April Smith
Guest stars: Michael Bond, Simon Oakland, Barney Phillips, Rae Allen, Peter Michael Goetz
17
Blacklist
60 min | Apr 04, 1982
When one of the paper reporters' father comes to town to perform. It seems he was a folk singer in the 50's and he was blacklisted during the Communists Witch Hunts. They learn that one of the paper's reporters may have been involved with his blacklist.
Director: Burt Brinkerhoff
Writer: Seth Freeman
Guest stars: Freddye Chapman, William Schallert, Graham Brown, Jeff Corey, Rick Lenz
18
Law
60 min | Apr 11, 1982
The proliferation of litigation on various fronts is pursued: Billie's story on a political recall movement leads to people she named in her story being sued by the target of the recall; Lou hires Animal's brother to represent him in legal action against a crooked plumber; meanwhile, the Tribune considers switching law firms.
Director: Burt Brinkerhoff
Writer: Steve Kline
Guest stars: Charles Cioffi, Harold J. Stone, Charles Hallahan, Mary Louise Wilson, Bartlett Robinson, Sally Kirkland
19
Fireworks
60 min | Apr 18, 1982
Billie covers a story about a fireworks bill from the Tribune's Sacramento bureau where she encounters her ex-husband, who is now an aggressive lobbyist on behalf of the fireworks industry. Meanwhile, Lou raises ethical questions about the sponsor of an award for which the Tribune is nominated.
Director: Jeff Bleckner
Writer: Michele Gallery
Guest stars: Vincent Baggetta, Parley Baer, Sandy McPeak, Emilio Delgado
20
Unthinkable
60 min | May 02, 1982
As the Tribune covers the fate of a girl being treated in a burn unit, the possibility arises that a confrontation in the Middle East will lead to a nuclear war between the U.S. and the Soviet Union, and the burn unit is mobilized.
Director: Allen Williams
Writer: April Smith
Guest stars: Lane Smith, Bonnie Bartlett, Warren J. Kemmerling, Dean Santoro
21
Suspect
60 min | May 16, 1982
A rookie reporter gets in over his head when covering the death of an environmental agitator that might not have been accidental; meanwhile, Lou dates an unfaithful woman.
Director: Alan Cooke
Writer: Seth Freeman
Guest stars: Lance Guest, Dixie Carter, Ren Woods, Christina Pickles, Roxanne Reese
22
Beachhead
60 min | May 23, 1982
The Tribune is blamed for inflaming rivalries between surfer gangs. Billie and Ted differ on the place of a group home in their neighborhood.
Director: Roy Campanella II
Writer: Gene Reynolds
Guest stars: Cliff Potts, Michael Constantine, Robert Pierce, Bill Ostrander, William Traylor
23
Victims
60 min | Aug 29, 1982
Lou is shot in an armed robbery in a parking lot, and the robber is soon killed by a police officer who has trouble dealing with his actions.
Director: Peter Bogar
Writer: Steve Kline
Guest stars: Steve Marachuk, Bruce Kirby, Barry Primus, James Gallery, Lincoln Kirkpatrick
24
Charlie
60 min | Sep 12, 1982
A bad day for Charlie involves firing misfits and dealing with static from reporters over their assignments; meanwhile, Donovan suspects his girlfriend is pregnant.
Director: Seth Freeman
Writer: Michele Gallery
Guest stars: Macon McCalman, Freddye Chapman, Joanna Cassidy, Betty Kennedy
---
Editions
| Barcode | Format | Region | Released | Edition |
| --- | --- | --- | --- | --- |
| 826663175424 | | 1 | Mar 20, 2018 | |
---
---