McCloud
McCloud: Season 1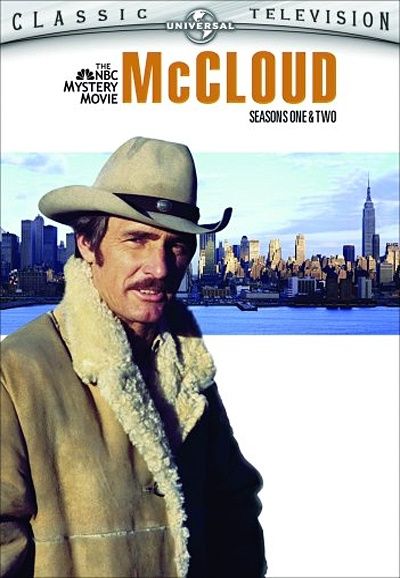 ---
1970
Drama, Crime, Action
English | Color
A "fish-out-of-water" cop show about a New Mexico lawman assigned to a Manhattan precinct. There's a healthy dose of matchstick-chewing and down-home phrases, but McCloud is one sharp country slicker who teaches his city counterparts a thing or two about nailing bad guys.
---
---
1
Portrait of a Dead Girl (aka Who Killed Miss U.S.A.?)
120 min | Feb 16, 1970

McCloud escorts a witness from New Mexico to New York City, but loses him to kidnappers and finds himself in a murder case involving Puerto Rican nationalists, a lady novelist, a Wall Street lawyer, and a dead beauty pageant winner.
Director: Richard A. Colla
Writer: Richard Levinson, William Link, Stanford Whitmore
Guest stars: Craig Stevens, Peter Mark Richman, Diana Muldaur, Mario Alcalde, Raul Julia, Shelly Novack, Julie Newmar, Michael Bow, Nefti Millet, Kathy Stritch, Albert Popwell, Ira Cook, Gregory Sierra, Tony Dante, Victor Bozeman, Bill Baldwin, Ron Henriquez, Lee Pulford
2
Who Says You Can't Make Friends in New York City?
120 min | Sep 15, 1970
McCloud goes to help a lady in distress, but gets caught in a shootout that sends him back to Taos on Chief Clifford's orders. At the last minute, the Chief is kidnapped to force McCloud to act as a courier to Paris.
Director: Russ Mayberry, Douglas Heyes
Writer: Leslie Stevens, Matthew Howard
Guest stars: Carl Betz, Marj Dusay, Susan Strasberg, Diana Muldaur, Ralph Story, Barbara Davis, Charles H. Gray, Tony Ballen, Jerry Crews, Ray Ballard, Hollis Morrison, Patti Heider, Randolph Mantooth, Michael Carr, Jacqueline Voltaire, Mark Russell
3
Horse Stealing on Fifth Avenue
120 min | Sep 22, 1970
McCloud is becoming famous thanks to press coverage. It doesn't endear him to the boys in blue, who have to deal with a string of drugstore holdups.
Director: Bruce Kessler
Writer: Glen A. Larson
Guest stars: Diana Muldaur, Lorraine Gary, Leo Gordon, Angus Duncan, William Bryant, William Wintersole, Jeff Burton, Bill Baldwin, Howard Curtis, Ric Mancini, Tony Ballen
4
The Concrete Corral
120 min | Sep 29, 1970

McCloud is assigned to shepherd the cowboys at a visiting rodeo. They're old friends, and one of them is killed by a jealous rival over a woman, it appears.
Director: Nicholas Colasanto
Writer: Warren Douglas, David P. Harmon
Guest stars: Nancy Malone, Albert Salmi, Joanna Moore, Burr DeBenning, James Wainwright, Bill McKinney, T.J. Castronova, Dennis Fimple
5
The Stage is All the World
120 min | Oct 06, 1970

McCloud, whose new-found celebrity (thanks to an article by Chris Coughlin in the Chronicle) vexes the Department, is assigned to protect a British theatrical maven who has received letters assailing his ""filthy, obscene"" productions and threatening his life.
Director: Russ Mayberry
Writer: Norman Hudis
Guest stars: Richard Dawson, Tina Sinatra, Richard Van Vleet, Albert Popwell, Murray Matheson
6
Walk in the Dark
120 min | Oct 13, 1970
McCloud complains about his assignment to rodeo detail, so Chief Clifford sends him to Special Auxiliary Force VI under the command of Sgt. Dameron, where he works to catch a murderer in Central Park.
Director: Russ Mayberry
Writer: Leslie Stevens
Guest stars: Susan Saint James, Ann Prentiss, Nancy Malone, Nina Foch, Stewart Bradley, Bart Burns, Louis Massad, Carol Locatell, Billy Beck, Barbara Gates, Ken Scott
7
Our Man in Paris
120 min | Oct 20, 1970
In Paris, McCloud and a stewardess try to locate a mysterious arms smuggler with ties to an American mogul and a New York gubernatorial candidate.
Director: Russ Mayberry
Writer: Matthew Howard
Guest stars: Marcel Hillaire, Susan Strasberg, Alfred Ryder, Bill Fletcher, Ken Scott, Len Wayland, Maurice Marsac, Lilyan Chauvin, Gail Peters, Guy De Vestel, Rico Cattani, Alex Rodine, Otis Greene, John Van Dreelen
---
Editions
| Barcode | Format | Region | Released | Edition |
| --- | --- | --- | --- | --- |
| 191329016497 | | 1 | Jun 13, 2017 | |
| 5709165271922 | | 2 | Mar 29, 2010 | |
| 9322225081208 | | | | |
---
---