MST3K: Play MSTie For Me Triple Decker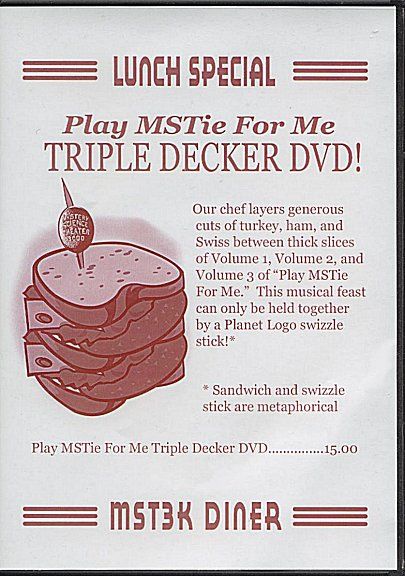 ---
USA | English | Color | 1h 30min
Vaudeville. Broadway. MST3K.
In the long tradition of show-stopping musical numbers, few have achieved as much as Mystery Science Theater 3000 has. From the golden age rock 'n' roll classic "Where Oh Werewolf" to the seasonal staple"A Patrick Swayze Christmas," Joel, Mike, Crow and Tom Servo have proven as formidable a musical force as many of the most esteemed all-human composing teams.
Now, after years of out-of-print obscurity, the Play MSTie For Me Triple Decker DVD gathers 39 of the finest MST3K musical moments into one eminently singable package sure to bring joy to the Mystery Science Theater 3000 melodic connoisseur.
Sing with Gamera. Profess your undying love for Kim Cattrall. Abandon all sense of proportion while skewering Canada. Above all, clear a small space on your shelf for this disc and enjoy watching the Satellite of Love crew sing — and laugh — their pain away.
---
Editions
| Barcode | Format | Region | Released | Edition |
| --- | --- | --- | --- | --- |
| 826663175233 | | 1 | Feb 25, 2017 | |
---
---