Murdoch Mysteries
Murdoch Mysteries: Season 10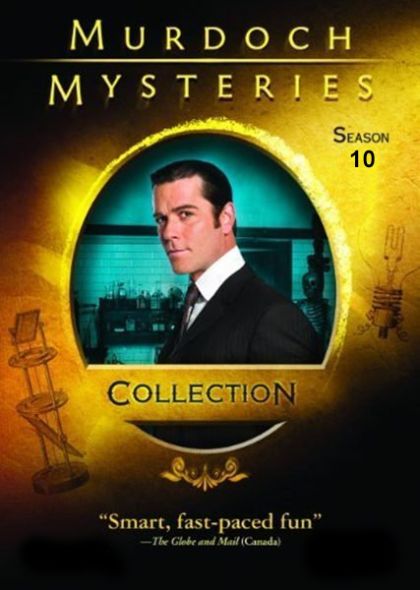 ---
ITV Studios (2008)
Drama, Suspense, Crime
UK | English | Color | 18h
A Victorian-era Toronto detective uses then-cutting edge forensic techniques to solve crimes, with the assistance of a female coroner who is also struggling for recognition in the face of tradition, based on the books by Maureen Jennings.
---
---
Director
Don McCutcheon
Writer
Cal Coons
Producer
Stephen Montgomery
Photography
Jim Jeffrey
Musician
Robert Carli
---
1
Great Balls of Fire (1)
60 min | Oct 09, 2016

A debutante is murdered. Murdoch suspects rivals for a bachelor's affections.
Director: Gary Harvey
2
Great Balls of Fire (2)
60 min | Oct 16, 2016

A massive fire complicates a double homicide investigation.
Director: Gary Harvey
3
A Study in Pink
60 min | Oct 23, 2016

Murdoch turns to his latest invention when his friend may be implicated in a murder.
Director: Norma Baileyová
4
Concocting a Killer
60 min | Oct 31, 2016

Murdoch and Ogden are faced with the possibility that they sent an innocent man to prison when a murder case is reopened.
5
Jagged Little Pill
60 min | Nov 07, 2016

Murdoch and Ogden investigate the poisoning of a businessman; Rebecca is suspicious of a student's suicide.
Director: Harvey Crossland
6
Bend It Like Brackenreid
60 min | Nov 14, 2016

While Murdoch investigates a football player's death, Brackenreid gets caught up in the team's Olympic quest.
Director: Cal Coons
7
Painted Ladies
60 min | Nov 21, 2016

Murdoch believes there is a connection between the murders of men found with lipstick on their faces and a dancer.
8
Weekend at Murdoch's
60 min | Nov 28, 2016

Murdoch and Crabtree pretend that a witness is still alive in order to catch a killer.
9
Excitable Chap
60 min | Dec 05, 2016

Murdoch tries to capture a costumed criminal, who has begun to murder.
10
The Devil Inside
60 min | Jan 09, 2017

A killer claims he's possessed by the devil.
11
A Murdog Mystery
60 min | Jan 16, 2017

Murdoch discovers his passion for canines while investigating the death of a championship show dog.
12
The Missing
60 min | Jan 23, 2017

A man claims to be the wealthy heir of a child who was kidnapped twenty years ago.
13
Mr. Murdoch's Neighbourhood
60 min | Feb 06, 2017

Murdoch and Ogden study human decomposition and find more than they can imagine.
14
From Murdoch to Eternity
60 min | Feb 13, 2017

Murdoch creates a tonic which restores youth but Crabtree is worried about his pursuit of a partnership.
15
Hades Hath No Fury
60 min | Feb 20, 2017

An explosion leads Murdoch to a covert community.
16
Master Lovecraft
60 min | Feb 27, 2017

Murdoch investigates a group of death-obsessed teens after the body of a young girl is found.
17
Hot Wheels of Thunder
60 min | Mar 13, 2017

Murdoch enters the world of competitive roller-skating to investigate a death.
18
Hell to Pay
60 min | Mar 20, 2017

The team gets caught up in a conspiracy and is in danger when a dancer asks Murdoch for help.
---
Editions
| Barcode | Format | Region | Released | Edition |
| --- | --- | --- | --- | --- |
| 054961257690 | | 1 | Aug 15, 2017 | |
| 9398700013095 | | | | |
| 054961256990 | | 1 | Aug 15, 2017 | |
| 5060352303766 | | 2 | May 15, 2017 | |
---
---