No Offence: Season 3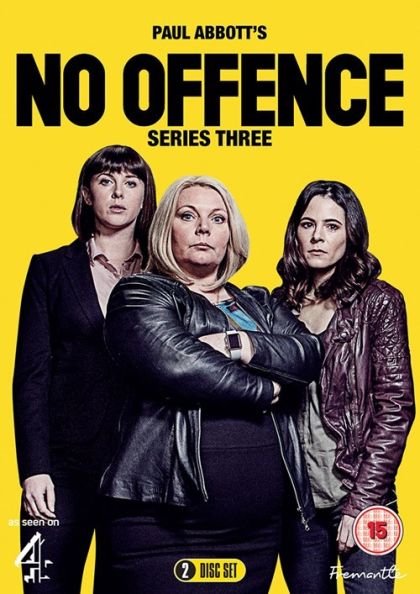 Channel 4 (2015)
Comedy, Drama
UK | English | Color
No Offence follows the tough but big-hearted bobbies who go above and beyond to bring down the criminal rabble in a crumbling cop-shop. Keeping these streets clean is a Herculean task, enough to demoralize even the keenest rookie - but there's a reason why this hotchpotch of committed cops are on this force, on this side of town.

Drug labs, arsonists, neo-Nazis and notorious murderers are all in a day's work for this close-knit team, led by the dizzyingly capable but unquestionably unhinged DI Vivienne Deering. Flanked by her right-hand women - the compassionate but impulsive DC Dinah Kowalska and DS Joy Freers - Deering and her team must crack this case by whatever unconventional means possible.
---
---
Director
Catherine Morshead
Writer
Paul Abbott
Producer
Paul Abbott
Photography
David Marsh
Musician
Vince Pope
---
1
Episode 1
45 min | Sep 12, 2018

A contentious mayoral election is being fought between incumbent liberal Kashif Hassan and political underdog and local-girl-done-good Caroline McCoy. Crowds gather for a mayoral debate between Hassan and political underdog McCoy - only for the hustings to end in bloodshed when an assassin strikes. As Viv Deering and her team investigate, they are forced to infiltrate the far right, and their murky world of political benefactors, if they are to catch the culprit.
Director: , , , ,
Writer: , , , ,
2
Episode 2
45 min | Sep 19, 2018

Killer Beckett's next target is Manchester's children and Viv and the team must track down the poisoned batch of halal meat that Beckett has unleashed on the city before it's too late. In the hunt to get closer to Beckett, Dinah attempts to win the trust of the undercover cop in the midst of the far-right group Beckett used to be involved in - and uncovers explosive secrets
Director: , ,
Writer: , ,
3
Episode 3
45 min | Sep 26, 2018

Election day looms and the team is on high alert, as Beckett's reign of terror appears to be escalating when an elderly Jewish man is found dead in a graveyard. The team is right on Beckett's tail, and a meeting between getaway driver Dennis and Beckett promises to be the key to capturing him.
Director: ,
Writer: ,
4
Episode 4
45 min | Oct 03, 2018

Paul Abbott's award-winning drama returns for a third series and sees DI Viv Deering and the Friday Street team face off against their most formidable antagonist yet: the far-right.
Director: , ,
Writer: , ,
5
Episode 5
45 min | Oct 10, 2018

Caroline McCoy's political reign brings chaos to the streets of Manchester, and catapults hardline DCI Terry Taylor into Friday Street cop shop, to bring the police in line with her agenda
Director: ,
Writer: ,
6
Episode 6
45 min | Oct 17, 2018

The team are running out of options and their strategy is threatened when one of their own is placed in peril
Director: ,
Writer: ,
---
Editions
| Barcode | Format | Region | Released | Edition |
| --- | --- | --- | --- | --- |
| 5060352305494 | | 2 | Oct 22, 2018 | |
---
---