One Day at a Time
One Day at a Time: Season 2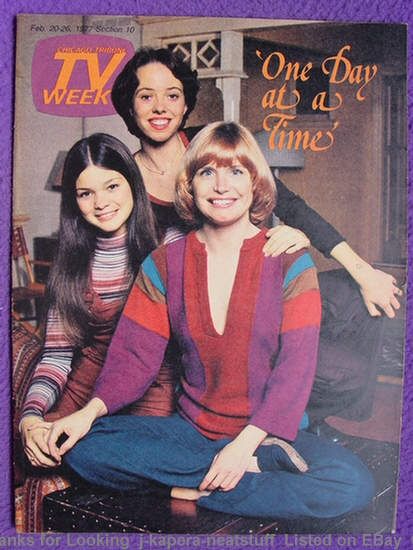 Shout! Factory (1976)
Comedy
English | Color
---
---
Director
Herbert Kenwith
Writer
Norman Lear, Dick Bensfield, Perry Grant, Joseph Bonaduce, Norman Paul

,

Bruce Howard, Bud Wiser, Allan Manings, Kevin Hopps, Jack Elinson, Carol Gary, Bob Illes, Michael S. Baser, James R. Stein, Whitney Blake

Producer
Dick Bensfield, Perry Grant, Norman Paul, Jack Elinson, Patricia Fass Palmer
---
1
The Runaways (Part 1)
30 min | Sep 27, 1976
Julie turns to her boyfriend when she and her mother reach an impasse regarding education, employment and marriage. (Part 1 of 4)
Guest stars: William Kirby Cullen
2
The Runaways (Part 2)
30 min | Oct 04, 1976
Ann is overcome by guilt after Chuck and Julie run away. (Part 2 of 4)
Guest stars: William Kirby Cullen
3
The Runaways (Part 3)
30 min | Oct 11, 1976
Schneider uses CB radio to search for Julie and her boyfriend. (Part 3 of 4)
Guest stars: John Mark Robinson, Lane Binkley, Howard Morton, K Callan, William Kirby Cullen
4
The Runaways (Part 4)
30 min | Oct 18, 1976
Their possessions stolen, runaways Julie and her boyfriend consider calling Barbara for help. (Part 4 of 4)
Guest stars: William Kirby Cullen
5
Barbara's Emergence
30 min | Oct 26, 1976
Hoping to attract desirable males, Barbara decides to change her image.
Guest stars: Michael Goodrow, Christopher Knight
6
David's New Job (Part 1)
30 min | Nov 09, 1976
David returns from Los Angeles with a job offer and hopes of marrying Ann. (Part 1 of 2)
7
David's New Job (Part 2)
30 min | Nov 16, 1976
As David works on Barbara and Julie, and as they pressure Ann to consider marrying David, Ann is faced with a serious decision..... she is not ready to marry again. David goes on without her.
Guest stars: Alan Brasington
8
The Upholstery Ripoff
30 min | Nov 23, 1976
Ann must deal with an upholstery ripoff that invades her home.
Guest stars: Tom Lacy, Charles White, William Neal Seals
9
Schneider's Pride and Joy
30 min | Nov 30, 1976
Schneider touts his visiting nephew as a model gentleman, unaware that the youth is a thief.
Guest stars: Mark Hamill
10
A Visit from Dad
30 min | Dec 07, 1976
Ann's visiting father tries to persuade her to return home.
11
The Maestro
30 min | Dec 14, 1976
Ann finds herself attracted to the piano player who has moved into the building.
Guest stars: David Dukes
12
Happy New Year
30 min | Dec 28, 1976
The girls put on a New Year's show at a retirement home.
Guest stars: Dick O'Neill, Fred Stuthman, Nedra Volz
13
J.C. and Julie (Part 1)
30 min | Jan 04, 1977
Julie's religious zeal is driving Ann and Barbara crazy. First of two parts.
14
J.C. and Julie (Part 2)
30 min | Jan 11, 1977
Julie applies her religious zeal to a drunken derelict, whom she found in a garbage can. Conclusion.
Guest stars: MacIntyre Dixon
15
The New Car
30 min | Jan 18, 1977
Ann won't allow her ex-husband to spoil Julie and Barbara with a new car.
16
Schneider Loves Ginny
30 min | Jan 25, 1977
Schneider expects Ginny to leap at his marriage proposal.
Guest stars: Andre Pavon
17
Ginny's Child
30 min | Feb 01, 1977
Ginny is always depressed after her mysterious Sunday excursions.
Guest stars: Dick Van Patten
18
Julie's Operation
30 min | Feb 08, 1977
With the family doctor away and Julie down with possible appendicitis, Ann accepts the services of a young resident.
Guest stars: Tom Fitzsimmons, George Petrie
19
The Traveling Salesperson
30 min | Feb 15, 1977
Ann's boss has second thoughts about a woman's ability to handle the job he just gave to Ann.
20
The Butterfields
30 min | Feb 22, 1977
Julie writes Chuck a Dear John letter, while Ann finds herself in the middle of a feud between Chuck's parents.
Guest stars: Howard Morton, K Callan
21
Barbara Plus Two
30 min | Mar 01, 1977
Barbara accepts an invitation to a school dance, then can't turn another one down.
22
The Singles Bar
30 min | Mar 08, 1977
Ginny persuades Ann to go to a singles bar.
Guest stars: Quinn O'Hara
23
The College Question
30 min | Mar 15, 1977
Tired from cramming for entrance exams, Julie doesn't want to go to college anymore.
24
The Girls Alone
30 min | Mar 21, 1977
""Barbera""and ""Julie""want to sneak out to a party on a school night.This occurs,while""Ms.Romano""is away on a business trip to Las Vegas.But the girls are fearful that their mother might find out that they're heading to the party and their beaus(Especially ""Cliff Randell"").So they try to reach their mother via a phone call.But they find out that ""Ms.Romano""didn't reach her hotel.This is one episode.Where both Ms.Philips and Ms.Bertinelli's characters show another side to their characters and to the characters'relationship.That there is a warm and caring friendship to these two young women and not an angry rivelry.
---
Editions
| Barcode | Format | Region | Released | Edition |
| --- | --- | --- | --- | --- |
| 826663182019 | | 1 | Mar 27, 2018 | |
---
---