Orange (2016)
Orange: The Complete Series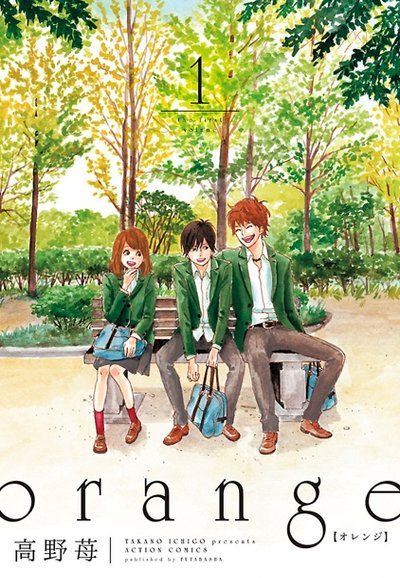 FUNimation (2016)
Animation, Drama, Anime, Science Fiction, Romance
English | Color
One day, Naho Takamiya receives a letter written to herself from ten years in the future. As Naho reads on, the letter recites the exact events of the day, including the transfer of a new student into her class named Kakeru Naruse.

The Naho from ten years later repeatedly states that she has many regrets, and she wants to fix these by making sure the Naho from the past can make the right decisions—especially regarding Kakeru. What's more shocking is that she discovers that ten years later, Kakeru will no longer be with them. Future Naho asks her to watch over him closely.

---
---
1
Letter 01
25 min | Jul 03, 2016

It's the spring of Naho's second year in high school, and Naho receives a letter from herself, 10 years in the future. The letter accurately depicts what's about to happen, including details on a transfer student from Tokyo, Kakeru Naruse, who ends up sitting beside her in class. On top of that, the letter also begs Naho not to invite Kakeru out with her group of friends on that day alone, but why?
Director: Kazuhiro Ozawa, 結城信輝, Yūki Nobuteru
Writer: Hiroshi Hamasaki, 柿原優子, Yūko Kakihara
2
Letter 02
25 min | Jul 10, 2016

Kakeru enters the soccer club as a provisional member, just as the letter says. When the topic of lunches comes up after practice, Kakeru jokingly asks Naho to make lunch for him as well. Naho finds herself bewildered by his words, but feels pushed to act by the letter from herself 10 years in the future, which tells Naho that she wishes she had made lunch for Kakeru.
Director: Masaru Kitao, Takayuki Kuriyama
Writer: Yūko Kakihara, Naomi Nakayama
3
Letter 03
25 min | Jul 17, 2016
In the letter, it says Kakeru won't join the soccer club, but in reality, he does. This difference between the letter and reality fills Naho with hope, as she believes it may mean that the future is starting to change for the better. But just as she begins to think that, she has to deal with the letter detailing how Kakeru and Ueda-senpai begin to date...
Director: Takashi Yamada, Masaru Kitao
Writer: Minoru Ohara, Mariko Kunisawa
4
Letter 04
25 min | Jul 24, 2016
In the present timeline, Naho and her friends visit Kakeru's relative. It reveals that before Kakeru committed suicide, the latter usually talks about Naho to his relative. Shifting back to the earlier timeline, Kakeru and Ueda started dating and people notice how Ueda treats Kakeru, especially how Ueda clings to Kakeru while walking down the school premises. Naho, as she read few parts of the letter, avoids Kakeru while the latter is seemingly initiates a conversation with her. Meanwhile, Takako and Azusa dislike Ueda and trying to ask Naho if she hides something. As Naho evades Kakeru and her friends' question, Naho becomes emotional and Suwa approached Naho. Suwa tells Naho to talk to Kakeru. Learning that Ueda and Kakeru will have a quarrel, Naho realizes yet again that the future is constantly changing. At the hallway, Ueda and Kakeru had a brief argument, revealing Ueda's bad attitude and jealousy due to Kakeru's treatment with other girls especially to Naho. Finally, Naho and Kakeru decide to talk each other. Kakeru tells Naho that he will break-up with Ueda, seemingly followed Naho's opinion on dating Ueda. Kakeru also tells Naho that in fact he is in love with special someone and it will be a secret.
Director: Takanori Yano, Masaru Kitao
Writer: Takashi Sano, Ayumu Kuo
5
Letter 05
25 min | Jul 31, 2016
Kakeru gives Naho a hairpin. And on the weekend, Kakeru invites Naho to study with him for the upcoming exams. As the pair begin to grow closer together, Naho gets up the courage to invite Kakeru to see the fireworks together with her at the end of the school festival.
6
Letter 06
25 min | Aug 07, 2016
It's the last day of the school festival. Naho and Kakeru have promised to watch the fireworks together. However, just before they start, Ueda-sama gets in Naho's way. Will Naho get to experience watching the fireworks with Kakeru like her future self did?
7
Letter 07
25 min | Aug 14, 2016
The letter from the future details the regret felt by everyone for being unable to celebrate Kakeru's birthday. As such, high school Naho and the gang pester Kakeru about what he wants until the big day. On the other hand, 26 year-old Naho and the gang gather at the late Kakeru's grandmother's house to celebrate his birthday, like they had promised in the past.
8
Letter 08
25 min | Aug 21, 2016
Up until now, Naho had been doing everything the letter from the future had told her to do, but is the letter always right? The letter from the future asks Naho to make sure Kakeru doesn't run the relay race at the athletic festival, but what does Naho decide to do?
9
Letter 09
25 min | Aug 28, 2016
Naho feels relieved now that she has the support of all her friends. On top of that, Kakeru and Naho begin to get even closer. Finally, the day of the athletic festival comes. What do Naho and the gang do to insure Kakeru can enjoy the festival from the bottom of his heart?
10
Letter 10
25 min | Sep 04, 2016
It's the athletic festival. Kakeru hurt his ankle during the pole-toppling game, and hid that fact from everyone else. Kakeru tries to keep his suffering to himself, when Suwa and the gang call out to him. Met with everybody's kindness, Kakeru begins to tell them what he's been keeping pent up inside. And then, the class relay begins.
11
Letter 11
25 min | Sep 11, 2016
Naho got into a fight with Kakeru on New Year's Eve, and never managed to apologize to him before he passed away. At least, that's what the letter from the future says. However, Naho now believes that she's capable of dealing with whatever may come up, and faces New Year's Eve head-on.
12
Letter 12
25 min | Sep 18, 2016
Kakeru moves to Matsumoto with his mother mother after she decides to move there for her own reasons. When she passes away on the first day of school after Kakeru transfers, Kakeru blames himself and thus refuses Suwa's invitation to join the Soccer club. Kakeru sees some old classmates from Tokyo, but none of them understand what Kakeru is going through. In the end, Kakeru becomes so distressed that he feels that he has no way out.
13
Last Letter
25 min | Sep 25, 2016

Naho can't give her Valentine's Day chocolate to Kakeru. Ever since what happened on New Year's Eve, Kakeru keeps putting distance between Naho and himself. But, through all the hardships, Naho refuses to give up and fully intends to tell Kakeru how she feels. And so, the time comes for everyone to face the fateful day outlined in the letters from the past, "Kakeru's Final Day."
---
Editions
| Barcode | Format | Region | Released | Edition |
| --- | --- | --- | --- | --- |
| 704400013072 | | 1 | Oct 17, 2017 | |
| 704400013065 | | 1 | Oct 17, 2017 | |
| 704400025594 | | 1 | Oct 16, 2018 | |
---
---