Patrick Melrose
Patrick Melrose: Season 1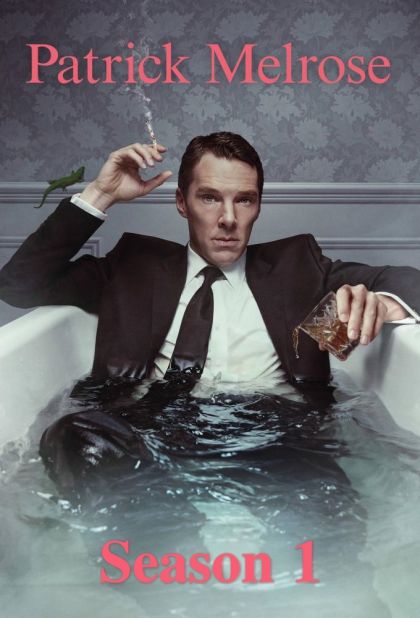 Two Cities Films (2018)
Drama, Biography
UK | English | Color | 5h
Based on the acclaimed Patrick Melrose series of semi-autobiographical novels written by Edward St. Aubyn, Melrose hilariously skewers the upper class as it tracks the protagonist's harrowing odyssey from a deeply traumatic childhood through adult substance abuse, and ultimately, towards recovery.
Benedict Cumberbatch will play Melrose, an aristocratic and outrageously funny playboy, who struggles to overcome the damage inflicted by an abusive father and a mother who tacitly condoned the behaviour
---
---
Director
Edward Berger
Writer
David Nicholls
Producer
Stephen Smallwood
Photography
James Friend
Musician
Volker Bartelmann
---
1
Bad News
60 min | May 11, 2018
In the grip of his addictions, Patrick Melrose must fly to New York to collect his father's ashes. Over the course of a lost Manhattan weekend, Patrick's remorseless search for satisfaction, haunted by old acquaintances and insistent inner voices, sends him into a nightmarish spiral, including a disastrous date with the girl of his dreams. Alone in his hotel room later that night, he pushes body and mind to the very edge – desperate to stay one step ahead of his rapidly encroaching past.
Director: Edward Berger
Writer: David Nicholls
2
Never Mind
60 min | May 18, 2018
At the Melrose family's glorious house in the South of France, young Patrick has the run of the magical grounds. His father David rules with cruelty and his mother Eleanor has retreated into self medication and booze. Bravely imaginative and self-sufficient out of necessity, 9-year-old Patrick encounters the volatile lives of adults with fear. They are expecting guests for the weekend, but this afternoon is profoundly unlike other summer days, and the shocking events that precede the guests' arrival tear Patrick's world in two.
Director: Edward Berger
Writer: David Nicholls
3
Some Hope
60 min | May 25, 2018
Centered on a dinner party, attended by the illustrious and profane elite of British society. Patrick, who is now thirty and trying to recover from his addictions, considers becoming a lawyer, having spent most of his inheritance and in need of a job. Some Hope sees Patrick interacting with the contemptible but always fascinating British aristocracy again, and discovering that there might indeed be some hope for him after all.
Director: Edward Berger
Writer: David Nicholls
4
Mother's Milk
60 min | Jun 01, 2018
The once illustrious, once wealthy Melroses are in peril. Caught up in the wreckage of broken promises, child-rearing, adultery and assisted suicide, Patrick finds his wife Mary consumed by motherhood, his mother in thrall to a New Age foundation, and his young son Robert understanding far more than he should. But even as the family struggles against the pull of its ever-present past, a new generation brings a new tenderness, and the possibility of change.
Director: Edward Berger
Writer: David Nicholls
5
At Last
60 min | Jun 08, 2018
As friends, relatives and foes trickle in to pay their final respects to his mother Eleanor, Patrick Melrose finds himself questioning whether a life without parents will be the liberation he has so long imagined. Yet as the memorial service ends and the family gathers one last time, amidst the social niceties and the social horrors, the calms and the rapids, Patrick begins to sense a new current: the chance of some form of safety – at last.
Director: Edward Berger
Writer: David Nicholls
---
Editions
| Barcode | Format | Region | Released | Edition |
| --- | --- | --- | --- | --- |
| 5036193034961 | | 2 | Jul 16, 2018 | 2 Disc DVD |
| 503619303496 | | 2 | Jul 16, 2018 | |
---
---