Poldark (2015)
Poldark (2015): Season 4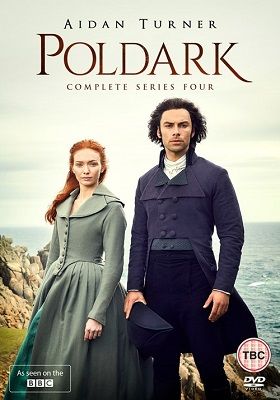 BBC (2015)
Drama, Romance
UK | English | Color | 8h
Britain is in the grip of a chilling recession... falling wages, rising prices, civil unrest - only the bankers are smiling. It's 1783 and Ross Poldark returns from the American War of Independence to his beloved Cornwall to find his world in ruins: his father dead, the family mine long since closed, his house wrecked and his sweetheart pledged to marry his cousin. But Ross finds that hope and love can be found when you are least expecting it in the wild but beautiful Cornish landscape.
---
---
Director
Brian Kelly
Joss Agnew
Writer
Winston Graham, Debbie Horsfield
Producer
Rebecca Eaton, Karen Thrussell, Howard Ella, Damien Timmer, Michael Ray

,

Charles Bates, Tom Mullens, Debbie Horsfield, Elizabeth Kilgarriff

Photography
James Aspinall, Nick DANCE
Musician
Anne Dudley
---
1
Episode 1
60 min | Jun 09, 2018

As the Poldarks look to rebuild their marriage and the Enyses to increase their family, Cornwall struggles under the Warleggans, whose power threatens all they hold dear.
Director: Joss Agnew
Writer: Debbie Horsfield
2
Episode 2
60 min | Jun 16, 2018

The Poldarks determine to get their relationship back on track and the Enyses announce they're with child. Hugh's worsening health threatens his chance to stand in the election however, and the prospect of him remaining in Cornwall adds pressure to the Poldark's fragile marriage. At the Sawle Feast, Tom Harry challenges Sam to a wrestling match. Falmouth offers the candidacy to Ross but will he accept?
Director: Joss Agnew
Writer: Debbie Horsfield
3
Episode 3
60 min | Jun 23, 2018

In London, Ross must rise to the challenge of Parliament, but the distance from Cornwall brings trials of its own; he also reunites with a now adolescent Geoffrey Charles. George, refusing to accept defeat, begins stacking the odds in his favour in the hope of buying his way back into Parliament. Ossie meanwhile tends to a dying parishioner, Nathaniel Pearce. Demelza contends with a failing mine and fixing Drake's broken heart.
Director: Joss Agnew
Writer: Debbie Horsfield
4
Episode 4
60 min | Jun 30, 2018

Ross is reunited with his family at home, but tragedy strikes into Wheal Grace and Wheal Maiden's tunnels. Lord Falmouth urges Ross to return to Westminster as George's alliance with Adderley gives him the opportunity to purchase a borough of his own. Dwight tells Caroline some devastating news about Sarah.
Director: Brian Kelly
Writer: Debbie Horsfield
5
Episode 5
60 min | Jul 07, 2018

George increases the strain on the struggling poor; To his frustration, Ross's efforts in Westminster meet successive failures, driving Ross to make a risky gambit. The adversity the Poldarks face, however, may not be confined to Cornwall alone.
Director: Brian Kelly
Writer: Debbie Horsfield
6
Episode 6
60 min | Jul 14, 2018

After it is revealed that Nathaniel Pearce embezzled Pascoe's client's funds, the Warleggans take action. In London, Ross finds Geoffrey Charles led astray by Adderley. Sam convinces Drake to return from exile following his abandonment of Rosina and Morwenna's subsequent rejection and Morwenna reveals some news. Dwight meanwhile helps in the development of Truro's infirmary.
Director: Brian Kelly
Writer: Debbie Horsfield
7
Episode 7
60 min | Jul 21, 2018

The Poldarks, Enyses and Warleggans enjoy London's distractions. George dotes on Elizabeth, delighting at the prospect of an heir and announcing plans to host a charity ball, but their domestic bliss soon comesunder threat. At the Warleggan ball Adderley takes a fancy to Demelza, betting George he'll cuckold Ross within a month, which gives rise to deadly complications.
Director: Joss Agnew
Writer: Debbie Horsfield
8
Episode 8
60 min | Jul 28, 2018

Elizabeth obtains a tonic designed to induce an early labour, she hopes to persuade George that Valentine is his child once and for all, but the Warleggan's rift is plain as they return to Cornwall. Ross returns to Cornwall to mend things with Demelza, while Demelza helps Morwenna and Drake build a future.
Director: Joss Agnew
Writer: Debbie Horsfield
---
Editions
| Barcode | Format | Region | Released | Edition |
| --- | --- | --- | --- | --- |
| 841887036795 | | 1 | Nov 06, 2018 | |
| 5037115377135 | | B | Aug 06, 2018 | 3 Disc Blu-Ray |
| 4029759137016 | | | | |
| 841887036788 | | 1 | Nov 06, 2018 | |
| 5037115376930 | | 2 | Jul 30, 2018 | |
| 9398700022486 | | | | |
| 841887037938 | | | | |
| 8711983968622 | | | | |
| 3512392414749 | | | | |
| 380780022486 | | | | |
---
---