Portlandia
Portlandia: Season 7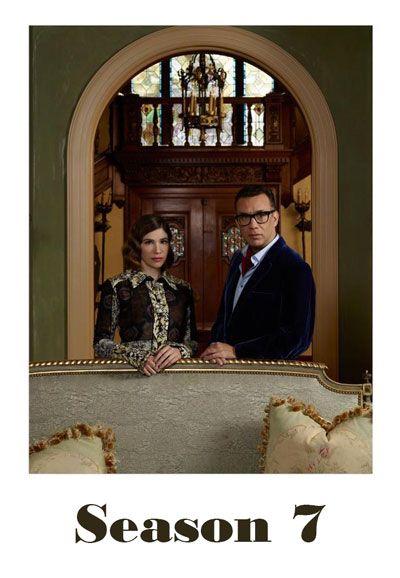 ---
2011
Comedy
Sketch comedy starring Fred Armisen and Carrie Brownstein, based on the oddball characters and settings of Portland, Oregon.
---
---
1
The Storytellers
25 min | Jan 05, 2017

Season 7 Premiere
2
Carrie Dates a Hunk
25 min | Jan 12, 2017
Fred doesn't dig Carrie's beau; Drew and Andy ask about men; Melanie and Lars buy a rug.
3
Fred's Cell Phone Company
25 min | Jan 19, 2017

Fred starts a business; Kate and Sam learn the perils of long distance love; Drew and Andy plan a funeral; Nina gives Lance a massage chair.
4
Separation Anxiety
25 min | Jan 26, 2017

Toni and Candace retire; Drew and Andy re-imagine gingerbread cookies; rats consider the charms of squirrels.
5
Amore
25 min | Feb 02, 2017
Fred gets involved with an arranged marriage; a couple's newly opened movie theater offers an at-home vibe; a school brings in a bully to show students how to toughen up; and a creepy guy leaves a strange reply to social-media posts.
6
Friend Replacement
25 min | Feb 09, 2017
Carrie's in the market for a new friend; Jill tries a radical diet to deal with her office anxieties; Drew and Andy host a movie festival; a scientist comes up with a cure for modern life; Ghavin opens an elaborate box set.
7
Portland Secedes
25 min | Feb 16, 2017
Fred and Carrie have a hand in helping the mayor get Portland to secede from the U.S.; the eco-terrorists are honored with a Best Protest award; Peter believes he may be Banksy; and Kath and Dave put passive-aggressive notes on cars.
8
Ants
25 min | Feb 23, 2017
Nina and Lance deal with an ant infestation. The mayor attempts to break a world record. "Time Tailors" evaluate a man's schedule. The eco-terrorists brainstorm how to make an impressive event entrance.
9
Passenger Rating
25 min | Mar 02, 2017
Carrie tries to improve her passenger rating; an actor teaches a boss how to fire employees; the National Small Talk Convention takes place.
10
Misunderstood Miracles
25 min | Mar 09, 2017

Sandra teaches a pit bull self-control. Lisa and Bryce sell instant garbage. A couple explains alcohol to their adult son. Fred discovers models.
---
Editions
| Barcode | Format | Region | Released | Edition |
| --- | --- | --- | --- | --- |
| 778854232297 | | 1 | Aug 08, 2017 | |
---
---