Power: Season 3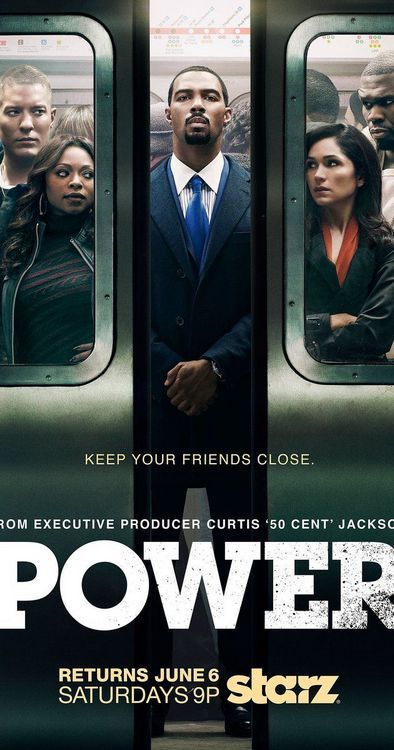 ---
---
Plot
James "Ghost" St. Patrick has it all: a beautiful wife, a gorgeous Manhattan penthouse, and the hottest, up-and-coming new nightclub in New York. His club, Truth, caters to the elite: the famous and infamous boldface names that run the city that never sleeps. As its success grows, so do Ghost's plans to build an empire. However, Truth hides an ugly reality. It's a front for Ghost's criminal underworld; a lucrative drug network, serving only the wealthy and powerful.

As Ghost is seduced by the prospect of a legitimate life, everything precious to him becomes unknowingly threatened. Once you're in, can you ever get out?
Episodes
Episode 1: Call Me James
60 min Jun 05, 2016
Out of the drug game and with new nightclubs, James St. Patrick is ready to leave "Ghost" behind and begin his new life with Angela. Just one problem: someone knows the truth about Vladimir, Drifty, Ruiz, and Lobos. Angela learns of a shocking discovery at work, and now must decide where to draw the line between love and honor. Without her husband by her side, Tasha reels from the death of Shawn while having an unsettling theory as to the identity of his killer. On his own in the underworld, Tommy is forced to make some bold moves while he receives a gruesome reminder of his assignment to kill Ghost.
Director: George Tillman Jr.
Writer: Courtney Kemp Agboh

Episode 2: It's Never Over
55 min Jul 24, 2016
Ghost scrambles to tie up the most lethal of loose ends while he deals with new nightlife competition. Tommy confronts Tasha over a lie from the past, as she and Angela must learn to coexist as their domestic lives change. With his drug organization unraveling, Tommy gains an advisor in his returned love, Holly, who enlists an old friend to solve a new problem.
Director: Sanford Bookstaver
Writer: Gary Lennon

Episode 3: I Got This on Lock
55 min Jul 31, 2016
Ghost is presented with a business opportunity that could take the clubs to the next level, but must outshine devious new rivals, all while looking over his shoulder for Lobos's revenge. Tommy reunites with Tasha in a business scheme, while he also tries to keep a new drug contact under control and protect his reputation in the streets. Tasha and Ghost are tested when Tariq crosses a line.
Director: Lukas Ettlin
Writer: Randy Huggins

Episode 4: Don't Worry, Baby
55 min Aug 07, 2016
Ghost is spread even thinner between Angela, the children, business and Tommy as the opportunity to expand the clubs evolves; Tommy struggles with a decision, Kanan re-enters the life; Angela has doubts.
Director: Larysa Kondracki
Writer: Heather Zuhlke

Episode 5: Help Me
55 min Aug 14, 2016
Tommy goes gunning for the culprit who tried to kill him; Greg pressures Ruiz to give up the "Ghost," as Angela tries to keep them at bay. Meanwhile, Proctor brings a new problem to the fore for Ghost to deal with.
Director: Sanford Bookstaver
Writer: Damione Macedon, Raphael Jackson Jr.

Episode 6: The Right Decision
55 min Aug 21, 2016
Ghost and Tommy reunite to take out a dangerous enemy and enlist Tasha to help them escape detection by Angela and her team; Ghost loses control at a critical moment.
Director: Michael J. Bassett
Writer: Vladimir Cvetko, Safia M. Dirie

Episode 7: Don't Go
55 min Aug 28, 2016
Angela reels after her breakup and faces difficult questions at work; Ghost scrambles to keep the club deal alive as he and Tommy are forced to re-enter the game; Dre learns the meaning of the La Arana card.
Director: Rob Hardy

Episode 8: Trust Me
55 min Sep 04, 2016
Mike and Angela hunt for the mole; Angela gets a lead, while she must solidify Tommy's alibi; Tasha receives a warning as Tariq makes a dangerous new friend; Milan issues an edict to push a new product.
Director: Jim McKay
Writer: Gary Lennon

Episode 9: I Call the Shots
55 min Sep 11, 2016
Angela searches for the mole; Ghost works to regain the club deal; Kanan exerts a dark influence upon Tariq; Milan warns Tommy about the price of betrayal.
Director: Magnus Martens
Writer: Damione Macedon, Raphael Jackson Jr.

Episode 10: In My Best Interest
55 min Sep 18, 2016
Ghost attempts to retrieve evidence while throwing the party of his career; Tasha forms an unlikely alliance in an effort to save her family; Tommy considers a move that could change everyone's lives.
Director: Michael J. Bassett
Writer: Courtney Kemp Agboh, Jeff Dix

---
Editions
| Barcode | Format | Region | Release | Edition |
| --- | --- | --- | --- | --- |
| 031398265429 | Blu-ray Disc | 1 | 2017-06-13 | |
| 031398265412 | DVD | 1 | 2017-06-13 | |
| 9336178026650 | DVD | | | |
---