Powers (2015)
Powers (2015): Season 2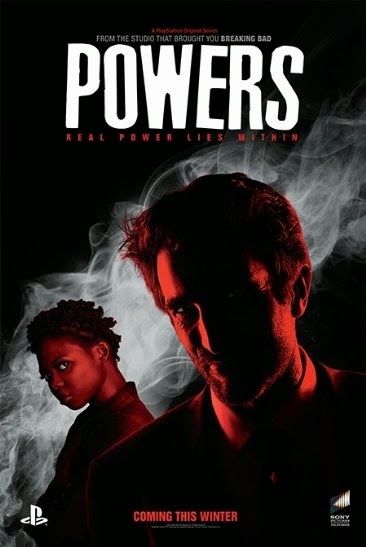 ---
Sony Pictures (2015)
Drama, Science Fiction, Thriller, Crime, Action
USA | English | Color | 3h 36min
Powers, an edgy dramatic series, follows the lives of two homicide detectives, Christian Walker and Deena Pilgrim, who are assigned to investigate cases involving people with superhuman abilities, referred to as "Powers." Set amidst today's paparazzi culture, Powers asks the questions, what if the world was full of superheroes who aren't actually heroic at all? What if all that power was just one more excuse for mischief, mayhem, murder, and endorsement deals? Enter the men and women of the Powers Division, the brave people in charge of protecting humans like us and keeping the peace over commercialized, god-like men and women who glide through the sky imposing their power over the mortals who both worship and fear them.
---
---
1
Caracas, 1967
50 min | May 30, 2016
The world is turned upside down by the seemingly impossible and horrifying murder of Retro Girl. Pressure is on the Powers Division to bring the perpetrator to justice, but when Christian Walker is pulled off the case for being too close to the victim, and may be a suspect himself, he must go off-the-books to avenge the woman he loved.
Director: Mikael Salomon
Writer: Remi Aubuchon
2
Funeral of the Century
50 min | May 30, 2016
On the day of Retro Girl's funeral, Detectives Walker and Pilgrim prepare to combat violence between rival gangs The Quantums and The Hacks. Hoping to fill her place, Calista makes her public debut as New Retro Girl. Still reeling from Retro Girl's death, and with her murder officially closed, Walker doggedly pursues a suspect he believes to be the real murderer.
Director: Rod Hardy
Writer: Brian Michael Bendis
3
Hell Night
50 min | May 31, 2016
Commander Cross unofficially reopens the Retro Girl case, ordering Pilgrim and Walker to lead a covert investigation that may put them in a life-threating situation. Meanwhile, Los Angeles goes in lockdown mode as gang warfare reaches a fever pitch, pulling the revered Power, SuperShock out of retirement.
Director: Mikael Salomon
Writer: David Simkins
4
Stealing Fire
50 min | May 31, 2016
New evidence suggests the main suspect in Retro Girl's murder may be a rare Power gone rogue. With contempt between the Powers Division and the FBI escalating to a breaking point, Walker attempts to gain Agent Lange's trust.
Director: Jonathan Frakes
Writer: Ben Edlund
5
Shaking the Tree
50 min | Jun 07, 2016
In the aftermath of a catastrophic political scandal, Walker and Pilgrim investigate a high-priority suspect and uncover shocking government connections. Meanwhile Triphammer is determined to create a new Powers team, recruiting Zora and a new protégé, Sgt. Tiberio Martinez.
Director: David Solomon
Writer: Allison Moore
6
Requiem
50 min | Jun 14, 2016
As Calista is about to be crowned the newest shining star of the Powers universe by Conrad Moody III, CEO of the most powerful Powers merchandising company on the planet, a valuable member of the community is murdered. With Walker and Pilgrim suspended, they are powerless to stop the city from unraveling around them.
Director: Aaron Lipstadt
Writer: Linda McGibney
7
Origins
45 min | Jun 21, 2016
The origins of SuperShock's complicated and mysterious relationship with Retro Girl are revealed, as Calista, Sgt. Martinez and Zora team up to fill the Powers void left in her absence. The disgraced Senator Brown's body is discovered, catapulting newly reinstated detectives, Walker and Pilgrim into the investigation.
Director: J. Miller Tobin
Writer: David Simkins
8
Chasing Ghosts
45 min | Jun 28, 2016
Walker learns that something isn't quite right with SuperShock, while Pilgrim and Kutter investigate an elusive "Ghost." Calista's estranged father unexpectedly comes to town.
Director: Matt Earl Beesley
Writer: Mac Marshall
9
Slain Dragons
45 min | Jul 05, 2016
Powers start dropping from the sky and Walker suspects an old friend is behind it. Pilgrim, however, pursues "Ghost" believing he's responsible. Calista confronts SuperShock but the encounter causes her to reconsider being a Power.
Director: Aaron Lipstadt
Writer: Brian Michael Bendis
10
Legacy
45 min | Jul 12, 2016
Powers Division tries to contain SuperShock by using "Ghost" as bait, but it goes horribly wrong. Walker discovers that Retro Girl withheld pivotal information from him, forcing him to decide whether or not he's ready to be a hero even if he's no longer a Power.
Director: Mikael Salomon
Writer: Michael Avon Oeming
---
Editions
| Barcode | Format | Region | Released | Edition |
| --- | --- | --- | --- | --- |
| 043396493513 | | | | |
| 9337369013336 | | | | |
| 043396493520 | | | May 09, 2017 | |
| 9337369013329 | | | | |
---
---