Preacher: Season 3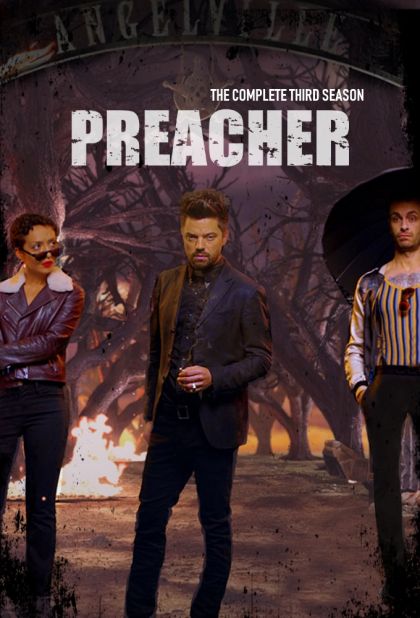 Universal Studios (2016)
Drama, Adventure, Fantasy
USA | English | Color | 7h
What if an angel and a demon procreate? What would that offspring be? Would it be holy or demonic or both? Preacher is that tale. The offspring has no body, just a soul. That soul needs a body and chose Jesse Custer. A preacher from Texas with a loss of faith and a drinking problem. The offspring called Genesis bonds with Jesse, giving him the word of God. What he says is done.
---
---
1
Angelville
45 min | Jun 23, 2018
Jesse gets the one who brought him back alive to bring back Tulip and Cassidy doesn't like this at all. Adolf Hitler finds himself a new life that causes Arseface to find him.
Director: Michael Slovis
Writer: Sam Catlin, Sam Caitlin
2
Sonsabitches
45 min | Jun 30, 2018
Desperate to escape Angelville and his family, Jesse attempts to forge an unlikely alliance with a familiar adversary.
Director: Michael Slovis, , , , ,
Writer: Sara Goodman, , , , ,
Guest stars: Colin Cunningham, Betty Buckley
3
Gonna Hurt
45 min | Jul 07, 2018
While Jesse works to pay back his debt to Gran'ma, Tulip and Cassidy risk their safety as they make their own plans to get out of Angelville.
Director: John Grillo, , ,
Writer: Gary Tieche, , ,
4
The Tombs
45 min | Jul 14, 2018
As Jesse helps reinvigorate business at Angelville, he tests Tulip and Cassidy's faith in him when Angelville brings out a darker side of him.
Director: Wayne Yip
Writer: Mark Stegemann, , , ,
5
The Coffin
45 min | Jul 21, 2018
As Cassidy falls in with a group of mysterious strangers in New Orleans, Tulip and Jesse deal with the fallout of a failed escape from Angelville.
Director: Millicent Shelton
Writer: Mary Laws, , , , ,
6
Les Enfants du Sang
45 min | Jul 28, 2018
Tulip, Jesse, Jody and T.C. hatch an ambitious plan to save both Gran'ma's and Tulip's lives; Cassidy explores a new friendship in New Orleans.
Director: Laura Belsey, ,
Writer: Rachel Wagner, ,
7
Hilter
45 min | Aug 04, 2018
Jesse, Tulip, Gran'ma and Starr form an uneasy partnership to avert the apocalypse; Cassidy learns to love Eccarius, but at a cost.
Director: Michael Morris, , ,
Writer: Carla Ching, , ,
8
The Tom/Brady
45 min | Aug 11, 2018
Annville, Angelville and the Grail team up to steal souls in New Orleans and Osaka in a last-ditch effort to satisfy Gran'ma and save the world.
Director: Wayne Yip
Writer: Mary Laws, , , , , Kevin Rosen
9
Schwanzkopf
45 min | Aug 18, 2018
Divided and trapped, Tulip, Jesse and Cassidy battle old friends, new enemies and loved ones to escape certain death - or worse.
Director: Kevin Hooks, , , , ,
Writer: Gary Tieche, , , , ,
10
The Light Above
45 min | Aug 25, 2018
Season Finale
Director: Sam Catlin, , , , ,
Writer: Sam Catlin, , , , ,
---
Editions
| Barcode | Format | Region | Released | Edition |
| --- | --- | --- | --- | --- |
| 043396547148 | | 1 | Nov 13, 2018 | |
| 9317731147838 | | | | |
| 4030521754751 | | | | |
| 043396547186 | | 1 | Nov 13, 2018 | |
| 9317731147791 | | 4 | Nov 14, 2018 | |
| 5035822033825 | | | | |
| 043396547285 | | | | |
---
---