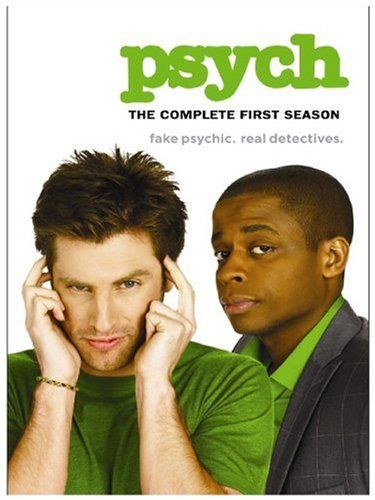 ---
Universal Studios (2006)
Comedy, Crime, Mystery
USA | English | Color | 11h 9min
Psych follows Shawn Spencer who has developed a keen eye for detail after being instructed by his police officer father to note even the most minute details of his surroundings. After Shawn calls in a tip on a crime to the police, he is actually accused of committing the crime. To try to clear his name, Shawn convinces the police that he is a psychic and he begins solving cases for the police force.
---
---
1
Pilot
60 min | Jul 06, 2006

When Shawn Spencer is arrested for calling in an accurate tip to the police because only the perpetrator would know the details, his only way out is pretending to be a psychic. It turns out Santa Barbara PD isn't done with him. They ask him to consult on a kidnapping case, and a business is born.
Director: Michael Engler
Writer: Steve Franks
Guest stars: Sean Devine, Catherine Thomas, Stephen Sisk, Ian Robison, Christopher Heyerdahl, Matthew Finlason, Peter Kelamis, Lucia Walters, Artine Brown, Dylan Rhymer, Anthony Harrison, Rob Bruner, Mark Acheson, Patricia Idlette, Dagmar Midcap, Michael Roberds, Jo
2
The Spelling Bee
60 min | Jul 13, 2006

When what begins as a little competitive sabotage in a regional spelling bee quickly escalates to murder. Shawn and Gus must investigate the mysterious death of the "Spellmaster" at the regional Spelling Bee.
Director: Mel Damski
Writer: Steve Franks
Guest stars: Robin Nelson, Julien Hill, Deni De Lory, Brendan Beiser, Peter Abrams, Nimet Kanji, Kyle Pejpar, Bud Collins, Alex Bruhanski, Richard Zeman, Christine Willes, Alexander Calvert, John Shaw, Winnie Hung, Issey Lamb, Peter D'Souza, Shane Hempseed, Cady Dyc
3
Peak Now or Forever Hold Your Piece
60 min | Jul 20, 2006

Shawn and Gus become wedding crashers at a posh ceremony in order to retrieve a stolen antique engagement ring inexplicably taken from an inpenetrable vault under surveillance. And theft turns to murder when things start to come unraveled.
Director: Michael Zinberg
Writer: Steve Franks
Guest stars: Courtenay Dobbie, Lakota Huffman, Deejay Jackson, Cam Chai, Twan Holliday, Richard Ian Cox, Angela Hendricks, Patricia Drake, Gina Holden, Diego Klattenhoff, Liam James, Sheila Paterson, Sage Brocklebank, Tom Butler, Christine Chatelain, Guy Fauchon, Li
4
Woman Seeking Dead Husband - Smokers Okay, No Pets
60 min | Jul 27, 2006

Shawn and Gus land their first non-SBPD case when a widow hires them to find some cash that her husband stole from a bank. Shawn is asked to talk to a spirit and help the widow of the thief.
Director: Jeff Melman
Writer: Steve Franks
Guest stars: Ben Cotton, Patricia Idlette, Terry D Stevens, Katey Wright, Jim Shepard, Liam James, Liam James, Anne Marie Deluise, Steve Bacic, Keith Dallas, Anne Marie Loder, Liam James, Terry D. Stevens, Jim Shepard, Katey Wright, Jim Shepard, Terry D. Stevens, Ben
5
9 Lives
60 min | Aug 03, 2006

Shawn claims a psychic connection with a cat so he can continue his investigation into a what he believes is a murder, but that the police have labeled a suicide, and the link he finds to a hotline may involve one of SBPD's own officers.
Director: Matt Shakman
Writer: Andy Berman
Guest stars: Scott Michael Campbell, Chris Eastman, Mark McConchie, Paulo Ribeiro, Michael Adamthwaite, Carlos Jacott
6
Weekend Warriors
60 min | Aug 10, 2006

Shawn and Gus attend a Civil War reenactment rehearsal for the sheer pleasure of watching Lassiter have a nervous breakdown as he runs it, but when a scripted death turns real they end up donning uniforms themselves in order to find the murderer and perhaps prevent another.
Director: John Fortenberry
Writer: Douglas Steinberg
Guest stars: John Ross Bowie, Claire Coffee, Peter Michael Goetz, Patricia Drake, Colby Wilson, Jeb Beach, Suzanne Bastien, Kaja Gjesdal, Gabe Khouth, Jason Calder, Alex Green, Yves Camerson, Brad Kelly, Todd Scott, Lauro Chartrand
7
Who Ya Gonna Call?
60 min | Aug 17, 2006

Shawn reluctantly settles for a private client who claims a ghost has it in for him after Lassiter kicks Gus and him off the much more interesting case of a murdered psychologist, but the two investigations seem to be running parallel and Shawn may still end up solving the police's case.
Director: Michael Lange
Writer: Kerry Lenhart, John J. Sakmar
Guest stars: Katya Virshilas, Aaron Grain, Claire Riley, John Dadey, Tracy Trueman, Nico McEown, Frank Whaley
8
Shawn vs. The Red Phantom
60 min | Aug 24, 2006

Gus is ecstatic when it turns out the only real clue in his and Shawn's missing-person case is TriCon, the comic book and science fiction convention currently running in Santa Barbara. As bodies start turning up, they must balance their newly-scammed and increasingly onerous duties as George Takei's assistants with finding the killer and saving the teenager.
Director: John T. Kretchmer
Writer: Anupam Nigam
Guest stars: David Nykl, Julius Chapple, Cascy Beddow, Bre Blair, George Takei, Calum Worthy, Trevor Roberts, Klodyne Rodney, Robert Clarke, Aaron Ydenberg, Brian Markinson, Wanda Cannon
9
Forget Me Not
60 min | Jan 19, 2007

Henry's old captain believes he's solved a murder, but his Alzheimer's has caused him to forget the most important details: the crime, and who committed it. Henry calls in Shawn and Gus who find themselves investigating a murder that happened decades ago and only the faulty memory of the retired officer gives them any hope of closing the case.
Director: Mel Damski
Writer: Lee Goldberg, William Rabkin
Guest stars: Karen Kruper, Lisa Banes, Kurtwood Smith, Michael St. John Smith, Gardiner Millar, Ryan Bauer, Kirsten Williamson, John Treleaven, Viv Leacock, Enid-Raye Adams, Lara Gilchrist, Ashley Williams, Rachel Pattee
10
From the Earth to Starbucks
60 min | Jan 26, 2007

When Lassiter doubts his own crime-solving ability, Shawn tries to boost his confidence by helping him solve an astronomer's mysterious death.
Director: Michael Zinberg
Writer: Steve Franks
Guest stars: Eric Hempsall, Christina Schild, Daniel Bacon, Kathleen Duborg, Ryan Robbins, Tamara Mello, Richard Kind, Nicole Lyn, Richard Kind
11
He Loves Me, He Loves Me Not, He Loves Me, Oops He's Dead
60 min | Feb 02, 2007

The duo's latest case, a gag from Lassiter, turns from an alien abduction investigation to a murder case with the discovery of naked body. Between tanning salons, speed dating and Henry disagreeing with their prime suspects, it's possible Lassiter will solve the case before Shawn and Gus can.
Director: Tim Matheson
Writer: Andy Berman
Guest stars: Andy Berman, Geoff Gustafson, Angela Moore, Desirée Loewen, Alana Husband, Aaron Dudley, Mayte Garcia, Ellie Harvie, Peter Benson, Malcolm Scott, Teryl Rothery, Colin Cunningham
12
Cloudy...With A Chance Of Murder
60 min | Feb 09, 2007

A local weatherman is found dead the morning after a tryst and his lover is charged with his murder despite her claims of innocence. Shawn is intrigued and becomes a defense consultant in order to gain access to the case.
Director: Lev L. Spiro
Writer: Andy Berman
Guest stars: Jan Bos, Tom Tasse, Joel Garner, Michael Shore, Norman Misura, Madison Graie, Mark Brandon, Michael Eklund, Keegan Connor Tracy, Jonathan Turnbill, Keegan Connor Tracy, Michael Weston, Scott Mosenson, Jolie Jenkins, O.L. Bramble, Donnelly Rhodes
13
Game Set... Muuurder?
60 min | Feb 16, 2007

Lonely and bored, Shawn convinces Juliet to give him a shot with a case involving a missing tennis star, but first he has to spring an unwilling Gus from a corporate retreat.
Director: James L. Conway
Writer: Anupam Nigam
Guest stars: Thomas Kopache, Santo Lombardo, Chelah Horsdal, Loren Gibson, Justine Wong, David Kopp, Christopher Moynihan, Sonia Mais, Patrick Keating, Almeera Jiwa
14
Poker? I Barely Know Her
60 min | Feb 23, 2007

Henry's friend refuses to report his son, Brandon, missing after the son steals 30,000 dollars. Shawn agrees to help locate the son, and finds out that Brandon has been involved in some underground poker. Meanwhile, O'hara tries to surprise Lassiter on his birthday.
Director: Joanna Kerns
Writer: Kerry Lenhart, Douglas Steinberg, John J. Sakmar
Guest stars: Chris W. Martin, Debra Mooney, Dan Lauria, Kris Lemche, Byron Lucas, Rob Daly, Simon Longmore, Viv Leacock, Robin Richardson, Ian Carter, Jason Coleman, Jase-Anthony Griffith
15
Scary Sherry: Bianca's Toast
60 min | Mar 02, 2007

Juliet asks Shawn and Gus for assistance on her undercover assignment. They're only too glad to help, since it involves sorority sisters. Unfortunately, what's supposed to be an easy case turns out to have ties to their past and may endanger Juliet. Meanwhile, Lassiter locks horns with the oldest rookie the departments has ever trained.
Director: John Landis
Writer: Steve Franks, James Roday
Guest stars: David Allan Pearson, Amanda Lisman, Chad Krowchuk, Alex Breckenridge, Crystal Lowe, Gina Stockdale, Chelan Simmons, Shannon Marie Woodward, Mercedes Ruehl, Liam James
---
Editions
| Barcode | Format | Region | Released | Edition |
| --- | --- | --- | --- | --- |
| 025192135378 | | | | |
| 025195004794 | | 1 | Jun 26, 2007 | The Complete 1st Season |
| 025192098185 | | 1 | Mar 22, 2011 | |
| 5050582708677 | | 1 | May 07, 2009 | |
| 025195005487 | | 1 | Jun 26, 2007 | |
| 5050582532098 | | 2, 4, 5 | May 26, 2008 | Season 1 |
| 5050582501612 | | 2 | Sep 11, 2008 | |
| 5050582556506 | | 2 | | |
| 5050582543544 | | 4 | Jun 26, 2007 | Series |
| 5050582896947 | | | | |
| 7892141411523 | | | Jun 26, 2007 | The Complete 1st Season |
| 5050582540987 | | | | |
---
---