Psych: The Complete Series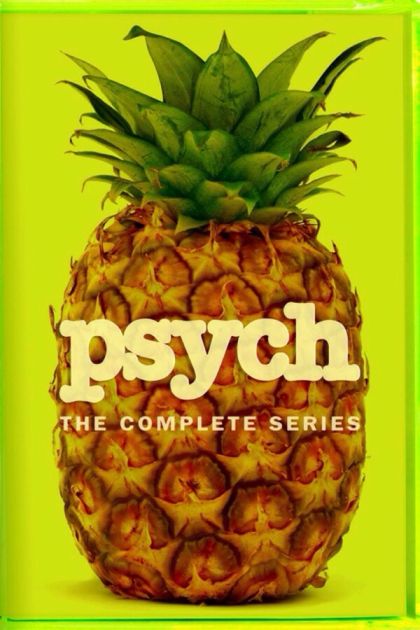 GEP Productions (2006)
Comedy, Comedy, Drama, Drama, Adventure, Family, Crime, Crime, Mystery, Action
USA | English | Color | 79h 19min
This collection contains:
- Psych: Season 1 (2006)
- Psych: Season 2 (2007)
- Psych: Season 3 (2008)
- Psych: Season 4 (2009)
- Psych: Season 5 (2010)
- Psych: Season 6 (2006)
- Psych: Season 7 (2006)
- Psych: Season 8 (2006)
---
---
1
S1E1: Pilot
60 min | Jul 06, 2006

When Shawn Spencer is arrested for calling in an accurate tip to the police because only the perpetrator would know the details, his only way out is pretending to be a psychic. It turns out Santa Barbara PD isn't done with him. They ask him to consult on a kidnapping case, and a business is born.
Guest stars: Sean Devine, Catherine Thomas, Stephen Sisk, Ian Robison, Christopher Heyerdahl, Matthew Finlason, Peter Kelamis, Lucia Walters, Artine Brown, Dylan Rhymer, Anthony Harrison, Rob Bruner, Mark Acheson, Patricia Idlette, Dagmar Midcap, Michael Roberds, Jo
2
S1E2: The Spelling Bee
60 min | Jul 13, 2006

When what begins as a little competitive sabotage in a regional spelling bee quickly escalates to murder. Shawn and Gus must investigate the mysterious death of the "Spellmaster" at the regional Spelling Bee.
Guest stars: Robin Nelson, Julien Hill, Deni De Lory, Brendan Beiser, Peter Abrams, Nimet Kanji, Kyle Pejpar, Bud Collins, Alex Bruhanski, Richard Zeman, Christine Willes, Alexander Calvert, John Shaw, Winnie Hung, Issey Lamb, Peter D'Souza, Shane Hempseed, Cady Dyc
3
S1E3: Peak Now or Forever Hold Your Piece
60 min | Jul 20, 2006

Shawn and Gus become wedding crashers at a posh ceremony in order to retrieve a stolen antique engagement ring inexplicably taken from an inpenetrable vault under surveillance. And theft turns to murder when things start to come unraveled.
Guest stars: Courtenay Dobbie, Lakota Huffman, Deejay Jackson, Cam Chai, Twan Holliday, Richard Ian Cox, Angela Hendricks, Patricia Drake, Gina Holden, Diego Klattenhoff, Liam James, Sheila Paterson, Sage Brocklebank, Tom Butler, Christine Chatelain, Guy Fauchon, Li
4
S1E4: Woman Seeking Dead Husband - Smokers Okay, No Pets
60 min | Jul 27, 2006

Shawn and Gus land their first non-SBPD case when a widow hires them to find some cash that her husband stole from a bank. Shawn is asked to talk to a spirit and help the widow of the thief.
Guest stars: Ben Cotton, Patricia Idlette, Terry D Stevens, Katey Wright, Jim Shepard, Liam James, Liam James, Anne Marie Deluise, Steve Bacic, Keith Dallas, Anne Marie Loder, Liam James, Terry D. Stevens, Jim Shepard, Katey Wright, Jim Shepard, Terry D. Stevens, Ben
5
S1E5: 9 Lives
60 min | Aug 03, 2006

Shawn claims a psychic connection with a cat so he can continue his investigation into a what he believes is a murder, but that the police have labeled a suicide, and the link he finds to a hotline may involve one of SBPD's own officers.
Guest stars: Scott Michael Campbell, Chris Eastman, Mark McConchie, Paulo Ribeiro, Michael Adamthwaite, Carlos Jacott
6
S1E6: Weekend Warriors
60 min | Aug 10, 2006

Shawn and Gus attend a Civil War reenactment rehearsal for the sheer pleasure of watching Lassiter have a nervous breakdown as he runs it, but when a scripted death turns real they end up donning uniforms themselves in order to find the murderer and perhaps prevent another.
Guest stars: John Ross Bowie, Claire Coffee, Peter Michael Goetz, Patricia Drake, Colby Wilson, Jeb Beach, Suzanne Bastien, Kaja Gjesdal, Gabe Khouth, Jason Calder, Alex Green, Yves Camerson, Brad Kelly, Todd Scott, Lauro Chartrand
7
S1E7: Who Ya Gonna Call?
60 min | Aug 17, 2006

Shawn reluctantly settles for a private client who claims a ghost has it in for him after Lassiter kicks Gus and him off the much more interesting case of a murdered psychologist, but the two investigations seem to be running parallel and Shawn may still end up solving the police's case.
Guest stars: Katya Virshilas, Aaron Grain, Claire Riley, John Dadey, Tracy Trueman, Nico McEown, Frank Whaley
8
S1E8: Shawn vs. The Red Phantom
60 min | Aug 24, 2006

Gus is ecstatic when it turns out the only real clue in his and Shawn's missing-person case is TriCon, the comic book and science fiction convention currently running in Santa Barbara. As bodies start turning up, they must balance their newly-scammed and increasingly onerous duties as George Takei's assistants with finding the killer and saving the teenager.
Guest stars: David Nykl, Julius Chapple, Cascy Beddow, Bre Blair, George Takei, Calum Worthy, Trevor Roberts, Klodyne Rodney, Robert Clarke, Aaron Ydenberg, Brian Markinson, Wanda Cannon
9
S1E9: Forget Me Not
60 min | Jan 19, 2007

Henry's old captain believes he's solved a murder, but his Alzheimer's has caused him to forget the most important details: the crime, and who committed it. Henry calls in Shawn and Gus who find themselves investigating a murder that happened decades ago and only the faulty memory of the retired officer gives them any hope of closing the case.
Guest stars: Karen Kruper, Lisa Banes, Kurtwood Smith, Michael St. John Smith, Gardiner Millar, Ryan Bauer, Kirsten Williamson, John Treleaven, Viv Leacock, Enid-Raye Adams, Lara Gilchrist, Ashley Williams, Rachel Pattee
10
S1E10: From the Earth to Starbucks
60 min | Jan 26, 2007

When Lassiter doubts his own crime-solving ability, Shawn tries to boost his confidence by helping him solve an astronomer's mysterious death.
Guest stars: Eric Hempsall, Christina Schild, Daniel Bacon, Kathleen Duborg, Ryan Robbins, Tamara Mello, Richard Kind, Nicole Lyn, Richard Kind
11
S1E11: He Loves Me, He Loves Me Not, He Loves Me, Oops He's Dead
60 min | Feb 02, 2007

The duo's latest case, a gag from Lassiter, turns from an alien abduction investigation to a murder case with the discovery of naked body. Between tanning salons, speed dating and Henry disagreeing with their prime suspects, it's possible Lassiter will solve the case before Shawn and Gus can.
Guest stars: Andy Berman, Geoff Gustafson, Angela Moore, Desirée Loewen, Alana Husband, Aaron Dudley, Mayte Garcia, Ellie Harvie, Peter Benson, Malcolm Scott, Teryl Rothery, Colin Cunningham
12
S1E12: Cloudy...With A Chance Of Murder
60 min | Feb 09, 2007

A local weatherman is found dead the morning after a tryst and his lover is charged with his murder despite her claims of innocence. Shawn is intrigued and becomes a defense consultant in order to gain access to the case.
Guest stars: Jan Bos, Tom Tasse, Joel Garner, Michael Shore, Norman Misura, Madison Graie, Mark Brandon, Michael Eklund, Keegan Connor Tracy, Jonathan Turnbill, Keegan Connor Tracy, Michael Weston, Scott Mosenson, Jolie Jenkins, O.L. Bramble, Donnelly Rhodes
13
S1E13: Game Set... Muuurder?
60 min | Feb 16, 2007

Lonely and bored, Shawn convinces Juliet to give him a shot with a case involving a missing tennis star, but first he has to spring an unwilling Gus from a corporate retreat.
Guest stars: Thomas Kopache, Santo Lombardo, Chelah Horsdal, Loren Gibson, Justine Wong, David Kopp, Christopher Moynihan, Sonia Mais, Patrick Keating, Almeera Jiwa
14
S1E14: Poker? I Barely Know Her
60 min | Feb 23, 2007

Henry's friend refuses to report his son, Brandon, missing after the son steals 30,000 dollars. Shawn agrees to help locate the son, and finds out that Brandon has been involved in some underground poker. Meanwhile, O'hara tries to surprise Lassiter on his birthday.
Guest stars: Chris W. Martin, Debra Mooney, Dan Lauria, Kris Lemche, Byron Lucas, Rob Daly, Simon Longmore, Viv Leacock, Robin Richardson, Ian Carter, Jason Coleman, Jase-Anthony Griffith
15
S1E15: Scary Sherry: Bianca's Toast
60 min | Mar 02, 2007

Juliet asks Shawn and Gus for assistance on her undercover assignment. They're only too glad to help, since it involves sorority sisters. Unfortunately, what's supposed to be an easy case turns out to have ties to their past and may endanger Juliet. Meanwhile, Lassiter locks horns with the oldest rookie the departments has ever trained.
Guest stars: David Allan Pearson, Amanda Lisman, Chad Krowchuk, Alex Breckenridge, Crystal Lowe, Gina Stockdale, Chelan Simmons, Shannon Marie Woodward, Mercedes Ruehl, Liam James
16
S2E1: American Duos
60 min | Jul 12, 2007

Shawn and Gus go undercover as talent show contestants to investigate a number of failed attempts to kill one of the judges.
Guest stars: Gina Gershon, Tim Curry, Christian De La Fuente, Scott Nicholas Perrie, Peter Benson, Ben Cotton, Sage Brocklebank, Alison Mackay, Karmon Lohvinenko, Careena Lohvinenko, Richard Ardut, Alex Chu, Kenyan Lewis, Jovanna Huguet, Grace Beck, Lilian Umurungi, Shay Kuebler, Kyle
17
S2E2: Sixty Five Million Years Off
60 min | Jul 19, 2007

The discovery of a washed-up body sparks a debate between Shawn and the police, who both disagree as to how the man died. While Shawn believes that the man was killed by a Tyrannosaurus Rex, the police believe the killer is a little less... extinct.
Guest stars: Tim Henry, Barry W. Levy, David Purvis, Robert Thurston, Randal Edwards, Colin Foo, McPhee
18
S2E3: Psy vs. Psy
60 min | Jul 26, 2007

The FBI employs their own psychic in a search for a counterfeiter, causing the department to work together in an effort to prove that Shawn is the better psychic.
Guest stars: Lou Diamond Phillips, Bianca Kajlich, Pamela Perry, Peter Kelamis, Juan Carlos Velis, Jonathan Holmes, C. Ernst Harth, Verteeg
19
S2E4: Zero To Murder in Sixty Seconds
60 min | Aug 02, 2007

Shawn tracks down Lassiter's car with little difficulty after it's stolen. However, Shawn discovers that there's more to the situation than meets the eye and calls Gus back from vacation to help with the investigation.
Guest stars: Malcolm Barrett, Anita Brown, Michael Coleman, David Coles, Tommy Europe, Mark Gash, Jy Harris, Kristie Marsden, Scott A. McGillivray, Ryan Steele, Viv Leacock, Jay Nicolas Hackleman, Stephanie Penikett, Sarah Penikett
20
S2E5: And Down the Stretch Comes Murder
60 min | Aug 09, 2007

Gus and Shawn's childhood nemesis, now a horse jockey, asks the duo for help in discovering why his horses never win. But the investigation develops into a murder case after a jockey dies while racing.
Guest stars: Alberto Ghisi, Jessica Olafson, Blaine Anderson, Ben Giroux, Leonard Tenisci, Mike Matilda, Don Thompson, Wanda Wilkinson
21
S2E6: Meat is Murder, But Murder is Also Murder
60 min | Aug 16, 2007

Shawn and Gus are put on the case when a food critic is murdered. However, Gus' Uncle Burton is in town, and due to a misunderstanding, Gus must pretend to be the psychic detective to avoid disappointing his family.
Guest stars: John Amos, Bernie Coulson
22
S2E7: If You're So Smart, Then Why Are You Dead?
60 min | Aug 23, 2007

Shawn and Gus take on academia as lecturers at a school for the gifted where two students suspect a teacher of murder, they just don't know who's been murdered or the murderer's identity. At the precinct, Juliet lobbies hard for lead position on the next case, and Lassiter hands her a "gimme". The same case Gus and Shawn are working.
Guest stars: Andrew McIlroy, Shane Meier, Jeffrey Tedmori, Calum Worthy, Craig Veroni, Crystal Lowe, Gabe Khouth, Allan Lysell, Matthew Gray, Matt Drake, Terence Kelly, Kyle Drewitz, Elyse Yu, Michael Milton, Mitchell Thom
23
S2E8: Rob-a-Bye Baby
60 min | Sep 06, 2007

Shawn and Gus want to be put on Lassiter's burglary case, but a sleep-deprived Chief Vick orders them to find her a nanny instead. Unfortunately, at least from Lassiter's view, the two teams keep crossing paths, and Shawn sees an opportunity to horn in on the more interesting case.
Guest stars: Jane Stanton, Vanessa Marley, Ryley Holt, Leela Savasta, Olivia Cheng, Sarah Lind, Christine Anton, Gerry South, Darien Provost, Nicholas Holt, Leah Gibson, D. Harlan Cutshall, Jeremy Radick, Danika Czubak, Patricia Isaac, Elizabeth Weinstein, Bernadeta Wrobel, Nicole Oli
24
S2E9: Bounty Hunters!
60 min | Sep 13, 2007

Shawn and Gus find themselves trying to outwit a bounty hunter when Juliet asks them to find a suspect who escaped from her custody. The problem is, once they find him, Shawn believes his claims of innocence, meaning they not only have to capture him, but prove he's been set up.
Guest stars: Kevin Sorbo, W. Earl Brown, Aura Benwick, Shawn Hall, Brock Johnson, Ken Kirzinger, Mark Pawson, Bob Rathie, Donna Soares, Christopher Young
25
S2E10: Gus' Dad May Have Killed An Old Guy!
60 min | Dec 07, 2007

Christmas with the Gusters is ruined when Gus' parents' neighbor is killed, a clue leads Lassiter to look at Mr. Guster more closely. Evidence leads the police into arresting Gus' mother too, and Shawn and Gus vow to get them out of jail.
Guest stars: Ernie Hudson, Phylicia Rashad, Maureen Thomas, French Tickner, Joseph May, Carrie Genzel, Robert Harper, Luke Gair, Gig Morton, Cainan Wiebe, Tony Alcantar, Ryan Reid, Melanie Neale, Yvonne Adalian
26
S2E11: There's Something About Mira
60 min | Jan 11, 2008

Shawn is shocked when he learns that Gus is married after Gus' wife unexpectedly shows up. She asks the men to take on a missing-persons case.
Guest stars: Obba Babatunde, Thelma Hopkins, Dylan Neal, Kerry Washington, Kate Hewlett
27
S2E12: The Old and the Restless
60 min | Jan 18, 2008

A missing persons case from a posh retirement community turns into a family affair when Shawn and Gus must team up with Henry to solve the case.
Guest stars: Brian Doyle-Murray, Curtis Armstrong, Joan McMurtrey
28
S2E13: Lights, Camera ... Homicidio
60 min | Jan 25, 2008

The star of a Spanish telenovela has been murdered by another actor on the show. The murderer insists that it was an accident and claims that the prop knife was switched with a real knife without his knowledge. Shawn and Gus believe that he was framed and investigate the crime. Gus is especially excited to be working on the set of his favorite soap opera, but it's Shawn who gets a recurring role on the show.
Guest stars: Matt Cedeno, Sandy Robson, Robin Mossley, Matt Cede�o, Alex Meneses, Saul Rubinek, Stephen Dimopoulos, Dena Ashbaugh, Jay Brazeau, Suzanne Bastien, Noah Beggs, Andy Canete, Juan Riedinger, Sandy Wayne Robson, Kristie Marsden, Sergio Lavaggi, Shafin Karim, Gizza Elizondo, T
29
S2E14: Dis-Lodged
60 min | Feb 01, 2008

Henry bails on his weekend outing with Shawn, stating that he's too ill to leave the house. Shawn is nowhere near upset until he and Gus catch Henry driving by, clearly not sick at all. Naturally, they follow him and discover he used to be a member of the Monarch Lodge, a clandestine society. They barge inside looking for an explanation and are surprised to find one of the Lodge members lying dead before them. Shawn suspects murder, and in order to conduct an inside investigation, he becomes a member of the society.
Guest stars: Philip Baker Hall, Malcolm Stewart, Jason Logan, Ivan Vance, Alex Kliner, David Adams, Cameron McDonald (Dr, Sagher), Mark Burgess, Toby Lerner
30
S2E15: Black and Tan: A Crime of Fashion
60 min | Feb 08, 2008

t's Gus' birthday, so Shawn takes him to the launch party for Ciao clothing's new fall line. While Gus tries to make a move on his favorite model, one of the owners of Ciao is suddenly electrocuted via the stage's microphone. Shawn is certain that his death was no accident, so Shawn and Gus move in to the loft where the Ciao models live.
Guest stars: Melanie Lynskey, Amanda Detmer, Amanda Pays, Katharine Isabelle, Amber Borycki, Jilon Ghai, Corey Sevier, Mackenzie Gray, David A. Hurwitz, Ian Rozylo, Fiona Vroom
31
S2E16: Shawn (and Gus) of the Dead
60 min | Feb 15, 2008

Lassiter and Juliet get called to a museum to investigate the disappearance of a 3,000-year-old mummy. Lassiter insists it's just a prank that's not worth his time. He's busy working on another case involving the death of philanthropist William Wyles III. However, the assistant curator insists that something weird is going on, something possibly supernatural that requires special help. Shawn is then brought in on the case, and he declares that the mummy was not stolen, iit walked away on its own.
Guest stars: Peggy Logan, Tamara Robertson, Peter Boulanger, Don Broatch, Sharon Brown, Dorian Brown, Ali Liebert, Kevin Blatch, Scott Nicholson, Owen Walstrom, Tiffany Burns, David Lovgren
32
S3E1: Ghosts
60 min | Jul 17, 2008

Gus' supervisor, Frankjim Ogletree, demands that he quit moonlighting at Psych, lest he face termination. The vice-president of Gus' pharmaceutical company, however, decides to hire the duo as his wife believes that their home is haunted.
Guest stars: Cybill Shepherd, Todd Stashwick, Christopher McDonald
33
S3E2: Murder?... Anyone?... Anyone?... Bueller?
60 min | Jul 24, 2008

Shawn and Gus attend their high school reunion. Shawn sees a body fly past a window, but on further inspection the body has vanished. When Gus assumes the worst, and Lassiter refuses to help, Shawn seeks assistance from Juliet.
Guest stars: Cybill Shepherd, Rachael Leigh Cook
34
S3E3: Daredevils!
60 min | Jul 31, 2008

Shawn and Gus get hired by the son of daredevil Dutch "The Clutch" Jenkins. They have to figure out what's going on, after "accidents" keep happening to The Clutch.
Guest stars: Bill Mondy, Mercedes McNab, Roman Podhora, Lenka Stolar, Paul Lazenby
35
S3E4: The Greatest Adventure in the History of Basic Cable
60 min | Aug 07, 2008

Henry's brother, Jack, claims that he has a map that leads to buried treasure. Shawn and Gus assist Jack in his search for the treasure, but it turns out that Jack has got more going on than meets the eye.
Guest stars: Juan Llorens, Garnet Barrett, Jennifer Mawhinney, Desiree Zurowski, Mark D. Espinoza, Mark Gibson, Steven Weber
36
S3E5: Disco Didn't Die. It Was Murdered!
60 min | Aug 14, 2008

Eugene Franks, arrested by Henry in 1978 for plotting to bomb the SBPD, is released after his conviction is quashed by the D.A. When Shawn is instructed to solve the case, his father insists on helping him; however, the case is not as clear cut as he once thought.
Guest stars: Jordan Baker, Paul Bittante, Viv Leacock, Roger Currie, Jere Burns, Teach Grant, James Kidnie, Ted Lange, Richard Keats, Joey Bothwell, Blair Slater
37
S3E6: There Might Be Blood
60 min | Aug 21, 2008

Shawn and Gus investigate the death of a safety inspector aboard an offshore oil rig. The investigation is complicated by the commander of the coast guard, Barbara Dunlap, Chief Vick's sister.
Guest stars: Jane Lynch, Kelly Overton, Barry Corbin
38
S3E7: Talk Derby to Me
60 min | Sep 04, 2008

A surveillance tape from the latest robbery in a string of break-ins leads Shawn to believe that women are the culprits. He further narrows the suspects down to a local roller derby team and suggests that in order to pinpoint the people responsible, Juliet needs to go undercover as a member of their team. Though it's technically her investigation, Shawn can't help getting involved in the case.
Guest stars: Brenna O'Brien, John Payne, Aliyah O'Brien, Michael Johnson, Sydney Bennett, Mickie James
39
S3E8: Gus Walks into a Bank
60 min | Sep 11, 2008

Gus is taken hostage at the Santa Barbara Savings and Loan Bank while making a deposit for Shawn. Shawn, still in the car and oblivious to the hostage situation, questions Lassiter and Juliet about the cops' sudden arrival. Learning that his best friend is in trouble, Shawn is desperate to help and realizes he needs to get inside the bank to question the gunman. However, the SWAT team soon shows up, and its negotiator will not easily satisfy Shawn's request.
Guest stars: Gary Cole, Alan Ruck, Dean Paul Gibson, Jhene Erwin, Val Cole
40
S3E9: Christmas Joy
60 min | Nov 28, 2008

Shawn and Gus investigate a department store Santa who they suspect is up to no good. Meanwhile, Gus' sister flies in for Christmas.
Guest stars: Keith David, Faune A. Chambers, Don McManus
41
S3E10: Six Feet Under the Sea
60 min | Jan 09, 2009

When Shabby the sea lion is found dead after being released into the wild, Shawn sets out to prove it was murder and stumbles onto a bigger mystery.
Guest stars: Ted McGinley, Jamie McShane, Brooke D'Orsay, Liam James, Carlos McCullers II
42
S3E11: Lassie Did a Bad, Bad Thing
60 min | Jan 16, 2009

Shawn and Gus must prove Lassiter's innocence when he's on the hook for a murder inside of the Santa Barbara Police Department.
Guest stars: Liam James, Sage Brocklebank
43
S3E12: Earth, Wind and...Wait for It
60 min | Jan 23, 2009

Shawn and Gus join up with a local firehouse to prove a series of arsons are more than they seem.
Guest stars: Liam James, Milena Govich, Richard Riehle, Ty Olsson, Bruce McGill, Darcy Laurie, Sarah Groundwater, Nick Hunnings, Reese Alexander
44
S3E13: Any Given Friday Night at 10PM, 9PM Central
60 min | Jan 30, 2009

Shawn and Gus go undercover at a professional football training camp when the foot of the team's missing kicker is discovered.
Guest stars: Liam James, Drew Powell, Peter Ciuffa, Fraser Aitcheson, Kofi Natei, Scott Miller, Christopher Wiehl, Mykelti Williamson
45
S3E14: Truer Lies
60 min | Feb 06, 2009

Shawn and Gus must prove a pathological liar is telling the truth in order to stop an assassination plot.
Guest stars: Sage Brocklebank, Liam James, William Samples, Tanja Reichert, Sean Carey, Jared Hillman, Jonathan Silverman
46
S3E15: Tuesday the 17th
60 min | Feb 13, 2009

Shawn and Gus are hired by a childhood friend to find a missing camp counselor who disappeared near their old sleep-away campgrounds. Upon their arrival, spooky activity abounds and they must uncover if the dark past of the abandoned camp has come back to life.
Guest stars: Carlos McCullers II, Liam James, Justine Bateman, Marcel Maillard, MacKenzie Astin, Elden Henson, Sonja Bennett, Shawn Roberts, Luisa D'Oliveira
47
S3E16: An Evening with Mr. Yang
60 min | Feb 20, 2009

After eluding capture and disappearing eight years ago, the famed Yin Yang serial killer is back, and he's set his sights on Shawn.
Guest stars: Rachael Leigh Cook, Sage Brocklebank, Liam James, Cybill Shepherd, Jimmi Simpson, Ally Sheedy
48
S4E1: Extradition: British Columbia
60 min | Aug 06, 2009

Shawn and Gus spot an art thief whom Lassiter has been trying to arrest for years. So, although they are on a skiing vacation in Canada, they appeal to the local constabulary with mixed results: someone gets axed, another finds himself interrogated and Pierre Despereaux may get away scot-free, once again.
Guest stars: Cary Elwes, Peter Oldrig, Ed Lauter, Andrew McIlroy
49
S4E2: He Dead
60 min | Aug 13, 2009

A billionaire hedge fund manager asks Shawn and Gus to find his murderer – a last request Shawn can't resist. So he and Gus step into a world of privilege that's rivaled only by the depths of betrayal it contains.
Guest stars: Rachael Leigh Cook, Christine Baranski
50
S4E3: High Noon-ish
60 min | Aug 20, 2009

Lassiter reluctantly asks Shawn and Gus for help when his surrogate father, sheriff of Sonora, thinks a ghost is wreaking havoc in his town. And even though this Wild West re-creation town is bigger on show than facts, it turns out a real crime is being planned and the murder of the Sheriff's business rival is only the beginning.
Guest stars: James Brolin, Jim Beaver
51
S4E4: The Devil's in the Details... And in the Upstairs Bedroom
60 min | Aug 27, 2009

When a college girl at a Catholic university commits suicide, Gus and Shawn are brought in because one of the professors at the school believes the girl was demon-possessed.
Guest stars: Ray Wise
52
S4E5: Shawn Gets the Yips
60 min | Sep 10, 2009

After a cop bar is shot up in an apparent robbery during Officer McNab's birthday celebration, Shawn realizes the shooter was actually targeting Lassiter.
Guest stars: Stephen Lang
53
S4E6: Bollywood Homicide
60 min | Sep 17, 2009

Raj, a young East Indian man whose serious girlfriends have all met with suspicious accidents, is convinced that he is the victim of a curse, but Shawn and Gus aren't buying the supernatural explanation. They are convinced that a mysterious assailant is actually responsible and they're out to catch the culprit.
Guest stars: Rachael Leigh Cook, Sendhil Ramamurthy, Jay Chandrasekhar
54
S4E7: High Top Fade Out
60 min | Sep 24, 2009

Shawn and Gus investigate the death of Leonald Callahan, aka Diddle, a computer cryptologist who was the baritone in Gus's old college a capella group.
Guest stars: Jaleel White, Kenan Thompson, Tony Todd
55
S4E8: Let's Get Hairy
60 min | Oct 08, 2009

Shawn and Gus attempt to protect Stewart Grumbley from himself because the poor man believes he may be a sheep-killing werewolf who may soon enough begin killing humans.
Guest stars: Joshua Malina, David Naughton, Larisa Oleynik
56
S4E9: Shawn Takes a Shot in the Dark
60 min | Oct 15, 2009

While investigating a possible crime, Shawn stumbles upon one of a pair of criminals, gets shot, and is dumped in the trunk of a car.
Guest stars: Michael Rooker, John Hawkes
57
S4E10: You Can't Handle This Episode
60 min | Jan 27, 2010

Abigail is disappointed when Shawn accepts a case at the Army base instead of going on a date with her, but he and Gus are intrigued by a death they believe shouldn't have been ruled a suicide and the thought of working with Juliet's brother.
Guest stars: Rachael Leigh Cook, John Cena, Robert Patrick
58
S4E11: Thrill Seekers and Hell-Raisers
60 min | Feb 03, 2010

When Shawn and Gus join Gus' new girlfriend on a rafting trip, a member of the group goes overboard, but Shawn quickly realizes it was no accident.
Guest stars: Sarah Shahi, Stacy Keibler, Steve Howey
59
S4E12: A Very Juliet Episode
60 min | Feb 10, 2010
In 2003, Juliet made a pact with her boyfriend Scott Seaver (Josh Braaten) to meet up in seven years. After he fails to show up, Shawn finds him, and by extension endangers his life since he was a key witness against mobster J.T. Waring (Arnold Vosloo), who was convicted for the murder of a U.S. Marshall. When Waring denies killing the Marshall, Shawn must prove him right in order to protect Scott.
Guest stars: Josh Braaten, Arnold Vosloo, Craig Sheffer
60
S4E13: Death is in the Air
60 min | Feb 17, 2010

Shawn and Gus must recover a deadly pathogen before a thief releases it into the city. Guest starring Judd Nelson.
Guest stars: Ernie Grunwald, Judd Nelson
61
S4E14: Think Tank
60 min | Feb 24, 2010
Shawn and Gus are recruited into a think tank to help prevent the murder of a business tycoon, but once the group has disbanded, they realize that one of the members plans to use the assassination ideas to kill the client instead of save him. Guest stars Miguel Ferrer and Chris Sarandon.
Guest stars: Bruce Davison, Miguel Ferrer, Chris Sarandon
62
S4E15: The Head, the Tail, the Whole Damn Episode
60 min | Mar 03, 2010

After Lassiter takes a page out of Shawn's book and claims a shark attack victim was actually murdered, the guys must then scramble to find the fish and prove him right. Guest starring Jeri Ryan.
Guest stars: Jeri Ryan, Michael Hogan
63
S4E16: Mr. Yin Presents...
60 min | Mar 10, 2010

A serial killer targets Shawn using scenarios from classic Hitchcock films. Has Mr. Yang returned? Will everyone make it out alive? Guest starring Ally Sheedy as Mr. Yang.
Guest stars: Rachael Leigh Cook, Ally Sheedy, Jimmi Simpson, Beverley Turner
64
S5E1: Romeo and Juliet and Juliet
60 min | Jul 13, 2010

When the daughter of a Chinese Triad family disappears, Shawn and Gus take on the case.
Guest stars: Bruce Locke, Jerry Shea, Jennifer Liu, Curtis Lum, Johnson Phan
65
S5E2: Feet Don't Kill Me Now
60 min | Jul 20, 2010

When a woman is found dead with a bottle of pills that are lab trial samples, Lassiter and Gus, who are taking the same tap class, team up to dance their way to catching a murderer
Guest stars: Brad Raider, Lauren Lee Smith, Danielle Harris
66
S5E3: Not Even Close... Encounters
60 min | Jul 27, 2010

Shawn and Gus get themselves hired onto the case when an unstable lawyer claims his assistant was abducted by aliens.
Guest stars: Freddie Prinze Jr., Charles Martin Smith, Becky O'Donohue
67
S5E4: Chivalry Is Not Dead... But Someone Is
60 min | Aug 03, 2010

A wealthy widow's young date is murdered, pitting Shawn and Gus against a dirty rotten scoundrel they are convinced trained the victim to be a con artist.
Guest stars: John Michael Higgins, Jean Smart, Lee Garlington
68
S5E5: Shawn and Gus in Drag (Racing)
60 min | Aug 10, 2010

When a member of a gang of car thieves turns up dead, Shawn and Gus must infiltrate a drag racing ring to find the killer. Shawn soon finds himself enjoying the fast lane too much, which not only endangers the investigation but also their lives.
Guest stars: Adam Rodriguez, Vanessa Minnillo, Angus Macfadyen
69
S5E6: Viagra Falls
60 min | Aug 17, 2010

Shawn and Gus work with two retired police officers to solve the murder of a police chief.
Guest stars: Carl Weathers, William Devane
70
S5E7: Ferry Tale
60 min | Aug 24, 2010

Shawn and Gus help a prison guard locate his escaped inmates while on a ferry boat headed to the Channel Islands.
Guest stars: Chi McBride, Kevin Alejandro
71
S5E8: Shawn 2.0
60 min | Aug 31, 2010

Shawn has to face serious competition when a talented criminal profiler named Declan Rand comes to Santa Barbara to help solve the murders of donors on a liver-transplant list.
Guest stars: Nestor Carbonell, Meredith Monroe, Curt Smith
72
S5E9: One, Maybe Two, Ways Out
60 min | Sep 07, 2010

When a spy is framed for a crime she didn't commit, she decides to use Shawn and Gus to prove her innocence.
Guest stars: Franka Potente, Nestor Carbonell, C. Thomas Howell, Jon Gries
73
S5E10: Extradition II: The Actual Extradition Part
60 min | Nov 10, 2010

Shawn and Gus return to Vancouver to visit their old nemesis Despereaux in prison at the felon's request, who then uses them to escape and pull one last job before he is extradited to the United States. Only while he is out, he is framed for the murder of a Crown Attorney and now asks the guys for help clearing his name of this most recent – and frankly unseemly – charge.
Guest stars: Cary Elwes, Peter Oldring, Ed Lauter
74
S5E11: In Plain Fright
60 min | Nov 17, 2010

While on the haunted house ride at Santa Barbara's Scare Fest, Shawn and Gus witness a murder and are soon led to believe the person who committed it is the ghost of a man who fell to his death at Scare Fest 13 years ago.
Guest stars: Rob LaBelle, Nora Dunn, April Matson, Jerry Shea
75
S5E12: Dual Spires
60 min | Dec 01, 2010
The episode kicks off with Shawn and Gus receiving a mysterious e-mail inviting them to the annual Cinnamon Festival in Dual Spires, a quirky Northern California town nearly invisible on the map. When they arrive the pair quickly find themselves embroiled in the mysterious death of local high school student Paula Merral. As Shawn and Gus unravel the many secrets of the town, they meet several local residents including town doctor/lawyer/veterinarian Donna Gooden, Sheriff Andrew Jackson, proprietors of the local diner Robert and Michelle Barker, the mysterious Woman with Wood and enigmatic bookish beauty Maudette Hornsby. The pool of suspects proves to be deeper than suspected as Shawn and Gus must work to figure out who killed Paula Merral.
Guest stars: Sherilyn Fenn, Sheryl Lee, Dana Ashbrook, Robyn Lively, Lenny Von Dohlen, Catherine E. Coulson, Ray Wise, John DeSantis, Ryan McDonald
76
S5E13: We'd Like to Thank the Academy
60 min | Dec 08, 2010

When they solve a case without following proper protocols, Shawn and Gus are ordered by the Chief to take a crash course at the police academy in order to learn the correct way to handle cases, but the two resort back to their old ways.
Guest stars: Ralph Macchio, Doron Bell Jr.
77
S5E14: The Polarizing Express
60 min | Dec 15, 2010

Due to an unlawful entry into a criminals property, Shawn gets suspended from his consultant postition and gets Henry fired from his position at the SBPD at the same time. Shawn has a series of Scrooge type dreams where Tony Cox is his 'spirit guide'.
Guest stars: Keshia Knight Pulliam, Jacob Vargas, Tony Cox
78
S5E15: Dead Bear Walking
60 min | Dec 15, 2010

When a polar bear trainer is found dead, Shawn works to prove the bear's innocence.
Guest stars: Alberta Mayne, April Bowlby, Brian Klugman, Michael Gross, Don Lake
79
S5E16: Yang 3 in 2D
60 min | Dec 22, 2010

The Yin/Yang trilogy comes to a thrilling close as Shawn and Gus race to save a woman kidnapped by Yin. Only this time, they are forced to use Yang's knowledge of Yin to solve the case by allowing her to accompany them on the investigation.
Guest stars: Mena Suvari, Peter Weller, Ally Sheedy, Cybil Shepherd, Jimmi Simpson
80
S6E1: Shawn Rescues Darth Vader
60 min | Oct 11, 2011

Shawn stumbles across a dead body at the British consulate's home while working a case to recover a stolen "Star Wars" collector's item. In order to get the police on the case, Shawn claims he had a vision of the murder and puts his reputation as a psychic on the line.
Guest stars: Malcolm McDowell
81
S6E2: Last Night Gus
60 min | Oct 18, 2011

A night of partying which no one remembers that turned deadly sets Shawn, Gus, Woody and Lassiter on the trail of their deeds and a way to clear their names of suspected murder. Unfortunately, they may have to depend on Shawn's "psychic" memories of the night's events.
Guest stars: Ed Lover
82
S6E3: This Episode Sucks
60 min | Oct 25, 2011

A body is discovered, and appears to have been killed by a vampire. Meanwhile, Lassiter becomes romantically involved with a woman whom Shawn suspects is the murderer.
Guest stars: Kristy Swanson
83
S6E4: The Amazing Psych-Man & Tap Man, Issue #2
60 min | Nov 02, 2011

Shawn and Gus investigate the whereabouts of a mysterious, masked vigilante named The Mantis, who is trying to take down a local drug syndicate called The Caminos. The SBPD is also trying to take down The Camino syndicate, however The Mantis always seems to be one step ahead of everyone's game. Joey McIntyre and Miles Fisher guest star.
Guest stars: Joey McIntyre, Miles Fisher
84
S6E5: Dead Man's Curveball
60 min | Nov 09, 2011

When the hitting coach of the Santa Barbara Seabirds suddenly dies, the team's manager hires Shawn and Gus to go undercover as the new coach and mascot in order to investigate.
Guest stars: Danny Glover
85
S6E6: Shawn, Interrupted
60 min | Nov 16, 2011

After a billionaire murderer pleas insanity at his trial, Shawn and Gus go undercover at a mental hospital in order to prove that the man is, in fact, sane. While at the hospital, Shawn and Gus receive some hostility from one of the nurses.
Guest stars: Brad Dourif , Molly Ringwald
86
S6E7: In for a Penny...
60 min | Nov 30, 2011
Juliet's con-man father travels to Santa Barbara to reunite with his daughter, but finds himself slipping back into his criminal past when confronted with a dream con.
Guest stars: William Shatner
87
S6E8: The Tao of Gus
60 min | Dec 07, 2011

After a woman tells the SBPD she witnessed a murder happen in broad daylight, Shawn and Gus are the only ones who believe her, and therefore protect her by hiding her at a remote commune called Box Canyon Ranch, a place whose inhabitants label themselves as progressive intellectuals.
Guest stars: Diora Baird, Diedrich Bader
88
S6E9: Neil Simon's Lover's Retreat
60 min | Dec 14, 2011

Shawn and Juliet's romantic getaway vacation to a spa gets interrupted by robberies and a dead body at a nearby winery.
Guest stars: Tony Hale, Jason Priestley, Arden Myrin
89
S6E10: Indiana Shawn and the Temple of the Kinda Crappy, Rusty Old Dagger
60 min | Feb 29, 2012

Shawn and Gus team up with Despereaux to locate a mythical dagger rumored to be the key to unlocking a dead billionaire's treasure.
Guest stars: Cary Elwes
90
S6E11: Heeeeere's Lassie!
60 min | Mar 07, 2012

Lassiter hires Shawn and Gus to get to the bottom of strange occurrences at his new condo.
Guest stars: Louis Gossett, Jr., Sara Rue, Valorie Curry, William Shatner
91
S6E12: Shawn and the Real Girl
60 min | Mar 14, 2012

Shawn and Gus go undercover to investigate an attack on a reality-TV contestant who appeared on a dating show in which men compete for the affections of a woman they've crossed paths with but never officially met.
Guest stars: Lindsay Sloane, Lochlyn Munro, Greg Grunberg, Wayne Brady, Derek Richardson, Corey Sevier, Mike Mizanin
92
S6E13: Let's Doo-Wop It Again
60 min | Mar 21, 2012

When the founder of "Right Now", Santa Barbara's oldest at-risk youth program, is shot and almost killed, Shawn, Gus and a few members of Gus's a capella group from college investigate to find the culprit.
Guest stars: Jaleel White, Mekhi Phifer, Kristy Swanson, Liza Lapira, Cheech Marin, Jerry Rector, Michael Mando
93
S6E14: Autopsy Turvy
60 min | Mar 27, 2012

The race is on to clear Woody's name and reputation when a mere mortician finds a mistake in the coroner's autopsy.
94
S6E15: True Grits
60 min | Apr 03, 2012

A wrongly convicted Southern chef hires Shawn and Gus to find the real thief after the Innocence Project frees him from prison.
95
S6E16: Santabarbaratown
60 min | Apr 10, 2012

A body relating to a 20-year-old case is finally found, and Shawn, Gus, and Henry revisit all the old suspects in order to solve the case
Guest stars: Rob Benedict, Gordon Lai, Amanda Schull, Rob Estes, Lolita Davidovich, Max Gail, Skyler Gisondo, Kurt Fuller, Sage Brocklebank, Tom Pickett, Jerry Wasserman, BJ Harrison, John R. Taylor, Jason Burkart, Jennifer Oleksiuk, Linden Banks, Marshall Caplan, Theresa Lee
96
S7E1: Psych: The Musical Behind The Scene (1)
60 min
97
S7E2: Santabarbaratown 2
60 min | Feb 27, 2013

Henry fights for his life after being shot; Shawn seeks revenge on everyone involved in the scandal.
Guest stars: Max Gail, Arden Myrin, Jake Busey, Oliver Muirhead, Kurt Fuller, Jerry Wasserman, Paul Lazenby, Doug Abrahams, Broadus Mattison, Scott Bellis, Gavin Cooke, Mike Wasko, Shane Kolmansberger, Wendy Noel, Kam Kozak
98
S7E3: Juliet Takes a Luvvah
60 min | Mar 06, 2013
Gus gets a girlfriend, and Juliet goes undercover on an online dating site to catch a killer while Shawn tries to holster his jealousy!
Guest stars: Parminder Nagra
99
S7E4: Lassie Jerky
60 min | Mar 13, 2013
Shawn and Gus join a pair of college students in the woods who are filming a documentary on Bigfoot.
100
S7E5: No Country For Two Old Men
60 min | Mar 20, 2013

Shawn attempts to bond with Juliet's stepfather Lloyd, a seemingly harmless accountant.
Guest stars: Jeffrey Tambor
101
S7E6: 100 Clues
60 min | Mar 27, 2013

On the 100th episode of Psych... Shawn and Gus attend a party hosted by an aging rockstar named Billy Lipps, a man the SBPD arrested years ago for a murder he doesn't remember committing.
Guest stars: Steve Valentine
102
S7E7: Cirque du Soul
60 min | Apr 02, 2013

After Gus is tasked with taking care of his girlfriend's son Maximus for the day, he jeopardizes their relationship when an innocent trip to the circus turns deadly.
Guest stars: Katy Mixon, Kristy Swanson
103
S7E8: Deez Nups
60 min | Apr 09, 2013

The gang spends the weekend at a casino resort for a wedding and crosses paths with a local crime boss whose presence jeopardizes the impending nuptials.
104
S7E9: Right Turn or Left for Dead
60 min | Apr 16, 2013

Shawn solves a case involving a mysterious Swedish woman and imagines how the same case would have been solved had he done one thing differently.
Guest stars: Lauriane Gilliéron
105
S7E10: Juliet Wears the Pantsuit
60 min | Apr 23, 2013

Shawn bonds with Woody, and Juliet befriends a girl who Shawn believes to be a killer.
Guest stars: Rachel Blanchard
106
S7E11: The Santabarbarian Candidate
60 min | Apr 30, 2013

After the Mayor dies in what appears to be a surfing accident, Shawn investigates and ends up running for mayor himself.
107
S7E12: Office Space
60 min | May 07, 2013

After Gus accidentally tampers with the crime where his boss was killed, Shawn helps him find the real murderer before Gus is arrested.
108
S7E13: Dead Air
60 min | May 21, 2013

After Shawn and Gus' favorite radio DJ is murdered, they go undercover as on-air personalities to find his killer.
Guest stars: Garcelle Beauvais
109
S7E14: Nip and Suck It!
60 min | May 28, 2013

After a woman dies from what appears to be a plastic surgery mishap, Shawn and Gus believe the killer is her doctor, a woman who happens to be an old flame of Henry's.
Guest stars: Lori Loughlin
110
S7E15: No Trout About It
60 min | May 28, 2013

An eccentric police consultant is brought into the SBPD to interview Shawn, Gus, Lassiter and Juliet about their seemingly poor police work on a tough case.
Guest stars: Anthony Michael Hall
111
S7E16: Psych: The Musical (1)
60 min | Dec 04, 2013

This musical extravaganza follows Shawn and Gus' search for an escaped playwright who was declared criminally insane following a suspicious fire. Complicating matters, a person who may have important evidence is an enemy from Shawn's past.
Guest stars: Anthony Rapp , Brooke Lyons , Barry Bostwick , Ally Sheedy
112
S7E17: Psych: The Musical (2)
60 min | Dec 15, 2013

This musical extravaganza follows Shawn and Gus' search for an escaped playwright who was declared criminally insane following a suspicious fire. Complicating matters, a person who may have important evidence is an enemy from Shawn's past.
Guest stars: Anthony Rapp, Brooke Lyons, Barry Bostwick, Ally Sheedy
113
S8E1: Lock, Stock, Some Smoking Barrels and Burton Guster's Goblet of Fire
60 min | Jan 08, 2014

Gus attends a Harry Potter convention in London in the Season 8 opener.
Guest stars: Anthony Michael Hall
114
S8E2: S.E.I.Z.E. the Day
60 min | Jan 15, 2014
Woody is taken hostage by a desperate ex-con who claims he's being set up for murder.
Guest stars: Kurt Fuller
115
S8E3: Remake A.K.A. Cloudy... with a Chance of Improvement
60 min | Jan 22, 2014

A star studded cast of Psych ALL STARS joins our crew as they dive back into 2006 and re-tell the story of Sandra Panitch, a woman wrongfully accused of the murder of local weatherman Jackson Hale.
Guest stars: Lindsay Sloane, Michael Weston, Alan Ruck, Ralph Macchio, Dana Ashbrook, Janet Varney, Ed Lover, Ray Wise
116
S8E4: Someone's Got a Woody
60 min | Jan 29, 2014

Woody is taken hostage by a desperate ex-con who claims he's being set up for murder.
Guest stars: Kurt Fuller
117
S8E5: COG Blocked
60 min | Feb 05, 2014

Gus falls for a sexy private eye while investigating a man whose life mirrors his own.
Guest stars: Kali Hawk
118
S8E6: 1967: A Psych Odyssey
60 min | Feb 26, 2014

Lassiter is determined to be appointed Chief of Police, so he sets out to prove himself worthy of the job by solving the murder of the Mayor's beloved uncle, Archie Baxter, who was killed back in the 60s but the case was never solved. Meanwhile, Juliet receives some news that tests her relationship with Shawn.
Guest stars: John Kapelos
119
S8E7: Shawn & Gus Truck Things Up
60 min | Mar 05, 2014

Shawn and Gus are bummed to find out the owner of their favorite food truck has been murdered. The two of them go undercover to learn the food truck ropes and find out who the killer is. While working on the case, Marlowe visits them to cure a pregnancy craving and goes into labor at the most inconvenient time.
120
S8E8: A Touch of Sweevil
60 min | Mar 12, 2014

Shawn is ecstatic when he discovers he's finally been invited to a prestigious paranormal convention for police consultants. As the main event begins, the leader collapses on stage, and it is clear he has been murdered. All of the police consultants on the panel jump to solve the murder, and everyone's unorthodox crime solving skills are put together to catch the culprit.
Guest stars: Yvette Nicole Brown, Tom Arnold, Mira Sorvino
121
S8E9: A Nightmare on State Street
60 min | Mar 19, 2014

Gus has been suffering from terrifying nightmares, so he goes to dream therapy to help alleviate the problem. But Gus' nightmares start to feel like reality when he and Shawn work to solve an unlikely case for the SBPD. Throughout the case, Gus dreams about battling zombies and other classic horror story characters – all while trying to cope with the many changes the future is bringing.
Guest stars: Bruce Campbell
122
S8E10: The Break Up
60 min | Mar 26, 2014

Shawn, Gus and Juliet handle one last case in the series finale.
Guest stars: Billy Zane, Mira Sorvino, Val Kilmer
123
S8E11: The Musical Behind The Scenes 1
60 min
---
Editions
| Barcode | Format | Region | Released | Edition |
| --- | --- | --- | --- | --- |
| 191329056899 | | 1 | Jul 03, 2018 | |
| 025192237874 | | | Oct 07, 2014 | |
| 5053083062163 | | | | |
| 5030697039200 | | | | |
---
---