Quincy, M.E.
Quincy, M.E.: Season 1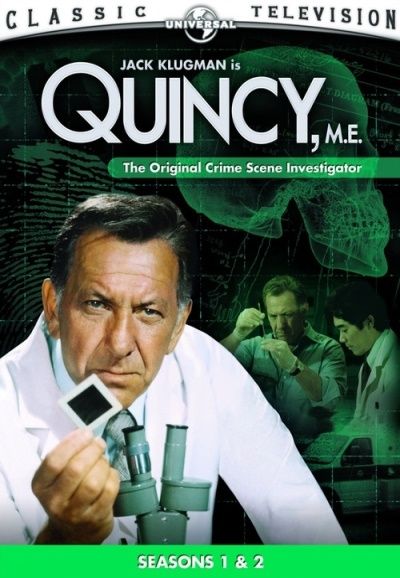 NBC Universal Television (1976)
Drama, Crime
USA | English | Color | 4h
Quincy, M.E, a man who must have been a nightmare to work with! Quincy was a crusading Medical Examiner in Los Angeles, an expert at his job he was always capable of finding something that everyone else missed. A small clue that would go against all the rest of the evidence in a case and would lead to him arguing with his boss, Asten, and/or the investigating detective, nearly always Monahan. Quincy started of as a straight forward crime series with a difference, it was a M.E. investigating not a police officer or private eye.As the series went from strength to strength the writers, probably with a little push from Klugman, started bringing in stories about social injustice rather than criminal.
Most of the time this worked, in fact it is sometimes interesting to see that some of the things highlighted still have not changed even now! Sometimes it came over a little preachy but the show can never be faulted for trying to enlighten the eyes of its viewers.
---
---
Director
E.W. Swackhamer
Writer
Glen A. Larson, Lou Shaw
Producer
William Cairncross
Photography
Frank R. Hale
Musician
Bruce Broughton
---
1
Go Fight City Hall... To the Death
60 min | Oct 02, 1976
A young woman is raped and strangled on a Los Angeles beach. Further down the coastline a young boy is shot and arrested for her murder. Quincy doesn't think that it would have been possible for the boy arrested to strangle the woman and decides that he is going to go out and begin a little investigation of his own. He visits City Hall where the woman worked to ask some questions and, after a little checking, finds out that there seem to have been a rash of unexplained deaths there.
Director: E.W. Swackhamer
Writer: Glen A. Larson, Lou Shaw
Guest stars: Henry Darrow, Hari Rhodes, Denny Miller, Woodrow Parfey, Dimitra Arliss, Rick Podell, George Wyner, Marjorie Battles, Fay DeWitt, Lou Peralta, John Furlong, Martha Smith, Jerry Daniels, Richard Sarradet, Nancy Fox, James Rosin
2
Who's Who in Neverland
60 min | Oct 09, 1976
Margo Bently is writing her first book, the contents of which could prove very damaging to a certain group of people. She is murdered and brought into the lab as a suspected alcoholic prostitute with cirrhosis but Quince thinks the body is telling him something different about her social standing. Quince is asked to present a seminar in Bufflo NY by Asten, while he's preparing his notes Asten takes over in the lab. In Quincys absence, Asten signs the body out to a phoney coroner and Quincy begins tracking her down. This leads him to a murdered literary agent in New York a race to autopsy him before he's cremated so he can prove a link.
Director: Steven H. Stern
Writer: Michael Kozoll, Richard M. Powell
Guest stars: Carol Lynley, Phyllis Newman, Monte Markham, Dina Merrill, Joanna Barnes, Sheilah Wells, Fred Sadoff1, Andy Romano, Jan Shutan, Gloria Manon, Richard Libertini, Jim Boles, Pitt Herbert, Trent Dolan, Kelly Flynn, Bobby Riha, Roger Bowen
3
A Star Is Dead
60 min | Nov 28, 1976
Roberta Rhodes, a famous movie star, is found dead in her bedroom. The police think that it was probably suicide but Quincy thinks not. A gossip newspaper editor approaches Quincy and tells him that o the night of her death his friend, and prospective senator, Congressman Charles Sinclair was with her. Quincy cannot believe that his friend could have killed Roberta but if he didn't then why does he keep lying to Quincy?
Director: Noel Black
Writer: Michael Kozoll, Glen A. Larson, Lou Shaw
Guest stars: William Daniels, Donna Mills, June Lockhart, Phillip Richard Allen, Kario Salem, Frank Marth, Robert Foxworth, Peter Palmer, Dick Wesson, H.M. Wynant, Larry Carroll, Frederic Borden, Peter Dane, Carla Borelli, Fred Villani, Ralph Smiley, Ray Ballard
4
Hot Ice, Cold Hearts
60 min | Jan 02, 1977
A couple of cat burglars break into a Mexican museum and steal $4 million dollars worth of jewels. Sealing them in the floor of their boat they sail to California with the intention of fencing them there. Once there one of their crew tries to steal the jewels but is caught. Alex, the main burglar, poisons him with the venom of a fish and dumps him into the harbor. Unfortunately for him Quincy and Lee are nearby and are called to help the dying man. Quincy not only get there to help him but manages to save his life as well. He cannot at first work out what happened to the swimmer but is soon convinced that not all is what it seems.
Director: Sean Baine
Writer: Bruce Kessler
Guest stars: Stuart Whitman, Robert Alda, Andrew Pine, Marianna Hill, Fernando Lamas, Maria Elena Cordero, Hubert Noel, Angus Duncan, Wolf Roth, Peter Bourne, Kipp Whitman, Ron Hasson, Patti Chandler, Andrew Prine
---
Editions
| Barcode | Format | Region | Released | Edition |
| --- | --- | --- | --- | --- |
| 191329047330 | | 1 | Feb 13, 2018 | |
---
---